Vol. 57 No. 4 – May 2022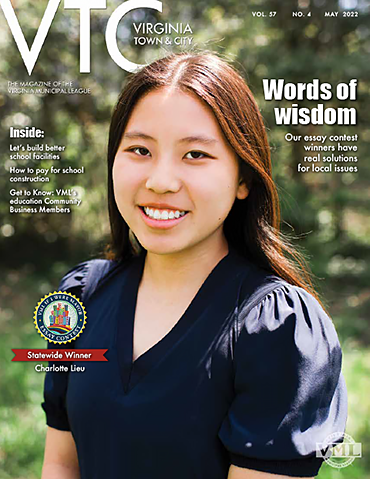 Tuesday, June 14, 2022 - 01:33pm
Words of wisdom: Our essay contest winners have real solutions for local issues
Inside:
Let's build better school facilities

 

How to pay for school construction
Get to Know: VML's education Community Business Members
About the cover: It's the May issue! So…May we present the statewide winner of this year's VML "If I Were Mayor" essay contest:  Charlotte Lieu of Mary Ellen Henderson Middle School in Falls Church. Astute readers may remember that Charlotte's brother Preston graced the cover of VTC in May of 2020 for his winning entry. But while she certainly comes from a talented family, Charlotte's achievements – and her great ideas – are all her own! Learn more inside.