Vol. 56 No. 9 – Nov. 2021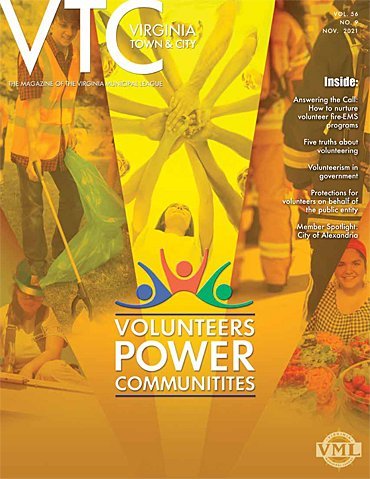 Thursday, December 16, 2021 - 02:05pm
Volunteers Power Communities
Inside:
Answering the Call:

 

How to nurture volunteer fire-EMS programs
Five truths about volunteering

 

Volunteerism in government
Protections for volunteers on behalf of the public entity
Member Spotlight:

 

City of Alexandria
About the cover: For the 2021 Annual Conference, our outgoing President Willie Greene (Mayor, City of Galax) asked us to do something special for volunteers. As a volunteer fireman, volunteerism is close to Mayor Greene's heart. So, we honored volunteers with branded goods, a special conference session and now, to bring it home, an issue of our magazine!