VML Voice: February 11, 2021 – Petersburg, Part 1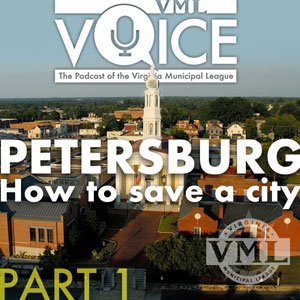 Thursday, February 11, 2021 - 12:32pm
Podcast: Play in new window | Download (Duration: 36:16 — 16.6MB)
Petersburg: How to Save a City (part 1)
In the fall of 2016, the City of Petersburg was on the precipice of a major financial crisis. Two weeks ahead of a million-dollar payroll, the City held only $75,000 in funds. Tax collections were below 60%, water utility rates were below competitive market rates, and the Treasurer's office was under scrutiny by the FBI. The city had a six-million dollar deficit and a Standard and Poor's bond rating of BBB-.
By the summer of 2020, the city had increased its fund balance to $8 million and was operating at a $4 million per year positive cash flow. Davenport and Company, the city's financial advisor, called the turnaround "as great as any we have witnessed in 40 years."
How did it happen? The VML Voice talks to several of the local officials and staff who played a part. In Part 1, we talk about the dark days of the crises and the herculean effort needed to save the city. Part 2 (coming soon) will look at some recent good news for the city, hopes for the future, and its unique and flourishing real estate market.