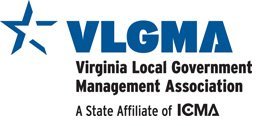 Virginia Local Government Management Association (VLGMA) is a nonprofit, nonpartisan organization made up of over 300 professional local government managers and key members of their management teams, representing Virginia Cities, Counties and Towns.  The organization is dedicated to strengthening the quality of local government though professional management and seeks to promote professional management in a variety of ways including training, networking, member support, and resource sharing. VLGMA is an affiliate of the International City/County Management Association and the Virginia (ICMA) and the Virginia Municipal League (VML).  For more information about the VLGMA and Membership please click HERE.
VLGMA memberships are renewed on annual basis beginning July 1 and ending June 30.  To become a new member or renew your membership please use the online form below.
You may conveniently pay online using a credit card, or print your completed confirmation form and mail in with a check payable to VLGMA to:
VLGMA
Attention:  Janet Areson
P.O. Box 12164
Richmond, Virginia 23241
Membership Categories
Member Virginia local government chief executives, managers, or administrators, and deputy/assistant managers or administrators.  Also included are executive directors of regional planning districts, regional service authorities, or similar regional government entities (Annual dues based on member-provided calculation based on Salary + Deferred Comp. x .0025; minimum dues are $200.  For example, a person with a base salary of $100,000 and deferred compensation of $20,000 would calculate as follows: $120,000 x .0025 = $300)
Associate Member Virginia local government employees who do not qualify under the "Member" definition (Dues are $150 annually)
Affiliate Member Non-local government employees who have a strong interest in local government management in Virginia (Dues are $50 annually)
Life Member A VLGMA member and local government professional who has retired from active service and completed 25 or more years of VLGMA membership is eligible for Life Membership. Life Membership may also be bestowed by unanimous vote of the VLGMA executive board for individuals who have not satisfied the 25 year requirement but have a distinguished record of service to the profession and the association. (No dues are assessed)
Retired Member Any member of VLGMA or a local government professional who has retired and wishes to remain affiliated with the Association (Dues $25 annually)
Member in Transition Any member in good standing who goes into transition shall retain VLGMA membership as an Affiliate Member.
Student Member Any person who is primarily a student and intends to pursue a career in local government; or any full-time intern, fellow, or equivalent working in local government and who is not eligible for, or more appropriately classified in, another membership category.  (Dues are $25 annually)
If you have any questions please contact Sandy Harrington at sharrington@vml.org or (804) 523-8524.