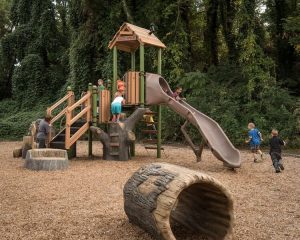 Increasing playability leads to healthy outcomes for all
By Kelley Hope
60 minutes. That's the amount of daily physical activity experts recommend for children. In addition to helping them grow healthy bodies, play enables kids to develop important social skills and learn about the world.
However, only one in four kids in the U.S. meets this minimum, according to KaBOOM!, a non-profit that works to bring balanced and active play into the daily lives of all American children, particularly those growing up in poverty.
Local governments can have a positive impact on youth health and development through the programs and infrastructure they offer. Investments in everything from playgrounds to events give people opportunities to be active and have fun. These quality-of-life resources also retain or attract residents, visitors, and economic development.
KaBOOM!'s Playful City USA program honors cities and towns that make play part of a community-wide agenda. It recently recognized eleven Virginia communities for their play-appeal, the most ever in the Commonwealth.
The recipients were the town of Ashland; the cities of Danville, Hopewell, and Richmond; and the counties of Charles City, Chesterfield, Goochland, Hanover, Henrico, New Kent, and Powhatan.
Waterpark-on-wheels a major attraction in Danville
With this year's recognition, Danville is now the longest-running Playful City USA honoree in Virginia.
Danville Parks and Recreation Director Bill Sgrinia said his staff applied to the program in its second year. They have kept it up for 10 years because it fits with the department's and city's mission to make the city healthier.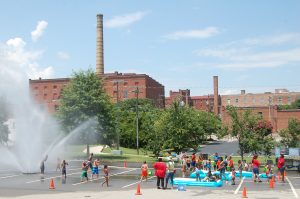 As KaBoom! and Playful City USA strive to increase access to play for kids from low-income families, Sgrinia and his staff cite specific free programs, like the fun wagon and Rec Mobile offered during summer months, in their application.
The fun wagon is a parks maintenance truck that becomes a mini water park, complete with sprinklers and a slide, with the help of a fire hydrant.
The fun wagon and the traveling recreation center Rec Mobile circulate through the city on weekday afternoons, delivering games, activities, and sports to neighborhood children. By taking their resources to the people, setting up in neighborhood courts and side streets for an hour or two, Danville staff eliminate barriers to participation.
"Because transportation and income are a challenge for many residents, this program creates an exciting play opportunity for 18 neighborhoods at no cost to the families participating," shared Morgan Kerns, community programs coordinator.
Sgrinia welcomes the positive attention the Playful City USA designation brings to the city and his department.
"It keeps us in the view of, in the conversation with council members and the media," he said.
Hopewell overhauls riverside park
2017 marks the eighth time the City of Hopewell has been given a Playful City designation by KaBOOM!.
Aaron Reidmiller is director of Hopewell's Recreation and Parks Department. The department manages the Hopewell Community Center and more than 20 parks and athletic sites throughout the city.
He says the city offers more facilities than one might expect in a city of just 23,000 residents, and mentions those, plus diverse and accessible programs, that make Hopewell a repeat Playful City recipient.
"Being recognized by this program," he said, "shows how we are trying to improve the quality of life in Hopewell."
Reidmiller shared two programs in particular he uses for the Playful City application. One is a partnership between Hopewell City Schools and SwimRVA, a nonprofit who endeavors to make water safety and aquatic fitness more accessible to all. The group gives free swimming lessons to Hopewell second graders during the school day.
Swimming is a very necessary skill in a riverfront community like Hopewell, Reidmiller notes, but many families in the community lack the resources to pay for lessons.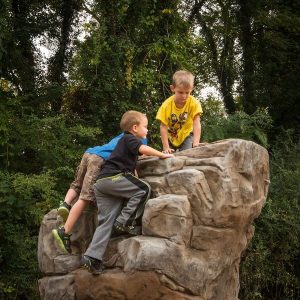 The department's summer camp program is another example. The eight-week program was recently revamped to feature themes, like archaeology, as well as guest speakers and field trips. At $35, the weekly cost is intentionally low and the department offers scholarships for families who need additional help.
Reidmiller is especially proud of the recently-renovated City Park, which reopened in October. Before the renovation, the grounds didn't take advantage of the natural resources in the area, mainly waterfront access to the Appomattox River. It also was being used for unsavory activity the city wanted to curb.
City Park now has a natural theme, highlighting the river, its benefits, and area wildlife. New play structures make it inviting to area families.
To fund the overhaul, Hopewell received a $150,000 grant from the American Water Charitable Foundation, of which Virginia American Water, the city's water supplier, is a subsidiary. The project's expenses were further aided by in-house work done by the parks maintenance staff and public works department.
Richmond region holds day of play
In 2016, a collaboration between the City of Richmond and two non-profit organizations resulted in Richmond's application and designation.
Ruth Morrison is chief innovation officer at Sports Backers, a non-profit located in Richmond that develops programs and events to encourage people to be active. The organization puts on, among others, the Anthem Richmond Marathon and Dominion Riverrock, an outdoor sports and music festival.
"As an organization operating in the active-living space," she shared, "the Playful City designation was on our radar."
She approached Tamara Jenkins, Richmond's recreation program coordinator, and Ashley Hall, director of the Capital Region Collaborative, with the idea.
Hall's organization brings together nine local governments with business and the community to develop regional initiatives. In addition to Richmond, the Town of Ashland and Charles City, Chesterfield, Goochland, Hanover, Henrico, New Kent, and Powhatan counties are members.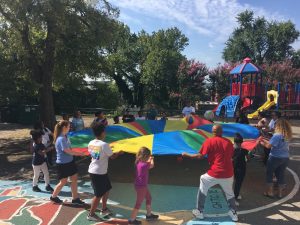 Jenkins and Hall were on board.
"It's wonderful to showcase all of the great playful things that are available within the city limits," said Jenkins.
The team noted in the Playful City nomination a number of resources the city has that help kids be active: a basketball league, a bike skills park, and the James River Park System. They also cited Sports Backers' running clubs for kids, 90 percent of which are at Title 1 schools. Title 1 is a federal program that provides additional services for disadvantaged students; 32 schools in the City of Richmond qualify.
After earning the Playful City USA designation in 2016, expanding to the other communities in Hall's group was a natural follow-up. Each of the nine communities submitted individual applications to the program in 2017.
The smallest of the nine members of the collaborative is the Town of Ashland, with 7,200 residents. Ashland cited its dedication to making sure all residents live within a 10-minute walk to a park. Officials prioritize new parks in areas of most need.
Recognizing the relationship between safe transportation and access to play spaces, Ashland also is working to improve and expand sidewalks and biking paths to parks.
After receiving word that all nine communities were awarded the designation, Hall, Jenkins, and Morrison wanted to promote central Virginia as a playful region.
On Sept. 21, the members of the Capital Region Collaborative held a region-wide Play Day RVA, inviting businesses and community organizations to participate. Seventy-five joined in the fun.
Some held simple activities such as an all-staff walk or bike ride. Employees of the Federal Reserve Bank of Richmond and CarMax joined non-profit organization Fit4Kids in coaching elementary school kids in "old-school" recess games.
Play well with others
To bring the Playful City USA designation to your community, Maggie Cooper, administrator of the program for KaBOOM!, shared some advice.
When deciding who to designate each year, KaBOOM! looks for communities who are promoting play beyond their parks and recreation departments.
"Are you having conversations with your schools, your public health department, your public transportation provider, for example, about how to incorporate play into more aspects of community life?" she asked.
In Danville, the parks and recreation department forms a committee to prepare the application. They invite city agencies like community development as well as outside groups including the local science center and organizers of community events to participate in cataloguing the area's resources.
Cooper also recommends community leaders tap into KaBOOM!'s Play Everywhere Playbook.
Using insights of more than 50 experts across the country, the playbook offers practical ideas and strategies to make play convenient, inviting, challenging, and unifying in a community. Cooper says an expanded version of the handbook, containing even more examples of successful play, will be published soon.
According to Cooper, the Playful City USA application period typically opens in February and ends in April, with winners announced in early summer. The dates for 2018's program have not been set. Find more information at kaboom.org.
Playability survey leads to innovative sidewalk stations
The team of Hall, Jenkins, and Morrison undertook a survey of Richmond to catalog the city's successes and places where it could improve playability.
Hall noted, "At each space, we asked, 'What about this space encourages or discourages play?'"
For locations to survey, Morrison advises examining your communities for places where people are sitting or waiting, or where families gather or pass regularly.
The team noted hair salons and bus stops as places where children might be found that aren't inherently fun for kids. They then brainstormed ways to add playability to these locations.
The team's idea: create and install retractable jump ropes stations around the city.
Richmond submitted the project to KaBOOM!'s National Play Everywhere Challenge and was one of only 50 communities selected for funding. The grant program received more than 1,000 applications.
The team then collaborated with Virginia Commonwealth University to create the stations, which they named Upswing. They launched the stations on Sept. 21 to coincide with the regional Play Day RVA initiative.
Add a little play to your space
Pick a location:
Make it temporary or permanent:

Streets and sidewalks
Plazas
Empty lots, yards, and other underused spaces
Laundromats, grocery stores, and other stores where kids are brought in
Buildings, fences, and walls
Signs, benches, bus stops, and other street furniture

Paint a surface
Start a stand or booth
Do something mobile (e.g., carts, trucks)
Add decorations or "furniture"
Launch a pop-up
Create an installation
Excerpted from KaBOOM!'s Play Everywhere Playbook
About the author: Kelley Hope is the editor of Virginia Town & City and a communications specialist for VML.