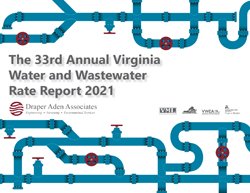 33rd Annual Virginia Water and Wastewater Rate Report 2021
Since 1989, Draper Aden Associates has prepared and distributed an annual Virginia Water and Wastewater Rate Report. This report asks municipalities to provide information concerning monthly residential water bills as well as all wastewater-related charges included on their customers' bills. Experts at DAA analyze the data and compare it to former years in order to track fluctuations in water and wastewater use and rates in Virginia.

Reports examines bicycle-pedestrian planning in Virginia
Planners and other local officials in Virginia appreciate the contribution that walkable and bikable streets make to a community's quality of life.  They now have a handy new tool to help them convince everyone else. A new report — Local Planning and Promotion of Bicycle and Pedestrian Accommodation: A Review and Analysis of Virginia Local Government Efforts — argues that adopting bicycle and pedestrian plans is the best way to promote biking and walking.  The report was written by John Bolecek, a recent graduate of the University of Virginia's Department of Urban and Environmental Planning.  He works for the U.S. Department of Transportation as a transportation safety analyst and is a certified instructor for the National Safe Routes to Schools course. Download report (PDF)
Transfer of Development Rights model available
VML has worked with the Virginia Association of Counties, planning groups, environmental groups and the development industry to come up with a Transfer of Development Rights model program. Transfer of Development Rights model program (PDF).

Elected Officials' Guide to Emergencies & Disasters: the Basics of Community Response
The Virginia Department of Emergency Management has updated its elected officials guide to emergencies and disasters.  This 8-page guide includes a process for handling disasters, reasons why meeting National Incident Management System requirements are essential, relevant sections of the Code of Virginia, synopses of FEMA's Individual and Public Assistance programs and tips for dealing with the media. The new version is based on a similar guide developed in 2006. Download guide (PDF).

The Ethical GPS: Navigating Everyday Dilemmas
A guidebook, tool kit and support materials on ethics for Virginia local government officials. The guidebook, developed by the Northern Virginia Public Service Fellows at George Mason University, is distributed to elected officials, managers, and clerks in VML-member localities. Download guide (PDF).