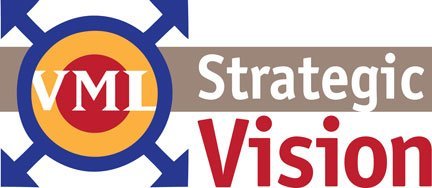 "The Virginia Municipal League is a statewide, nonprofit, nonpartisan association of city, town and county governments established in 1905 to improve and assist local governments through legislative advocacy, research, education and other services."
Vision Statement
VML Shall:
Work to build strong relationships among local, state, and federal officials;
Serve as a communications hub for local governments;
Facilitate the engagement of our members with the organization and facilitate the engagement of citizens with their local governments; and
Maintain a financially stable organization that is staffed to serve the needs of the membership.
Strategic Goals
Building Relationships
Relationships are the critical foundation upon which successful organizations must be built.  VML is committed to forming and maintaining relationships in order to provide excellent service to the membership and to promote the principles of good government.
VML will develop and maintain strong working relationships with members of the General Assembly, the State Administration, and the Federal Delegation.
VML will facilitate networking among the membership and between VML and local government officials.
VML will build and maintain partnerships with peer associations, the business community, and other groups with mutual interests.
The VML Executive Committee will promote and implement principles of ethical and effective leadership throughout the organization.
Communications
Timely and substantive communication is critical to the overall mission of VML.  As such we are committed to establishing both print and electronic communications to achieve the research, training, and advocacy goals of the organization.
VML will develop a comprehensive communications strategy in order to tell the local government story and to establish VML as the primary information hub for local government officials.
VML will explore and maximize ways to use communications in order to promote the legislative agenda of the organization.
VML will develop a comprehensive marketing strategy in order to build stronger relationships with the business community and to provide appropriate avenues for businesses to offer their services to the VML membership.
VML will work to educate and assist the membership in learning to tell their story in a manner that effectively demonstrates the community building accomplished by local governments.
Engagement
Developing and maintaining an engaged membership is vital to both the short and long term success of VML.  We will actively seek ways to engage our membership and to support citizen engagement in our local governments.
VML will evaluate new ways to demonstrate the value of membership in VML along with the value of being an active participant in the association and our conferences.
VML will work to identify ways to improve citizen engagement, including ways to enhance the civics knowledge of Virginia's students.
VML will identify and implement programs to encourage the membership to play a more active role in advocacy at both the state and federal level.
Finance
In order to evaluate existing programs and plan for the future of the organization, VML must maintain a strong financial position.  VML is committed to maintaining and modernizing accurate and appropriate financial systems.
VML will evaluate existing programs, seek efficiencies, and make recommendations for staffing changes in order to accomplish the strategic goals of the organization.
VML will seek strategic partnerships, where possible, in order to enhance our ability to provide top quality programming and services for the membership.
VML will enhance financial reporting and modernize financial systems where appropriate.
Adopted February 6, 2014, by the VML Executive Committee.