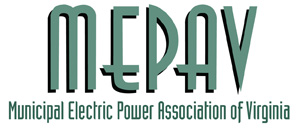 Fall Engineering and Operations Workshop
We hope you plan to join your fellow MEPAV Members and Associate Members in Martinsville at the Fall Engineering and Operations Workshop Tuesday October 30 and Wednesday October 31
Location:
New College Foundation Lecture Hall, 191 Fayette Street, Martinsville Virginia.
Registration:
There is no charge for current Members and Associate Members. Non-members are welcome to attend for a $50 registration fee.  We ask that everyone register using this link.  For those that owe a registration fee, you may pay online using a credit card or mail in your online form and check payment.
Tuesday October 30, 2018
9:30-10:00 am            Registration
10:00-10:15 am           Introductions
10:15-11:15 am             Wireless Fault Detection, Ray Cheek Atlantic Power Sales
11:15 – 12:00                 Hand Protection, Chris Rogers- Utility Service Agency
12:00-1:00 pm            Group Lunch
1:00-2:00 pm              Choosing Photocontrols for LED Lighting Applications, Jordan Tyler, Bradley Electro
2:00 – 3:00 pm            Fault Mitigation Strategies for Distribution Systems, Jordan Tyler, Bradley Electro
3:15 – 4:00 pm            Arc Fault Receptacles, Cole Stevenson, Eaton
Wednesday, October 31, 2018
8:30 – 9:00 am          Coffee and Donuts
9:00 – 10:00 am        Wood Rot and the Electromagnetic Field, Dee Bryd, W.R. Daniels and Associates
10:00 – 11:00 am       Distributed Energy Resource Management Systems, Lee Younts, Advanced Control Systems
Workshop concludes
Lodging
We have a block of rooms for workshop attendees for Monday October 29 and Tuesday October 30 at the Baymont by Wyndham, 378 Commonwealth Boulevard W, Martinsville, Virginia. You can make lodging reservations by calling the Baymont directly at 1-276-638-0478.