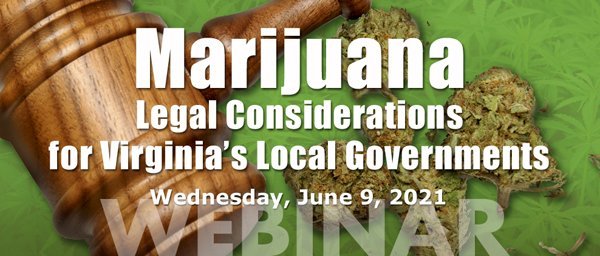 Date: Wednesday, June 9th
Time: 11:30 AM – 12:30 PM
Recording of the event available here >.
You may view/download a PDF of the presentation here >.
Description: With the legal status of marijuana in Virginia set to change on July 1, VML invites our members to attend this session with attorneys Faith Alejandro and Patrick Callahan from Sands Anderson to learn more about the following related issues and considerations:
Disconnect between Federal and State laws
Impact of recent Virginia laws regarding marijuana:
• Background checks/simple possession
• Cannabis Oil statute
• Legalization of marijuana
Recommended workplace policies/approaches:
• Background checks
• Drug-free workplace policies
• Drug testing implications
• ADA/Reasonable accommodations
• HIPAA implications
• Collective bargaining implications
• Transportation issues
This event was hosted by the Virginia Municipal League.
Please note – this webinar is restricted to officials and staff from VML member localities. Please register using your local government email address. All others will be removed prior to the start of the event. If you would like to request special accommodation, please contact Rob Bullington, rbullington@vml.org for consideration. Thank you.