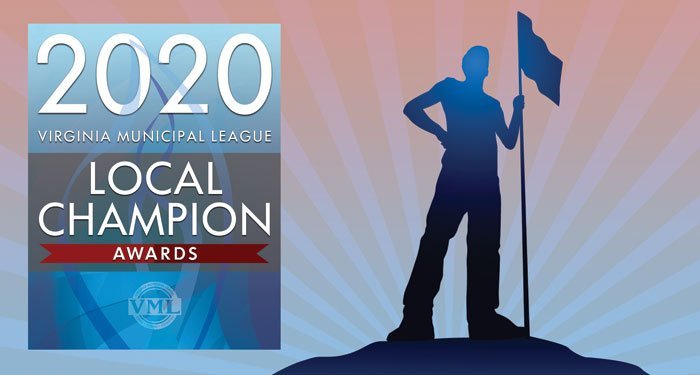 Do you know a "2020 Local Champion"?
VML's Innovation Awards are on hold for 2020 (but don't worry, they'll be back in 2021). This year VML will be giving "2020 Local Champion" awards to highlight the hard work that our localities and their officials and employees are doing to keep their citizens safe and healthy during the COVID-19 outbreak. VML staff and judges will work to select a winning entry from each locality to highlight as a "2020 Local Champion."
Any interested local officials or staff may nominate local champions by submitting an entry in as many of the categories below as they like. However, please submit only one entry per category.
Categories
Communication – Who in your local government is getting critical information to your residents, or setting up virtual meetings for council and staff, or finding creative ways to keep your local government and/or community united even while we are all apart? We want to hear about them.
Community Health – Staying healthy, happy and active are important even during normal times. But these days it is even more critical for our health and happiness to keep active and engaged even as limitations on social interactions and outings make these things more challenging. What person or groups of people in your local government are doing an outstanding job keeping your community physically and mentally healthy during this difficult time.
Continuity of Operations – What person or group of people stood out in ensuring that essential functions of your local government were able to continue despite the limitations made necessary to curtain the virus? Examples include (but are not limited to), making sure boards, council and other public bodies were able to conduct meetings electronically while adhering to FOIA requirements, maintaining public transportation operations, and distributing food to those dependent upon services to meet basic needs.
Economic & Business Stability – Restaurants, movie theaters, music venues, barber shops, gyms…the list of businesses severely impacted by the pandemic shutdown is lengthy. We want to know about an official, staff member or department of your local government that stepped up with a great idea, or went the extra mile, to provide relief to suffering businesses in the community.
Public Safety – These people are heroes every day, but the days of 2020 have made many public safety staff champions as well. Tell us about one or a group of public safety personnel in your community that stood out during the crises. This group includes staff for police, fire, rescue services, emergency planning and coordinated response, building code enforcement, jails, health and mental health related to public safety.
Risk Management – Tell us about an individual or group who did a great job protecting their department's employees and mitigating liability and/or property exposures. Additional examples include identifying, assessing and controlling threats to your locality's capital and earnings, investments and diversification, IT security threats, and data-related risks, and/or implementing effective risk management strategies to alleviate any of those threats.
Education & Youth Initiatives – With schools closed and normal youth activities suspended, it was a tough spring for educators and those responsible for making sure kids stay safe and occupied. Let us know about a teacher, a school, an administrator, library or anyone or entity in your community that did something special to make sure kids got what they needed.
How to submit nominations
Use our online 2020 Local Champion nomination form to submit your entries.
For each submission, be prepared to provide:
The person, project, organization or department you want to nominate.
A description of what they have done and why you feel they merit consideration
Links to supporting materials
Please submit your nominees before August 15, 2020.
Announcing the Champions!
We expect that the adage "everyone is a winner" will be appropriate for all the nominations we receive. However, VML staff and judges will work to select a winning entry from each locality to highlight as a "2020 Local Champion." We look forward to raising awareness about the great work all our members are doing!