Register Now
Richmond


June 6, 2018




10:00 am - 1:00 pm


- This session will be held at VML Insurance Programs: 11243 Nuckols Rd, Glen Allen, VA 23059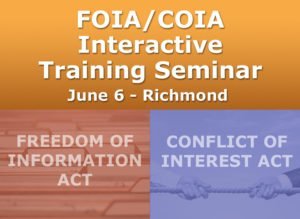 VML will host an interactive seminar on the Freedom of Information Act and the Conflict of Interest Act for local officials and employees in Richmond, VA on June 6.  The seminar will offer the perspective of a local government official regarding the Freedom of Information Act as well as an overview of the FOIA changes passed by the General Assembly in 2018.  The Conflict of Interest portion of the training consists of reviewing real-life conflict questions and how to apply the Conflict of Interest Act.
Please note that the Richmond FOIA/COIA seminar will qualify for the Annual Officer's training.
June 6, Richmond:  10 a.m. – 1 p.m.
Speakers: Richmonder Alan Gernhardt, Executive Director of Virginia FOIA Council & Rebekah Stefanski,  Attorney, Conflicts of Interest & Ethics Advisory Council
Location: VML Insurance Office: 11243 Nuckols Road; Glen Allen, VA 23059
Box lunches will be served.