eNews: Special Edition January 18, 2022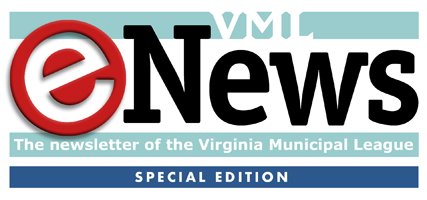 Tuesday, January 18, 2022 - 05:19pm
In this issue:
Action Alert
Support HB531 / SB472 – Local tax to fund capital projects for schools
Committee meets at 9:00 AM tomorrow!
Download the one-page document here >.
HB531 (Hudson, chief patron, Avoli, co-patron) and SB472 (McClellan) authorizes ALL counties and cities to impose an additional local sales and use tax under one percent. The revenue from this local option tax is to be used solely for capital projects for the construction or renovation of schools. SB531 and SB472 stipulate that this tax may be imposed only if it is initiated via resolution of the local governing body and approved via referendum. This legislation would create a consistent revenue stream to fund capital projects to better the community, schools, and the ability for students to learn.
Background
Among the priorities covered in VML's 2022 Legislative Program items is the implementation of a one percent local option sales tax authority across the Commonwealth to help raise funds for school construction and renovations. Currently, only eight counties and one city have this authority by law with two counties and one city currently asking for this authority.
Action requested
VML urges its members to call or email their representatives now (see below), provide written testimony today, or testify virtually in favor of this bill which will be in the Senate Finance and Appropriations Committee tomorrow Wednesday, January 19th at 9:00 AM.
Committee contacts
Senate Finance and Appropriations Committee
Committee Members:
VML Contact: Josette Bulova, jbulova@vml.org
FOIA Legislation
Disclosure and Freedom of Information Act bills of interest
SB224 (McPike) Lobbying local government officers or employees; notice; requirement; fee. This is a bill of concern to VML. This legislation would require individuals who influence or attempt to influence a local government to provide notice to the locality's clerk and pay a fee. The notice would have to be given 15 days prior to the first attempt to communicate with the local government and would need to include the individual's name, telephone number and business address as well as the local government action that the individual seeks to influence.
Qualifying "local government actions" include any enactment, repeal or modification of an ordinance or resolution including actions related to local taxes, the budget and land use proceedings. It does not apply to attorneys clearly identified on a land use application, any contractor or employee performing services for local government or local government employees or officers acting in their official capacity.
The notice would be good for one year. Failure to comply with the notification/fee requirement would result in a class one misdemeanor (which includes potential jail time).
HB626 (Roem) Disclosures in land use proceedings. This is a bill of concern to VML. This bill seeks to apply 15.2-2287.1 statewide along with amending 15.2-852 in the same manner. The effect would be that all individual members of local governments, planning commissions, and boards of zoning appeals must make a full disclosure of any business or financial relationship (including gifts or donations received) that the member has had or has with the applicant, title owner, contract purchaser or lessee of the land or their agent within twelve months prior to a hearing.
If the relationship was in the 12 months prior to the hearing the member much make a full public disclosure, but if it is at the time of the hearing the member must refrain from voting and participation in addition to the full public disclosure.
All disclosures must be in writing and under oath.  There is a penalty of a class one misdemeanor for intentionally violating this section.
HB307 (Freitas) Public records to be open for inspection; procedure for requesting records and responding to request; charges; transfer of records for storage, etc.  This states that public bodies should make all reasonable efforts to supply records at the lowest possible cost, the public body has to provide an estimate in writing prior to conducting a search for the records, and in the posting of the notice and rights these items must be included.
HB599 (Roem) Public records to be open to inspection; procedure for requesting records and responding to request; charges; transfer of records for storage, etc.  Requires public bodies to provide the first 4 records requests by a requestor in a 31-day period to be free for the first 2 hours of the request; it limits the rate localities charge to a maximum of $33 per hour and authorizes a petition by the public body if they argue that the rate should be higher. In addition, it requires that this information be posted as a policy on the website or as a written policy explaining the process of charging for records.
SB152 (Locke) Definitions. Defines "Official government website" to be an internet site controlled by the public body and used to post notices and content on behalf of the public body. This is a bill that arose from a court case and recommended by the Virginia Freedom of Information Advisory Council.
HB980 (Williams Graves) Exclusions to application of chapter; records relating to administrative investigations. Allows complainants property and email addresses withheld from FOIA for local code complaints pertaining to public health and safety and safety and nuisances as well as waste and recycling complaints.
HB687 (Kory) Definitions. Amends the definition of "meeting" to say that a meeting is less than a quorum of members of a public body (to replace the definition of "3 or more members").
HB444 (Bennett-Parker) FOIA; meetings conducted by electronic communication means; situations other than declared states of emergency. This bill sets out parameters for public bodies to hold electronic meetings outside of the state of emergency when following rules as set out in the bill. VML, VACo, the Coalition on Open Government and the Press Association worked very hard on this bill and support it.
HB150 (March) Posting of minutes for local public bodies. Would require local public bodies to post their minutes on their website (if they have one) within 7 working days of final approval of the minutes.  If there is no website, the minutes must be posted at a prominent public location, of the office of clerk or chief administrator.
HB331 (Krizek) Public records to be open to inspection; procedure for requesting records and responding to request; charges; transfer of records for storage, etc. Proposes that all FOIA requests must be by hard copy mail, they no longer can be verbal or hand delivered.
HB154 (March) Public records to be open to inspection; procedure for requesting records and responding to request; charges; transfer of records for storage, etc. Requires the Virginia Information Technologies Agency to create a central records database that will hold all public records.
Outlier bill
HB616 (Roem) Boards of zoning appeals to be created, membership, organization, etc. Would require localities to appropriate the necessary funds to the board of zoning appeals so that they can complete their work.
VML Contact: Michelle Gowdy, mgowdy@vml.org
Senate: Local Government
Bills reported out of the Senate Local Government Committee
SB35 (Favola) Legal status of plan. Allows governing bodies to agree with an applicant in a 15.2-2232 review to extend the review time. Currently the review time is 60 days from filing. A "2232" review includes items like streets, connections to existing streets, parks or other public areas, public structure to include utilities and public corporation facilities.
SB286 (Ebbin) Preservation of historical sites and architectural areas. Gives localities the authority to require a survey of property lines prior to a land purchase if they have established a local historic district.
SB147 (Suetterlein) Governing bodies. Attempts to allow localities with a population under 200,000 to return their elections to May or keep them in November. This bill FAILED in Senate Local Government on MONDAY.
Tax Legislation
Bills related to Transient Occupancy Tax and Meals Tax
HB7 (Ware) / SB634 (Deeds) Scope of transient occupancy tax. Requested by the Commissioners of the Revenue, these bills would allow localities to require documentation related to transient occupancy tax to include the address of the accommodation, the identity of the accommodation provider and the amount of gross receipts on which the remitted tax was levied.
HB274 (McNamara) / SB553 (Marsden) Definitions. These bills amend the definition of "accommodations intermediary" in 58.1-602 to ensure that all short term rental companies are encompassed in the definition. It also amends the definition of "room charge".  HB518 (Head) has the same change to the definition of "accommodations intermediary" but amends "room charge" differently.
VML Contact: Michelle Gowdy, mgowdy@vml.org
Human Services Legislation
Jail bill poses logistical, staffing challenges
HB147 (Wiley) would require the state to develop new standards for local and regional jails regarding the screening of individuals committed to their facilities for developmental disabilities and referring anyone whose screening indicates reason to believe that they have a developmental disability to an appropriate provider for further assessment. If the individual is determined to have a developmental disability, the bill would require that the person be transferred within 72 hours to a facility where appropriate developmental services are provided.
The bill does not address what entity would pay the cost of the assessment and training of staff to perform the assessment, or for the cost of the placement in a facility for services.
The bill would further require that anyone committed to a local or regional jail who is assessed as needing behavioral health services be transferred to a behavioral health facility within 72 hours of assessment. While this would potentially take the burden off local and regional jails to provide such services within their facility, it does not address the responsibility for identifying and securing a place in a facility, and who would be responsible for paying the cost for the facility placement.
VML opposes the proposed unfunded assessment requirements of the bill.
The bill has been referred to House Public Safety Committee.
VML Contact: Janet Areson, jareson@vml.org
Update: Problematic legislation related to school board funds
In the January 14th edition of eNews we flagged SB276 (Stanley) as legislation VML is closely monitoring as potentially harmful to local governments. As a reminder, SB276 would allow school boards with a surplus to keep the excess funds to use solely to finance capital projects (view article here).
Since then, Senator McClellan has reached out to VML with an amendment to her bill, SB481, that would align it with SB276 as amended. Although we appreciate the Senator's effort, this legislation is still harmful to local governments.
VML opposes this legislation in its current form.
The language in this legislation is problematic because 1) localities in certain regions currently have this system already in place, 2) this would remove local authority and control, and 3) by removing local control, local government would not have the ability to respond to a crisis, economic downturn, natural disasters, or other extraneous circumstances.
VML will continue to closely watch this legislation and update members accordingly.
VML Contact: Josette Bulova, jbulova@vml.org
School Construction Fund legislation is well intentioned but flawed
HB254 (Simonds) would create a permanent fund called the "School Construction Fund" as well as a "School Construction Program" established by the Department of Education. This fund would use money from the Gaming Proceeds Fund following the establishment of casinos in the Commonwealth. While well intentioned, this bill stipulates that a locality may only receive a certain amount of grant funding based on a locality's local composite index.
VML will continue to monitor this issue and will update members accordingly.
VML Contact: Josette Bulova, jbulova@vml.org
Transportation Legislation
Transportation bills worthy of support
HB261 (Wyatt) Reduction of speed limits; local authority. Authorizes all localities to reduce speed limits by 10 mph on any road after performing a traffic engineering study and analysis. VML supports the expanded local authority proposed by this bill.
HB142 (McQuinn) Transit Ridership Incentive Program. Increases the percentage of funds to 25 percent that must be used for transit ridership incentive program funding that must be used for the reduction and elimination of transit fares. VML supports increased flexibility for the use of these funds for local transit programs.
VML Contact: Mitchell Smiley, msmiley@vml.org
Environment Legislation
Boat ramp fees and pollution control equipment bills that pass muster
SB141 (Edwards) / HB463 (Austin) Department of Wildlife Resources; boat ramp fees. Eliminates the ability of the Department of Wildlife Resources to impose fees for using boat ramps that are managed, but not owned, by the Department. VML supports this bill as it will remove authority for the state to impose fees for using locally owned boat ramps that are managed by Department. This bill reported from committee unanimously on January 18th.
HB148 (Runion) Certified pollution control equipment; certification by subdivisions. Allows a locality to self-certify that equipment to be used by a locality for the purpose of pollution control can be certified as tax exempt by the locality rather than a state agency. VML supports this legislation as it is an issue identified as a priority by VML's 2022 Legislative Program.
VML Contact: Mitchell Smiley, msmiley@vml.org
Opportunities
Broadband Advisory Council meeting happening January 21
This coming Friday the Broadband Advisory Council is meeting to review the recent Virginia Telecommunication Initiative grant cycle, receive updates on the new statewide broadband availability map, and learn more about the Virginia Telecommunication Initiative (VATI) grant administration process between DHCD and local governments.
The Broadband Advisory Council has been receiving questions and comments from local government elected officials and staff around Virginia about how funds awarded through the VATI process are managed. They believe this meeting will be great opportunity to share with those unfamiliar with the mechanics of VATI grants management and how the funds are actually distributed.
This meeting will be held in-person from 2:00 PM – 4:00 PM at the Virginia State Capitol Building in Senate Room 3. Meeting information and agenda is available here >.
DHCD Office of Broadband Contact: Broadband Policy Analyst Chandler Vaughan, chandler.vaughan@dhcd.virginia.gov