eNews: Special Edition February 21, 2022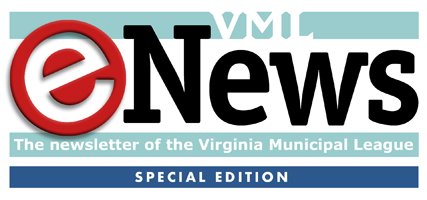 Monday, February 21, 2022 - 05:05pm
The House and Senate released very different budget proposals on Sunday, Feb. 20. Many of the details of these proposals are still to be released – all detailed amendments for each budget proposal will appear on the General Assembly's budget website after 12 noon on Tuesday, Feb. 22. What we heard and saw on Sunday was just highlights of what each Committee has been working on since the General Assembly convened on Jan. 12.
The articles in this issue of eNews are glimpses into what is contained in the competing budgets. Some items contain more information than others, depending on how much each chamber chose to release on Sunday.
After all the amendments are released, VML staff will analyze the amendments and provide further information on the budget amendments of interest to local governments.
In this issue:
See also "Budget Sunday: Grocery Tax update" from yesterday's Special Edition of eNews.
A billion here, a billion there? There's plenty of daylight between the House and Senate budgets.
With one-third of the 2022 Regular Session left to go, the House of Delegates and Senate of Virginia have just announced their preferred approaches for revisions to the state budget, which means it's time to get down to business!
Last Friday, Governor Youngkin announced a mid-session revenue reforecast of an additional $1.2 billion in state revenues for Fiscal Year 2022 – the current state fiscal year that will end June 30, 2022. General Assembly watchers expected a reforecast by Governor Youngkin as an effort to strengthen his argument to the General Assembly for adopting tax relief legislation this session.
On Sunday, the House Appropriations Committee (HAC) and the Senate Finance and Appropriations Committee (SFAC) reported their amendments to former Governor Northam's outgoing budget. As expected, the conflicting actions taken weeks ago by SFAC and HAC on tax cut bills have contributed to a discrepancy between the two chambers' budgets of about $3 billion.
Over the next few weeks, the revenue chasm will need to be bridged through compromise by House and Senate budget leaders before they can send a balanced budget to Governor Youngkin for his consideration.
Assuming the General Assembly adjourns within seven days of passing the budget, Governor Youngkin will have 30 days after adjournment that he and his team can review the conference budget and propose amendments.
VML staff will be closely monitoring this process and will use every available opportunity to remind legislators and our members that it is important to protect local funding for core services and to replace any local revenue lost because of state changes to sales taxes.
VML Contact: Carter Hutchinson, chutchinson@vml.org
Transportation
In SB29 for FY22 the Senate included $30 million of additional funding for street maintenance payments, $10 million for distance-based commuter bus service for the Transit Ridership Incentive (TRIP) Fund, $50 million to establish a state trails office in the Virginia Department of Transportation to enhance state and local multi-use trails, and $5 million to remediate wildlife habitat impacted by construction of the Hampton Roads Bridge Tunnel.
The Senate budget reduces Commonwealth Transportation Fund revenues by $190.1 million over the FY23-FY24 biennium in recognition of the elimination of the state share of the sales tax on food (as passed by the Senate in SB451) and does not backfill this revenue loss citing increased general fund and federal revenues which are used to offset this loss of dedicated funding.
The House budget also reduces Commonwealth Transportation Fund revenues over the FY23-FY24 biennium from the elimination of the sales tax on food with a yet unspecified impact over the biennium and provides no additional funding for street maintenance payments while providing some funds for multi-use trails.
The House and Senate both included language in the caboose and biennial budgets to hold local road maintenance funding harmless (as proposed in amendments introduced on behalf of VML and local governments) while VDOT conducts a study of local pavement conditions.
VML Contact: Mitchell Smiley, msmiley@vml.org
Natural Resources
The House and Senate propose similar appropriations to the Water Quality Improvement Fund of $313 million in FY23 with the bulk directed towards agricultural best management practices to assist with continued efforts to clean up the waters of the Commonwealth. The goal of this funding is to aid the agricultural sector in an effort to meet Virginia's goal of cleaning up the Chesapeake Bay. This WQIF funding is a mandatory deposit due to the revenue surplus in the current fiscal year. The Senate budget also includes $65.5 million for dam safety improvements including $20 million for non-state-owned dams.
Additionally, the Senate proposes $30 million in investments over the FY23-24 biennium to reduce Virginia's dependence on carbon-based power sources by investing in electric vehicle charging stations and homeowner solar installation incentives. This funding will also be used to address the impacts of flooding by investing in the remediation of flood prone areas of Virginia.
The Senate budget also anticipates continued funds from Regional Greenhouse Gas Initiative (RGGI) auctions of $371 million that are directed to energy efficiency programs and the Community Flood Preparedness Fund while the House budget anticipates the elimination of RGGI and any resulting revenues entirely.
VML Contact: Mitchell Smiley, msmiley@vml.org
Local Law Enforcement
While all the amendments are still to be released, it appears that the House and Senate are taking very different approaches to state assistance for local law enforcement funding (HB 599).
The introduced budget did not increase funding to the program at all for the current year (FY22) or for the new biennium (FY23 and FY24).
The House budget does not appear to increase funding to the program through the traditional route (i.e., funding through the Department of Criminal Justice Services, which is responsible for the HB 599 grant program). Instead, the House allocates no less than $80 million in federal funds (ARPA) in FY23 only for one-time grants to local law enforcement agencies for such purposes as training and purchasing equipment & supplies to support law enforcement-related activities including operating and maintaining body cameras, vehicles, tablets for patrol vehicles, tactical equipment, specialty and protective gear, and body armor. No local match would be required.
The Senate includes increases in funding to the HB 599 program in the current fiscal year ($2.35 million); in FY23 ($19.05 million); and in FY24 ($27.90 million). While less than what local government sought through budget amendments, these funding increases are a great improvement over the introduced budget and would be welcomed by localities, which face recruitment and retention challenges as well as continuing operating and equipment needs.
VML Contact: Janet Areson, jareson@vml.org
Jail Per Diems
It appears that the long pause in increases for local and regional jail per diem rates may be ending. Jail per diems were reduced in 2010 during the Great Recession and have been frozen since that time, despite efforts for several years running by VML and local partners to increase the per diem rates.
Both the House and Senate budget proposals provide some increase to per diem levels as follows:
The House would institute increases in each year of the new biennium, increasing payments for state-responsible inmates housed in local and regional jails by $4 a day, from the current $12 to $16 per day, which is close to the amount needed to pay for food/other basic needs per day.
The Senate would take a more comprehensive approach during the new biennium, increasing the per diem for local responsible inmates with state charges from the current rate of $4 to $5 per day; increasing the per diem for inmates at jail farms from $18 to $19 per day; and increasing the per diems for state responsible inmates in local and regional jails from $12 to $14 per day.
VML Contact: Janet Areson, jareson@vml.org
K-12 Education
Both the House and Senate budgets include many items affecting K-12 education. Here is a sample of what we know so far from Sunday's budget presentations:
Additional revenue: Given the revenue update issued just prior to the budget release on Sunday, both the House and Senate budgets added $34.8 million in available revenue for K-12 education needs.
SOQ positions – salary increases: The introduced budget included a five percent salary increase each year for Standards of Quality-funded (SOQ) instructional and support positions with a local matching requirement of a minimum of a two and a half percent salary increase each year of the biennium to access the state funding.
The House budget (Item 137#3h) reduces the salary increase to four percent each year of the biennium. Additionally, a one-time bonus equivalent to one percent of the base pay rate would be provided each year for SOQ-funded instructional and support positions. It would require a two and a half percent local match requirement each year to access the state funding.
The Senate appears to maintain the five percent salary increase each year of the biennium as proposed in the introduced budget, but details are not yet available. For the current fiscal year (FY22), the Senate budget proposes a $1,000 Bonus for SOQ Instructional and Support Positions using federal ARPA funds. These funds would not require a local match.
School construction: The House budget includes an item (Item 137 #19) that establishes the School Construction Fund to award grants on a competitive basis for localities with poor school conditions. Grants would be awarded based on commitment, need, and school building conditions as defined in HB563 (O'Quinn) which passed the House and is now before the Senate. The amendment provides $291.7 million GF and $250 million from the Literary Fund in FY23 to provide initial seed money for this School Construction Fund.
The Senate budget will include a language amendment regarding the School Construction Grants Program. That language will be available when the Senate releases all its amendments on Tuesday.
VML Contact: Josette Bulova, jbulova@vml.org