eNews Special Edition April 20, 2023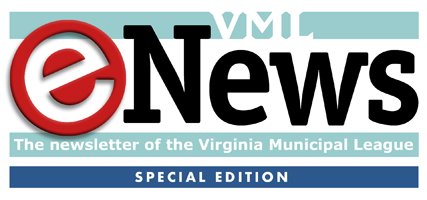 Thursday, April 20, 2023 - 03:37pm
In this issue:
Are Federal ARPA funds provided to state and local governments on the chopping block?
In the last two days, we were alerted by staff from the National League of Cities and the Government Finance Officers Association that efforts are afoot among leaders in the U.S. House of Representatives to "clawback" unobligated federal American Rescue Plan Act (ARPA) funds that have been allocated to state and local governments. Even though this proposal doesn't come as a surprise for a variety of reasons, rescinding these funds right now would certainly impede our efforts to recover from the devasting impact of the pandemic in communities across Virginia.
While it's unlikely this effort on Capitol Hill will succeed, we shouldn't to take any chances. Surprisingly, the timing of this announcement is helpful. Why? Because later this month, state and local governments are required to submit their latest ARPA expenditure reports to the federal government. What better time than right now to remind members of Congress what's at stake in our communities if they snatch away these federal funds mid-stream? The reports are due April 30, 2023, so we can provide fresh information for their files as they contemplate this action.
For context, Virginia received more than $7.2 billion from the ARPA's State and Local Fiscal Recovery Fund (SLFRF) to support our efforts to respond and recover from the effects of the COVID-19 public health emergency on our communities. Specifically, the bill provided:
$4.3 billion to the Commonwealth
$1.7 billion to counties
$618 million to cities, and
$634 million to non-entitlement units of local government, primarily towns.
The law requires entities receiving these funds to obligate them by December 31, 2024 and liquidate them two year later. Now some in Congress are proposing that "unobligated" ARPA funds should be returned to the federal government. With reports on our federal ARPA spending due in just a few days, it would be helpful to convey the following to make sure that our Congressional delegation understands the impact of this action on localities.
Please reach out to your Congressional Representative to:
Describe projects funded by the Coronavirus State and Local Fiscal Recovery Funds (SLFRF) in your community.
Explain your plan to expend the funds fully in the covered period (obligating the funds by December 31, 2024 and expending the funds by December 31, 2026).
Provide details that you have reported on your Project and Expenditure and Annual reports, if applicable.
Remind your representative that according to the U.S. Government Accountability Office all SLFRF funds have been obligated.
VML Contact: Joe Flores, jflores@vml.org
Welcome to the "Abatement Academy" – A free webinar series on best use of funds from opioid litigation
The Virginia Opioid Abatement Authority (OAA) and the Virginia Institute of Government (VIG) are pleased to announce the launch of the new "Abatement Academy" for 2023. The Academy is composed of a series of FREE, bi-weekly webinars to highlight examples programs that align with nationally recognized principles for the use of funds from opioid litigation. The intended audience includes local government representatives, state agency professionals, and groups or individuals who provide services or support to people suffering from opioid use disorders.
The Abatement Academy will also include one-day in-person workshops on September 7 (Abingdon) and October 19 (Charlottesville).
The first webinar in the series will be held on Thursday, April 27 and will feature Ms. Ginny Lovitt from the Chris Atwood Foundation (CAF). Ginny will tell the story of how her brother's death from an overdose led her to create one of the leading harm-reduction programs in Virginia. The CAF is a peer-driven community organization in Northern Virginia providing free harm reduction and recovery support services and advocacy for people impacted by substance use.
Register here for the first three sessions >
Future webinars will be held on the 2nd and 4th Thursday of each month starting on May 25 and ending on December 14. The sessions will be broken down based on the following nationally recognized five principles:
Principle 1: Spend the Money to Save Lives
April 27 | 10:30-11:30 Virtual Webinar with Ginny Lovitt from Chris Atwood Foundation
May 25 | 10:30-11:30 Virtual Webinar
June 8 | 10:30-11:30 Virtual Webinar
Principle 2: Use Evidence to Guide Spending
June 22 | 10:30-11:30 Virtual Webinar
July 13 | 10:30-11:30 Virtual Webinar
July 27 | 10:30-11:30 Virtual Webinar
Principle 3: Invest in Youth Prevention
Aug 10 | 10:30-11:30 Virtual Webinar
Aug 24 | 10:30-11:30 Virtual Webinar
Sept 14 | 10:30-11:30 Virtual Webinar
Principle 4: Focus on Racial Equity
Sept 28 | 10:30-11:30 Virtual Webinar
Oct 12 | 10:30-11:30 Virtual Webinar
Oct 26 | 10:30-11:30 Virtual Webinar
Principle 5: Develop a Fair and Transparent Process for Deciding Where to Spend the Funding
Nov 9 | 10:30-11:30 Virtual Webinar
Dec 14 | 10:30-11:30 Virtual Webinar
The OAA is actively coordinating with the following speakers to present during these webinars. The details of each session (including topics and speakers) will be refreshed and updated regularly.
How our Community is Saving Lives Through Targeted Harm Reduction (slated for June 8)
Tammy Bise, Mt. Rogers Health District & Daniel Hunsucker, Lenowisco Health District
How a Fire/EMS Agency is Connecting People to Treatment After an Overdose
Allen Yee & Batt. Chief Justin Adams, Chesterfield County Fire & EMS
Measuring the Effectiveness of Certified Recovery Homes in Virginia
Anthony Grimes, Virginia Association of Recovery Residences
Serving Diverse Individuals in a Peer-Led Recovery Community Organization
Honesty Liller, McShin Foundation
How Local Governments Can Create or Expand Recovery Courts and Alternative Dockets
Anna Powers, Office of the Executive Secretary of the Supreme Court of Virginia
Identifying Gaps and Measuring Your Impact – An Overview of the Framework for Addiction Analysis and Community Transformation (FAACT)
Leslie Egen, Virginia Department of Criminal Justice Services
Use the QR code to register now for FREE Abatement Academy sessions.
Virginia Opioid Abatement Authority information
OAA's Mailing List is live
If you would like to subscribe to receive news and updates from the OAA, please click here. Please note: You may need to check spam/junk folder for your welcome email and add info@voaa.us to trusted addresses or mark as "not spam/junk".
Videos of OAA information sessions for local government
All OAA sessions partnered with Virginia Institute of Government are available at the Weldon Cooper Center for Public Service's YouTube channel here >.
VOAA Contact: General questions can be sent to info@voaa.us