eNews September 7, 2017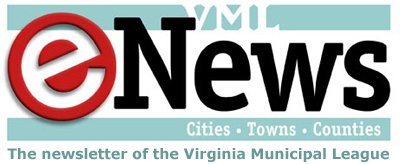 Thursday, September 07, 2017 - 01:53pm
In this issue:
Not-to-miss conference sessions
Attend the VML annual conference for sessions on topics that affect your community, like these:
Hear the priorities and vision for Virginia's future from gubernatorial candidates Ed Gillespie and Lt. Gov. Ralph Northam.
Learn how local governments are addressing controversies over monuments and commemorations.
Be inspired by a cardiologist who is reversing heart disease and diabetes through lifestyle changes.
The registration fee increases Sept. 15 so don't delay. Register today to lock in the current rate. Visit vml.org, Facebook, or the VML app regularly to view announcements about conference events and speakers.
VML contact: Leslie Amason
Policy statements, legislative program online for review
In preparation for the VML Annual Conference, the proposed 2018 policy statements and legislative program are now posted on VML's website for members to review. The policy statements and legislative program will be taken up for discussion and adoption at the business meeting, to be held Monday, Oct. 2, during the conference. The VML Legislative Committee will meet on Sunday, Oct. 1, to review the proposed program and confirm the program priority issues for the coming year.
VML contact: Janet Areson
Green Government Challenge deadline approaching
The tally of activities completed and points earned for the VML Green Government Challenge is due Friday, Sept. 8. Use your locality's green key to log your activities online at gogreenva.org. The Green Government Challenge encourages environmental policies and practical actions that reduce the carbon emissions generated by local governments and communities. Besides the environmental benefits of becoming a certified "green government," cities, towns, and counties can save money.  VSBA's certification deadline for public school divisions is Sept. 22. VACO's deadline is October 7.
VML contact: Mike Polychrones
Registration open for webinar on public-private partnerships
Learn about Virginia's public-private partnership law at a one-hour webinar on Sept. 13 at 2 p.m. The session will include the law's legislative history, types of projects that qualify for it, how projects are generated and procured, and the Act's pros and cons. Register online.
VML contact: Mike Polychrones
Legislators to sponsor Virginia Grocery Investment Fund bill
Two state legislators and the First Lady of Virginia are combining forces to raise awareness about and help communities that lack grocery stores, commonly known as food deserts. At an event Monday, Aug. 28, First Lady of Virginia Dorothy McAuliffe, Del. Dolores McQuinn (D-Richmond), Sen. Bill Stanley (R-Franklin County), and Secretary of Commerce and Trade Todd Haymore discussed the need for assistance for these communities. Stanley and McQuinn plan to sponsor bipartisan legislation to create the Virginia Grocery Investment Fund during the 2018 General Assembly session. VML supports this initiative to provide financial and technical support for businesses to expand and ensure greater access to healthy food for residents of the Commonwealth.
Survey on protest permit process coming next week
In light of recent events in Charlottesville and questions we have received from membership and other groups outside of VML, we will be issuing a survey in coordination with the Office of the Secretary of Public Safety and Homeland Security next week to collect information about your locality's current permitting policies and procedures. This information will allow us to assist in developing a model permitting process that your locality may adopt if you wish. We appreciate your participation in advance.
Questions:
Name of locality
Locality Point of Contact
Please list every department or agency that is involved in your locality's demonstration/rally/protest permitting process.
Who/which department or agency has ultimate authority to approve or deny a demonstration/rally/protest permit?
In light of recent events in Charlottesville, is your locality reviewing or updating your permitting process?
Has your locality experienced any issues with regard to permitting?
Please feel free to share any other thoughts/questions/concerns you may have.
VML contact: Michelle Gowdy
Go Virginia board to consider proposals next week
The executive committee of Go Virginia, the Commonwealth's growth and opportunity fund, met Aug. 31 to review preliminary regional plans in advance of the Go Virginia board meeting Sept. 12. View drafts of the plans. Before the board decides on the plans at their meeting, Go Virginia staff will contact some regions to recommend clarifications. In particular, staff will remind regions to include efforts that address future workforces, not just existing workers. In addition, the committee would like plans to increase the number of higher-paying jobs they attract or create.
VML contact: Sandy Harrington
Board of Ed wants feedback on several education standards
The Virginia Board of Education (BOE) is seeking comments on multiple topics.
Through Sept. 11: draft Educational Technology Plan for Virginia 2017-2022. Send comments to VirtualPrograms@doe.virginia.gov.
Through Sept. 20: proposed Computer Science Standards of Learning. Share your feedback online or at a public hearing in Richmond.
Through Oct. 6: revisions to Standards of Accreditation (SOA) that include diploma requirements aligned with the Profile of a Virginia Graduate and new standards for school quality and improvement. Provide feedback online or via Virginia's Regulatory Town Hall.
VML contact: Sandy Harrington
Where to look for hurricane updates
Powerful Hurricane Irma is causing devastation in the Caribbean and its path is undetermined. VML will share information from the Commonwealth regarding this storm's potential impacts to Virginia.
Also, coastal areas of Virginia have new evacuation zones to guide emergency managers and citizens in those areas about storm preparation and action. Residents can enter an address into the interactive zone evacuation map to find out if they should stay home, move to higher ground nearby, or travel farther away to be safe. For more information about preparing for an emergency, visit vaemergency.gov.
VML contact: Michelle Gowdy
Census Bureau offers free webinars on using census data
This fall the Census Bureau is offering a series of free webinars about how to access and utilize Census Bureau statistics. Registration is limited and will be available on a first-come first-served basis. These webinars will not be available on census.gov for registration.
Making Sense of the American Community Survey
Your Business by The Numbers: Census Business Builder App
Data on a Deadline: Quick Data Tools & Interactive Maps
Sept. 13: Public/Private Partnerships: VML Leadership Academy Webinar
Sept. 18: Virginia Partnership for Out-of School Time 2017 Conference, Newport News
Sept. 19: Building Healthy Economies Through Healthy Communities Webinar
Sept. 30 – Oct. 1: Virginia Mayors Institute, Williamsburg
Oct. 1-3: 2017 VML annual conference, Williamsburg
Oct 4-5: Smart Cities Week, Washington, D.C.
Oct. 15-17: VBCOA school and conference, Virginia Beach
Nov. 15-18: NLC City Summit, Charlotte, N.C.