eNews September 4, 2020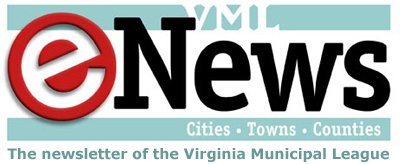 Friday, September 04, 2020 - 05:23pm
In this issue:
Action alert follow-ups
Utility disconnection initiatives takes two steps forward, one step back
This week's Special Session of the General Assembly saw significant movement on utility disconnection initiatives in both helpful, and less than helpful, directions.
Two steps forward on legislation
SB5118 (McClellan) was amended by the Senate Commerce and Labor Committee last week to exclude municipal utilities from the emergency debt repayment program. Discussions continue, and VML believes there will be further changes to this legislation, including possible changes to reporting requirements. These changes for the better would not have been possible without robust efforts by VML members in response to our action alert. Thank you!
One step back remains in the budget
Despite the improvements to SB5118, it's important to bear in mind that budget language (HB5005 Item 4-14, #7 and SB5015 Item 4-14, #7) imposes a utility disconnection moratorium and the development of 12-month repayment plan. Municipal utilities are not exempt from this budget language. We expect this language to evolve in the coming days, however we encourage you to reach out to your state delegation to let them know how these proposals will impact your locality.
As previously communicated, VML asserts that the state should use federal CARES funding to assist customer utility balances directly instead of through disconnection moratoriums. We continue to make this point to lawmakers and the administration.
VML appreciates our members' commitment to this issue. We will issue new action alerts next week if the released budget language persists in its impact to municipal utilities.
VML Contact: Mitchell Smiley, msmiley@vml.org
Sovereign immunity bill defeated on House floor
HB5013 (Bourne) was defeated on the House floor today. This bill would have corroded the concept of Sovereign Immunity for localities that employ or contract with law-enforcement officers. Strengthening and maintaining the principles of sovereign immunity for local governments and local officials is a long standing VML position.
The bill was defeated by a very narrow margin (47-Y 48-N 3-A).
VML asks that over the weekend you thank your delegation members that voted against it or abstained in case the bill is revived next week (as it was earlier this week when it was reconsidered after being defeated in the Appropriations committee).
For more information on the bill and VML's position, view our previous action alert on the legislation.
VML Contact: Michelle Gowdy, mgowdy@vml.org
Health & Human Services
Crisis Intervention Team (CIT) substitute bill adopted by Appropriations
Another substitute for HB5043 (Bourne), which addresses CITs was discussed and reported by the House Appropriations Committee on September 4.
The substitute bill still requires the establishment of regional mental health awareness response and community understanding services (Marcus) alert systems and community response teams across the Commonwealth, but phases in this program over six years instead of six months. It also includes an examination of existing CIT programs and initiatives before programs are begun under the requirements of this bill.
The substitute bill includes the following components:
Requires the Department of Criminal Justice Services (DCJS) to develop de-escalation training with a focus on mental health, substance use disorder and behavioral health crises as part of law enforcement training curriculum.
Adds a new section to the Code of Virginia addressing the Marcus alert system and community teams including the goals, definitions, and make-up of such teams (mental health service providers, registered peer recovery specialists and law enforcement with the mental health providers as the lead for such teams).
Requires state agencies along with representatives of local government, law enforcement, emergency management, mental health, substance abuse, behavioral health, brain injury, and racial equity groups to inventory past and present CITs that have received state funding (some get federal funding); inventory CSB mobile crisis teams and crisis stabilization units, and identify any other cooperative efforts between CSBs and law enforcement agencies; review prevalence of crisis situations involving mental health/substance use, brain injuries and co-occurring disorders and identify state and local funding of emergency and crisis services.
Requires this group to submit a detailed report and plan to the Joint Commission on Health Care by June 1, 2021.
Requires DBDHS to establish by July 1, 2021, five Marcus alert programs and community care teams in the following regions:

Region 1 – geographic area served by Northwest Virginia CSB
Region 2 – geographic area served by Alexandria CSB
Region 3 – geographic area served by Mount Rogers CSB
Region 4 – geographic area served by Richmond BHA
Region 5 – geographic area served by Hampton/Newport News CSB

Requires that five more Marcus alert/community care teams be established in each of the five Department regions by July 1, 2023, excluding those already selected in the first round.
Additional Marcus alert/community care teams will be established in geographic areas served by a CSB/BHA by July 1, 2024, July 1, 2025, and July 1, 2026. That last date is the deadline by which time all CSBs/BHAs will have established a Marcus alert system that uses community care teams.
The bill carries a significant fiscal impact for the state; the local fiscal impact will become clearer as work on the needs of various regions and the extent of future state funding for teams is determined.
And while the bill addresses an alert system and community response teams, the issue of follow-up/extended services necessary to meet the needs of a person in crisis will have to be addressed.
Another CIT-related bill (SB5038 – McPike) has a substitute coming as well and will be addressed by the Senate Finance and Appropriations Committee at some point in the next week or so.
VML Contact: Janet Areson, jareson@vml.org
Body-worn camera bill assigned to committee
HB5135 (Bell et al.), which would require every local law enforcement agency to purchase and deploy body-worn cameras, has been assigned to the House Public Safety Committee. It is unclear if or when this committee will next meet because the Special Session has not included regular committee meeting days and times (as is the case during a regular session).
VML will provide updates as they become available.
VML Contact: Janet Areson, jareson@vml.org
Law enforcement reform bill clears Senate Finance and Appropriations Committee
SB5030 (Locke) is a comprehensive bill addressing law enforcement reform. In its present form, items addressed by the legislation include (but are not limited to) the following components:
Expanded decertification requirements.
Restrictions on the ability to obtain/purchase equipment from the U.S. Department of Defense.
Additional training curriculum and requirements for law enforcement training/recertification.
Additional law enforcement reporting requirements (to include demographic and other information about pedestrian encounters – this is added to the new requirements for such information for all motor vehicle stops that were approved during the regular 2020 session).
Restrictions on use of no-knock search warrants and use of force/deadly force.
The original bill included several instances in which state assistance to local law enforcement funding (known as HB 599 funds after the original bill establishing the program in 1980) could be denied; the substitute deletes some of those situations but still allows the funding to be denied if 1) a locality doesn't report its motor vehicle/pedestrian "encounter" data to State Police. (Please note that the state can already deny 599 funds if a locality doesn't report accurate crime data to State Police); and 2) allows funding to be frozen if a police department is not accredited by DCJS or a national accrediting body by 2024.
VML Contact: Janet Areson, jareson@vml.org
Civilian review board bill reported from Senate Finance and Appropriations
SB5035 (Hashmi) authorizes but does not require the establishment of police civilian review boards by cities and counties with police departments. This bill was reported by the Senate Finance and Appropriations Committee on Sept. 3.
The bill allows current boards to continue to operate and authorizes a locality to establish the policies and procedures for the performance of duties by the oversight board. The substitute considerably expands the reasons why an oversight body would retain outside counsel. Outside counsel would be paid for by the locality.
A House bill, HB5055 (Herring) also allows current boards to operate but differs from the Senate measure in that it requires cities and counties  – including those with sheriff's departments that provide law enforcement coverage – to establish such boards. That measure passed the House.
VML Contact: Janet Areson, jareson@vml.org
Elections
Expanded support for absentee voting moving through General Assembly
Building upon gains made during the 2020 session, the General Assembly this week reviewed legislation to expand voting accessibility and encourage early voting ahead of the November election. Citing increased safety needs in light of the COVID-19 pandemic, the House has passed both HB5103 (Sickles) and SB5120 (Howell) – the only bill to have been approved by both bodies thus far in the special session
The legislation includes $2 million to help localities cover the cost of prepaid postage tied with mail-in absentee ballots, requires general registrars to establish drop-off locations for voters who would prefer not to mail in their absentee ballots, permits the reissue of absentee ballots in the event that the first ballot becomes soiled or otherwise unusable, and directs registrars to contact voters whose absentee ballots are unclear or damaged upon arrival to confirm their votes.
The Senate has so far only passed its own version of the legislation, having passed by HB5103 for the day Friday. Importantly, this delay could arguably impact the applicability of the legislation to the November 2020 election cycle, as changes to polling places are barred fewer than 60 days before an election. Members of the General Assembly have cited differing interpretations of whether drop boxes will qualify as polling locations. While the Office of the Attorney General had previously received approval from a federal court to establish drop boxes, it is unclear whether that approval would apply past the 60-day date.
Kanye West, removed from Virginia ballots by a Richmond judge earlier this week ahead of the November general election, could not be reached for comment.
VML Contact: Jessica Ackerman, jackerman@vml.org
VML Events
2020 VML Mayors Institute registration now available
Please be aware that this year's event will be separate from the Annual Conference
From improving the current infrastructure to preparing for autonomous vehicles, local communities are moving toward the future. Learn how you can meet the needs of a new generation of citizens at the Virginia Mayors Institute. The program exposes mayors and vice mayors to issues essential to their roles as local government leaders.
The 2020 Mayors Institute will be held virtually on Thursday, September 24 from 10:00 AM – 3:15 PM.
More information, as well as a link to register, are available here >.
VML Contact: Jessica Ackerman, jackerman@vml.org
Register early for VML Annual Conference to receive mailed conference kits in time
Conference to be held October 7-8. Last day for refunds is September 10.
While the conference itself may be virtual, VML will be mailing actual boxes filled with items (both useful and fun) to all registered attendees ahead of the event. As such, we encourage those interested in attending to register as soon as possible. The deadline for refunds is September 10. Early registration will ensure adequate mailing time.
A preliminary agenda and the link to register are available here >.
Confirmed speakers include Governor Ralph Northam, Dr. Susan T. Goode who will speak on equity issues, and Rebecca Ryan who will discuss how localities can recover from the pandemic "Better than Before". Representatives from the Virginia Freedom of Information Advisory Council and the Virginia Conflict of Interest and Ethics Advisory Council will conduct sessions that will satisfy the training requirement for local elected officials. Plus, there will be breakout sessions and roundtables on numerous topics of interest to localities, Local Champion Awards highlight reels and VML's annual business meeting…and more!
Stay tuned for more details about this year's event as they are confirmed.
VML Contact: Sandra Harrington, sharrington@vml.org
Opportunities
Grants available for small business recovery in Montgomery County and towns of Blacksburg and Christiansburg
Application deadline is September 20
Montgomery County and the Towns of Blacksburg and Christiansburg have established a grant fund to support small business recovery in response to COVID-19. One-time grants of up to $27,500 are being provided to offset business impacts during the pandemic. The grant program will be administered by all three localities in partnership with the Montgomery County Chamber of Commerce, Downtown Blacksburg Inc., Downtown Christiansburg Inc., and the Blacksburg Partnership. Funding for the Small Business Recovery grant program is provided by the 2020 Coronavirus Aid, Relief, and Economic Security (CARES) Act.
To be considered for funding, small businesses must meet specific eligibility criteria and provide required documentation. Businesses not eligible include banks and financial services, non-profits, franchise businesses (except those locally owned and operated) and businesses that are permanently closed or not currently in operation. Future recovery grant opportunities may be available for childcare centers and non-profit organizations.
There are a number of eligible grant uses, including but not limited to, payroll expenses, lease and mortgage payments, utilities, insurance, equipment purchases, and more. Expenses incurred before March 15; those reimbursed by other federal or state funds; or items not deemed 'necessary' are ineligible.
Guidelines
Completion of the grant application outlining the use of funds by September 20. For full details, and to complete the online grant application visit one of the following sites:
Maximum amount of grant ranges from $500-$27,500
One (1) application per business establishment
Funds will be reviewed by a grant review committee and awarded at one time
Grant distribution is scheduled to begin in October or November 2020, but the distribution timeline may vary depending on the locality administering the grant and on demand.
For additional information or questions, please email grants@blacksburg.gov.
Businesses may also contact one of the following community partner organizations: