eNews September 25, 2017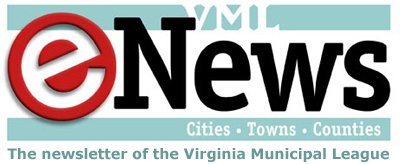 Monday, September 25, 2017 - 09:53am
In this issue:
Exciting program planned for VML conference
Information about speakers, activities, sponsors, and exhibitors for the upcoming VML annual conference are available online. VML thanks its sponsors and exhibitors whose financial support contribute to the successful outcome of each year's event. If you haven't already, make your plans to attend Oct. 1-3.
Commission on Local Government shares catalog of mandates
The Commission on Local Government met Sept. 12 and unveiled its updated, searchable Catalog of State and Local Mandates on Local Government. This is a tool that all local governments can use for information and guidance on mandates.
VML contact: Michelle Gowdy
Virginia Housing Commission meets, prepares legislation
The Virginia Housing Commission met Sept. 13 and took reports from their workgroups. They also heard presentations on Housing for People with Mental Illness and on Building Materials and Code Compliance for Virginia High-Rise Structures (this was in response to the fire in London). Bill Shelton, director of the Virginia Department of Housing and Community Development, provided a progress report on the strategy group for the seriously mentally ill. In addition, there were reports from the following work groups: Neighborhood Transitions, Affordable Housing and Common Interest Communities. Materials for the Housing Commission.
The work groups continue to meet and work on proposed legislation; look for this prior to the Housing Commission meeting on Nov. 15. These proposals will include legislation related to "criminal blight" with a goal of finding a way to eliminate hotels with addicts or prostitutes as permanent residences. Also, look for legislation remedying inconsistency in smoke detector laws and regulations.
VML contact: Michelle Gowdy
911 Services Board discusses funding change impacts
On Sept. 14, the 911 Services Board discussed the impact of their new proposed funding formula. Please review the list to see the impact on your locality. In addition, during this meeting the Board discussed standards and best practices for 911 centers in the future. A representative from this Board will be speaking at the VML Annual Conference on this issue and Next Generation 911.
VML contact: Michelle Gowdy
State revenues grow in August
Total revenue collections increased 3.0 percent through August, ahead of the FY 2018 forecast calling for 2.7 percent growth.
In a Sept. 18 meeting before the House Appropriations Committee, Secretary of Finance Ric Brown brought the delegates good news about Virginia's economy and revenue collections. June and July payroll employment were higher than the summertime numbers recorded a year earlier, growing by 1.7 percent in June and 1.8 percent in July.
According to the Federal Reserve Bank of Richmond, nine of the 11 major industries in Virginia experienced year-over-year employment growth in July with the high-paying Professional and Business Services leading the way at 3.4 percent. Real personal income is also improving, increasing 2.33 percent in the first quarter of 2017 when compared to the first quarter of 2016.
The strong revenue showing in August was attributed by the finance secretary to payroll withholding, which accounts for over 60 percent of general fund revenues. Year-to-date withholding collections are 3.5 percent ahead of the same period last year. The FY 2018 official forecast estimates 1.8 percent growth.
Sales taxes, which make up 18.0 percent of general fund revenues, fell 1.3 percent in August. Secretary Brown said that the decline resulted from several large refunds made to data centers. (Under state law, computer equipment or enabling software purchased or leased for data centers are exempt from the Sales and Use Tax provided that the purchases or leases result in new capital investment of at least $150 million and in the creation of at least 50 new jobs.)
Brown did caution the Committee that although the first two months of the fiscal year are on target with past years' collections, it is too early to determine how FY 2018 will ultimately unfold. September collections will mark the close of the first quarter of the fiscal year, providing better information for state budget analysts to ponder. Next month's report will include estimated payments from individuals, corporations and insurance companies.
In addition, because of the importance of federal defense spending to the state economy, the federal government's failure to pass timely budgets creates a level of uncertainty regarding the Commonwealth's ability to keep a structurally balanced budget. (According to a February 2017 report from the National Council of State Legislatures, Virginia ranks highest in terms of the highest defense spending as a percentage of State GDP.)
In response to Secretary Brown's report, House Appropriations Committee chairman, Chris Jones, announced his intentions to introduce legislation in the 2018 General Assembly Session to establish and build a cash reserve fund separate from the state's "Rainy Day Fund." The Wall Street bond rating agency, S&P Global Ratings, downgraded the state's outlook from "stable" to "negative" because of Virginia's reliance on its Rainy Day Fund and federal defense spending to balance the state budget. Jones noted capitalizing the cash reserve fund would likely be the Committee's top priority. The Committee believes such action would bolster the state's bond rating.
As Summer rushes out to usher in Fall, the state budget process will begin to accelerate. The Joint Advisory Board of Economists meets in October to finalize its economic forecast for the 2018-2020 biennial budget. In November, the Governor's Advisory Council on Revenue Estimates will determine their recommendations on revenue growth for the governor, leading to Gov. McAuliffe's final budget submission in December.
VML contact: Neal Menkes
Transit capital group issues final report to the General Assembly
Across the Commonwealth, 44 public transit agencies provide over 200 million transit trips each year. Federal, state and local resources cannot keep up with the growing public demand for services estimated at 33 percent over the last decade. Beginning in fiscal year 2019, $110 million in dedicated revenues, comprising 44 percent of state transit capital funding, will begin to phase out as the ten-year life of Virginia's Capital Project Revenue bonds ends.
Recognizing the impact of this revenue loss, the 2016 Session of the General Assembly established the Transit Capital Project Revenue Advisory Board to identify replacement funding sources and to explore a prioritization process for funding transit capital spending. (View the final report.)
If the General Assembly fails to act in the next legislative session, commuters and passengers can expect to see buses kept in service beyond their useful life cycle, delays in replacing and upgrading infrastructure, reduced service reliability, higher maintenance costs, and greater pressure to close the funding gap through higher fares and more local tax dollars. The bottom line is that Virginia's public transit systems will be unable to maintain the status quo in service levels and will be unable to sustain a state of good repair for existing transit capital assets. Developing new transit systems and expanding current systems will be an overwhelming challenge.
The transit capital crisis will also have a detrimental effect on Virginia's economy. The report projects a negative annual economic and productivity impact of over $400 million beginning in 2020.
This is an issue that VML will closely monitor in the upcoming session.
VML contact: Neal Menkes
Local government annexation study discusses fiscal and structural issues
The Commission on Local Government Annexation Alternatives Study met Sept. 20 in Charlottesville. There were discussions in two groups, fiscal issues and structural issues. Both groups reported their findings which included identifying state-mandated services and looking into whether the state should require that they be handled on a regional basis rather than by locality. Participants also discussed ways to deal with poverty and education and debt/taxation powers. A lot of the discussion included the referendum requirement for debt and if that is appropriate. This group meets again in December. The Commission will cover some of these issues at the Joint Subcommittee on Local Government Fiscal Stress. The final report is not due until December 2018.
VML contact: Michelle Gowdy
Webinar on rural edge for local GIS managers available
The rural edge is a sensitive zone that exists between urbanized and rural environments. Fauquier County, Virginia and Esri have teamed up to offer a webinar Sept. 26 on using imagery and elevation data to understand and manage change in these areas. This training is ideal for GIS users in local governments. Content is also relevant to information technology, community services, planning & zoning, stormwater, public works and environment, parks and rec, and economic development offices.
Learn more and register online.
Response to survey on permitting process related to public safety requested 
A few weeks ago, VML issued a survey in coordination with the Office of the Secretary of Public Safety and Homeland Security to collect information about localities' current permitting policies and procedures related to public safety preparedness. This information will allow us to assist in developing a model permitting process that your locality may adopt if you wish. The original deadline of Sept. 19 has been extended a few days to collect additional responses. We appreciate your participation.
VML contact: Michelle Gowdy
New brochure available on Brady law
Virginia Association of Chiefs of Police and the Virginia Association of Commonwealth's Attorneys have developed a brochure about Brady v. Maryland. This brochure gives law enforcement officers, prosecutors, and government attorneys information about Brady disqualifications and recommends best practices for compliance. View and print a copy or pick up one at VML's annual conference.
VML contact: Michelle Gowdy
South Dakota, Massachusetts look for new ways to impose sales tax obligations on out-of-state retailers
In a setback to the Mount Rushmore State's attempt to establish a legal precedent in requiring out-of-state retailers to collect and remit sales taxes, the state's supreme court refused to urge the U.S. Supreme Court to review the 1992 Quill Decision.
The South Dakota court ruled that state legislation does not impose a valid obligation on sellers who do not have a physical presence in the state. The South Dakota Department of Revenue is weighing its options, including taking the issue to federal court.
A coalition of online retailers opposed to South Dakota's initiative argues that the issue does not belong in federal court but instead should rest with Congress.
Meanwhile, the Massachusetts Department of Revenue recently released the final version of a regulation that would force e-commerce retailers that do business in the state to collect sales taxes from customers.
The regulation is expected to be published September 22 in the Massachusetts Register of Regulations. The regulation would require an Internet vendor to collect and remit sales taxes, if the vendor made more than $500,000 in sales in the Commonwealth during the previous year and had 100 or more transactions and if it had any physical presence in the state, including software that an in-state customer downloaded. Downloaded software includes "apps" and Internet "cookies." Companies subject to the regulation would also have to file a tax return, and would be penalized if they fail to do so or fall behind on sales tax collections and remittances.
The theory that apps and cookies indicate a physical presence, as is required by the Quill decision, is quite likely to be litigated.
In Virginia, the Department of Taxation estimates that the Commonwealth loses between $200 million to $300 million each year in state and local sales taxes.
During the 2017 Virginia General Assembly session, legislation proposed by Governor Terry McAuliffe was enacted which partially addresses Internet sales. The measure requires out-of-state online merchants using warehouses or fulfillment centers in Virginia to register as dealers for the collection of sales taxes on their sales into Virginia. The bi-partisan legislation is expected to generate new state and local revenue of $21 million each year.
VML contact: Neal Menkes
Virginia youth commission seeks feedback
Virginia Commission on Youth seeks public comment for study findings and recommendations for two studies:
Identifying substance use prevention and intervention programs at Virginia's colleges and universities
Trauma-informed care
Find both studies online. Public comment is welcomed through by 5 p.m., Nov. 1.
VML contact: Sandy Harrington
Grant writing workshop planned
Loudoun County Government and Grant Writing USA will present a two-day grants workshop in Leesburg, Sept. 25 and 26. This training is for grant seekers across all disciplines. Beginning and experienced grant writers from city, county, and state agencies as well as nonprofits, K-12, colleges, and universities are encouraged to attend. Use discount code "VAASSN" to receive a $30 discount off full-price registration.
Farm-to-School Week coming up
Oct. 2 through 6 is Farm-to-School Week. This year's theme is "Make Some Noise for Farm-to-School." On Oct. 4 at 10 a.m., crunch on a Virginia-grown crop as part of the inaugural Crunch Heard 'Round the Commonwealth, sponsored by the Virginia Department of Education (VDOE) in collaboration with the Virginia Department of Agriculture and Consumer Services (VDACS).
VML contact: Sandy Harrington
All-America City Award program seeking applications
The National Civic League is accepting applications from communities that have included diverse voices in problem-solving or promoted equitable practices and solutions to apply for the 2018 All-America City Award. Cities interested in applying for the All-America City Award can submit a letter of intent by Oct. 18 to save $100 on the application fee. The admission deadline is Feb. 28, 2018.
Sept. 30 – Oct. 1: Virginia Mayors Institute, Williamsburg
Oct. 1-3: 2017 VML annual conference, Williamsburg
Oct 4-5: Smart Cities Week, Washington, D.C.
Oct. 15-17: VBCOA school and conference, Virginia Beach
Nov. 15-18: NLC City Summit, Charlotte, N.C.
Jan. 3, 2018: Finance Forum – Omni Richmond
Jan. 31, 2018: VML Legislative Day, Library of Virginia