eNews September 18, 2020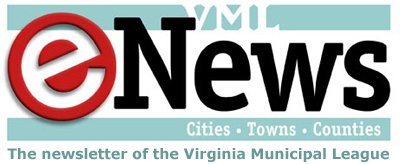 Friday, September 18, 2020 - 05:31pm
In this issue:
Action Alert
Oppose new trash tax
Urge your delegation to VOTE NO on the Governor's budget language amendment
The Virginia Municipal League and several other organizations asking members to oppose the Governor's budget language amendment (Item 372 E, page 173 – lines 1-9) which directs the Secretary of Natural Resources, in consultation with the Secretary of Agriculture and Forestry, to study and develop a plan to require landfill operators pay a State solid waste disposal fee, or a tipping fee, for each ton of solid waste received at the landfill.
This legislation has nothing to do with Special Session objectives and, if passed, will implicitly give approval to a new trash tax fee concept.
This amendment is not necessary. If the Administration wants to put in a trash tax budget amendment during the 2021 session, it does not need a legislative sign-off to do so.
Why you should oppose
This is not an issue that should be considered during a Special Session focused on COVID-19 and justice issues.
Local governments, residents & businesses are already struggling during these challenging times. This budget item would put an additional economic burden on all Virginians – especially those that can least afford it!
Constitutionally, a State tipping fee would have to impact both public and private landfills.
Local governments depend on local landfill host fees to meet their budget – in many localities these fees are an important source of revenue. A new statewide tipping fee would drive volume away from both public and private landfills causing budget deficits during an already difficult and uncertain time.
While Virginia does not have a state tipping fee, the per ton annual permit fee for landfills funds DEQ's solid waste program. This is a significant charge to both public and private landfills in Virginia based on the tonnage they receive and generates millions of dollars in annual revenue to the State. Many other states that have a trash tax do NOT have annual permit fees.
The legislature on a bipartisan basis has on several previous occasions rejected a "TRASH TAX".
Supporting organizations

VML Contact: Michelle Gowdy, mgowdy@vml.org
Bills of Interest
Criminal records bill referred for study
HB5090 (Hurst) would have required criminal investigative files and criminal records to be released in accordance with the provisions of the Freedom of Information Act (FOIA). Currently these records can be released in a discretionary fashion.
The bill was referred to the FOIA Council for study and will be brought back in the 2021 General Assembly Session. VML has a legislative position that supports the FOIA Council reviewing all FOIA legislation before passage.
VML Contact: Michelle Gowdy, mgowdy@vml.org
Land use bill to be heard by House General Laws committee
SB5106 (Lewis) extends various land use approvals to July 1, 2022. This bill will be heard in the House General Laws committee on the afternoon of Monday, September 21. It is expected that there will be an enactment clause added to the bill that says, "Notwithstanding any provision of law, nothing in this act shall extend any provision under 15.2-2209.1 of the Code of Virginia."
The Senate has already passed this legislation.
VML Contact: Michelle Gowdy, mgowdy@vml.org
Health & Human Services
Voting with a disability webinar scheduled for Sept. 21
The Virginia Board for People with Disabilities is hosting a free public webinar on Monday, Sept. 21, from 6:00-8:00 PM on Zoom and via live stream on Facebook to provide individuals with disabilities all the information they need to vote this fall. The webinar will feature a panel discussion and presentation with representatives from the disAbility Law Center of Virginia and the Virginia Department of Elections.
Click here to register to participate on Zoom or visit the Board on Facebook at facebook.com/VABOARD to watch the live stream on Monday, Sept. 21, at 6:00 PM.
The Board has also announced the construction of a brand new web page with information on voting rights, how to register, and more.
VML Contact: Janet Areson, jareson@vml.org
Senate Judiciary acts on House police reform bills
There has been no official cross over date for the Special Session, but bills are making their way from one chamber to the other.
On September 16, the Senate Judiciary Committee took up several House bills related to police reform.
As background, the Senate passed one comprehensive police reform bill – SB5030 (Locke) – that addressed issues such as decertification, training requirements, use of force, requirements for executing search warrants, acquisition of military property, etc.  In contrast, the House passed several bills that addressed singular issues related to reform.
The Senate Judiciary Committee conformed many of those House bills to the corresponding section of SB5030 and reported them. Those bills included:
The committee also conformed the following House bills to corresponding Senate bills and reported and referred to Senate Finance and Appropriations:
HB5043 (Bourne) Creates a Marcus alert system and requires creation of community response teams to address mental health crisis situations. (this bill was referred to Senate Finance and Appropriations).
HB5055 (Herring) Addresses creation of civilian review panels.
The committee passed by indefinitely HB5112 (Levine). That bill addressed duty to report unlawful behavior of a fellow law enforcement officer, which is also addressed in SB5030 (Locke).
VML Contact: Janet Areson, jareson@vml.org
School COVID-plan bill reported
On September 17 the House Committee on Health, Welfare, and Institutions reported SB5083 (McClellan) that requires each school board to post on its website its plan/strategies for mitigating the spread and public health risk of the COVID-19 virus that the school board is required to submit to the Department of Education before reopening schools in accordance with the Commonwealth's Phase II and III guidelines. The bill contains an emergency clause.
VML Contact: Janet Areson, jareson@vml.org
Elections
No-excuse early and absentee voting across Virginia began today
Lines at registrar's offices stretched for as long as four hours in some localities as voters turned out for Virginia's first day of no-excuse early voting in a national election cycle. This year, Virginia joins six other states (Michigan, Minnesota, New Jersey, South Dakota, Vermont, and Wyoming) to offer early voting at least 45 days before an election. Unlike most other states, however, Virginia also allows registrars to begin counting votes prior to an official election day. This means that, even more so than in previous years, policy analysts will be looking to Virginia as an early indicator of national trends, particularly in the presidential election.
Important dates to remember for this election cycle:
Eligible U.S. citizens can register to vote through October 13, 2020. The fastest way to register is via the Virginia Department of Elections website; however, one can also register at their local DMV office (note: hours of operation may be different under the current state of emergency).
Online applications to vote by mail are open now! Submit your application through the Virginia Department of Election's Voter Portal. The deadline to apply for an absentee ballot is October 23, 2020.
Election Day, which is now a statewide holiday, is Tuesday, November 3, 2020.
VML Contact: Jessica Ackerman, jackerman@vml.org
Transportation
Commonwealth Transportation Board meets; discusses budget amendments
The Commonwealth Transportation Board (CTB) held its September meeting this week. The CTB discussed the Governor's transportation budget amendments that the General Assembly is expected to consider but to date has taken no action on. These three budget amendments would provide:
CTB with the authority and flexibility to address transportation revenue deficits through cash management strategies.
DRPT with the ability to act on behalf of the newly created Virginia Passenger Rail Authority.
DRPT with stability for the agency's operating budget.
It is unclear when the General Assembly will act on these amendments.
Possible local impacts
Members should be aware that projects receiving state funding through the Six Year Improvement Program could be impacted by the cash management approach requested by the CTB. While the intention is that this approach will not negatively impact existing projects, VML continues to monitor this proposal and how it will affect transportation projects.
Use of federal funds approved
The CTB also approved funding of transit systems using federal funds as part of action taken for the 2020-2025 Six-Year Improvement Program. Funding approved included $61.7 million for transit operations, $3.2 million for human service providers, $1.5 million for operating assistance for rural transit providers, and more than $550,000 for Transit Demand Management programs.
To see individual funding allocations, refer to Attachment A on pages 58-62.
VML Contact: Mitchell Smiley, msmiley@vml.org
Economy
Tough budget times aren't going away
Or "If the Past is Prologue, then Expect More of the Same."
The Senate Finance and Appropriations Committee met earlier in the week to hear from Aubrey Layne, the Secretary of Finance, and the directors of the Virginia Retirement System (VRS) and the Virginia Alcoholic Beverage Control Authority (ABC). The presentations offered more than a glimpse to Virginia's economic future along with state and local budget fallouts.
Secretary Layne delivers some good news (with caveats)
In his presentation to the Committee and his monthly report to the Governor, Secretary Layne pointed out that in the first two months of Fiscal Year 2021, total general fund revenues had increased by 11.6 percent compared with the projected revenue decline of 1.8 percent. That good news was flooded by the cold water flung by Secretary Layne when he pointed out that August is not a significant month for revenue collections that derive mainly from withholding, sales taxes, and other sources that have regular monthly payments.
September collections will complete the first quarter of fiscal year 2021 and provide a clearer assessment of revenue growth, according to the Finance Secretary. The first estimated payments from individuals, corporations, and insurance companies are due in September. The estimated payments or non-withholding income tax collections have proven critically important in determining the accuracy of past forecasts. Non-withholding is perhaps the most difficult revenue to forecast and the success of that forecast very often depends on the final quarter's collections.
However, the information collected in September are the last data points used in the new revenue forecast Gov. Northam will release December 16 (just three months from today) for the 2021 legislative session. The public confidence in the December forecast will likely hinge on the severity of the COVID-19 pandemic, the increase or decrease in economic activity, and even the November election. The Finance Secretary acknowledged the challenges in budgeting because of the pandemic and other uncontrollable variables tied to a new Medicaid Forecast for the 2021 Session, the current (and future?) decline in transportation revenue collections, and the state's economic dependency on federal spending.
VRS reports on investment performance
Patricia Bishop, Director of the Virginia Retirement System, and the VRS Chief Investment Officer Ronald Schmitz followed Secretary Layne and walked the Senate money panel through the VRS FY20 investment performance.
The unfunded liability of pension funds for teachers rose as market returns lagged on investments by Virginia's $82 billion retirement system.
The funded status of the state's two biggest pension funds, state employees and teachers, dropped in the last fiscal year to about 71 percent, down from about 75 percent the previous year. Funded status represents the amount of money available in the Virginia Retirement System trust fund to pay for future retirement benefits and other liabilities for state employees and teachers. At the close of FY20, the unfunded liability in the teacher retirement fund stood at $12.8 billion. There are over 151,000 teachers in VRS along with over 110,000 local government employees.
The decline will not affect the rates that Virginia and its local governments pay for their share of employee retirement costs in this biennium, but that could change if VRS does not improve its investment performance.
VRS will review the status of state pension funds, including the retirement plan for teachers, in October and for local governments in November, based on the results of an actuarial valuation of the retirement plans on June 30. The review will show any effect of market performance on rates, but the results will not change rates in the budget for state and local government employers. The board will certify new rates in the Fall of 2021 for the 2022-24 budget, based on an actuarial valuation of the plans on June 30, 2021.
As part of the presentation, VRS offered an estimate of future contribution rates in fiscal years 2023 and 2024 for the teacher retirement plan. As might be expected, the estimates rise and fall depending on asset returns. The contribution rates for instructional positions recognized under the Standards of Quality are split funded between the state and local school divisions depending on a locality's composite index. Teacher positions in addition to those in the state Standards of Quality are the full funding responsibility of the locality. The state funding contribution for these positions is zilch.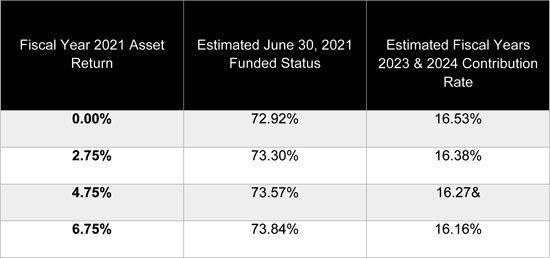 ABC offers "gray machine" fun facts
Travis Hill, the ABC CEO made the final presentation to the Senate committee. Of interest to local governments was Mr. Hill's "fun facts" about Virginia's one-year authorization of games of skill (a.k.a. "gray machines").  Under legislation enacted in the 2020 Session, the distributors pay a $1,200 monthly tax to the Virginia Department of Taxation for each machine that was in play in the previous month. Under the legislation, 12 percent of the tax collections are distributed to localities (based on where the machines are located).
According to ABC, 87 distributors have registered in Virginia, representing some 10,291 machines. The July tax revenues collected by the Virginia Department of Taxation were over $12 million. Distributors reported $176.4 million wagered on skill games and $135.4 million in prize winnings.
The authorization for the games expires on June 30, 2021. Given the opposition expressed by the chair of the Senate Finance and Appropriations Committee, the ranking minority leader in the Senate, and Governor Northam, the odds that the expiration date will be pushed to a later year are too small for a prudent investor.
On a more sobering note, in good economic times or bad (or in times of relative health or full-blown pandemic), alcohol sales continue to rise. The ABC CEO reported that the state agency experienced holiday-like demand this past May. Only six days during the 2019 Fall Holiday Season eclipsed May's shipments.
Profitability and transfers to the state treasury have also increased with contributions to the Commonwealth over the last seven-years climbing to $3.2 billion.
It is important to point out that Virginia's cities, towns, and counties once shared in the profits and taxes, receiving a total of $8.5 million in fiscal year 2007. However, the General Assembly stopped these appropriations to localities as a cost-savings measure during the Great Recession. The appropriations have never been restored. Over the last ten years, ABC profits have gone from just under $125 million to $212 million.
More of the same?
How all this information will factor into the General Assembly's review of the budget revisions proposed by the Governor for the Special Session are anyone's guess. Neither the House Appropriations Committee nor the Senate Finance and Appropriations Committee have held extensive meetings on the budget and any possible modifications to Northam's proposal. If the past is prologue (with all due apologies to Shakespeare), the legislature's actions may not be far reaching in scope. And quite possibly, the 2021 Session may be more of the same for state revenues and expenditures.
VML Contact: Neal Menkes, nmenkes@vml.org
VML Events
2020 Mayors Institute happening September 24; agenda now available
From improving the current infrastructure to preparing for autonomous vehicles, local communities are moving toward the future. Learn how you can meet the needs of a new generation of citizens at the Virginia Mayors Institute. The program exposes mayors and vice mayors to issues essential to their roles as local government leaders.
The 2020 Mayors Institute will be held virtually on Thursday, September 24 from 10:00 AM – 3:15 PM.
More information, including the agenda and a link to register, are available here >.
VML Contact: Jessica Ackerman, jackerman@vml.org
Annual Conference kits begin being mailed next week
Register by September 25 to ensure timely delivery
If you're already registered for this year's conference, happening virtually October 7-8, keep an eye on your mailbox for a box full of items both practical and whimsical to complement the event.
If you're not already registered, but plan to attend, we urge you to register as soon as possible to ensure timely delivery.
Note: Please register no later than September 25 to ensure receipt of conference kit.
A preliminary agenda and the link to register are available here >.
Confirmed speakers include Governor Ralph Northam, Dr. Susan T. Goode who will speak on equity issues, and Rebecca Ryan who will discuss how localities can recover from the pandemic "Better than Before". Representatives from the Virginia Freedom of Information Advisory Council and the Virginia Conflict of Interest and Ethics Advisory Council will conduct sessions that will satisfy the training requirement for local elected officials. Plus, there will be breakout sessions and roundtables on numerous topics of interest to localities, Local Champion Awards highlight reels and VML's annual business meeting…and more!
Keep an eye on VML' website (at the link above) for more details coming next week.
Thanks to our exhibitors!
Pre-conference begins October 5th with the Virtual Exhibit Hall:
American Public University System
Bowman Consulting Group, Ltd.
CIMCON Lighting, Inc.
Cunningham Recreation/GameTime
Dominion Energy
Hurt & Proffitt
ICMA-RC
Keystone Information System, Inc.
Land Planning and Design Associates, Inc. (LPDA)
Mosca Design
Moseley Architects
Municode
National League of Cities
No Kid Hungry Virginia
Pierce Group Benefits
Polco/National Research Center
Precision Safe Sidewalks
SGC Power
Spring City Electrical
The Berkley Group
Thompson & Litton
VACORP
VC3
Virginia American Water
Virginia Housing
Virginia Institute of Government, Weldon Cooper Center for Public Service
Virginia Risk Sharing Association (VRSA)
Visit Loudoun
VisitNorfolk
VML/VACo Finance
Zencity
VML Contact: Sandra Harrington, sharrington@vml.org
Announcements & Opportunities
GWTCA informational page about the FCC proposed order now available
The Government Wireless Technology & Communications Association (GWTCA) has made available an information page on the FCC's recent release of a draft decision to have states lease 4.9 GHz spectrum (previously used exclusively for public safety) to non-public safety users.
This resource will be updated as more information becomes available.
VML Contact: Michelle Gowdy, mgowdy@vml.org
Resilient Virginia's Fall 2020 "Resiliency Academy" Series kicks off September 23
Resilient Virginia is hosting a Fall 2020 Resiliency Academy webinar series that highlights Four Resiliency Planning Guides that your community can use to build the capacity to maintain critical functionality and vitality in the face of severe disturbances and chronic stressors. The need for overarching and inclusive resiliency plans that integrate health, equity, social and economic concerns with ever-increasing climate disasters has been highlighted by the current COVID pandemic's impact on communities.
U.S. Climate Resilience Toolkit: September 23, 1:00–2:30 PM
David Herring, Director of Communication & Education at the National Oceanic and Atmospheric Administration's (NOAA) Climate Program Office, will demonstrate the U.S. Climate Resilience Toolkit. This toolkit is a robust website of resources designed to help people find and use tools, information, and subject matter expertise to build climate resilience. It was developed as an inter-Agency initiative that operates under the auspices of the United States Global Change Research Program. The workshop provides an opportunity to find out more about this extensive toolkit that includes a data site that projects climate changes down to the county level, outlines the steps involved in resiliency planning, and highlights case studies.
Register to reserve your seat at this webinar.
Resilient Virginia Contact: Tracy Garland, Director, Events and Social Media, Garland@resilientvirginia.org