eNews September 11, 2020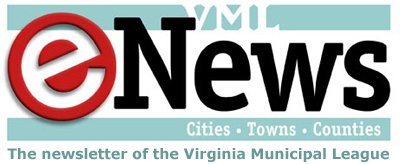 Friday, September 11, 2020 - 05:27pm
In this issue:
Special Session
Updates on legislation of interest to localities
These bills with implications for localities saw action this week.
Workers' compensation presumption bills for COVID-19
SB5066 (Saslaw) was heard in Senate Finance this week in what Senator Howell said would be the last day to hear bills. This proposal provided a rebuttable presumption for law enforcement officers, firefighters, first responders, correctional officers, and health care providers. In a last-minute substitute, however, the committee added "eligible teachers," defined as primary and secondary teachers who provide in-person, in-class instruction for 2 or more days per week.  Also, during the meeting, they added regional jail workers to the bill. As outlined by the legislation, an individual is deemed to have contracted COVID-19 at work unless a preponderance of competent evidence is to the contrary.
Status: SB5066 was not reported out of the committee as many of the members expressed concerns over the cost of this bill.
HB5028 (Jones) is also a workers' compensation presumption bill. This bill has passed the House and includes the same classifications of employees as SB5066 except correctional officers and adds School Board Employees (which is a rather broad term).
Status: This bill has been referred to Senate Commerce and Labor.
Qualified immunity
HB5013 (Bourne) was heard by Senate Judiciary on Thursday. There has been a lot of discussion and frustration surrounding this bill which would ban law enforcement from using qualified immunity as a defense to a civil action for deprivation of rights claim as outlined in the legislation.
Status: HB5013 was referred to a Senate/House Committee (if the House agrees) to study the issue. This issue will continue to be discussed and VML fully expects to see further legislation relating to qualified immunity.
Attorney General authority
SB5024 (Lucas) authorizes the Attorney General to file a civil suit, inquire into or seek to conciliate, through the Division of Human Rights, any unlawful pattern and practice against the Commonwealth or a locality when there is reasonable cause to believe that law-enforcement is engaging in a pattern or practice which deprives persons of rights, privileges, or immunities protected by law. The Attorney General may also enter into a conciliation agreement (if appropriate) which may include ineligibility for funding from the Commonwealth.
Status: SB5024 has passed the Senate. The House companion HB5072 (Lopez) has passed the House and been referred to Senate Judiciary. The House bill does not currently include the loss of funding provision.
Freedom of Information Act (FOIA)
HB5090 (Hurst) requires criminal incident information to be disclosed to include any reports, notes, and electronic communications but allows victim or witness information to be withheld in certain circumstances. This bill also allows for law enforcement or the attorney to the Commonwealth to petition the court to withhold appropriate information.
Status: HB5090 has passed the House.
Quarantine leave
HB5116 (Guzman) mandates paid quarantine leave for employees who work 20 hours or more per week. This legislation has been amended several times and is expected to be amended several more times.
Status: HB5116 has passed the House. Stay tuned!
VML Contact: Michelle Gowdy, mgowdy@vml.org
Utilities
Utility debt repayment legislation improved
Legislation regarding utility debt repayment programs, SB5118 (McClellan), was amended by the Senate Appropriations and Finance Committee this week and then advanced to the floor for consideration by the Virginia Senate.
The amendments approved in committee exempt municipal utilities from the debt repayment components of the bill and changes the requirement for municipal utilities to report information about accounts with accrued balances so that reporting is now required to certain House and Senate committee chairs upon request. Prior versions of the bill sought to have municipal utilities report this information to the State Corporation Commission, which would have set a dangerous precedent, or the Commission on Local Government. Senator McClellan has stated that the reporting requirement are necessary to inform the General Assembly prior to future decisions regarding rate increases needed to recover costs incurred from debt repayment plans. VML does not believe the reporting component is necessary because municipal utilities can already set their own rates. However, we do believe this is a significantly improved piece of legislation in its present form.
VML supports this legislation and we ask that the Governor also support it.
Senator McClellan and members of the Senate heard from localities across the Commonwealth on this issue and the improved legislation is a result of this feedback. Thank you to everyone who reached out to their legislative delegation on this important issue.
VML Contact: Mitchell Smiley, msmiley@vml.org
Budget language regarding utility disconnections remains a concern
VML continues to be concerned that budget language mandating a utility disconnection moratorium will impact locally owned utilities. Our position remains that the Governor should use a portion of remaining federal CARES funds to assist individuals with account balances directly. This could be done by providing grants to pay accrued utility balances to those experiencing financial hardship due to the COVID recession. While we recognize that revenue replacement is an ineligible expenditure, we maintain that existing Treasury Department guidance provides clear authority for the Administration to use unobligated balances to directly provide cash assistance payments to individuals with utility account balances to prevent utility disconnections. Direct assistance would more effectively address the needs of individuals unable to make utility payments than any utility disconnection moratorium is likely to do.
VML Contact: Mitchell Smiley, msmiley@vml.org
Elections
Absentee voting legislation approved by General Assembly and Governor
Following debate on the House floor last Friday, SB5120 (Howell) passed the House on its third reading and was approved by Governor Northam. This bill and its House counterpart HB5103 (Sickles) address three primary components of the November 3rd election that will affect localities:
Prepaid postage: The legislation includes $2 million to reimburse localities for the cost of including prepaid envelopes with absentee ballots requested by voters ahead of the upcoming election. Registrars have been informed that, should the costs of postage exceed $2 million, additional funding will be made available by the state.
Ballot drop boxes: Voters who are unable to either vote in person or mail in their absentee ballots may instead drop off their completed absentee ballots at designated locations prior to Election Day. Security requirements for such boxes will include either in-person monitoring, which comes at no additional cost to localities where drop boxes are installed at the local registrar's office, or video surveillance equipment, for which localities must pay.
Ballot Curing: Finally, the legislation permits local registrars to contact voters who have submitted improperly completed absentee ballots prior to Election Day. This will involve additional staffing requirements to both inspect ballots prior to their insertion into ballot boxes and to contact voters.
VML Contact: Jessica Ackerman, jackerman@vml.org
Countdown to November: 53 days to Election Day!
Following a push by the General Assembly to increase voting access during the 2020 Session, November 3rd will look a little different from previous Election Days in Virginia. As a reminder, all registered voters are now eligible to vote early, whether in-person at either their local registrar's office or a satellite location, or absentee by either mailing in or dropping off a ballot at a designated drop box. The following are some important dates to remember over the next several weeks:
Eligible U.S. citizens can register to vote through October 13, 2020. The fastest way to register is via the Virginia Department of Elections website; however, one can also register at their local DMV office (Note – hours of operation may be different under the current state of emergency).
Online applications to vote by mail are open now! Submit your application through the Virginia Department of Election's Voter Portal. The deadline to apply for an absentee ballot is October 23, 2020.
In-person voting begins September 18, ,2020. Check your local registrar's website to determine hours and locations of availability prior to Election Day.
Regardless how you choose to do it, don't forget to vote!
VML Contact: Jessica Ackerman, jackerman@vml.org
Health & Human Services
Policing reform bill narrowly passes Senate
On a vote of 21-19 the Senate of Virginia passed SB5030 (Locke) on Sept. 10. This is the comprehensive policing reform bill that made its way through both the Senate Judiciary and Senate Finance and Appropriations Committees.
As previously reported in eNews, this bill includes the following provisions:
Expanded decertification requirements, including new statewide standards of conduct for police and jail officers and appropriate due process procedures for decertification based on serious misconduct in violation of those standards;
Restrictions on types of equipment obtained/purchased from the U.S. Department of Defense;
Additional training curriculum and requirements for law enforcement training/recertification;
Additional law enforcement reporting requirements (to include demographic and other information about "stop and frisk" pedestrian encounters based on reasonable suspicion as well as all other investigatory detentions that do not result in an arrest or the issuance of a summons (these are in addition to requirements for such information for all motor vehicle stops approved during the regular 2020 session);
Restrictions on use of no-knock search warrants and use of force/deadly force; and
Required intervention by an officer if another officer is attempting or using unlawful force against an individual.
The bill will allow the state to deny a locality's HB599 funding if a locality fails to report its motor vehicle/pedestrian "encounter" data to State Police. (Please note that the state can already deny 599 funds if a locality doesn't report accurate crime data to State Police); or to freeze that distribution if a police department is not accredited by DCJS or a national accrediting body by 2024
VML Contact: Janet Areson, jareson@vml.org
Senate Marcus alert/community response bill advances to the floor
Earlier this week the Senate Finance and Appropriations reported and sent to the Senate floor SB5038 (McPike), which is the Senate's version of a Marcus alert/community response team bill to address response to individuals in a behavioral health crisis. The House has already approved its own version –  HB5043 (Bourne)
SB5038 contains some of the same elements as HB5043 but allows for the development of protocols for response instead of a single response model.
The Senate bill requires the state to establish a Marcus alert system and community care teams written plan by July 1, 2021, and requires every locality to be served by a Marcus alert system and protocols for law enforcement to participate in a Marcus alert system approved by state by July 1, 2022. The House bill phases in that system over six years.
Unlike the House bill, the Senate bill would require every locality to establish a database by July 1, 2021, for individuals with mental health, behavioral health diagnosis, developmental or intellectual disability, or brain injury or their guardian or caregiver to voluntarily provide information for 911/response purposes.
Finally, the bill would require the Virginia Department of Behavioral Health and Developmental Services (DBHDS) to develop a comprehensive crisis service continuum with such funds as may be appropriated, based on national best practices models. The requirement for a comprehensive crisis service continuum is important and the need for such is long-standing. However developing such a system with "such funds as may be appropriated" is a concern because state funding for behavioral health needs has ebbed and flowed over the last 40 years and there are many needs in the system that also require more state funding.
VML Contact: Janet Areson, jareson@vml.org
State stresses importance of seasonal flu vaccines
Preparations underway for COVID-19 vaccine
The Virginia Department of Health continues to encourage everyone who can get a seasonal flu vaccine to do so. Flu vaccines are widely available across the Commonwealth. Facts about the flu can be found here: Frequently Asked Questions Flu 2020/2021 Season
In related news, the state's vaccination advisory workgroup met Sept. 3 to prepare for a COVID-19 vaccination (when one becomes available). This workgroup reviews information from the CDC and will identify critical occupational groups in each jurisdiction (such as front line health workers, emergency, education and other essential services) and ensure relationships and plans are in place to get any COVID-19 vaccine distributed for use. The workgroup includes representatives of several state agencies, local health departments, state associations representing hospitals and health care systems, pediatrics, assisted living facilities, pharmacists, and drug stores.
For more information about that workgroup, go to the VDH COVID-19 webpage and select the link to the Partner's Call Vaccination Update 9-11-2020. It includes information about the steps necessary to bring a vaccine to market and the groups involved in the state's vaccination advisory workgroup.
VML Contact: Janet Areson, jareson@vml.org
Economy
Federal Reserve Bank changes role from "Inflation Fighter" to "New Jobs Champion!"
The Federal Reserve's new strategy (as outlined by Chairman Powell on August 27) puts more weight on bolstering the labor market and less on worries about high inflation. Calling full employment "a broad-based and inclusive goal," the new policy statement pledges that the U.S. central bank will make policy decisions based on "shortfalls from full employment."
The new language signals the Fed will continue to combat unemployment that is too high, but that it won't raise the alarm over unemployment falling too fast or too far, as it had done in the past. The goal is to push unemployment down to bring more workers to the labor market.
Before the coronavirus pandemic hit, the U.S. unemployment rate had fallen to near 50-year lows, and there was no sign of an inflation surge. The new framework takes that lesson into account, leaving room for the Fed to keep policy loose even as employment increases.
While the new approach could mean higher prices for food and other essentials, Fed Chair Jerome Powell said in explaining the shift, that it's a price worth paying to keep inflation from dropping too low and for achieving a stronger labor market. The Federal Reserve will essentially base decisions on interest rate increases on when inflation overshoots the Bank's long-held 2 percent inflation target.
Measures seek to bring some relief
The Fed's switch from inflation buster to job creator will not occur overnight. In the meantime, the country and the Commonwealth continue to struggle with the current unemployment landscape.
The Virginia Employment Commission announced last week that it expects to begin distributing $300-a-week in additional unemployment benefits in "about two and a half weeks," which would fall on the week of Sept. 20.
The Federal Emergency Management Agency approved Virginia's application to participate in the relief program President Trump established through an executive order issued at the end of August. The $600-a-week emergency benefits that Congress approved expired in late July.
It is unclear how long the benefits will last, but officials are reported as saying that they will be paid retroactively to Aug. 1. That means recipients should receive at least three-weeks' worth of the benefits when the money begins to flow, but subsequent weeks could be delayed. Unlike the previous benefits boost, the federal funds are coming not from the U.S. Department of Labor but from FEMA. The federal emergency agency is capping initial grants at three-weeks' worth of benefits and requiring states to reapply for the benefit each subsequent week. Trump capped spending on the program at $44 billion, which would be enough to cover between five and six weeks of benefits depending on how many states sign up.
About that August unemployment rate report…
On September 7, we learned that the August unemployment rate in the U.S. was 8.4 percent with 1.4 million new jobs created. This good news is somewhat tempered by the fact that almost 240,000 of the new workers were taking temporary positions with the U.S. Census and payrolls remain 7.6 percent less than February's payroll numbers. If hiring continues at the August pace, it would take eight or nine months to recover all the jobs lost since the pandemic began. Also, the opening and closing of schools, and the closing of childcare facilities, will slow down the return of many workers, particularly women, to the labor market.
The table below depicts the explosive increase in unemployment resulting from COVID-19.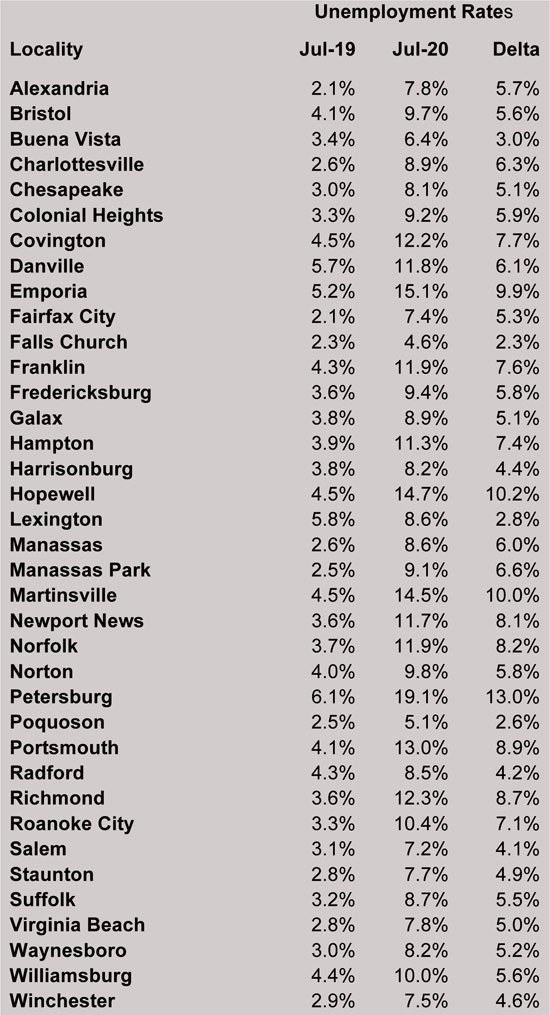 Meanwhile in Virginia…
The economic news in Virginia is brighter than the national statistics. Total payroll employment inched upwards by 9,300 jobs or 0.2 percent in July. The unemployment rate inched downward by 0.1 percentage to 8 percent, which was 5.3 percent higher than the prior year. And home ownership leaped 77.5 percent over June's numbers and 58.2 percent over July 2019 figures.
The nascent economic recovery still has a long way to go. The July unemployment rates in Virginia's cities are grim and are not likely to shrink to 2019 levels anytime soon.
VML Contact: Neal Menkes, nmenkes@vml.org
VML Events
VML Mayors Institute happens September 24
Mark Funkhouser confirmed as guest speaker
From improving the current infrastructure to preparing for autonomous vehicles, local communities are moving toward the future. Learn how you can meet the needs of a new generation of citizens at the Virginia Mayors Institute. The program exposes mayors and vice mayors to issues essential to their roles as local government leaders.
The 2020 Mayors Institute will be held virtually on Thursday, September 24 from 10:00 AM – 3:15 PM.
More information, as well as a link to register, are available here >.
Just confirmed: Mark Funkhouser will address the conference. Mark Funkhouser, president of Funkhouser & Associates, is a municipal finance expert and former mayor of Kansas City who has served as a government official, elected leader, and publisher of Governing magazine. He draws upon these experiences to take you beyond the basics and offer five sets of practices that make communities fiscally stronger, more resilient, and better prepared for the challenges ahead.
VML Contact: Jessica Ackerman, jackerman@vml.org
New preliminary agenda now available for 2020 VML Annual Conference
Register now to receive your conference kit in time
The latest preliminary agenda and the link to register for the virtual conference happening October 7-8 are available here >.
While the conference itself may be virtual, VML will be mailing actual boxes filled with items (both useful and fun) to all registered attendees ahead of the event. As such, we encourage those interested in attending to register as soon as possible. Early registration will ensure adequate mailing time.
Confirmed speakers include Governor Ralph Northam, Dr. Susan T. Goode who will speak on equity issues, and Rebecca Ryan who will discuss how localities can recover from the pandemic "Better than Before". Representatives from the Virginia Freedom of Information Advisory Council and the Virginia Conflict of Interest and Ethics Advisory Council will conduct sessions that will satisfy the training requirement for local elected officials. Plus, there will be breakout sessions and roundtables on numerous topics of interest to localities, Local Champion Awards highlight reels and VML's annual business meeting…and more!
VML Contact: Sandra Harrington, sharrington@vml.org
Announcements & Opportunities
COMLINC 2.0 coming soon
Localities will need to enter into a Memorandum of Agreement
The Commonwealth's Link to Interoperability (COMLINC) is being upgraded and fully deployed across the state. COMLINC ensures that localities can communicate and coordinate with state agencies on the Statewide Agency Radio System (STARS).  It also enables communication and coordination between localities and with federal agencies. Every 911 center will receive an upgrade or initial install before January 2023.   The project includes a sustained training and maintenance program.  All system costs including equipment, training, and sustainment are funded by the state.  Equipment installations, training, and maintenance will be coordinated with each locality and include a site visit before installation.
A memorandum of agreement (MOA) will accompany COMLINC 2.0. Each participating local government will have to enter into the MOA however, it is expected that there will be no cost to local government for COMLINC.
The MOA template is available at:  https://www.pshs.virginia.gov/homeland-security/homeland-security-new/interoperability/.
The MOA covers system governance, operating procedures, maintenance, and training. Virginia State Police and the Office of Public Safety and Homeland Security will work with each locality for mutual agreement and signature.
For questions about COMLINC 2.0 and the MOA: Tom Crabbs, Statewide Interoperability Coordinator, thomas.crabbs@governor.virginia.gov or 804 370 0694.
VDH convenes the 2021 Virginia Walkability Action Institute (VWAI)
The Virginia Department of Health (VDH) has begun the 2021 Virginia Walkability Action Institute (VWAI). Through this competitive application, five interdisciplinary local/regional teams will have an opportunity to receive travel assistance to attend the VWAI in-person (if permitted) and virtual learning sessions and receive technical assistance and other resources from state and national experts as they develop plans for improving walkability and active transportation in their communities.
Selected teams will join our statewide efforts to increase walking and walkability to decrease obesity and chronic disease burden as VDH strives to make Virginia the healthiest state in the nation!
Please review the VWAI Announcement and VWAI Application Overview to learn more about the VWAI including eligibility, requirements, commitment, application scoring, and important dates.
Interest webinar
The Interest Webinar will be held on September 24, 2020 from 2:00pm – 3:00pm. The Interest Webinar will address the purpose and intent of the VWAI, the application and selection processes, and participation requirements. Click here to register for the Interest Webinar.
Eligibility
All teams must consist of a minimum of five members of which a public health representative from an LHD must serve as the team lead contact person AND at least one representative with knowledge/expertise in the field of transportation. Other team members may represent local government, healthcare, and community– and faith-based organizations.
Accessing the application
Access the VWAI application here.
Deadline: 11:59pm on Tuesday, October 20, 2020  
VDH Contact: Megan Lopes, MPH, Healthy Communities Coordinator, megan.lopes@vdh.virginia.gov
Resilient Virginia offering a series of free webinars
See below for dates and descriptions. More information and registration forms are available here >.
U.S. Climate Resilience Toolkit
September 23 | 1:00–2:30 PM
David Herring, Director of Communication & Education at the National Oceanic and Atmospheric Administration's (NOAA) Climate Program Office, will demonstrate the U.S. Climate Resilience Toolkit. This toolkit is a robust website of resources designed to help people find and use tools, information, and subject matter expertise to build climate resilience.
Community Resilience Planning Guide for Buildings and Infrastructure
October 21 | 1:00–2:30 PM
Chris Clavin, Research Environmental Engineer at the National Institute of Standards and Technology's (NIST) Community Resilience Group will present their Community Resilience Planning Guide. This guide not only provides direction on how to plan for and implement measures to improve community resilience, it also introduces science-based tools to measure resilience and evaluate alternative strategies to achieve it.
Resilient Rural America Project
November 11 | 1:00–2:30 PM
Gwen Griffith, Program Director with the Model Forest Policy Program (MFPP), with Ned Gardiner, NOAA's Climate Visualization Project Manager, will present the Resilient Rural America Project training. RRAP consists of online modules to guide rural leaders and consultants through a process of risk assessment, identification of resilience strategies, and taking action.
VAGHC Governor's Housing Conference opportunities
Conference registration, scholarships, and nominations for Virginia Housing Awards
Mark your calendar for the virtual 2020 Virginia Governor's Housing Conference Nov. 18-20. Join the Virginia Department of Housing and Community Development (VAGHC) for this three-day event of educational sessions led by experts in housing, finance, and community development, as well as unique networking opportunities with colleagues from across the commonwealth.
View the conference schedule and register here >.
Note – Registration will cut off on Friday, Nov. 13.
Scholarship applications for the conference are still being accepted!
The Virginia Governor's Housing Conference connects Virginia's affordable housing providers with funders, lenders, realtors, nonprofits, public officials, and resources to improve housing in Virginia's communities.
The partners of the Virginia Governor's Housing Conference have set aside funds to be used as scholarships for nonprofit organizations, local governments, and students. Nonprofit organizations, local governments and students are an important part of the delivery of housing and community development services, but due to budget restraints, may not be able to attend the conference. Student scholarships will be geared toward those students who are majoring or interested in the delivery of housing or sheltering services, community or economic development or other appropriate activities designed to sustain healthy and safe communities. Scholarships cover the cost of the conference registration only.
This is a competitive application process and all requested information must be submitted to be eligible for the scholarship. Scholarships cover the cost of the conference registration only. Applications will be ranked based on financial need and statement of interest. Applicants who have not received a scholarship in the past will be given priority.
Submit your nomination today for the 2020 Virginia Housing Awards!
Each year, one of the conference's highlights is the Virginia Housing Awards recognition, which highlights this year's award-winning innovative and effective efforts that address our housing and community needs. All awards will be presented during this year's VAGHC. The six award categories for 2020 include:
Best Affordable Housing Development
Best Housing Program or Service
Best Housing Preservation/Revitalization Effort
Inclusive Community Award
Best Regional Partnership
Outstanding Rural Housing Development
Submit your nomination here >.
Nominations must be received by 5 p.m. on Friday, Sept. 18, 2020.
For more information about the Virginia Housing Awards, contact Rhonda Spear at (804) 371-7000 or rhonda.spear@dhcd.virginia.gov.