eNews Sept. 7, 2018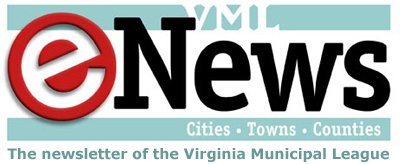 Friday, September 07, 2018 - 01:40pm
In this issue
Register now for VML annual conference; Mayors Institute; Sept. 21 is cancellation deadline
Bullington joins VML staff
Proposed policy statements now available
House school safety subcommittee hears from students
Questions raised about proposed funding model for school modernization
Redistricting debate heats up in Richmond
Registration now open for Oct. 30 broadband summit
VRS realizes 7.5 percent investment return rate: GASB 75 help is on the way
Preschool grant application process opens
Register now for VML annual conference; Mayors Institute
Sept. 21 is cancellation deadline
The VML annual conference on Sept. 30-Oct. 2 is fast approaching! Don't miss out on this "must attend" event."  The Virginia Mayors Institute is Sept. 29-Sept. 30.  Registration and program information for both events can be found here.
As a reminder, the cancellation deadline for the VML annual conference and the Virginia Mayors Institute is Sept. 21.
Important to Remember: No cancellation refunds will be made after Sept. 21.
Notifications of cancellations should be sent to Joni Terry at jterry@vml.org.  Also, if you cancel your conference registration, don't forget to cancel your hotel reservation(s) as well.
Bullington joins VML staff

VML is delighted to announce that Rob Bulllington began working this past Tuesday, Sept. 4 as the league's Director of Communications. He has worked as a writer, editor and instructor for 20 years. As a freelancer, he completed projects for clients such as The Library of Congress, Publications International and the Saylor Foundation. He is also a founding member of the Virginia-based old-time and bluegrass group The Hackensaw Boys and was a touring and recording member for 12 years. Most recently, Rob was a Content Manager for Capital One Financial Corporation for 8 years during which time he handled internal communications, training and content consulting duties. He holds a Bachelor of Arts degree in English from James Madison University and a Master of Arts degree in English from the University of Virginia. Rob is the editor of the League magazine, Virginia Town & City and the newsletter VML eNews. Rob's phone number is (804) 523-8527 and his email is rbullington@vml.org.
Proposed policy statements now available
VML's 2019 proposed policy statements are now posted on the VML website for members to review ahead of the annual business meeting at the VML Annual Conference in Hampton on Tuesday, Oct. 2.
Each of VML's six policy committees reviewed and proposed revisions to the policy statements during their meetings in late July. The policy chairs will present the proposals during the annual business meeting so that members may discuss and vote on the changes.
The proposed policy statements are available now.
VML contact:  Janet Areson (jareson@vml.org; 804/523-8522)
House school safety subcommittee hears from students
Current and recent high school students in western Virginia testified before a subcommittee of the House Select Committee on School Safety, speaking about the need for expanded mental health services in public schools. The group of nine young adults detailed their own experiences and those of their peers to underscore the negative impact of high counselor-student ratios and limited teacher training when dealing with mental health crises. The meeting was held at Blue Ridge Community College on Aug. 28th.
Following the student-led group, representatives of the Virginia School Counselor Association (VSCA) made their own case for lower counselor-student ratios. In testimony like that at other subcommittee meetings, VSCA called for the hiring of more than 1,000 additional school counselors to bring ratios at all grade levels down to 1:250 and to allow counselors to dedicate at least 80 percent of their workloads to direct services.
The subcommittee closed with testimony on the correlation of student mental health and academic function from John Lody, Director of Diagnostic and Preventive Services for Loudoun County Public Schools. While agreeing with VSCA's recommendations, Mr. Lody offered additional suggestions, such as the adoption of certified school crisis response training curricula, training teachers in positive classroom discipline methods, and the development of strong relationships between school staff and other community members supporting student mental health (e.g., law enforcement, social workers, Community Services Boards, etc.).
The full Select Committee on School Safety will meet on Tuesday, Sept. 11th to review testimony and discuss preliminary recommendations.
VML contact: Jessica Ackerman, jackerman@vml.org
Questions raised about proposed funding model for school modernization
Members of both the Senate Local Government Subcommittee on School Facilities Modernization and the public highlighted potential challenges facing Senator Bill Stanley's plan to use online sales tax revenue to fund what would be the largest push for Virginia school renovations and construction in more than 70 years. In a Sept. 5th hearing at the Schar School of Public Policy at George Mason University, Senator Stanley and committee advisor Paul Goldman offered arguments in favor of investing half of an estimated $500 million to $600 million in bonds to fund up to $3 billion in school modernization projects.
While other members of the subcommittee spoke to the need for action at the state level, several also raised questions about the provision of equitable resources and services across school districts, potential flaws in current estimates of online sales tax revenue to be collected, funding distribution methods, and local fiscal impact. Likewise, students, faculty and local school administrators in attendance posed questions about how to define "modernization" among inequitable schools, how to prioritize the needs of different schools and populations, and whether the spirit of a 2013 law dedicating the bulk of any future tax income from online sales to transportation might not rule out any major school construction goals.
The subcommittee is scheduled to meet again on Thursday, Sept. 28th in Norfolk.
VML contact: Jessica Ackerman, jackerman@vml.org
Redistricting debate heats up in Richmond
Governor Ralph Northam brought the General Assembly back in session on Aug. 30th to address redistricting. The House Committee on Privileges and Elections saw the most action, as a bill (HB7001-Bagby) containing a newly-drawn electoral map presented by House Democrats was referred to that committee. The proposed map follows a June 26th court order citing unconstitutional discrimination of people of color and directing the state to amend its current district boundaries by Oct. 30th.
Questioning by the committee grew heated as members from each side of the aisle accused the other of partisanship. Whereas the U.S. District Court for the Eastern District of Virginia found racial gerrymandering in 11 state voting districts, the map presented to the Committee by House Minority Leader David Toscano and Del. Lamont Bagby showed changes to other districts as well, including at least three that shared no borders with any of the original districts identified in the ruling. Republicans, on the other hand, offered neither an alternative map nor recommendations to amend the Democrats' proposal, inciting accusations of deliberately hindering the redistricting process.
Advocates, meanwhile, are pressing for the independent development of a new map. OneVirginia2021, a nonpartisan nonprofit involved in the redistricting debate, announced the launch of a bipartisan commission to draft a constitutional amendment ahead of the 2019 legislative session.  VML has a policy position supporting redistricting reform, including the use of a non-partisan independent commission to draw state legislative and Congressional lines.
The committee adjourned without taking any action. In the meantime, Speaker of the House Kirk Cox has appealed the June 26th court order requiring that districts be redrawn.
A joint meeting of the Elections Subcommittees of both the House and Senate Privileges and Elections Committees has been scheduled for Sept. 18th.
VML contact: Jessica Ackerman, jackerman@vml.org
Registration now open for Oct. 30 broadband summit
Speakers and attendees from Virginia, federal agencies and across the country will come together on October 30, at the Virginia Broadband Summit at Roanoke's South County Library to explore ways to facilitate the expansion of broadband capacity, access and utilization.
The summit, hosted by National Telecommunications and Information Administration's BroadbandUSA Program (in partnership with Virginia's Center for Innovative Technology), will provide the public and stakeholders with information on how to accelerate broadband connectivity, improve digital inclusion, and support local priorities.
How to Attend:
For more information, contact: BroadbandUSAevents@ntia.doc.gov.
VRS realizes 7.5 percent investment return rate
GASB 75 help is on the way
The Virginia Retirement System (VRS) achieved a 7.5 percent return, net of fees, on its investment portfolio for fiscal year 2018, according to an August 29 press release.  The trust fund ended the year with approximately $78.6 billion, marking a new high point for the fund.
The VRS also announced that information to assist employers with filings related to GASB 75 requirements would be available soon on its website or, in some cases, mailed directly to employers.  GASB 75 relates to accounting and financial reporting for post-employment benefits other than pensions (such as health insurance). Additional information is in VRS' September Employer Update.
VML contact: Jessica Ackerman, jackerman@vml.org
Preschool grant application process opens
The application process for the FY19 Mixed-Delivery Preschool Grant Program is now open.  The Request for Proposals (RFP) and instructions for applying can be found at those links.
An informational webinar will be held Sept. 11 at 2 p.m. on the RFP. You can register here. The Virginia Early Childhood Foundation will hold individual sessions for applicants upon request during the week of Sept. 24. Finally, A follow-up Q&A webinar will be held Oct. 4 at 2 p.m.; register here.
The grant program provides Virginia communities the opportunity to field-test strategies and solutions to barriers that have prevented all eligible children from participating in Virginia's preschool initiative. Grantees will promote flexible public-private partnerships to increase the proportion of preschoolers served in private child care sites, demonstrating community-driven collaboration and shared decision-making among education leaders.
Additional details about the FY19 Mixed-Delivery Preschool grants, including grant priorities, eligibility requirements, and award amounts can be found in the Grant Announcement.
Completed applications are due Nov. 8 by 5:00 p.m. Award notifications will be made in December.