eNews Sept. 20, 2019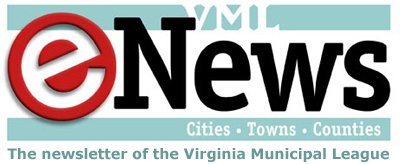 Friday, September 20, 2019 - 03:25pm
In this issue:
Announcements
Catalog of State and Federal Mandates on Local Governments available
The 2019 edition of the Catalog of State and Federal Mandates on Local Governments has been approved and published by the Commission on Local Government. The Commission approved the 2019 version on September 12, 2019. The Code of Virginia, § 15.2-2903 (7), directs the Commission to prepare and annually update a catalog of this nature. The online database catalog was produced with the input of various agencies that administer or have purview over the mandates.
The catalog is available at the Mandates Online Database.
It has also been published on LIS here.
The staff of the Commission on Local Government welcomes and encourages your comments, suggestions, and questions.
If you have any questions concerning this document, contact:
David Conmy
Local Government Policy Administrator
Virginia Department of Housing and Community Development
phone: (804) 371-8010
david.conmy@dhcd.virginia.gov
VDOT Primary Extension State of Good Repair (SGR) webinar Oct. 24
VDOT is continuing their outreach to eligible local governments over the next month. On Sept. 24 from 1-3 p.m. VDOT is hosting a webinar to explain the proposed changes to the Primary Extension SGR program (see below article for more details).
At this week's meeting the Commonwealth Transportation Board (CTB) was particularly sensitive to the impact this will have on affected jurisdictions. I encourage eligible jurisdictions to participate in the webinar and provide feedback about VDOT's proposed policy changes. The CTB will act on VDOT's proposal at their next meeting Oct. 17, at 9 a.m. at the VDOT auditorium in Richmond.
Impacted jurisdictions should have received an invitation to the webinar already. If you feel your jurisdiction should have received an invitation but did not, please let me know.
VML Contact: Mitchell Smiley, msmiley@vml.org
Economy
Tilt your head. Close one eye. Is everything clearer?
In presentations this week before the House Appropriations and Senate Finance Committees, Secretary of Finance Aubrey Layne said general fund collections for the months of July and August increased 7.3 percent, far ahead of the official forecast calling for revenue growth of 1.2 percent.
August revenues inched up 0.3 percent, largely due to one less deposit day than a year earlier. Payroll withholding taxes dropped 3.2 percent in August.
A 12.9 percent increase in sales tax revenue made up for the payroll decline. Layne attributed the sales tax boost to a 44 percent increase in use tax receipts as numerous internet companies registered as sales and use tax dealers to comply with measures (SB 1083 and HB 1722) passed in the 2019 legislative session. The Secretary said that he expected strong "back-to-school" sales to be reflected in next month's revenue report. December sales, however, are expected to be weaker than last year's, according to retail industry economists.
Recordation taxes rose 15.2 percent in August and by 21.7 percent for the July and August period. The official forecast projects a 4.6 percent decline.
However, Layne cautioned that it won't be until the September revenues are counted that the administration's fiscal wizards can provide a clearer assessment of revenue growth. The first estimated payments from individuals, corporations, and insurance companies are due in September. The Northam Administration will include the September revenues as the last data point in the revenue models. Layne predicted that the revenue model ultimately chosen by Gov. Northam will be more conservative than the model used in the 2019 Session.
Secretary Layne also shared with the money committees his list of known funding commitments and risks that will have to be addressed in the 2020 Session. He admitted that "normal" revenue growth will not be sufficient to meet "normal" spending requirements, particularly in K-12 education and basic Medicaid. In other words, without making policy changes, the state budget is structurally unbalanced.
Funding Challenges in the 2020 Session
Annual Medicaid Forecast
Standards of Quality (SOQ) Re-benchmarking
VRS Premium Contributions
Federal Budget Actions
"Must Do" Agency Projects
Transportation Funding
Lottery Sales
State Capital Construction Needs
It is interesting to note that local governments have a strong interest in SOQ re-benchmarking, VRS employer contributions, Lottery sales, and transportation funding.
The Federal Reserve Bank of Richmond recently released its September Snapshot of the Virginia economy.  The report shows:
Total employment in Virginia grew 0.6 percent or by 23,000 jobs since last July, trailing the national growth rate of 1.5 percent;
Virginia housing starts are up 0.7 percent since July 2018. Virginia home values have appreciated 3 percent during the past twelve months;
Federal contract spending in Virginia in calendar year 2018 was 10 percent greater than the 2017 amounts. Defense spending accounted for two-thirds of the spending or $37.4 billion.
The modest economic data generally reflects past economic performance. How long the economy can gin up more jobs and revenue is unknown, stumping even the state experts. However, the countdown to December 17 is already in progress. On that date, Gov. Northam will release his revised forecast and budget actions for the 2018-2020 biennium and introduce his 2020-2022 budget. It is the only budget that he both introduces and executes in his term.
VML Contact: Neal Menkes, nmenkes@vml.org
"Holy here we go again!"
Of the nearly 360 catch phrases that Robin "The Boy Wonder" exclaimed during the hit 1960s television show Batman, the above may best summarize the current troubles swirling in our nation's capital.
First, efforts to develop a stopgap funding measure to keep the federal government afloat after the federal fiscal year expires on September 30 seem bogged down. Provisions to boost the borrowing cap for the Commodity Credit Corporation are under scrutiny. Some legislators want to insert accountability and transparency language into the $30 billion request made by the Trump Administration (which is in addition to the $16 billion announced in July) to ensure that the money goes to farmers and not just to corporate agribusinesses. Furthermore, some Democrats are concerned that the financial crisis facing American farmers is a direct result of the Trump Administration's tariff wars and that Congress should work to end the trade kerfuffle.
Democrats also want the stopgap measure passed today to run through November 21 and do not want to provide any more funding for the Border Wall. This may not be acceptable to either the President or the Republican-controlled Senate. To make the situation even more dicey, there are less than ten legislative days left on the calendar before the federal government begins partial shutdown.
Second, the Federal Reserve Bank cut interest rates again this week. It is hard to believe that as recently as December of last year the Feds were considering hiking interest rates at least twice in 2019. However, the events of 2019 have turned conventional wisdom on its head. A weakening in business investment, a decrease in the demand for American manufactured goods, and a global economic slowdown are pushing the Federal Reserve to take actions – such as this week's interest rate cut – it did not anticipate while the economy continues to grow and add jobs. On top of this, the President is calling on the Fed to cut interest rates below zero.
Third, the attack on oil producer Saudi Aramco's processing facility in Abqaiq raises several issues in Washington. Does the U.S. further raise its military presence in the Middle East?  Will the government have to tap the Strategic Oil Reserve to protect American consumers from upswings in gasoline prices?  Will new attacks on Saudi oil assets result in a slowdown in consumer spending?  Will increasing international tensions reduce consumer confidence and decelerate economic growth?
With all these alarm bells ringing, it's fitting to conclude with one of "The Boy Wonder's" more obscure exultations: "Holy Tintinnabulation Batman!" (Season 3, Episode 12)
VML Contact: Neal Menkes, nmenkes@vml.org
Government
VDOT Primary Extension State of Good Repair (SGR) program changes proposed
At Tuesday's Commonwealth Transportation Board (CTB) meeting this week the VDOT Local Assistance Division's Director Julie Brown presented recommended policy changes to the Primary Extension SGR program.  Director Brown had previously informed the VML Transportation Policy Committee of these changes at the July meeting.
VDOT is proposing changes to assist localities manage additional regulatory compliance demands resulting from VDOT's use of the federal funds to support the program starting in FY2020.  The addition of federal funds to the Primary Extension SGR program will increase the amount of regulations that participating local governments will need to comply with.
VDOT is recommending the CTB make 2 policy changes to the Primary Extension SGR Program to assist local governments manage these new hurdles:
Increase the funding available per award from $1 million to $1.5 million.
Double the length of time awardees have before they must advertise from the time of funding availability under the program from 6 months presently to 12 months under the proposed policy.
VML Contact: Mitchell Smiley, msmiley@vml.org
CSBs to get some one-time relief for FY19 shortfall
A one-time partial reimbursement is coming to community services boards that experienced shortfalls of more than 10 percent during fiscal year 2019. Department of Behavioral Health and Developmental Services (DBHDS) Acting Commissioner Mira Signer told the Joint Subcommittee for Health and Human Resources on Sept. 17 that the department had received approval to distribute reimbursements of up to $7 million to affected CSBs. The $7 million figure was outlined in the Appropriations Act and comes from unallocated special funds within DBDHS. The total amount of the shortfall experienced by CSBs during FY19 was pegged at $7.8 million as of May 15.
Signer said that CSBs were expected to collect a total of $5 million in new revenue through June 30 and to bill a total of $8.2 million in new revenue through that date, which would decrease the amount of the shortfall. She said that the Department anticipates further narrowing of the gap between billing and collections during FY20 as the result of additional assistance CSBs received from the Department of Medical Assistance Services (DMAS) and continued growth in the number of uninsured existing clients who are eligible for, and enrolling in, Medicaid. Signer said the Department will have a more complete picture of CSB billings and collections in FY19 and early FY20 in December.
VML's role in the process
The issue of CSB funding shortfalls was identified last year when the state reduced funding to them by $11 million for FY19 and by $25 million in FY20 in anticipation of new Medicaid enrollments and reimbursements. However, Medicaid expansion did not officially begin until the fiscal year was halfway over, leaving CSBs with less than six months to make up the funding losses in the first year. VML and other stakeholders called on the Northam Administration to address the shortfalls and allow for reimbursement to CSBs that could not make up for the reductions imposed on them.
While the Northam Administration added language to the 2019 budget allowing the Department of Behavioral Health and Developmental Services (DBHDS) to consider using up to $7 million in unallocated balances to reimburse CSBs for potential shortfalls, VML worked with stakeholders during the 2019 General Assembly to further clarify the budget language regarding state reimbursements and to require that monthly data be collected into fiscal year 2020 to keep policy makers informed of the status of state funding reductions and Medicaid reimbursements expected to make up for those reductions.
With the state's goal of requiring CSBs to offer more mandated services at the community level, stable staffing of these agencies is of greater importance than ever. As such, VML continues to support the monitoring of reductions versus reimbursements to CSBs because funding losses affect their ability to provide the staff needed to offer the necessary services to their communities.
VML Contact: Janet Areson, jareson@vml.org
Housing Commission discusses trends and costs
The full Housing Commission met Sept. 18 to hear reports on housing trends and the Virginia affordable housing stock. The Weldon Cooper Center started the meeting by talking about the slowing Virginia population growth rate, which is the lowest since the 1920s, and the continued out-migration of Virginian (mostly moving south). Other interesting facts presented by the Weldon Copper Center included:
Sixty-seven percent of Virginia's population is in Northern Virginia (larger than the Richmond and Hampton Roads areas combined!)
Nuclear families now make up less than a quarter of all households.
Living alone is now the most common type of household.
In the last ten years an average of 28,000 new homes were built per year in Virginia while there is a need for 40,000 new homes each year.
This discussion ended with housing costs and how Northern Virginia housing costs are among the highest in the country.
Fittingly, the next topic was housing affordability and innovation presented by the Virginia Housing Technology Group. Commission members talked about the differences in modular vs. manufactured housing and the fact that manufactured housing is built to a nationally approved standard and not to the Uniform Statewide Building Code, with which modular homes must comply. There is currently work being done to promote manufactured housing and attempts to provide better financing tools for such. Panelized construction, tiny houses and shipping containers were acknowledged as new housing ideas that need to be embraced, provided they meet safety and quality construction requirements. In looking at housing and the workforce, the most interesting fact was that Virginia will need to house over 350,000 new workers in the next 10 years. In total, Virginia will need 225,600 net new housing units by 2024 and potentially over 700,000 by 2030.
Transportation costs and the need for affordable housing in proximity to workplaces was also reviewed.  Four suggestions were made for moving forward:  1) Enact policies that support workforce housing, 2) encourage location efficient development, 3) better established local markets in terms of policies and housing production costs and 4) embrace housing production technology.
The Housing Commission materials should be posted shortly here.
In related news: the National League of Cities recently released its housing report which was discussed at VML's legislative committee meeting last week. VML remains committed to issues related to housing as local governments are the solution to the housing problem, and will need to continue to be the solution.
VML Contact: Michelle Gowdy, mgowdy@vml.org
Governance framework for sharing data approved
The Data Sharing and Analytics Advisory Committee met and approved its report which will be submitted to the General Assembly pursuant to chapter 679 of the 2018 Acts of the Assembly. As discussed in the Aug. 23 edition of eNews ("Framework for sharing data discussed"), the advisory committee is recommending a governance framework for sharing data and ensuring that all applicable laws are followed. Recommendations include: creating a Data Commission to "set, plan, and prioritize data sharing performance goals for the Commonwealth, review agency accomplishments, and provide recommendations to the Governor and the General Assembly on any changes to laws or funding necessary," an Executive Data Board, Data Governance Council, Data Governance and Analytics Program Office (with 13 new employees), and a Data Stewards Group.
These recommendations will go to the General Assembly and a request has been made to the Governor for funding. Stay tuned!
VML Contact: Michelle Gowdy, mgowdy@vml.org
FOIA Council endorses legislative proposals
The Freedom of Information Advisory Council (FOIA Council) met Sept. 18 and agreed to two legislative proposals submitted by its staff for submission at the 2020 legislative session. Both proposals deal with the FOIA training that is now required for local officials and the FOIA Officer. The first would amend Virginia Code Section 2.2-3704.3 to clarify that both online and in person training are acceptable for compliance with FOIA training requirements. The proposal also states that the term "local elected officials" for this code section includes constitutional officers. The second proposal adds regional public bodies to Virginia Code Section 2.2-3704.2, which pertains to the designation and identification of a FOIA Officer. The legislative proposal also changes the timeframe for FOIA Officer training from annually to every two years.
The Council also reviewed its subcommittee reports, most notably the study on "phishing" from the City of Portsmouth. This study, which stemmed from Delegate Heretick's HJ628, directs the Council to study the threat of phishing attacks on citizens and public employees whose information is legally obtained as a result of a FOIA request. At Delegate Heretick's request, the Council agreed to allow the subcommittee to study the issue for another year.
Additionally, two proposed legislative ideas were presented by Loudoun County Attorney Leo Rogers. The first proposal is to modernize the library public record exclusion (Virginia Code section 2.2-3705.7)  which currently talks about "borrowed" material but arguably does not include internet access on a library computer or eBook. The request was to add those items to the Code. The FOIA Council seemed responsive to this idea but indicated that it would not meet again before the 2020 General Assembly Session. The second proposal is for an additional records exclusion dealing with affordable housing loan applications by a developer until the loan or grant has been awarded. Rogers explained that there are highly competitive loan processes to award affordable housing financing among loan applicants (for local, state and federal loans/grants) and financing sources should be kept confidential during this highly competitive process. The FOIA Council met this proposal with skepticism. Loudoun County will vote on both these initiatives and most likely will present legislation.
The Council also announced new members this week:  Matthew A. Conrad, Executive Director of Government and Board Relations, Virginia Commonwealth University was appointed as a citizen member and Bruce Potter, Chief Operating Officer, Inside NoVa/Rappahannock Media was appointed as a citizen member who is a news media representative.
VML Contact: Michelle Gowdy, mgowdy@vml.org
JLARC issues report on jail oversight
In a report released this week, the Joint Legislative Audit and Review Commission (JLARC) stated that the Board of Corrections (BOC) and Department of Corrections (DOC) have the independence, expertise, and authority to oversee local and regional jails and should retain these functions instead of transferring them to the Office of the State Inspector General (OSIG). The question of OSIG taking over local and regional jail oversight was raised in a study resolution calling for a JLARC study of that office. VML supports JLARC's recommendation.
JLARC's report concluded that DOC's jail inspections are fairly comprehensive but could more rigorously assess compliance with the most critical standards. It also observed that while BOC's death review process is improving, additional policies and better staff support are needed. Finally, JLARC recommended that jail inspection and death review processes should be integrated into a cohesive jail oversight program. The two processes currently operate separately.
JLARC's full report on jail oversight is available on its website.
VML Contact: Janet Areson, jareson@vml.org
Code Commission considers locality-specific code sections
The Code Commission met Sept. 16 to discuss code sections not set out in the code from Title 19.2-Criminal Procedure and Title 46.2-Motor Vehicles.  These are code sections that often only deal with one or two localities and are not typically published in the Virginia Code books.  The code sections discussed at the meeting dealt with issues that related to one or two localities (Arlington and Henrico) because these two counties maintain their own roads.  There was also a discussion of realigning the code sections in Title 24.2, which deals with elections, but the issue was deferred to the Commission's October 21 meeting.
VML Contact: Michelle Gowdy, mgowdy@vml.org
Common Interest Communities Workgroup focuses on electric vehicle charging issues
The Common Interest Communities Workgroup of the Housing Commission met Sept. 17 to discuss how electric vehicles are charged in Virginia. Senator Surovell discussed the various types of existing charging stations as well as the experience of placing a charging station at his home. Marcy Baur, Director of EVgo, talked about placing fast charging stations in commercial property areas. EVgo Services LLC has been chosen as the lead contractor for a statewide network of electric vehicle charging stations being funded in part from the state's portion of the Volkswagen emissions test-cheating settlement.
Sharon Baker, VP of Site Development for Volta Industries, discussed charging stations in mixed-use developments and Dawn Bauman with the Community Associations Institute led a fascinating discussion on the topic of common interest communities. This discussion centered electric charging issues that can arise in condominium complexes lacking dedicated parking spaces as well as instances in which some condominium units have garages and some use central parking. For example, how to handle situations in which a resident with an electric car runs an extension cord across a sidewalk on to the public street.
The group agreed to keep talking about this issue at a subsequent meeting, and one member volunteered to draft legislation for the committee's review. The State of Oregon and the City of Boston were mentioned as legislative examples should the workgroup want to propose legislation to the Housing Commission.
VML Contact: Michelle Gowdy, mgowdy@vml.org
Board of Education conducts first review of proposed SOQ revisions
The Virginia Board of Education heard a presentation of proposed revisions to the state's Standards of Quality (SOQ) Thursday during its monthly meeting in Richmond. Staff from the Department of Education offered 12 recommendations, including the introduction of an Equity Fund that would allow school districts more flexibility in their use of state resources, as well as the removal of caps on support positions and an increase in teacher retention programming. The full package has an anticipated fiscal impact of $951.1 million at the state level and $758.7 million for localities. These figures include preliminary rebenchmarking estimates of $545 million.
Members of the public, largely representing localities and education associations, expressed support for the new draft in their comments before the Board. However, localities and school divisions are concerned about the potential for the General Assembly to approve costly revisions, such as the implementation of new Teacher Leader and Teacher Mentor programs, without including sufficient resources to support them in the biennial budget.
The Board will reconvene on October 17th for its final review of the proposed revisions.
VML Contact: Jessica Ackerman, jackerman@vml.org
Broadband Advisory Council discusses challenges
The Broadband Advisory Council met and heard presentations from Lancaster County and Jeff Sharp with the Division of Legislative Services. Lancaster County discussed their challenges in expanding broadband access and Mr. Sharp outlined the challenges that come with installing fiber optic cables at railroad crossings. There were also updates on the various grant programs from the Department of Housing and Community Development – VATI and GoVirginia and the Tobacco Commission.
VML Contact: Michelle Gowdy, mgowdy@vml.org
JLARC recommendations for Office of the State Inspector General
The Office of the State Inspector General (OSIG) should scale back its performance audit function and dedicate more effort to investigations and oversight of the Department of Behavioral Health and Developmental Services (DBHDS). This was the conclusion of a Joint Legislative Audit and Review Commission (JLARC) study of the agency that was released Sept. 16 in Richmond.
JLARC noted that the OSIG had faced significant challenges when it was created in 2012 from the consolidation of inspector general offices in four state agencies – Corrections, DBHDS, Juvenile Justice, and Transportation. The office early on struggled with high turnover and dissatisfaction but is now stabilized.  However, JLARC noted that office's performance audit function was uneven and recommended that this function be scaled back and that more focus be dedicated to investigations and DBHDS oversight.
The full JLARC report on the inspector general office can be seen here.
VML Contact: Janet Areson, jareson@vml.org
Board of Elections approves first round of new security standards
At its Tuesday meeting in Richmond, the State Board of Elections approved a new minimum standard for risk assessments to be conducted by localities across Virginia ahead of the next major election cycle. During its last session, the General Assembly passed HB 2178 to address concerns about the security of Virginia's election systems, both at the state and local level. As localities' information technology systems connect with the Virginia Election and Registration Information System (VERIS), any significant vulnerability at the local level could potentially impact the security of elections statewide. The new risk assessment standard will require localities to complete an annual self-assessment of its election security vulnerabilities and join either the Multi-State or the Center for Internet Security Information Sharing and Analysis Center. A full explanation of the new standards can be found with the Board's meeting materials.
These standards are the first of several that will be issued by the Board of Elections in the coming months. VML has been working with the Department of Elections and its local IT security work group to help inform the process.
VML Contact: Jessica Ackerman, jackerman@vml.org
A slightly different version of Virginia Code § 15.2-2286 takes effect Oct. 1. This section pertains to permitted provisions in zoning ordinances, including the payment of penalties, and was amended in the 2018 session by HB 709. As a result of the recodification in the 2019 session of Title 55 as Title 55.1,         § 15.2-2286 now references the Virginia Residential Landlord and Tenant Act. Currently, and until Oct. 1, § 15.2-2286 references a chapter in Title 55 dealing with landlords and tenants as well as the chapter dealing with the Residential Landlord and Tenant Act.
VML contact: Michelle Gowdy, mgowdy@vml.org
Events
Need help navigating VML's conference app?
This year we're going to be putting more conference information on our app (and using less paper as a result). So, if you've never used the VML conference app before, it's a great time to get acquainted. Here's how you do it:
Search "Virginia Municipal League" in your device's app store.
Download the app (it's free)
If it's the first time you've used it, you'll need to use the buttons to "Register" and "Join."
Select the 2019 Annual Conference (it's the only one).
You're all set!
We've put together some instructions for finding your way around the app. You can check them out here.
Of course, VML staff will be happy to help with any questions before or during the conference. See you in Roanoke!
VML Contact: Manuel Timbreza, mtimbreza@vml.org