eNews Sept. 20, 2018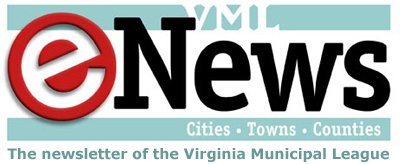 Thursday, September 20, 2018 - 03:24pm
In this issue
VML conference reminders and updates
Register for 2019 Finance Forum and VML Legislative Day
5G meeting at the Capitol
School safety issues considered by House committee
Federal government shutdown likely avoided
Republicans propose alternative map in redistricting battle
Good and bad news from the Labor Department
Eviction issues and homebuilding trends
Virginia tax collections exceed forecast
Support for no-excuse absentee voting
Evictions subcommittee discusses issues
VML Conference reminders and updates
Cancellation Deadline – Registration Availability – Updated Program – Guest's Activity
The cancellation deadline for the VML annual conference and the Virginia Mayors Institute is Friday, 21st. No cancellation refunds will be made after Sept. 21st.

Notifications of cancellations should be sent to Joni Terry at jterry@vml.org. Also, if you cancel your conference registration, don't forget to cancel your hotel reservation(s) as well.

Although there is a deadline for cancellation, there is no deadline to register. You can register for the annual VML Conference and the Mayor's Conference events until they begin.
Guest's Activity on Tuesday, October 2nd.
Registrations open for the Finance Forum and VML Legislative Day
Register for the VML Finance Forum to be held on Tuesday, Jan. 8, 2019 at the Greater Richmond Convention Center (Richmond, VA).
The forum provides an excellent opportunity for local elected officials and staff to be brought up to date on important issues.
Register for the VML Legislative Day to be held on Thursday, Jan. 24, 2019 at the Omni Hotel Richmond (Richmond, VA).
This special legislative event provides an outstanding opportunity for local government officials to interact with members of the General Assembly.
5G meeting at the Capitol
On Thursday, Sept. 13th staff from VML and the Town of Warrenton attended meetings with Senator Mark Warner and United States Representative Barbara Comstock to discuss the Senate bill related to 5G as well as the FCC proposal on 5G. General concern over aging infrastructure and how it affects our communities was also relayed to their respective staffs.
These meetings were scheduled by the National League of Cities whose staff also attended.
VML Contact: Michelle Gowdy, mgowdy@vml.org
House select committee recommends steps to address school safety issues
At the September 11th meeting of the full House Select Committee on School Safety, its first since April, House Speaker Kirk Cox proposed removing State funding caps on school aides, counselors, psychologists and other support staff. The Committee also approved a preliminary list of 57 recommendations for deeper debate ahead of the 2019 Session. While the Committee reserved time for questions and comments from members, details behind each of the proposals – including costs – were not addressed.
These initiatives reflected months of testimony gathered by subcommittees both in Richmond and across the Commonwealth. Chairs for each of three subcommittees – Delegates Nick Rush (Infrastructure and Security), Steve Landes (Student Behavior and Intervention) and Chris Peace (Prevention and Response Protocol) – presented suggestions to the Committee that largely reflected the concerns raised by educators, students, mental health experts and industry professionals over the past summer.
Lawmakers and staff will spend the next two months analyzing areas of potential overlap, in addition to broader fiscal and policy impacts, for all 57 recommendations before reconvening in November.
VML Contact: Jessica Ackerman, jackerman@vml.org
October federal government shutdown avoided
Congress takes action (What?!?!)
House and Senate budget conferees agreed last week on a deal to fund two-thirds of the federal government's operations. The final fiscal 2019 spending package consists of five appropriation bills and includes a continuing resolution to keep the government open for business through at least December 7th.
The appropriation bills include spending for federal agencies in Defense, Labor-Health, and Human Services-Education areas. Language amendments called "riders," which oftentimes are tied to partisan positions, were mostly excluded from the compromise, meaning lawmakers rejected attempts to defund Planned Parenthood, destabilize the Affordable Care Act, or prohibit federal funding to buy guns for teachers.
Congressional leaders expect President Trump to sign the bills. The congressional action marks the first time in almost ten-years that these appropriation bills were passed on time. The new federal fiscal year begins on October 1st.
 VML Contact: Neal Menkes, nmenkes@vml.org
Republicans propose alternative map in redistricting battle
Deadline to avoid court involvement approaching
On Tuesday, September 18th, Republican leadership in the House of Delegates responded to the House Democrat's redistricting map (the Bagby Plan) proposed at last month's special session of the General Assembly, with their own redistricting map. While Speaker Kirk Cox described the House Republican's map as "race-blind," it's worth noting that both versions have drawn charges of partisanship from across the aisle as they place two members of the opposite party into the same district.
For his part, Governor Ralph Northam has indicated in a letter to General Assembly leaders his readiness to allow the court to draw a new map.
Virginia has until October 30th to pass a new map, following a June 26th federal court ruling that the current map is unconstitutionally discriminatory. The House Privileges and Elections Committee is scheduled to reconvene on September 27th to review both maps.
 VML Contact: Jessica Ackerman, jackerman@vml.org
U.S. Labor Department delivers news: Good and Bad
Good News:
The U.S. Labor Department reported September 7th that wages for workers grew at 2.9% in the past year. This is the fastest growth since 2009. After years of sluggish gains, this news is seen as an encouraging sign that wages might finally be moving higher. The chief economist for Moody's Analytics attributed the wage climb to a tightening labor market as employers struggle to: 1. fill open job slots and 2. retain the workers already in their employ.
The national unemployment rate shrunk in August to 3.9%, one of the lowest levels in some fifty years (Virginia's July unemployment rate measured 3.1%, which is the lowest rate since August 2007).
Bad News:
Inflation is rising, resulting in much of the pay increases mentioned above getting wiped out by more expensive gas and housing costs.
A slowdown in trade and the tariff slugfest is causing concern here and abroad. The largest U.S. business groups in China issued a plea last week to President Trump to stop the tariffs. Nearly two-thirds of more than 430 U.S. firms doing business in China say the duties the U.S. placed on billions of dollars of Chinese imports this summer have hurt their businesses, citing increases in production costs and decreasing demand for their goods. The survey conducted by the AmCham China and AmCham Shanghai reported that just 6% of respondents said they would consider moving their factories to the United States.
American businesses stated that they are getting hammered by tariffs and Chinese actions requiring more inspections, delayed customs clearance and other forms of regulatory scrutiny.
In the U.S., more than 60 industry groups have launched a coalition called Americans for Free Trade to halt the next round of proposed tariffs. A multi-million-dollar campaign, made up of thousands of companies, farmers and manufacturers, argues that the trade war will kill U.S. jobs and raise prices for American consumers.
The Virginian-Pilot reported this week that the U.S. trade deficit has been growing at the fastest rate since 2015. Monthly deficits in trade with China and the European Union are at record highs. The article noted that in addition to the pain Virginia soybean farmers are feeling, a trade slowdown could have serious negative effects on the Port of Virginia, affecting dockworkers, business owners and consumers.
For example, Virginia-based Dollar Tree imports more than 40% of the items on its shelves. The company is already facing increased expenses because of a tariff to be imposed on the decorative plastic ribbons that are a big Christmas-time seller. Also, the homebuilding industry is dealing with tariffs placed on Canadian softwood lumbers, causing prices to increase and creating a scarcity of supplies.  Consumers are also paying more for houses and remodeling.
The last piece of bad news is that the federal government's budget deficit is abnormally high for a robust economy and is growing faster than the gross domestic product (GDP).  The government spent $895 billion more than it brought in from taxes and other revenue sources during the past 11-months, according to the Congressional Budget Office. That's a 33% increase over the same period last year.
It is typical for the deficit to shrink in a strong economy as tax collections rise and the need for government support decreases. A nose dive in tax revenues resulting from congressional actions in 2017 and the bipartisan agreement to do away with budget caps (sequestration) for discretionary defense and non-defense spending have combined to propel the deficit. As the government borrows to fill the gap between revenue and spending, the nation's debt grows, sticking future generations of Americans with the bill and reducing the country's flexibility to respond to unforeseen financial crises or natural- or man-made disasters. The government has $21.5 trillion in debt, up from $12.8 trillion in 2010. Interest payments next fiscal year will be almost as great as the entire $401 billion budget for Medicaid.
Although both the trade issue and the deficit issue influence the business cycle and will eventually be felt, neither appears strong enough to stymie the growing economy.
VML Contact: Neal Menkes, nmenkes@vml.org
Housing Commission meets
Considers issues related to evictions and trends in homebuilding
At a meeting on September 12th, the Housing Commission took up the issue of evictions and heard a report on trends in homebuilding. The Honorable Barbara J. Gaden, Chief Judge, Retired, 13th Judicial District, General District Court gave a presentation on evictions and provided a perspective from the bench. She also provided a brief overview of the eviction process and how it works through the courts.
Preston Lloyd, Jr. from Williams Mullen then presented on the Virginia housing market. He observed:
In 2017 there was a decrease in building permits for new single-family homes, but an increase in multifamily building permits.
Housing stock in Virginia is trending older: in 2016, 31% of the housing stock was 47 or more years old compared to 24% in 2006.
Other trends include a decline in the rate of home ownership and the price of housing outpacing wage increases.
Market demand is evolving, with age-restricted communities and inner suburb with urban style infill developments as two examples of pending large projects.
The Housing Commission also heard reports from the Neighborhood Transitions and Land Use subcommittee, the Affordable Housing & Real Estate Law subcommittee and the Common Interest Communities subcommittee.
VML Contact: Michelle Gowdy, mgowdy@vml.org
State tax collections surpass annual forecast
In a memorandum to Gov. Ralph Northam, the Secretary of Finance, Aubrey Layne, reported that "(t)otal general fund revenues rose 4.5% in August, driven by solid gains in payroll withholding and sales taxes. On a fiscal year-to-date basis, total revenue collections rose 1.9% through August, ahead of the annual forecast of 1.5% growth."
However, August is not considered a significant month for revenue collections. September collections will mark the end of the first quarter of FY 2019 and will provide a clearer assessment of revenue growth. September revenues will also include the first estimated payments in FY19 from individuals, corporations and insurance companies.
Economic Background:
Payroll employment performance rose 1.6% in July 2018 compared with a year earlier, adding a net 12,000 jobs. Total employment performance in Virginia matched the national average change of 1.6%.  The largest contributors were professional and business services (7,100 jobs) and manufacturing (2,100 jobs). Smaller gains were reported in government (1,500 jobs), leisure and hospitality (1,200 jobs), and "other" services (1,000 jobs). Job losses were in education and health services (900), information (600), and construction (300).
There is also evidence that real personal income is on the rise. The Federal Reserve Bank of Richmond reported that in the first quarter of 2018, real personal income rose 0.6% and was up 1.6% since the first quarter of 2017. The national year-over-year average change from the first quarter of 2017 was 1.8%.
In addition, the Virginia Leading Index rose 0.2% in July after falling 0.2% in June.
Net Income Tax Collections:
Taking into consideration payroll withholding, individual non-withholding and individual income tax refunds for July and August, the net income tax growth for the same period last year is 0.3%, trailing the annual estimate calling for a 0.6% increase.
Sales Tax Collections:
Sales taxes comprise almost 18% of the state general fund. Collections in both July and August increased by 7.5%. This surpasses the annual estimate of 2.5% growth. However, the August comparison to a year earlier is overstated by about four percentage points because of one-time large prior year refunds made to data centers.  (Under state law, computer equipment or enabling software purchased or leased for data centers are exempt from the Sales and Use Tax provided that the purchases or leases result in new capital investment of at least $150 million and in the creation of at least 50 new jobs.)
Recordation Taxes:
Collections of wills, suits, deeds, and contracts – mainly recordation taxes – were $36.0 million in August, compared with $36.5 million in August of last year, a decline of 1.4%. On a year-to-date basis, collections are down 6.1%, falling behind the annual forecast of 3.1% growth.
Bottom Line:
Reviewing the past 18-years of revenue collections, FY19 closely matches historic averages. From FY00 to FY18, 13.4% of the state general fund had been collected in the months of July and August. In FY19, 13.0% of the forecasted amount has been deposited to the state treasury.
Over the next 90 days, Gov. Northam's advisors will provide him a new revenue forecast to use in his budget amendments for the 2019 Session. It is interesting to note that the Northam Administration is sharing with the legislative money committees and the public known funding commitments and risks that will have to be addressed next year.
The seven items identified thus far include:
Major Employment and Investment Obligations, including $70 million for Micron Technology, Inc.
Virginia Retirement System investment earnings
Federal Actions on grants to the state and localities and federal spending on defense-related activities
State Agency Projects, including $100 million for the Northrop Grumman Settlement and Transition
State Transportation Funding
State Capital Projects
Hurricane Florence with $60 million authorized as of last week
VML Contact: Neal Menkes, nmenkes@vml.org
Joint subcommittee appears to support no-excuse absentee voting
Although firm commitments were lacking, members of the Joint Subcommittee on Election Laws seemed to support the concept of no-excuse absentee voting after hearing testimony from Virginia registrars and voters on Tuesday, September 18th.
Testimonials included statements from representatives from the League of Women Voters, the American Civil Liberties Union and Indivisible Arlington. These representatives highlighted the benefits of no-excuse absentee voting including increased protection of voter privacy to the prevention of long Election Day lines at polling places, like those seen in several localities statewide during the 2012 election.
None of the 14 bills referred to the Subcommittee during the 2018 Session were specifically addressed, but the Subcommittee did discuss key factors of any potential policy implementation, including State support for any newly-added local responsibilities.
The Joint Subcommittee expects to meet again to discuss the matter further, though no date has been set.
VML Contact: Jessica Ackerman, jackerman@vml.org
Evictions Subcommittee discusses issues
The Evictions subcommittee met on September 18th to discuss writs of possession, unlawful detainers and the tenant's right of redemption. There was lively discussion and agreement that draft legislation would be prepared and presented at their next meeting which will be held sometime prior to November 2nd.
VML Contact: Michelle Gowdy, mgowdy@vml.org