eNews Sept. 11, 2019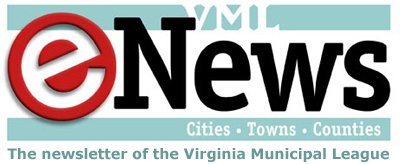 Wednesday, September 11, 2019 - 03:15pm
In this issue:
Announcements
2019 VML Innovation Award winners announced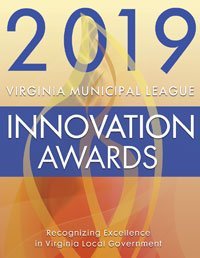 The Virginia Municipal League (VML) is pleased to announce the winners of its annual awards for excellence in local government. The statewide competition recognizes innovative problem-solving, excellence in management, citizen participation, and improved services to citizens. VML received more than 50 entries, from which judges selected one winner in each of six categories. One of the category winners will be chosen by VML president and Roanoke council member Anita James Price to receive the President's Award. The winner of the President's Award will be announced at the 2019 VML Conference awards lunch on Tuesday, October 8.
This year's category winners are:
Environmental Quality: City of Fredericksburg
Communications: City of Richmond
Economic Development: Town of Warsaw
Public Safety: James City County
Working with Youth: City of Danville
Community Health: City of Falls Church
VML congratulates each of these local governments for demonstrating innovation in service to its citizens.
For more information about the Innovation Awards and the winning entries, visit www.vml.org/education/innovation-awards/.
VML Contact: Rob Bullington, rbulllington@vml.org
Economy
As summer fades to fall, will Washington fall apart (again)?
Labor Day has come and gone. Children are whisked away each weekday morning by the "Big Yellow Cheeseburger" (e.g. what my kids called the school bus). The baseball season is headed for the playoffs, and a new NFL season is upon us.
All this can mean only one thing in the nation's capital: CONGRESSIONAL PARALYSIS.
When Congress returned from its summer recess on September 9, there were less than 40 legislative days remaining in the year. The women and men who write our country's laws face a back-breaking "to-do" list that includes (but is not limited to):
Gun control;
Presidential Impeachment;
Trade Wars;
Immigration/Border Wall; and…
Government Shutdown!
Let's take a closer look at the possibility of another federal shutdown driven by Washington's failure to pass a budget. Unlike the House of Representatives that approved 10 of its 12 appropriation bills, the Senate is struggling this week to bundle the first of four spending bills into a single budget package. The likelihood is near nil that the two chambers will pass, negotiate, reconcile, and enact twelve appropriation bills before the current spending bills expire on September 30.
The House is readying plans to keep the federal government open for business beginning October 1 with a stopgap funding measure. The continuing resolution could extend right up to the Thanksgiving recess.
Whether or not the Republican-controlled Senate will accept a measure that does not include additional money for President Trump's border wall is unclear. Reading the tea leaves to determine if the House will authorize the President to take money from congressionally approved military construction projects to build the border wall may be more certain.
The Baltimore Sun reported that projects in 23 states, 19 countries and three U.S. territories will be stalled or killed by the President's plan, though just $1.1 billion in cuts will strike the continental U.S.  In Virginia, the diversion is valued at just over $77 million (see chart below).
| | | |
| --- | --- | --- |
| Location | Project Title | Amounts |
| Joint Base at Langley and Eustis | Construct cyber operations facility | $10.0 million |
| Norfolk | Replace Hazardous Materials Warehouse | $18.5 million |
| Portsmouth | Replace Hazardous Materials Warehouse | $22.5 million |
| Portsmouth | Ship Maintenance Facility | $26.1 million |
| TOTALS | | $77.1 million |
With all the commotion and drama likely to arise in D.C. in the coming months, it is difficult to say how important Congress and the President consider the act of passing a budget. But, as the numbers above indicate, local governments certainly have a reason to care. Is it too early to hope for spring?
VML Contact: Neal Menkes, nmenkes@vml.org
GO Virginia begins awareness campaign
The Virginia Initiative for Growth & Opportunity in Each Region (GO Virginia) is a bi-partisan, business-led economic development initiative that is currently working to highlight the program's successes over the past two years. The group has begun a social media (Facebook page; Twitter page) campaign to feature stories either by region or focus area (workforce, entrepreneurship and site development). Information and stories from interested individuals, organizations and localities will be updated regularly to the social media sites along with information garnered from news reports from across the Commonwealth. Also, members of the GO Virginia state board and the regional councils will be available to speak to groups. Localities interested in hosting one of these business leaders at an upcoming meeting can contact Christopher Lloyd, Senior Vice President and Director, Infrastructure and Economic Development, McGuireWoods Consulting LLC.
VML Contact: Neal Menkes, nmenkes@vml.org
State surplus property available for local economic development
The Virginia Department of General Services (DGS) has updated its website to implement the new process to notify local governments about pending sales of state surplus property and the ability of localities to obtain rights to purchase such property before general public notice. This process was required under legislation passed in the 2019 session (HB 2182 and SB 1681).  The bills were initiated by the Virginia Economic Developers Association (VEDA).
VEDA has discussed with DGS the possibility for localities to purchase this property for other than fair market value through various revenue sharing schemes as the property is developed. The state agency will also be making available a template for the notification letter to be sent to localities as these opportunities emerge.
VML Contact: Neal Menkes, nmenkes@vml.org
Is the economic news good or bad?
The U.S. Census Bureau released a report this week looking at income and poverty. The good news is that the official U.S. poverty rate dropped to 11.8 percent in 2018, which is the lowest since 2001.  The report also pointed out that businesses have been hiring minority and low-skilled workers at unusually high rates, providing opportunities for those who have struggled to get an economic chance.
The median U.S. income, which is the point at which half of families earn less than the amount and half earn more, reached $63,000 for the first time.  That figure, however, is roughly the same, after adjusting for inflation, as middle-class income measured in 1999.
Alarmingly, the proportion of Americans without health insurance grew significantly in 2018 with the number of people lacking coverage rising to 27.5 million.  The new figure for 2018 depicts an uninsured rate increasing to 8.5 percent of the population from 7.9 percent a year earlier.
The Census report also measured aggregate household income.  Some 52.0 percent of aggregate income was earned by just 20.0 percent of American households.  In fact, the top five percent of households earned 23.1 percent of aggregate income.
Other economic data hint at possibly tougher economic times.  The U.S. Commerce Department revised downward to 2.0 percent the annualized rate for the nation's gross domestic product (GDP) in 2019's second-quarter.
The U.S. economy slowed down as offsets in declining exports and fewer factory orders upset the strongest growth in consumer spending in over four years.
The Commerce Department report showed the trade deficit widened to $982.5 billion in the second quarter rather than the $978.7 billion reported in July.  The difference shaved 0.72 percentage point from GDP growth last quarter rather than the 0.65 percentage point reported in July.
Business investment declined by 0.6 percent in the second quarter which is the first contraction since early in 2016.  Growth in inventories was revised down to a $69.0 billion rate from the earlier estimated $71.7 billion pace.  Inventories chopped 0.91 percentage point from GDP growth last quarter instead of the 0.86 percentage point reported in July.
Housing may also be in a quandary.  Spending on homebuilding shrunk for a sixth straight quarter, the longest stretch since the Great Recession.  This is occurring even as mortgage rates plunged to their lowest levels in nearly three-years.
Manufacturing accounts for 11 percent of country's GDP but is often viewed by economists as a harbinger for the economy.  The Institute for Supply Management reported that its manufacturing index in August was 49.1, down from 51.2 in July. Any number less than 50 is considered a sign of economic contraction. Most economists expected the Institute's index to show a slight bump up in August.
The ping pong tariff matches between the U.S. and China and between the U.S. and other nations affect many American factory owners who depend on overseas suppliers for components and raw materials.  Finished American goods facing retaliatory tariffs compete in a tougher marketplace when the price of goods determines a sale.  New export orders have retreated at their fastest pace in a decade.
As for job creation, the economy in August added 130,000 jobs which was close to a gain of 160,000 expected by Wall Street economists.  The labor force participation rate rose to 63.2 percent, suggesting that workers who had dropped out are being lured back into the labor market.
However, roughly 25,000 of the new jobs were temporary positions hired to conduct the 2020 census.  The U.S. Labor Department also reported a downward revision of 20,000 in job gains for June and July.
The conflicting economic data leave many Americans feeling confused and anxious.  A Washington Post-ABC News poll released this week revealed that 60 percent of voters now expect a recession within the next year even as a 56 percent majority currently rates the economy as "excellent" or "good."  This uneasiness may play out in next year's elections if consumer confidence remains shaken.
A Virginia Perspective
Virginia's seasonally adjusted unemployment rate was unchanged in July standing at 2.9 percent.  The labor force expanded for the 13th consecutive month by 12,345 or 0.1 percent to set a new record high of 4,389,783.
Nonfarm Virginia Employment, Seasonally Adjusted
 
July 2019
June 2019
July 2018
Total Nonfarm Employment
4,030,700
4,027,300
4,007,700
Total Private Sector
3,314,200
3,306,500
3,284,600
Goods-Producing
456,000
455,100
447,200
Service-Providing
3,574,100
3,572,200
3,560,500
Government
716,500
720,800
723,100
However, the monthly record highs in employment mask the state's labor participation rate.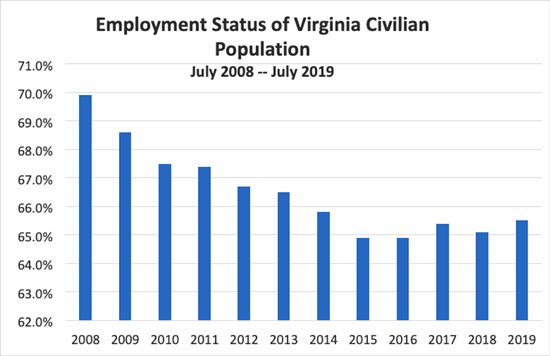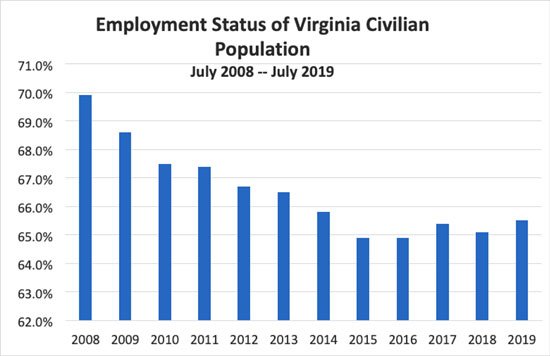 Manufacturing jobs in Virginia have not recovered since the Great Recession, although there has been an uptick in recent years.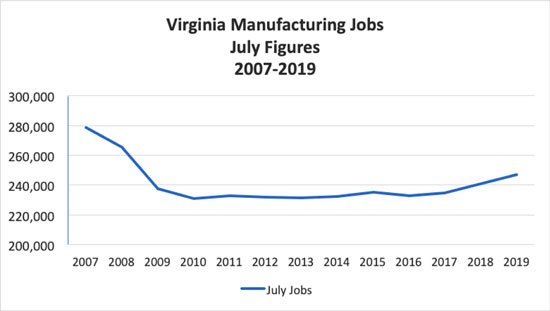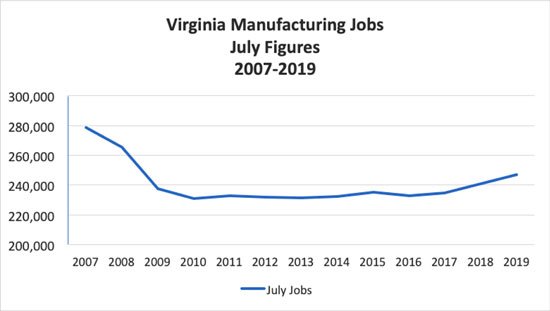 Manufacturing jobs, however, make up less than ten percent of Virginia's workforce, trailing major service provider industries like professional and business services (757,800); education and health services (552,600); trade, transportation and utilities (652,700); and leisure and hospitality services (420,400).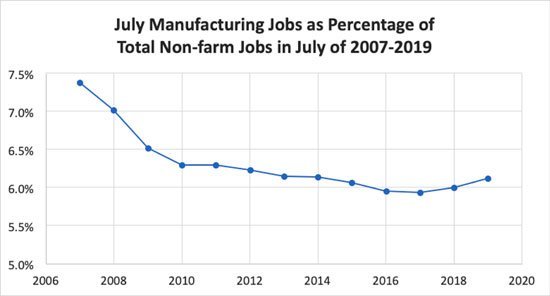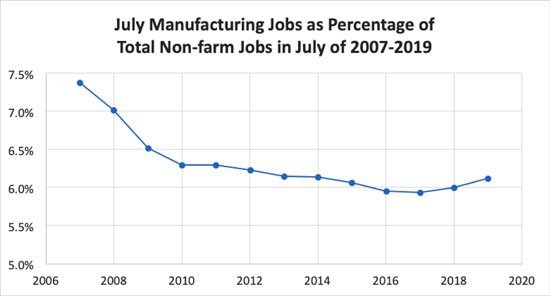 Perhaps the "bottom line" for Virginia localities wondering about next fiscal year's budget is that the state seems to be better positioned than other states and regions of the country.  Employment remains strong, and incomes are growing.  However, if the nation does indeed slip into low- or no-economic growth, the Commonwealth will be affected. Local governments will be interested in seeing how Gov. Northam and his advisors view the state's economic future. The Northam budget will be introduced in a short three-months.
VML Contact: Neal Menkes, nmenkes@vml.org
VRS investment portfolio shows 6.7 percent return
The Virginia Retirement System (VRS) reports that its investment portfolio realized a 6.7 percent return for FY2019. The Board and Investment staff remain optimistic about the broader strength of the portfolio, citing higher-than-anticipated rates of return in both the private equity and fixed income programs despite volatile markets over the second half of the fiscal year. However, it is important to note that the 2019 returns fall 0.3 percent short of VRS's original 7 percent assumed rate of return. Following 2019 trends, it is anticipated that VRS will adjust its assumed rate of return for the fund to 6.5 percent in 2020.
For FY2019, the total portfolio included:
Public equity: $32.1 billion
Credit strategies: $11.9 billion
Fixed income: $12.9 billion
Real assets: $11.1 billion
Private equity: $9.5 billion
Private investment partnerships: $1.1 billion
Public strategies: $2.2 billion
VRS represents the 19th largest pension fund in the United States.
VML Contact: Jessica Ackerman, jackerman@vml.org
Government
Northam releases Phase III Bay Restoration plan
Localities May Face Steeps Costs
Gov. Northam released on August 23 the much-anticipated "Chesapeake Bay TMDL Phase III Watershed Improvement Plan," also known as the Phase III WIP.
The Phase III WIP is the final stage of the 15-year plan (2010-2025) to meet certain pollutant-reduction goals for Bay restoration. The plan poses additional requirements and seeks additional investments from localities, farmers, and the private sector to meet 2025 goals.
For local governments and wastewater authorities, the Phase III WIP will impose significant new regulations and costs. While the Phase III WIP acknowledges the extraordinary pollution-reduction achievements made by wastewater treatment plants (WWTPs) over the years, it nevertheless proposes a new WWTP regulation – amending waste load allocations – that will be burdensome and expensive. WWTPs in every major river basin will be affected. Surprisingly, the Phase III WIP assumes that the excellent performance of recently upgraded WWTPs will severely degrade in the near-term, that discharges will rise sharply, and costly capital infrastructure upgrades are needed to offset this assumed backsliding.
Additionally, the costly infrastructure improvements required will put stress on the Virginia Clean Water Revolving Loan Fund and the Water Quality Improvement Fund (WQIF) at a time when other major WWTP projects are underway or are being planned, not to mention the desire for the agricultural sector to also continue tapping the WQIF for its concurrent water quality efforts.
The Virginia Association of Municipal Wastewater Agencies (VAMWA) and numerous individual municipal WWTP owners have been meeting and corresponding with the Governor's office over the past couple of months. The Northam Administration has been very solicitous of alternative strategies to meet the 2025 pollution-reduction goals. VAMWA proposed achievable alternatives to meet the 2025 goals that would not be nearly as burdensome and costly but, alas, the Northam Administration didn't agree to the alternative approaches.
Going forward, VML, VACO, VAMWA, and others will continue engaging with the Northam Administration and the Department of Environmental Quality on better, less costly ways to meet the state's clean-water goals.
VML Contact: Mitchell Smiley, msmiley@vml.org
Body camera workgroup meets
Court clerks, public defenders, police chiefs and local government representatives discussed the impacts of the use of police body-worn cameras at the most recent meeting of the body-worn camera workgroup in Richmond on September 4.  The workgroup, which was continued from last year's work on this issue, has been placed under the purview of the Secretary of Public Safety and Homeland Security. The group has also been expanded to include additional stakeholder groups, including circuit court clerks. Other participants include local governments, commonwealth's attorneys, the Virginia Supreme Court, local and state police, and staff of the House and Senate budget and finance committees.
Fredericksburg Police Chief David Nye and York County Deputy County Administrator Vivian McGettigan spoke to the committee at the September 4 session. Chief Nye showed examples of video footage that clarified disputed interactions between police and residents. Nye also discussed the usefulness of video footage for the commonwealth's attorney's office, his department's oversight and training opportunities, and for providing transparency to the community about local policing. Vivian McGettigan addressed the financial aspects of using the cameras; she also outlined how it had become clear that residents expected and supported the use of cameras by the sheriff's department.
David Johnson, executive director of the Virginia Indigent Defense Commission, spoke of the increased workload in cases involving public defenders and court-appointed counsel in which video is used. The professionals who perform this work are underfunded, and the additional workload of reviewing video for large caseloads has increased the already substantial turnover rate. Johnson did not dispute the value of the video – in fact, he affirmed that it has helped their clients by adding clarity and leading to fewer additional charges against clients who know their interactions are being taped. The issue, Johnson asserted, is about resources (i.e. staff and technology).
The workgroup's next meeting is planned for October; a report is due in November.
VML Contact: Janet Areson, jareson@vml.org
Findings from evaluation of mixed-delivery preschool pilot released
Following this summer's activity surrounding Executive Order 4, establishing the Executive Leadership Team on School Readiness, Governor Northam announced the findings from the Mixed-Delivery Preschool Fund Program evaluation. The pilot was intended to address the conflict between the growing need for public preschool programming with limited space and resources in local public school divisions, as well as the limited flexibility offered by public schools to accommodate the needs of working families. The study followed two cohorts of students, beginning in 2016, who were enrolled in publicly funded slots in private childcare settings, comparing their performance with that of students enrolled in traditional Virginia Preschool Initiative (VPI) slots.
Observed outcomes demonstrated that children in mixed-delivery classrooms achieved performance levels comparable to those of children in VPI classrooms. The introduction of state grant funding also improved the overall quality of resources offered by many private preschool providers, despite variance in teacher credentials between public and private classrooms. The results suggest that making mixed-delivery preschool slots more widely available would help Virginia expand the scope of quality preschool education.
The executive summary and full report are available now on the Virginia Early Childhood Foundation website.
VML Contact: Jessica Ackerman, jackerman@vml.org
Events
Small-scale development workshop coming to Danville
The City of Danville will sponsor a day-long session designed to introduce the principles and implementation mechanisms behind neighborhood-based development projects on Wednesday, Oct. 30.
The specialized training will cover development of small residential, commercial, and mixed-use properties (1-3 story buildings with less than 20 units). The course assumes participants know a lot about where they live–but not necessarily a lot about real estate development.
The program will include presentations on finance, design and site selection, a hands-on practice exercise, and networking with local like-minded people. This is the first step to becoming a small developer or creating a supportive ecosystem for small development in your city.
The session will take place from 8:00 AM – 5:00 p.m. at the Institute for Advanced Learning and Research in Danville. Anyone interested in learning more about this small-scale approach is welcome to register and attend.
The workshop is presented by the Incremental Development Alliance, a national nonprofit working to build local wealth in neighborhoods through ground-up real estate development.
Incremental Development Alliance Contact: Alexandra Nielsen, training@incrementaldevelopment.org
City of Danville Contact: Kelvin Perry, kelvin.perry@danvilleva.gov
SLLC Supreme Court preview webinar September 24
It is rare for the Supreme Court's docket to be so interesting before the term has even started!
Join four experts on the Supreme Court in a discussion of the most interesting and important cases before the Court this term, including guns, DACA, Bridgegate, copyrighting statutory annotations, school choice, and many other topics. Michael Dreeben, former Deputy Solicitor General and currently visiting lecturer at Georgetown Law; Joe Palmore of Morrison Foerster who is co-chair of the firm's Appellate and Supreme Court Practice Group and Managing Partner for the Washington, D.C. office and will argue a case this term on the interplay between state tort law and the Superfund statute; and Todd Ruger, legal affairs staff writer at CQ Roll Call will be the panelists.
Date:  September 24
Time: 1 p.m. Eastern
VML Contact: Michelle Gowdy, mgowdy@vml.org
Grants administration training being held in Henrico
Learn how to administer government grants and stay in compliance with applicable rules and regulations at a a two-day grant management workshop in Henrico County on September 16-17. 2019, The meeting is presented by Henrico County Division of Fire and Grant Writing USA and is recommended for grant recipient organizations across all disciplines.
Click here for full event details >
A discounted special tuition rate of $565 is being offered. Please use discount code "VANPO" to receive this $30 discount off full price at registration. Tuition includes Grant Writing USA's 400-page grant management workbook and reference guide.  Seating is limited, online reservations are necessary.
Multi-enrollment discounts and discounts for Grant Writing USA returning alumni are available.  Tuition payment is not required at the time of enrollment.
Complete event details including learning objectives, class location, graduate testimonials and online registration are available here.
Contacts:
Tammy Pitts
Grant Writing USA
888.435.7281 toll free
tammyp@grantwritingusa.com
Robert Foresman, Emergency Planner
Henrico County Division of Fire
804.501.5857
for110@henrico.us
Broadband Summit held in Richmond
VML partnered with VACo and VCTA (The Broadband Association of Virginia) to host a Broadband Summit on September 5 at the Downtown Marriott in Richmond. More than 150 attendees gathered to learn about efforts to expand broadband access, new technologies, and how the actions of the FCC will impact local governments in Virginia.
Over the course of the summit, attendees heard presentations on lessons learned from broadband grant programs under the Virginia Telecommunication Initiative (VATI), new and emerging broadband technologies (10 gigabit broadband), broadband affordability programs, telemedicine, and an update on federal telecommunications regulatory action.
Virginia Broadband Advisers Evan Feinman and Courtney Dozier spoke about the VATI grant program and representatives from Cox Communication, Comcast, Atlantic Broadband and All Points Broadband spoke about their experiences implementing VATI grants in rural areas. VML Executive Director Michelle Gowdy led a discussion with representatives from Cox and Comcast about their broadband affordability programs which are designed to connect low income households to the internet. Attorney Alan Tilles provided an update on recent activity by the Federal Communications Commission; he emphasized that recent FCC decisions significantly impact local governments on issues including the decision to prohibit local regulations that inhibit the provision of small cell wireless services. Tilles also highlighted USDA broadband grant funding under the ReConnect Loan and Grant Program noting that projects in Virginia have succeeded in receiving grants and loans to expand broadband access.
Download Alan Tilles' FCC Broadband Update here >
The summit closed with a presentation on Appalachian Power's pilot program in Grayson County to expand middle mile broadband access and ease the investment in infrastructure required by internet providers to connect households to high speed broadband service.
Download summit materials here >
VML Contact: Mitchell Smiley, msmiley@vml.org