eNews October 30, 2020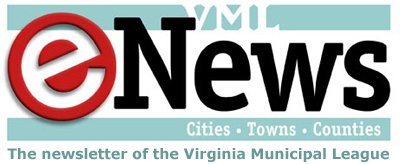 Friday, October 30, 2020 - 04:50pm
In this issue:
Utilities
Utility disconnection moratorium and repayment plans amendments requested
VML joins municipal utility organizations in seeking amendments to two budget that address the disconnection of utility services.
To this end, VML sent a letter to the Governor requesting amendments to the utility components of the budget passed by the General Assembly. We were joined by the Virginia Association of Counties, the Virginia Association of Municipal Wastewater Agencies, the Virginia Water and Waste Authorities Association, the Virginia Section of the American Water Works Association, and the Virginia Rural Water Association.
View/download the letter here >.
The purpose of this letter is to fix three issues as they relate to municipal utilities:
To clarify the intent of the budget items in terms of the uniqueness of municipal utility services.
To ensure this intent is executable for both the Commonwealth and local utilities in an efficient manner.
To protect customers facing severe economic and health effects of the pandemic.
Broadly, the letter asks for clarification on the mechanics of budget items 4-14 #1c and 479.10 #2c. Specifically, it seeks changes from the Governor to ensure that municipal utilities have the necessary guidance on the following issues:
How these budget items will interact with existing repayment plans already in place between the municipal utility and its customers.
How repayment plans will function if the customer in arrears fails to honor the obligation.
How CARES Act relief funds can be used to reduce arrearages.
What process will be used to identify customers who are eligible for relief funds.
How to simplify the detailed information that is required to be reported to the Department of Housing and Community Development.
Given the tight timeframe to use CARES Act money, VML is concerned that managing the budget as passed by the House and Senate will be challenging. While it may be unlikely that the Governor will use the amendments we have suggested, we believe this request represents our last opportunity to improve the new mandates that will be imposed on municipal utilities and their customers.
Furthermore, VML recognizes that even if the suggestions offered in the letter are accepted by Gov. Northam and the General Assembly that the offer of CARES Act dollars is a short-term response for a problem that will persist into the next year.
VML will provide updates on this topic as the situation develops.
VML Contact: Mitchell Smiley, msmiley@vml.org
Elections
Here's how to vote by November 3rd
It's the final countdown…to Election Day!
As with so many events in 2020, this year's Election Day marks a series of firsts both in Virginia and nationwide. During the 2020 Session, the General Assembly expanded voter access by allowing early voting up to 45 days before an election; removing eligibility requirements for early or absentee voting; expanded the list of acceptable forms of identification for voting; and made Election Day a statewide holiday. Virginia joined Illinois, Michigan, and Vermont to become one of only four states to allow no-excuse early voting more than 30 days ahead of an election.
In the first presidential election cycle since Virginia instituted early and no-excuse absentee voting, more than 2.4 million Virginians have opted to vote in advance of Election Day. As of October 29, the Department of Elections reports that more than 1.5 million residents have voted at early polling sites statewide, while registrars have received and processed more than 878,000 absentee ballots. This marks a more than 400 percent increase in total early voting numbers and represents 61.2 percent of total voter turnout from the 2016 election!
Here are some key points to remember if you or your local residents are still hoping to vote early:
Early voting is available in all localities until 5:00 p.m. Saturday, October 31. All early voting sites will be open to the public for at least eight hours Saturday.
Voters who received absentee ballots but have yet to return them can still do so either by mail or by dropping off in-person at a local drop-off site. All ballots submitted by mail must be postmarked by Tuesday, November 3rd in order to be counted and must be received by the registrar no later than Friday, November 6.
It is still possible to apply for an emergency absentee ballot in the event of a personal or family health emergency, or some other emergency circumstance that would prevent a voter from making it to the polls. Voters can apply for an emergency absentee ballot until 2:00 p.m. Monday, November 2.
A voter who either applied for an absentee ballot and never received it or never received confirmation that their absentee ballot has been processed can still submit a provisional ballot in person on Election Day at their designated polling place.
As always, any voters still waiting in line at a polling site after the official closing time will be allowed to vote.
Voters can still vote in person on November 3 at their regularly assigned polling site during regular hours (6:00 a.m. to 7:00 p.m.). Masks are not required, but they are strongly encouraged.
Resources and responses to other frequently asked questions can be found on the Department of Elections website.
VML Contact: Jessica Ackerman, jackerman@vml.org
General Assembly
General Assembly to reconvene on November 9
It's almost like they never left!
Fear not.  The General Assembly is scheduled to return to Richmond on Monday, November 9. The plan calls for the House and Senate to pass the budget they've labored on since August 16 and then adjourn sine die. The plan could be subject to change depending on the number of changes Gov. Northam proposes. However, if voters on November 3 approve the proposed constitutional amendment, then language to set up a Redistricting Commission is a certainty.
Perhaps the most interesting part of this long-running drama is that in less than two months Gov. Northam will introduce a new Budget Bill for the 2021 legislative session, and we will all get to go through this process again.
Stay tuned!
VML Contact: Neal Menkes, nmenkes@vml.org
FCC
FCC takes actions that affect localities
On October 28, the FCC took a number of actions of interest to local governments.
Chairman Pai proposed a draft of rules for the 5.9 GHz Band (currently for Dedicated Short-Range Communications, or DSRC). This draft Order would transition incumbents to the upper 30 MHz of the band (and then to C-V2X-based technology) and permit full power outdoor unlicensed operations in the lower 45 MHz of the band. Read the full press release here >.
In ET Docket No. 20-36, the FCC allowed higher power and higher height for unlicensed devices for TV White Space spectrum. The provisions for protecting public safety T-Band operations from fixed unlicensed operations begin in paragraph 39 of the R&O. Read the Report and Order and Further Notice of Proposed Rulemaking here >.
In WT Docket No. 19-250, the FCC's draft Report & Order would amend the Commission's rules to provide that requests to modify an existing tower outside the public rights-of-way that entails ground excavation or deployment of up to 30 feet in any direction outside the boundary of a site will be eligible for streamlined processing pursuant to section 6409(a). Further, the draft R&O would revise the Commission's rules to clarify that the site boundaries from which limited expansion is measured appropriately reflect prior state or local government review and approval. Read the FCC Fact Sheet here >.
VML Contact: Michelle Gowdy, mgowdy@vml.rog
Health & Human Services
Planning a holiday parade? Time to think in reverse.
VML has received several inquiries about holiday parades, or more precisely, reverse parades in which cars drive by floats. While the Virginia Department of Health (VDH) has not developed specific guidance for holding parades, VDH staff offered the following information on its weekly stakeholder call:
The Federal Centers for Disease Control and Prevention (CDC) considers traditional, in-person parades to be a high-risk activity.
VDH believes that reverse parades (where cars drive by floats) are less risky as long as people remain in their cars at all times and refrain from car-pooling with people outside of their household.
The use of masks is encouraged, especially if people from outside a household are riding in the same vehicle.
The 10 feet of distance between any performers, participants, and patrons would apply.
Any interaction between a performer and parade attendee, including any distribution of candy, is discouraged.
Parades fall under the entertainment guidelines of Executive Order #67 (see pages 9-10 of the document). These guidelines limit the number of participants to 1,000. However, VDH said that people in cars for a reverse parade would not be individually counted toward that limit.
Parade organizers should confer with their local governments to determine if more strict guidelines exist for public events/gatherings.
VML Contact: Janet Areson, jareson@vml.org
Commission on youth study recommendations open for public comment
Public comment is open until Wednesday, Dec. 2, at 5:00 PM on draft recommendations from two studies conducted this year by the Virginia Commission on Youth:
Background about the studies may be seen on the Commission's website here >.
The Commission will take up the recommendations and public comment during its meeting at 10:00 AM on Dec. 9. This meeting will be virtual.
Public comments may be submitted by email to aatkinson@vcoy.virginia.gov or faxed to (804) 371-0574.
Alternatively, they may be mailed to:
Virginia Commission on Youth
900 E. Main St, Floor 11
Richmond, VA  23219
The Virginia Commission on Youth was created by the General Assembly in 1989 to study and provide recommendations on matters related to youth and families in the areas of human services, education, and public safety. The Commission is chaired by State Senator David Marsden.
VML Contact: Janet Areson, jareson@vml.org
Announcements & Opportunities
VEEC wants local government input on built environment energy use
Now that the Virginia Clean Economy Act is law, some climate and housing advocates are interested in addressing energy use and related emissions from the built environment. Two ideas have been suggested, which would allow localities to act. The Virginia Energy Efficiency Council (VEEC) is polling local governments to gauge your interest in these programs and to learn more about your thoughts in general regarding this sector.
Please take a moment to fill out this quick survey by Friday, November 6.
To direct our colleagues towards effective policy, the VEEC wants to hear from the local governments that would be implementing these programs, if they choose to do so. Feel free to send VEEC other ideas that you feel maybe even more effective at tackling these issues.
VEEC Contact: Chelsea Harnish, Executive Director, chelsea@vaeec.org
Fall edition of National Civic Review now available
You can access this edition by going directly to the table of contents and entering access code VML20 when prompted.
From the editors: "As this edition of the National Civic Review goes out, our nation is approaching a crucial presidential election, dealing with a terrible pandemic and grappling with vexing racial disparities. An article by Martín Carcasson discusses approaching the challenge of public deliberation as a "wicked problem," in other words, an issue or challenge with conflicting underlying values and no technical solution. Perhaps at this juncture we are in a wicked time, a period with similar attributes of conflicting values and complexity. This edition of the Review was published in collaboration with Charles F. Kettering Foundation. We hope the articles in the edition will provide some ideas and tools to rally communities across the country to address complex issues and thrive."
VML Contact: Rob Bullington, rbullington@vml.org
VML/VACo Finance's Beau Blevins recognized as a "2020 Top 40 Under 40"
The Richmond area's "alternative for news, arts, culture and opinion" Style Weekly recently recognized the VML/VACo Finance's Director of Business Development Bea Blevins in its annual ranking of the "Top 40 Under 40." Among Blevins' achievements, the publication noted that "During his three years as the director of business development…he has spearheaded the head-turning growth of the Virginia Investment Pool from $350 million to $2.5 billion."
Congratulations to Beau and all the staff at VML/VACo Finance!
VML Contact: Rob Bullington, rbullington@vml.org