eNews October 23, 2020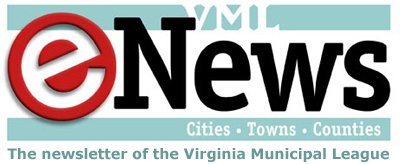 Friday, October 23, 2020 - 05:15pm
In this Issue:
VML News & Events
VML's 2021 Legislative Program now available
VML's 2021 Legislative Program is now available on the Legislative Program page of VML's website.
View / Download the 2021 Legislative Program here >.
This program was developed by the VML Legislative Committee, comprised of 24 members representing VML's city, town, and urban sections. The VML membership adopted the program during the 2020 annual business meeting held on Oct. 8 as a part of the VML annual conference.
We encourage members to review the program as their communities develop their 2021 legislative programs.
VML Contact: Janet Areson, jareson@vml.org
Warrenton Vice-Mayor Sean Polster applies for leadership role with the National League of Cities (NLC)
Sean Polster, the Vice Mayor of the Town of Warrenton, and member of VML's Executive Board, has submitted an application for the 2nd Vice President of the National League of Cities of which he has been an active member for many years.
Sean has been an advocate for public safety, homelessness, and workforce development. He has also led and heavily promoted successful campaigns such as "Love my Town", "Cities are Essential" and "Crush". As part of his application, a myriad of local government leaders from across Virginia and as far away as California and Oregon have testified to his suitability for the position. VML is also proud to give full support to Sean Polster for the position of second Vice President.
Please take the time to review this short video featuring several leaders from across the country voicing their support for Sean as the NLC's 2nd Vice President and share it on social media!
VML Contact: Josette Bulova, jbulova@vml.org
Free "Transformations" event offered to VML members November 19
2020 has been a hard year for local governments and the people who make them work. With the long dark days of winter looming, and traditional holiday gatherings and celebrations curtailed, it's more important than ever to find ways to renew and take care of yourself so you can continue to help your community innovate and adapt to the challenges we all still face.
Join award winning writer and speaker Nick Kittle for an afternoon of transformation, motivation, and inspiration as he brings his experience in local government innovation to the benefit of VML's members.
This event is being sponsored by the Virginia Risk Sharing Association (VRSA).
Learn more and register here >.
VML Contact: Rob Bullington, rbullington@vml.org
FOIA
Virginia Freedom of Information Act (FOIA) Council subcommittees meet
This week the FOIA Council subcommittees on Electronic Meetings and Criminal Incident Information met to consider legislation of interest to localities.
Electronic Meetings subcommittee considers HB321
HB321 (Levine) would allow a member of a public body to miss a meeting for a serious medical condition of an immediate family member in addition to the reasons already allowed for and states that a member can miss two meetings or 10 percent of meetings whichever is great for these reasons.
HB321 was heard during the 2020 General Assembly Session and sent to the FOIA Council for study. The Electronic Meetings subcommittee began this work when it met on Tuesday. After a lot of discussion and review of the proposed drafts the members of the subcommittee agreed that they would meet again.
It seems likely that a bill with this concept will be sent to the full FOIA Council for review.
VML's General Laws Policy Committee adopted this position earlier this summer: "VML supports legislation reviewed by the FOIA Council that allows flexibility in the number of meetings a member of a governing body may participate in electronically due to a personal matter as defined in the electronic meeting policy adopted by the governing body."
The Electronic Meetings subcommittee is comprised of Matthew Conrad, Billy Coleburn, Bruce Potter, Sterling Rives (local government representative), Cullen Seltzer, Michael Stern, and Amigo Wade.
Criminal Incident Information subcommittee examines HB5090
HB5090 (Hurst) would require that criminal investigative files be added to the types of law-enforcement and criminal records that are required to be released in accordance with FOIA. Also included is a provision that allows for the Commonwealth or law enforcement to petition the court to withhold records. Currently disclosing these records is discretionary.
HB5090 (Hurst) was heard during the 2020 General Assembly Special Session and sent to the FOIA Council for study. The Criminal Incident Information subcommittee which met on Wednesday asked for a list of all the discretionary provisions in FOIA and agreed to meet again. There will be a new draft circulated prior to the next meeting (which has not yet been scheduled) which will then be sent to the full Council for its consideration.
The Criminal Incident Information subcommittee is comprised of Delegate Marcus Simon, Shawri King-Casey, Matthew Conrad, Marisa Porto, and Cullen Seltzer.
VML Contact: Michelle Gowdy, mgowdy@vml.org
Housing
Housing Commission hears about issues related to affordable housing
The full Housing Commission met on Wednesday with Senator Locke as its Chair. The itinerary for the meeting included presentations from the Better Housing Coalition, the Lawson Companies, and the Virginia Association of Realtors. These groups talked about the need for more affordable housing as well as the perceived impediments to affordable housing which include exclusionary zoning, land costs and construction costs. It was observed, however, that Virginia has one of the best housing finance agencies in the nation.
When discussing Virginia's housing market trends, it was noted that home sales activity has rebounded strongly but that inventory and affordability are constraints.
The affordable housing work group will meet on November 9th at 1:00pm to continue the discussion of this information.
VML Contact: Michelle Gowdy, mgowdy@vml.org
Broadband
Commonwealth Connect Coalition discusses CARES Act funds for broadband
Localities should submit projects for review
The Commonwealth Connect Coalition met this week to discuss the $30M CARES Act money that was just allocated for broadband. It was reported that as of October 20, only $13M worth of projects had been submitted. Awards are being made directly to localities and funds will be transferred in a process similar to previous CARES Act allocations.
Localities desiring to submit a project should review the program guidance.
It was also reported during the meeting that the proposed budget (unsigned at this time) includes $50M for FY21 and $35M for FY22 for the Virginia Telecommunication initiative (VATI) grant program. The budget also includes language that directs the Broadband Advisory Council to "assess updating the VATI to allow for public broadband authorities to apply directly for VATI funds without investment from the private sector."
The Department of Housing and Community Development will submit a report before the start of the 2021 General Assembly session.
VML Contact: Michelle Gowdy, mgowdy@vml.org
Economy
September's revenues offer a clue to the state's financial health
But is it accurate?
Virginia's Secretary of Finance Aubrey Layne appeared before the Senate Finance and Appropriations Committee earlier this week to report on September revenue collections.
He noted that payroll employment fell 5.2 percent in August compared with the previous year with job numbers sinking by 5.3 percent in Northern Virginia, 5.2 percent in Hampton Roads, and 5.3 percent in the Richmond-Petersburg metropolitan area. Statewide unemployment dropped 1.8 percentage points to 6.1 percent which is lower than the U.S. unemployment rate but 3.4 percentage points above the state rate in August of 2019.
The good news was that the Virginia Leading Index rose for all eleven Virginia metro areas by 1.6 percent after rising 1.7 percent in July.
However, subsequently to the Secretary's presentation before the Senate money committee, the Virginia Employment Commission (VEC) issued updated information for the month of September which shows there is much work to be done to restore Virginia's economy.
Here is what the VEC had to say
Virginia's seasonally adjusted unemployment rate edged upward 0.1 percent in September to 6.2 percent, which is 3.5 percentage points above the rate from a year ago. According to household survey data in September, the labor force fell by 71,954, or 1.7 percent, to 4,279,495, as the number of unemployed residents declined by 2,546. The number of employed residents decreased by 69,408 to 4,015,630. In September, private sector employment increased by 20,800 jobs to 3,151,300, while public sector payrolls decreased by 11,600 jobs to 705,800. Most of the public sector job losses fell on local governments with a 10,300 decline from August to September and a loss of 23,200 jobs from September 2019 to September 2020.
The VEC also announced that the number of initial claims filed in the October 17 filing week was more than five times the number filed during the comparable week in 2019.
For the filing week ending October 17, the figure for seasonally unadjusted initial claims in Virginia was 11,365. The latest claims figure was an increase of 2,255 claimants from the previous week but was in line with claims volumes trends seen in recent months following April's peak. (See chart below.)
For the most recent filing week, continued weeks claimed totaled 129,300, which was a 9.1 percent decrease from the previous week, but 112,532 higher than the 16,768 continued claims from the comparable week last year. This drop indicated a continuation of its recent declining trend. The continued claims total is mainly comprised of those recent initial claimants who continued to file for unemployment insurance benefits during the COVID-19 pandemic.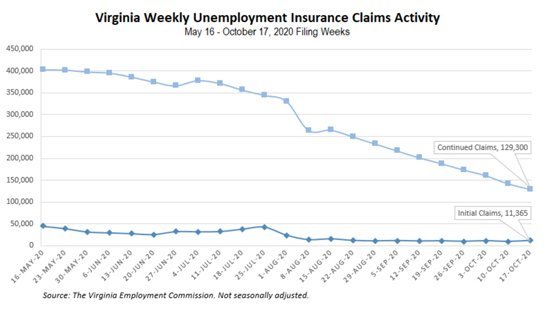 As for state tax collections, total general fund revenues rose 7.6 percent in September, driven by growth in payroll withholding and an extra deposit day in September, corporate, and recordation tax collections. On a fiscal year-to-date basis, total revenue collections rose 9.9 percent through September, well ahead of the annual forecast recognizing a 1.8 percent decline.
The year-to-date withholding collections from payrolls have increased 2.4 percent compared with the same period last year. This is in line with the projected annual growth of 2.4 percent.
Non-withholding revenues on a year-to-date basis were off the chart in September, although September's collections were 2.4 percent higher than the previous year with collections through the first quarter of fiscal year 2021 of $982.4 million compared with $617.6 million in the same period last year, a $364.8 million increase. However, about $325 million of the increase is due to payments due on June 1 being received in July as a result of the state pushing back the tax returns deadline.
Taking payroll withholding and non-withholding together, Secretary Layne pointed out that after adjusting for the payments and tax returns processed in July that normally would have been done earlier in May and June, the net year-to-date growth in individual tax collections is only 2.8 percent.
Sales tax collections, although increasing on a year-to-date basis by 7.5 percent and ahead of the annual estimate calling for a 9.7 percent decline, dropped 3.2 percent in September. The reason for most of the decline was due to Accelerated Sales Tax (AST) refunds owed to the big box stores like Walmart. These large retailers made their June sales tax payments based on sales estimates that did not reflect the fact that their businesses were opened only on a limited basis.
The table below summarizes tax collections thus far and the amounts needed to meet the FY21 forecast.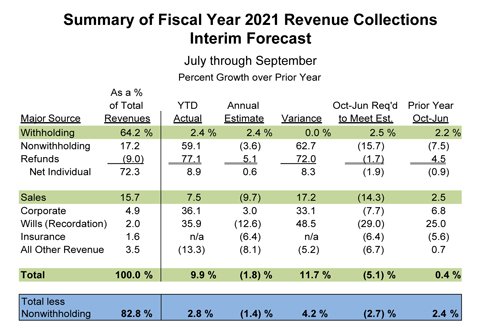 About the budget…
It may be difficult to believe given the extraordinary length of the Special Session but budget development for the 2021 Session will be underway next week even before the Budget Bill (HB5005) passed during the Special Session is signed into law.
On November 4, the Joint Advisory Board of Economists will review the economic outlook for fiscal year 2022 and just days before Thanksgiving the Governor's Advisory Council on Revenue Estimates will review both the economic and revenue outlook for next fiscal year. In less than two months from today, Gov. Northam will submit his revised forecast and budget actions on December 16 to the General Assembly.
Budget fatigue will not be an option.
VML Contact: Neal Menkes, nmenkes@vml.org
Environment
DEQ environmental justice study calls for increased local government coordination and education
The Virginia Department of Environmental Quality recently released a study conducted by outside consultants assessing the agency's ability to incorporate environmental justice goals into its strategic planning, operations, and programs. The year-long study makes nearly 50 recommendations regarding DEQ's statutory authority, governance, staff capacity, regulatory guidance and tools, public communications, community engagement, and more.
The study particularly calls for DEQ to invest in local government coordination and education to promote and implement environmental justice policies. Such recommendations include coordinating with local governments on environmental justice policies in the comprehensive planning, land use, and local siting processes; developing easy-to-understand environmental justice materials; and offering "pre-screening" services before local infrastructure siting decisions are made so that environmental justice aims can be met.
It is anticipated that the 2021 General Assembly will consider legislation and budget requests to codify and fund many of the study's recommendations. VML will take a more in-depth look at the study in an upcoming issue of Virginia Town & City.
VML Contact: Preston Bryant, pbryant@mwcllc.com
Announcements & Opportunities
Local Government Attorneys Association (LGA) honors members
The Local Government Attorneys of Virginia, Inc. (LGA), held a virtual fall conference October 15th and 16th. During the conference, LGA awarded its two highest honors, the Finnegan and Cherin awards, and, as reported in last week's eNews, recognized the contributions of Walter C. Erwin, III and its COVID-19 ad hoc committee.
Edward J. Finnegan Award for Distinguished Service
LGA awarded its highest honor, the Edward J. Finnegan Award for Distinguished Service, to Tara A. McGee, County Attorney for Goochland.
The Finnegan Award recognizes Tara McGee for her significant and sustained contributions to Virginia local government law and LGA. Ms. McGee began her local government career with Chesterfield County in 1995 and became County Attorney for Goochland in 2017. Throughout her career, she has always shown the utmost professionalism, the highest standard of conduct, honor, integrity, courtesy, and service to her clients and the legal community.
Ms. McGee has served LGA in numerous capacities. In addition to being a former president of LGA, Ms. McGee has organized several LGA conferences, chaired or served on several standing committees and ad hoc committees which addressed specific issues. She has been elected a Fellow of the Virginia Law Foundation, a statewide organization that recognizes attorneys for leadership both in their practices and communities.
A. Robert Cherin Award for Outstanding Deputy or Assistant Local Government Attorney
Robert B. Dickerson, Prince William Chief Deputy County Attorney, was selected for the LGA's prestigious A. Robert Cherin Award in recognition of his "distinguished public service that reflects a personal commitment to the highest ethical and professional principles and enhances the image of local government attorneys in the Commonwealth." Mr. Dickerson is regarded as an expert in transportation and telecommunications law and is widely respected in regional, statewide, and national transportation organizations. In addition to serving as a mentor in the Prince William County Attorney's Office, he is a faculty member of the Carrico Professionalism Course, a course on ethics which is required to be taken by all attorneys admitted to the Virginia Bar.
Walter C. Erwin, III Special Projects Award
The Erwin Special Projects Award recognizes LGA members who have worked on a project of significant importance to LGA or local government generally. LGA is pleased to present the award to the local government attorneys who are participating in LGA's ad hoc committee on COVID-19. In 2020, the pandemic caused by COVID-19 exacerbated the challenges and stresses placed upon the operation of local governments. Local government attorneys were at the forefront in crafting solutions to these challenges and stresses. Of immense assistance in that battle was the guidance that the Ad Hoc Committee on Covid-19 provided, and continues to provide, on matters such as the continuity of government, workplace safety, FOIA, employment law, and tax issues. Members of the committee are Sharon Pandak, Greehan, Taves, & Pandak, Chair; Jan Proctor, Accomack County Attorney; Rebecca Randolph, Hanover County Assistant County Attorney; Phyllis Errico, Virginia Association of Counties Director of Legal Services; Michelle Gowdy, Virginia Municipal League Executive Director; Leo Rogers, Loudon County Attorney; Greg Kamptner, Albemarle County Attorney; and James Barnett, York County Attorney.
Prior to awarding the Special Projects Award to the COVID-19 committee, LGA's board of directors name the award in honor of Walter C. Erwin, III, Lynchburg's City Attorney, in recognition of his embodiment of the principles of an award that recognizes works that impacts local government. Mr. Erwin has consistently been a leader in LGA, serving as its president and routinely sharing the depth and breadth of his local government law knowledge with the membership.
About the LGA
LGA promotes common interests and an exchange of information among its members on legal issues that are particularly relevant to Virginia's counties, cities, and towns. The LGA's member services include conferences, a legal handbook, a monthly newsletter, and other services intended to inform and enhance the practice of local government.
VML Contact: Michelle Gowdy, mgowdy@vml.org
Virginia Outdoors Foundation grants available for localities
The Virginia Outdoors Foundation has announced a couple of grant opportunities highly geared to Virginia's towns and cities.
Opportunity #1 – Create or expand public open space
This is a $1 million grant round for projects that create or expand public open space, for example if a local government wants to acquire a piece of land for a park, upgrade/expand an existing park, acquire a trail right of way, lease open space, etc. More details are available here >.
Opportunity #2 – Increase equitable access to open spaces in underserved communities
This $250,000 grant round for projects that increase equitable access to safe open spaces specifically in underserved communities. These grants can be for planning, capacity building, infrastructure, and a lot more. The goal of these grants is to serve those communities that have the highest need for safer, more accessible parks, playgrounds, etc. More details are available here >.
The application deadline for both is December 18.
The organization also has an active $1 million RFP in 9 counties/cities in Southwest VA through its TERRA program.
All grant Virginia Outdoors Foundation program grants can be viewed at www.vof.org/protect/grants/.
Virginia Outdoors Foundation Contact: Jason McGarvey, Communications & Outreach Manager, jmcgarvey@vof.org