eNews October 2, 2020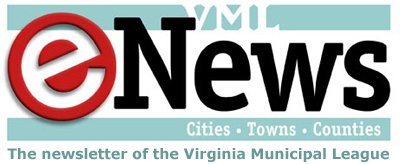 Friday, October 02, 2020 - 06:13pm
In this issue:
A note to our readers: VML will not publish an eNews next Friday. The next regular issue of eNews will publish on Friday, October 16. We will continue to keep our members informed through direct communications and special editions of eNews should events warrant.
Special Session
Utility budget amendments advance in both houses
Members are encouraged to support House amendment that allocates CARES funding
This week the House and Senate advanced budget amendments dealing with utility disconnections. The House advanced their utility disconnection language on a bipartisan basis while a similar measure advanced out of the Senate narrowly with only members of the Democratic majority supporting the amendment. Both the House and Senate budget amendments:
Include a moratorium on all utility disconnections.
Require that all utilities offer repayment plans of up to 24 months for accrued balances during the disconnection moratorium.
Provide a process for exempting municipal utilities from the disconnection moratorium if the total amount of disconnections is greater than 1 percent of annual operating revenues.
Define "utility" expansively to include both municipal and publicly owned utilities.
In the Senate several amendments were offered by Senate Minority Leader Tommy Norment and Senator Emmett Hanger on utility disconnections, but these were ultimately withdrawn from consideration. These amendments would have inserted language almost identical to Senator McClellan's SB5118 which largely exempted municipal utilities from repayment plan requirements. Senator McClellan's legislation contained no utility disconnection moratorium and was the product of extensive stakeholder negotiations.
House version includes CARES Act funding to assist utilities
The primary difference between the House and Senate budgets and budget amendments is that the House version provides $120 million in federal CARES funding to assist utilities with accrued customer balances for those customers who are unable to pay their bills due to COVID-19 related economic hardship. Because this funding is derived from CARES funding, should the House Budget pass this funding must be spent by 12/31/2020.
Now that the House and Senate budget amendments have been approved we expect that a conference committee will be tasked with resolving the differences between the House approach (moratorium on utility disconnections paired with CARES funds to assist customers) and the Senate approach (moratorium on utility disconnections).
VML sent a letter regarding this issue to the Senate Finance and Appropriations and House Appropriations Chair. Affected members are encouraged to contact not only their delegation but also the relevant committee chairs and any budget conferees with concerns about how a disconnection moratorium would impact your utility and community.
VML Contact: Mitchell Smiley, msmiley@vml.org
Economy
Is the Economic Recovery running out of steam? Let's hope not.
The U.S. added 661,000 jobs in September, a performance that ordinarily would be seen by economists as stellar. But the numbers were well below the expected 1 million mark and represent a further slowdown in monthly job growth from the initial 4.8 million gained back in June. This leaves the economy over 10 million jobs short of restoring the 22 million jobs lost to the COVID-19 pandemic. The jobless rate dropped half a percentage point to 7.9 percent, but over 26 million Americans still receive some type of unemployment insurance and another 700,000 have dropped out of the labor market.
It's also important to realize that the vast majority of the jobs labelled as "new" are not new jobs and simply reflect actions taken by businesses to rehire laid off or furloughed workers. According to some economists, many of the people laid off and out of work will not be called back. Their jobs and places of employment will permanently disappear.
According to a recent survey taken by the Business Roundtable, the economic outlook is upbeat but with a major warning issued by the organization's president and CEO.  "Failure to act, along with the lack of comprehensive and coordinated efforts to stop the spread of COVID-19, would impose long term damage on the U.S. economy, hurting most the workers and small businesses least able to absorb the blow."
The likelihood is null that Congress and the Trump Administration will forge an agreement on another federal stimulus package before the end of the calendar year.
Meanwhile in Virginia…
The Virginia Employment Commission (VEC) released on October 1 the latest information on unemployment, announcing that the number of initial claims filed from mid-March through the September 26, 2020 filing week totaled 1.2 million or 28.4 percent of pre-pandemic payroll employment.
For the filing week ending September 26, the figure for seasonally unadjusted initial claims in Virginia was 9,377. The latest claims figure was a decrease of 1,205 claimants from the previous week and continued the overall trend of lower claims volumes seen in recent months following April's peak.
For the most recent filing week, continued weeks claimed totaled 173,717, which was a 7.7 percent decrease from the previous week, but 156,577 higher than the 17,140 continued claims from the comparable week last year. They have declined at a consistent pace since mid-August—around 6.8 percent a week. The continued claims total is mainly comprised of those recent initial claimants who continued to file for unemployment insurance benefits during the COVID-19 pandemic.
As shocking as those numbers are in comparison with the Commonwealth's extraordinary job growth in the not-so-recent past, those statistics do not represent the entire unemployment picture in Virginia and elsewhere. Instead, these data sets capture only individuals in traditional employment covered by the usual state benefit system who were laid off or furloughed. The information doesn't include the independent contractors or "gig" workers in untraditional employment who have been eligible to receive benefits under the federal Pandemic Unemployment Assistance program and those whose traditional benefits ran out but were extended under the Pandemic Emergency Unemployment Compensation program.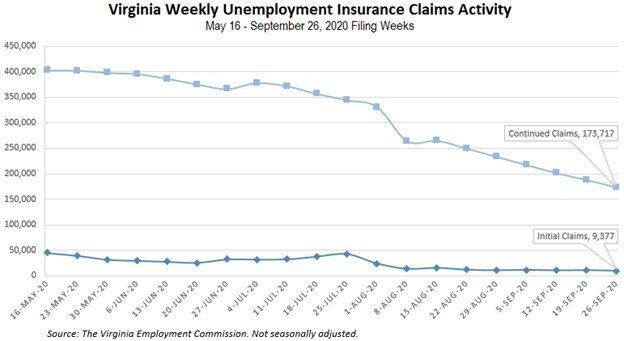 As for local governments…
Political leaders in the General Assembly and the Northam Administration continue to struggle in the Special Session to come up with the right mix of policies and spending initiatives to address the growing number of COVID-19 impacts:
Reopening public schools and expanding access to other means of educational instruction
Keeping intact childcare and adult care services so that others can go to work
Fashioning housing policies to preserve shelter for the ill and unemployed
Providing water and power for those Virginians who are unable to pay what they owe
Local governments in one way or another find themselves in the forefront of the efforts to provide, administer, or pay for the essential services that citizens need to withstand the virus. Given the beating to their revenues that many localities are experiencing as meals taxes, transient occupancy taxes and other local taxes stagnate or decrease, it is more important than ever for state government to step up and provide localities with the resources to get the job done.
VML Contact: Neal Menkes, nmenkes@vml.org
VML Announcements
VML Legislative Committee adopts proposed 2021 program
VML's Legislative Committee, led by Suffolk Council Member Roger Fawcett and Hampton Council Member Christine Snead, held its third meeting on Oct. 2 to review the preliminary recommendations made at its Sept. 10 meeting and to set its priority issues within the proposed legislative program. The draft of that proposed program is now available on the VML website and will be available on the 2020 Annual Conference site as well.
The Committee also heard a presentation on post-CARES Act federal issues from Emily Brock, director of the Federal Liaison Center for the Government Finance Officers Association (GFOA), as well as an update on issues before the Virginia General Assembly's special session.
A Legislative Committee session is scheduled for Wednesday, Oct. 7, from 3:30 – 4:00 p.m. during the VML Annual Conference for an overview and question and answer time regarding the proposed legislative program. The program will then be up for adoption during the Annual Business Meeting at 10:30 a.m. on Oct. 8.
VML Contact: Janet Areson, jareson@vml.org
VML Annual Conference virtual exhibit hall opens October 5
Conference program begins October 7
Those registered for the annual conference can start visiting the exhibitors next Monday, October 5, to find out who is offering raffles and check out some fantastic videos while you're at it. Please also check out the Local Champion Award winners.
The full slate of programming kicks off at 9:00 AM EST on Wednesday, October 7 and concludes mid-day on Thursday, October 8.
A link to the conference site and login instructions were sent yesterday to all registered attendees so if you are registered and did not receive the email, please check your Spam or Junk folder for an email from "[vml2020] Event Announcement." This information will go out again several times before the conference begins.
Not registered yet? It's not too late to sign up. All the information as well as a link to the registration form are available here.
The conference is ready to set sail. Get on board!
VML Contact: Sandra Harrington, sharrington@vml.org and Rob Bullington, rbullington@vml.org.
COVID-19 Resources
Update to the application of the Governor's orders and Religious Services now available
The most recent ruling in the County of Madison Circuit Court, (view it here) upheld the Governor's orders regarding religious services of fewer than 250 people. Religious Services of fewer than 250 people are not considered to be different from other Social Gatherings, which do not have additional legal requirements in the guidelines, only suggested best practices. The Virginia Department of Health (VDH) is charged with enforcing Section A of EO 67, the Religious Service guidelines are found in Section B of the order and therefore VDH should only provide informational and educational services.  Religious Services of greater than 250 individuals should follow the additional requirements described in EO 67:
Individuals attending religious services must be at least six feet apart when seated and must practice proper physical distancing at all times. Family members, as defined below, may be seated together.
Mark seating and common areas where attendees may congregate in six-foot increments to maintain physical distancing between persons who are not Family members.
Any items used to distribute food or beverages must be disposable, used only once and discarded.
Practice routine cleaning and disinfection of frequently-contacted surfaces must be conducted prior to and following any religious service.
Post signage at the entrance that states that no one with a fever or symptoms of COVID-19 is permitted to participate in the religious service.
Post signage to provide public health reminders regarding physical distancing, gatherings, options for high risk individuals, and staying home if sick.
Individuals attending religious services must wear cloth face coverings in accordance with Executive Order 63, Order of Public Health Emergency Five.
If religious services cannot be conducted in compliance with the above requirements, they must not be held in-person.
"Family members" include blood relations, adopted, step, and foster relations, as well as all individuals residing in the same household or visiting such household pursuant to a child custody arrangement or order. Family members are not required to maintain physical distancing while in their homes.
VDH Contact: Rachel Ellick, Community Mitigation Coordinator, COVID-19 Response, rachel.ellick@vdh.virginia.gov
Virginia Department of Health stakeholder call updates
The Virginia Department of Health reported the following during its October 2nd stakeholder call:
The positivity rates continue to decline across Virginia, dropping from 5.1 percent last week to 4.5 percent this week.
A total of 57 percent of health districts are reporting positivity rates below five percent; 94 percent of the health districts report positivity rates below 10 percent.
Two health districts – Lenowisco and Pittsylvania-Danville – are the only ones reporting positivity rates above 10 percent. In addition, Sussex, Lexington, and Mathews are reporting the highest average daily cases per capital and the trend is increasing in all three localities.
Southampton had the highest cases per capita over the last two weeks but growth in cases has slowed in the last week.
The Virginia National Guard is again helping with testing; focusing on assisted living facilities and correctional facilities but also assisting with community testing events.
The average laboratory turnaround time for test results has decreased to 1.98 days as of Sept. 30.
The VDH website includes a host of information and data about COVID-19 issues:
VML Contact: Janet Areson, jareson@vml.org
Events & Opportunities
Local government survey to assess public libraries' role in building smart communities
The Center for Technology in Government (CTG UAlbany), which is part of the University at Albany, State University of New York is conducting a survey titled Local Government Survey: Public Libraries' Role in Building Smart Communities. The survey was distributed via email to a sample of local government IT professionals, administrators, clerks, etc. throughout the United States.
This survey is part of CTG's Institute of Museum and Library Services (IMLS) funded project "Enabling Smart, Inclusive, and Connected Communities: The Role of Public Libraries." The outcome of the project is designed to benefit public libraries, local governments, and their communities by:
Increasing and sustaining relationships and collaborations between public libraries, local governments, and community organizations.
Designing and developing new and replicable resources to guide libraries as community anchors in smart communities, and
Providing libraries with numerous resources and ideas for new programs and services contextualized to the specific issues and interests of their own communities.
Local government responses to the survey will help better understand that in the perspective of local government, what role public libraries play in smart city/community initiatives. If you have received the survey invitation, please complete it by Oct 30, 2020.
If you would like to know more about the project, please visit the group's website here.
CTG UAlbany Contact: Xiaoyi Zhao-Yerden, xzhao6@albany.edu.
Celebrate Energy Awareness Month with the VAEEC
The Virginia Energy Efficiency Council (VAEEC) is ready for Energy Awareness Month. Join them all month long to have fun, find new ways to save energy, and learn more about the many benefits of energy efficiency.
Win Big with #EEbingo
Get rewarded for energy efficient measures you have already implemented! Play along throughout October in our first ever game of Energy Awareness Bingo. Click the button below for the official guidelines, game cards, and simple, easy to implement tips to help you further reduce your energy consumption.
All winners will be entered into a raffle to win a virtual home energy audit from Viridiant. The winner will be announced at the group's free virtual Fall Forum on November 10th. Play now >.
Energy Efficiency Day 2020
#EEDay2020 is October 7th. Join the growing network of advocates, businesses, utilities, government agencies, and others who will be showcasing the benefits of energy efficiency throughout this day. Nearly 700 organizations have signed up to date. Add your name to the list and receive a proclamation toolkit by visiting www.energyefficiencyday.org.
Join on Twitter
Hop onto Twitter on Wednesday, October 28th from 1:00-2:00 pm to see a live chat between the VAEEC and Virginia Energy Sense. Log on to get energy saving tips, learn about available incentives, and get recommendations from energy efficiency experts.
More info VAEEC available here: https://vaeec.org/