eNews October 16, 2020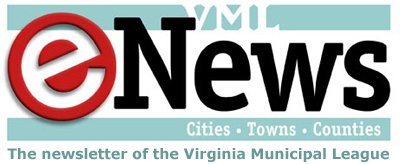 Friday, October 16, 2020 - 05:26pm
In this issue:
VML Updates
LGA's 2020 Walter C. Erwin, III Special Projects Award given to the Ad Hoc Committee on COVID-19
Recipients include VML Executive Director Michelle Gowdy
The Local Government Attorneys of Virginia (LGA) recently announced the recipients of its annual awards. Beginning this year, the group's Special Projects Award was renamed the Walter C. Erwin, III Special Projects Award. The 2020 recipient of the honor was the Ad Hoc Committee on COVID-19.
The members of the committee are:
Sharon E. Pandak, Chair
James E. Barnett
Phyllis A. Errico
Michelle M. Gowdy
Gregory Kamptner
Jan L. Proctor
Leo P. Rogers
Rebecca B. Randolph
In bestowing the award, the LGA press release noted:
In 2020, the pandemic caused by Covid-19 exacerbated the challenges and stresses placed upon the operation of local governments. Local government attorneys were at the forefront in crafting solutions to these challenges and stresses. Of immense assistance in that battle was the guidance that the Ad Hoc Committee on Covid-19 provided, and continues to provide, on matters such as the continuity of government, workplace safety, FOIA, employment law, and tax issues.
Therefore, it is with great appreciation that the Local Government Attorneys of Virginia, Inc., presents the 2020 Walter C. Erwin, III Special Projects Award to the Ad Hoc Committee on Covid-19.
Read the full press release here >.
A video of all the award presentations is available here with the portion related to the Walter C. Erwin, III Special Project Award beginning at 26:30.
VML Contact: Rob Bullington, rbullington@vml.org
VML Constitution amended and approved
The amended Virginia' Municipal League's Constitution was adopted and became effective immediately following final adjournment of the 2020 Annual Meeting of the League on October 8, 2020.
The major changes are:
Renames the Executive Committee as the Board of Directors throughout the Constitution
Defines meetings to include virtual meetings and authorizes the Board to make changes in notice, voting or other procedures as necessary to accommodate remote participation
Defines mail to include email and text messages
Clarifies the authority of the Executive Director over personnel and contracts in a way that reflects current practice
The current version of VML's Constitution is available here >.
The effective date of prior versions were October 8, 1991, October 21, 2008, and October 3, 2017.
VML Contact: Sue Mellen, smellen@vml.org
VML holds 2020 Annual Conference; Willie Greene, Mayor of Galax, elected President
On October 7-8, the Virginia Municipal League held its 2020 Annual Conference. Several hundred participants from across the Commonwealth attended the virtual event to learn about issues directly affecting local governments, share experiences, visit more than 30 exhibitors, and have a bit of fun.
Attendees heard keynote addresses by Governor Ralph Northam, Dr. Susan T. Gooden, Dean and Professor, L. Douglas Wilder School of Government and Public Affairs at VCU, Rebecca Ryan of Next Generation Consulting and received an update on the state budget from Neal Menkes and Jim Regimbal.
Over the course of the day and a half event, attendees were able to choose from eight breakout sessions and nine virtual roundtables that offered opportunities for Q&A with subject matter experts in a variety of fields.
Localities and individuals in Virginia doing great work to deal with the COVID-19 pandemic were featured as 2020 Local Champion award winners.
Business conducted and elections held
Before and during the conference, VML members had opportunities to review VML's draft policy and legislative statements. During the conference, designated times were set on the agenda for members to ask questions about the drafts of policy and legislative committee chairs and VML staff. During the Annual Business Meeting these statements, as well as an updated VML Constitution (see separate article above) and slate of officers were voted on and approved. City of Galax Mayor Willie Greene was elected VML's new president and provided closing remarks.
New and returning members of VML's Executive Board can be seen here >.
Conference resources available (and more coming soon)
Exhibit hall and Local Champion pages remain open: The virtual conference site remains available to registered individuals up to 30 days after the event.
Presentations and documents for download: These are being posted on the 2020 Conference page on VML's website. Please check back regularly as more items are added.
Video recordings: VML staff are working to make links to videos of sessions available to registered attendees. You can view available offerings on the 2020 Conference page on VML's website and check back often as we add more to the list. If you would like to receive a link to one or more of the videos, please contact Rob Bullington at the email address below using the email address you used to register for the conference.
VML Contact: Rob Bullington, rbullington@vml.org
Budget
State budget edges closer to the finish line
Yikes! The General Assembly is completing its eighth week of "specialness" with the House and the Senate each scheduled to take up the compromise budget package later today.
To pay for the new spending – and restoration of spending items the Governor proposed to eliminate – the House and Senate budget conferees basically accepted the unique resources and savings not included in the other side's budget amendments. This agreement produced $279.6 million in resources as outlined below:
| | | |
| --- | --- | --- |
| Agency | Description | Amount |
| DMAS | Medicaid/CHIP/FAMIS managed care rate changes | $138,983,720 |
| Central Accts | Unspent Portion of State COVID Authorization | 38,500,000 |
| Admin | HI Premium Holiday – (savings listed are GF only) | 46,111,165 |
| Admin | Reduce Health Insurance Premium Increase | 20,650,000 |
| ABC | Unrecognized FY 2020 Profits | 11,100,475 |
| ABC | Reforecast FY 2021 and FY 2022 based on FY 2020 actuals | 7,300,000 |
| VEDIP | Rolls Royce Incentives (direct and training funds) | 7,203,000 |
| HCF | Revenues from Tax on Heated Tobacco & "Wayfair" impact on OTP | 5,740,000 |
| VEDIP | Grant Programs – Non-performance | 3,213,600 |
| Transfer | VASAP balances | 275,000 |
| Balance | WWII Commission balances | 500,000 |
| TOTAL | | $279,576,960 |
The use of federal CARES Act money was a contentious item not only between the House and Senate but also between the General Assembly and Governor Northam. The proposed budget did not identify the use of these dollars beyond the amounts previously announced by the governor. In effect, the unallocated amount of CARES Act money totaled some $1.3 billion. Northam wanted the flexibility to direct the money towards the needs his administration decided. The House and Senate had their own spending ideas. The three-way negotiations resulted in the breakdown outlined below:
Allocating Remaining CARES Act Dollars

Agency
Description
Amount
K-12
Costs for Re-Opening Schools
$220,798,208
VEC
Unemployment Assistance
210,000,000
Higher Ed
PPE, Virtual Education, Cleaning, Telework, Other COVID-19 Costs
120,000,000
SCC
Establish fund to provide direct utility assistance to customers
100,000,000
HHR
Hazard pay for personal care attendants (assumes $1,500 each)
72,000,000
Statewide
Testing and Contact Tracing
71,829,059
K-12
Childcare Provider Stabilization Funds
60,000,000
HHR
Additional hospital reimbursements for eligible costs
60,000,000
Statewide
State agencies telework, PPE/sanitizing, DOLI regulation compliance, etc.
60,000,000
Statewide
PPE Plan
42,112,285
VDEM
Technical assistance, public education and preparedness
37,000,000
DHCD
Broadband accessibility
30,000,000
HHR
Retainer payments for Medicaid Day Support providers in DD Waiver
25,000,000
Higher Ed
VCU Hospital, UVA Med. Ctr – capital, PPE, testing, education
20,000,000
K-12/HHR
Child care partnerships for school-age children
16,600,000
VDH
Point of Care Antigen Testing
16,010,500
DHCD
Virginia Rent & Mortgage Relief Pgm Supplement
12,000,000
ELECT
Voter safety-cleaning, PPE, drop boxes, additional pay for election workers
10,000,000
DOC
PPE, medical observation units, overtime
7,700,000
DSS
VA Federation of Food Banks — $1.0 M per region
7,000,000
DSBSD
Small business assistance supplement for Rebuild VA program
5,000,000
HHR
Carilion serology, DBHDS COVID patients, VDH EO Costs
4,664,347
Other Educ
State Museums and Higher Education Centers
4,500,000
DHCD
Emergency housing for homeless – ($8.8 m. covered March – current)
3,000,000
 
Balance Remaining
85,510,984
TOTAL
$1,215,214,399
The Conference Report includes language to ensure all Coronavirus Relief Fund (CRF) amounts are utilized, and nothing will be returned to the federal government. Some items of note:
If, by December 1, it appears funds cannot be fully spent on a specific activity, amounts could be moved to one of the other specified purposes. This would include CRF money allocated to local governments!
If, as of December 18, additional unspent amounts remain, all remaining funds will be transferred to the Unemployment Insurance Trust Fund.
If Congress extends the timeframe for usage of the CRF allocations, these deadlines would be extended.
According to the House Appropriations Committee briefing, the major  actions taken by the conferees include:
$240.3 million in net new spending above the Budget Bill as introduced by Governor Northam.
Contingent appropriations adopted by the House and Senate in their respective budget packages have been scrapped with the sole exception of an employee bonus to be triggered if the FY21 revenue forecast is met. The contingent appropriation includes state-supported local employee groups.
The conferees agreed to leave an unappropriated balance of $303.2 million by the end of FY 2022.
The conference package includes a deposit of $89.7 million to the Cash Revenue Reserve in FY 2021 rather than a deposit to the Rainy Day Fund in the second year. This action provides greater access to the cash reserves than if the money went to the Rainy Day Fund. The budget conferees estimate that total cash reserves will hover around $1.2 billion by the close of FY 2022.
Other Conference Report highlights of interest to localities
Invests $50 Million GF in FY 2021 in the Virginia Telecommunication Initiative to expand broadband infrastructure in response to COVID-19.
Provides $55 Million GF in FY 2021 in the Virginia Housing Trust Fund to expand access to affordable housing, provide rental assistance, and support homeless populations in response to COVID-19.
Establishes a universal moratorium on evictions for residential properties through the end of the year. Only allows for an eviction during the universal moratorium if a tenant refuses to apply and cooperate with the landlord's application to the Rent and Mortgage Relief Program. Outlines Virginia's policy towards evictions starting January 1, 2021, which relies on the creation of payment plans and application to the Rent and Mortgage Relief Program prior to any evictions related action taking place.
Expand the usage of additional Housing Trust Fund dollars to extend the Rent and Mortgage Relief program after the expiration of the CARES Act.
Directs the Broadband Advisory Council to provide feedback on whether to allow public broadband authorities to apply directly for VATI funds on or before the beginning of the 2021 Session.
Provides $95.2 million from gray machine revenues (state share; not the local share) to replace cuts in state sales tax revenue for K-12.
Provides $220.8 million from the CRF for per pupil payments.
Redirects $8.9 million in CARES Act GEER funding to support short-term technology needs.
Delays any reduction in state aid due to enrollment declines until the end of the 2020-2021 school year. This will be an issue for localities in the 2021 Session.
Permits textbook funds from the state to be used for COVID-19 related costs and removes requirement for local match in FY21.
Supplements with $70.8 million in CARES Act funding childcare providers and other emergency childcare services.
Includes a supplement of $7.5 million to help recruit and retain local law enforcement officers. The conferees dropped members of local police departments from the $500 bonus program provided to other state and local law enforcement officers.
VML Contact: Neal Menkes, nmenkes@vml.org
Utilities
Presently, there is no statewide ban on utility disconnections for either municipally owned or State Corporation Commission (SCC) regulated utilities. Previous orders issued by the SCC have expired and the regulatory body has clearly expressed an unwillingness to issue additional bans.
However, when the legislatively-approved budget is signed into law a moratorium on utility disconnections will apply to both municipal and SCC regulated utilities for the duration of the Governor's declared state of emergency to address a public health threat of communicable disease.
When will this happen? According to the pundits, it is likely that this budget will be signed after the November election. This budget language policy will impact all water suppliers, wastewater service providers, electric and gas municipal utilities, natural gas suppliers, and electric companies.
The General Assembly released the budget conference report this week and it included another reworked proposal for a moratorium on utility disconnections. VML had sent a letter to the money committee chairs requesting additional funding to assist customers with accrued balances for utility bills, using an agency other than the SCC to disburse funding to municipal utilities, and adding language to expedite the disbursement of any funds for this purpose.
The funding and flexibility language requested by VML were included in the conference report. Taken together, these constitute two of the very few bright spots in the conference report. Let's take a look at these bright spots and the primary causes for concern in the report.
Funding and flexibility: CARES Act appropriation
The General Assembly has included $100 million in federal CARES Act funds to assist utility customers with unpaid balances. This funding is supposed to prioritize customers with balances more than 60 days in arrears. Funding will be disbursed to municipal utilities through the Department of Housing and Community Development (instead of the SCC) to utilities on an application basis to address the unpaid balances.
Concern #1 – Deadline to use funds
Any of the remaining $100 million not used by December 18, 2020 will be credited to the State's Unemployment Insurance Trust Fund.
Concern #2 – Broad scope of repayment plans
Municipal Utilities must also offer repayments plans and notify all customers with accrued balances of 30 days or more that they are eligible for a repayment plan. Repayment plans cannot require down payments, deposits, fees, late fees, interest charges, penalties or accrue interest, penalties, or prepayment. Repayment plans must allow customers to select a repayment period of no less than 6 months and no more than 24 months. And repayment plans cannot require any eligibility criteria but may require that the customer attest they have experienced either a direct or indirect hardship during the public health emergency.
Any customer current with the terms of a repayment plan may not be disconnected from service.
Concern #3 – Complicated process for exemption from disconnection moratorium
The governing bodies of municipal utilities rather than the SCC may exempt themselves from the disconnection moratorium if customer arrearages exceed 1 percent of the utility's annual operating revenues. In order to exempt a utility from the disconnection moratorium a written analysis of these facts must be submitted to the governing body and staff, must make publicly available affiliated work papers verifying these facts, and the governing body verifies the exceedance, provides public notice and takes comment on and then votes to approve the accuracy of the exceedance in a public meeting.
Concern #4 – Stringent reporting requirements
Municipal Utilities must report to the Commission on Local Government on eight measures by mid-December and for the next two years.
the number and value of accounts that are at least 30 days in arrears
the number and value of accounts that are at least 60 days in arrears
the number, total value, and average debt of accounts that are participating in the Repayment Plan, or another repayment plan as set forth by the utility
the number of accounts removed from the repayment plan, or another repayment plan as set forth by the utility, categorized by reason
the amount of and average debt remaining for accounts removed from the Repayment Plan or another repayment plan as set forth by the utility
the carrying costs of the debt for accounts participating in a repayment plan and any associated administrative costs incurred
the number, total value, and average debt of accounts offset by the CARES Funds, categorized by days in arrears, customer account type, and Coronavirus Relief Fund type; and
the cumulative level of customer arrearages by locality
The bottom line
While the General Assembly has added CARES Funds to assist customers and keep municipal utilities out of the purview of the SCC, VML remains concerned that it will be difficult to use these funds before federal authorization expires in December. The utility disconnection moratorium, repayment plans and reporting requirements will impose significant new burdens on utility staff, operations, and revenues as well as rate payers.
Members should be aware that with each new version of the disconnection moratorium municipal utilities have been subjected to increased requirements. VML believes that providing general fund revenues to assist with customer balances would make this program more sustainable as has already been done with other funding priorities such as the Governor's program to prevent housing evictions.
VML Contact: Mitchell Smiley, msmiley@vml.org.
Health & Human Services
Civilian police oversight bill emerges from conference
Civilian police oversight bodies will be optional, not required, under the compromise agreed to by the House and Senate this week. HB5055 (Herring) and SB5035 (Hashmi) were the two vehicles addressing the establishment of civilian police oversight boards that ended up in a conference committee
The civilian oversight bodies may be established by any city, town, or county with a police department with three or more law enforcement officers. The legislation does not apply to sheriff's departments.
The bodies would be established by the local governing body, and any such boards must reflect the demographic diversity of the locality. The locality would establish the policies of the oversight body; the legislation outlines the allowed duties and responsibilities of the bodies.
These boards can retain legal counsel to represent them; such counsel would be paid from funds appropriated by the locality.
A retired law enforcement officer may serve on an oversight body as an ex officio, nonvoting member; this person may not come from the locality's department but from a "similar" locality.
The provisions of this legislation become effective on July 1, 2021.
VML Contact: Janet Areson, jareson@vml.org
Marcus alert and community teams bill awaits final Senate action
Compromise legislation requiring the development and implementation of a mental health awareness response and community understanding services alert system covering every community in the Commonwealth has been approved by the House and awaits final Senate action.
The alert system has been dubbed the Marcus alert for Marcus-David Peters.
This legislation is part of the development and implementation of a statewide comprehensive crisis system that would include local/regional community teams, mobile crisis response, and crisis stabilization centers.
Two bills went to conference  – HB5043 (Bourne) and SB5038 (McPike). These bills took very different approaches to the issue of creating and phasing in an unprecedented statewide approach to behavioral health crisis response.
The compromise measure is comprehensive and complex; it includes many deadlines and areas of program development and implementation. Background work including the development of written plans to implement components of the bill will begin immediately. Deadlines for plans and the roll out of components of the bill will begin on July 1, 2021 and continue through July 1, 2026.
Legislation highlights
Some of the provisions of the bill include the following:
Require the Department of Criminal Justice Services (DCJS) and the Department of Behavioral Health and Developmental Services (DBHDS) to work cooperatively and with a variety of stakeholders to swiftly study the current system of crisis intervention and develop a written plan outlining law enforcement agencies' roles and engagement with the development of a Marcus alert system, best practices and protocols and plans for measurement of progress towards the goals of law enforcement participation in the Marcus alert system. That analysis and written plan would be due by July 1, 2021.
Over the next five years, communities would be required to both implement a Marcus alert system and a community team program alone or in cooperation with communities in their region. Using DBHDS regions as a basis for phase-in, one program in each of the five DBHDS regions would begin implementation beginning no later than Dec. 1, 2021, with five more added by July 1, 2023, then five more by July 1, 2024 and July 1, 2025; by July 1, 2026 all communities will have to be on line with a Marcus alert system and a community team program.
Other interim deadlines and requirements in the bill include:
By July 1, 2021, every locality would have to establish a voluntary database available to 9-1-1 dispatch and the Marcus alert system to provide relevant mental health information and emergency contact information for appropriate response to an emergency or crisis. This information would be voluntarily provided by an individual, parent or guardian (if the individual is under 18 years of age), or a person appointed guardian. Upon turning 18, an individual would choose whether they want the information provided to 9-1-1.
By July 1, 2022, every locality would have to establish local protocols that meet requirements set forth by DBHDS regarding 1) diverting calls from their 9-1-1 dispatch system to a crisis call center for risk assessment and engagement, including assessment for mobile crisis or community care team dispatch; 2) setting protocols for local law-enforcement agencies to enter into memorandums of agreement with mobile crisis response providers regarding requests for law-enforcement backup during a mobile crisis or community care team response; and 3) creating minimum standards, best practices, and a system for the review and approval of protocols for law-enforcement participation in the Marcus alert system. Localities would also be required to either establish or be part of an area that has established protocols for law enforcement participation in a Marcus alert system by that date.
Challenges (and questions) remain
Sufficient and consistent funding for staff and services – as well as securing appropriate and adequate staffing statewide – will be key in creating and sustaining a statewide system of comprehensive crisis response. The fiscal impact on the state and on local governments as the provisions roll out is unclear, as is the impact on the future implementation and funding for STEP-VA, the comprehensive plan for increasing the range and depth of behavioral health services in Virginia.
VML will continue to provide updates as implementation moves forward.
VML Contact: Janet Areson, jareson@vml.org
Law enforcement reform bills move forward
The General Assembly has come to agreement on several law enforcement reform bills.
The comprehensive Senate measure, SB5030 (Locke), went into conference with a number of House bills. This bill covered issues such as decertification, training, use of military equipment, use of excessive force, use of search warrants, and employment checks and requirements. The bill was amended in conference and has been approved by both the House and Senate.
A number of House bills were introduced to address specific components of reform. Bills that moved forward and now have won approval by the House and Senate include:
VML Contact: Janet Areson, jareson@vml.org
Virginia COPES offering free mental health counseling to all Virginians
Virginia COPES is a free crisis counseling "warm line" service to all Virginians. Trained crisis counselors engage with callers in "active listening," giving individuals in need an opportunity to talk through their concerns, vent, and otherwise provide an outlet for coping with the emotional stresses and effects of the current COVID-19 environment like isolation, fear, grief and anxiety.  Counselors can also connect callers with additional resources available in their area.
About Virginia COPES
Virginia COPES stands for Compassionate, Optimistic, Person-centered, Empowering Support. The program is part of Virginia Department of Behavioral Health and Developmental Services' (DBHDS) response to the COVID-19 pandemic.
How to contact a counselor
Crisis Counselors are available Monday-Friday 9am-9pm and on Saturday-Sunday from 5pm-9pm. VA COPES can be reached by phone or text at 877-349-6428.  Spanish speaking counselors are available. More information can be found at vacopes.com and on Facebook at facebook.com/vacopescovid.
VA COPES is a warm line service and should not be utilized as an emergency or suicide hotline. 
VA COPES Contact: virginiacopes@gmail.com
Opportunities and Events
U.S. Conference of Mayors webinar to explore ways to help local restaurants survive
The National Restaurant Association is hosting this free webinar with the U.S. Conference of Mayors on Monday, October 19. The organizers are encouraging mayors and local officials to watch this webinar along with restaurateurs in their community and discuss with afterwards some of the actions that might work in your locality.
From the event description: Once colder weather returns, it usually means the end of outdoor seating, walk up pickups, etc. in many localities. Combined with the possibility of a second wave of the coronavirus, this most likely will mean more restaurant closures and more laid off workers. What will your community be like without restaurants? It could be happening before you know it if steps aren't taken to assist this industry now.
You will receive a unique link to log in to the webinar so please be sure to register each individual person from your city who will be attending
Date: Monday, October 19, 2020
Time: 3:00-4:00 PM EDT
Featured Speakers:
Rosalynn Bliss, Mayor of Grand Rapids
Shane Bemis, Former Mayor of Gresham, Restaurateur
Sean Kennedy, Executive Vice President of Public Affairs, National Restaurant Association
Please send any specific questions for the panel in advance to the contacts listed below.
U.S. Conference of Mayors Contacts: Tom McClimon, mcclimon@usmayors.org or Jocelyn Bogen, jbogen@usmayors.org.
Timely resources for localities from ZenCity
ZenCity, a VML Community Business Member, recently released two new content pieces that VML members may find useful. They are available free of charge using the below links:
How the Village of Bolingbrook, IL Used Data to Track and Increase Mask-Wearing Compliance: This case study infographic shows how an Illinois locality is using resident feedback data to track mask compliance around local community events.
UNITEd We Stood: 7 ways to Get the Most from a Local Government Digital Conference: This entertaining piece discusses 7 key takeaways for hosting and attending successful local government virtual events (which are useful in normal times and essential nowadays).
ZenCity Contact: Assaf Frances, Director of Urban Policy & Partnerships, frances@zencity.io
Two-day grant writing training coming in November
The Metropolitan Washington Council of Governments, Grant Writing USA and other regional hosts will present a two-day grant writing training delivered live and online via Zoom, November 9-10, 2020.
Registrants will enjoy on-demand replay anytime until December 9, 2020. Full details and registration are here.
This grant writing class covers how to write grant proposals start to finish and how to locate and track relevant grant opportunities. The training is appropriate for beginning and experienced grant writers from city, county and state agencies as well as nonprofits, K-12, colleges and universities.
Discounted rate for VML members
Virginia Municipal League members a special tuition rate of $425. Please use the discount code "ASSN" to receive this $30 discount off full price at registration.
Groups of 5 or more receive a $50 discount per person. Discounts for Grant Writing USA alumni are also available. Please call for details.
Tuition payment is not required at the time of enrollment.
Click here for complete details and registration.
Grant Writing USA Contact:  Janet Darling, 888.290.6237 or janet@grantwritingusa.com