eNews October 13, 2017
Friday, October 13, 2017 - 07:23pm
In this issue:
Conference presentations available online
Presentations from a number of sessions at the 2017 VML annual conference earlier this month are available to view online. Whether you attended the conference or not, you are sure to find something interesting and new. Such as these nuggets:
Adjusted for inflation, state per-pupil K-12 funding is lower in 2017 than in 2006.
State/local fiscal relationship: What local governments need
In 2014, fatal drug overdose became the leading cause of accidental death in Virginia.
Addressing the opioid epidemic in Virginia
Unless there is an exemption provided by statute and the public body specifically and correctly invokes that exemption, every meeting shall be open to the public, and all public records shall be available for inspection and copying upon request. FOIA dictates "liberal construction" generally and "narrow construction" of exemptions, i.e., disclosure is favored.
FOIA 101 (Mayors Institute)
An estimated 11-20 percent of veterans of Operations Iraqi Freedom and Enduring Freedom have PTSD in a given year.
Becoming a military friendly clinic
By 2021, state transit capital funding will drop by 44 percent.
The transit fiscal cliff: the potential loss of state transit funding and what it means for localities
Take a look for a taste of what your colleagues discovered at the 2017 event.
Legislative program adopted
VML members adopted the 2018 VML Legislative Program on Monday, Oct. 2, at the business meeting of the 2017 annual conference in Williamsburg. The program reflects VML's positions on potential legislative issues and will be shared with legislators in advance of the 2018 General Assembly session.
VML contact: Janet Areson
JLARC report reveals changes in state spending patterns
Adjusted for growth in population and inflation, the total state budget grew by 21 percent over the 10-year period from FY08-FY2017, according to a report on state spending given at the Oct. 10 meeting of the Joint Legislative Audit and Review Commission.
That broad statistic, however, masks a great deal of information: During that same time, non-general funds increased by 40 while general funds decreased by 1 percent. The Department of Medical Assistance Services and the Virginia Department of Transportation had the highest non-general fund growth amounts over this 10-year period.
The three largest non-general fund revenue sources are higher education tuition and fees; federal funding (excluding federal funding for highway construction, the employment commission, and higher education); and fuel and motor vehicle taxes (excluding toll facilities but including federal funding for highway construction).
The JLARC report pointed out that various demographic and economic factors affect government spending. For example, Virginia's population growth exceeded that of most states, which increases not only the number of residents paying taxes but also the number of people who may require services. Further, Virginia's population is aging: the number of Virginians 65 and older grew more than four times faster than the overall population.
More details and statistics are available in the full report.
VML contact: Mary Jo Fields
Virginia economy slowly pushes forward
The Federal Reserve Bank of Richmond reports that the state "economy showed some signs of improvement in recent months as payroll employment grew slightly and household conditions remained stable; however, housing market reports were more mixed."
Comparing August 2017 employment numbers to a year earlier, total jobs increased in Virginia by 1.5 percent. In contrast, U.S. payroll employment rose 1.4 percent.
The chart below is based on Federal Reserve information and shows the employment increases and decreases by major industrial sectors.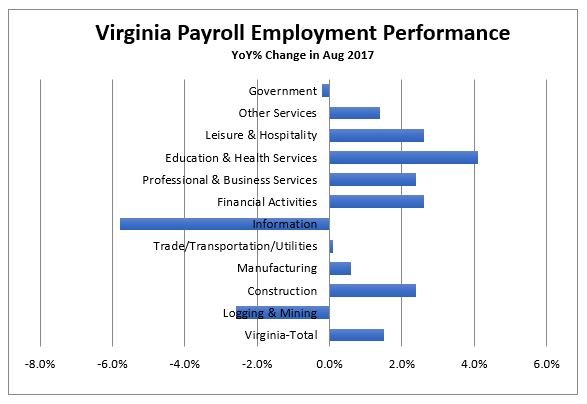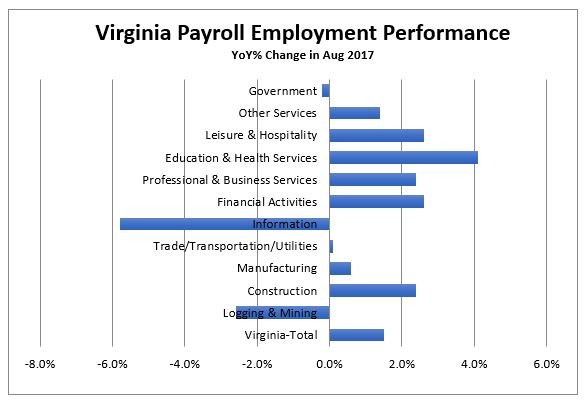 With the exceptions of the Lynchburg and Virginia Beach-Norfolk Metro Areas, payroll employment in the other major metropolitan areas of the state increased in the August comparisons. Employment in the Richmond MSA had the strongest growth rate at 2.44 percent.
As for household conditions, the state unemployment rate in August registered at 3.8 percent with unemployment rates down or unchanged in every metro area except Blacksburg and Lynchburg.
The share of Virginia mortgages with payments 90 or more days past due declined to 1.0 percent. And, delinquency rates for fixed and adjustable rate conventional loans also declined in the second quarter of 2017 to 0.7 percent and 2.0 percent, respectively.
Perhaps the best news was the growth of personal income in the second quarter, rising 0.6 percent over the winter months of 2017 and 1.5 percent compared to the second quarter of 2016. Although slight, the growth of real personal income in Virginia outpaced the 1.3 percent rate across the country.
The housing market continues to broadcast mixed signals. New residential permits in August were up from the previous month by 4.4 percent, but were down 6.2 percent compared to August of 2016. Home prices rose in August in every metro area of the state except Roanoke, increasing 2.7 percent in Virginia compared to a year ago.
For local governments readying themselves for budget development in 2018, the economic news means that statewide revenue growth tied to economic growth will be positive but marginal. A downturn in the economy will quickly turn into a thorny problem for local decision makers.
VML contact: Neal Menkes
State revenues could be caught up in federal tax reform fight
President Trump released late in September his tax reform plan. The plan articulates four principles:
1) make the tax code simple, fair and easy to understand;
2) give American workers a pay raise by allowing them to keep more of their paychecks;
3) make America the jobs magnet of the world by leveling the playing field for American businesses; and
4) return to America the trillions of dollars that are kept offshore to reinvest in the nation's economy.
The nine-page document is basically a statement of goals and objectives. Details are scant, meaning the effects on individual taxpayers, businesses, and state and local governments are more speculative than knowable at this time.
Different economists are arguing over the framework's influence on the national economy, claiming the changes will turbocharge the economy or have only modest if any effects.
Politicians on one side of the political aisle or the other assert that either the President's plan will deliver major tax gains for the richest Americans or the reduction in tax rates will provide substantive tax relief for the middle class.
Paying for tax reform is also up in the air. Can economic growth fill the estimated $1.5 trillion revenue shortfall? Can cuts in federal spending close an already widening budget gap? And, how will a potential increase in deficit spending affect the national debt?
In Virginia, the General Assembly and the Virginia Department of Taxation will be closely watching the action and antics in Congress for a number of reasons.
First, a successful change at the federal level will likely exert political pressure on the state legislature to act in a similar fashion. For example, the repeal of state and local tax deductions on federal taxes could push state and municipal legislative bodies to lower their tax rates. Or, the General Assembly may choose to "reform" local business taxes.
Second, because over 60.0 percent of the state's general fund is based on income tax revenue, changes at the state level (and federal level) could significantly affect the amounts of intergovernmental revenue that local budgets depend upon to deliver services.
VML will be monitoring and informing members as the federal tax debate progresses.
VML contact: Neal Menkes
Passenger carrier study moves forward
The Virginia Department of Motor Vehicles is in the process of conducting a passenger carrier study as requested by Senator Charles W. Carrico, chairman of the Senate Transportation Committee.
The 2015 legislation (HB 1662) authorizing transportation network companies in Virginia included a requirement for DMV to enforce the provisions of the act and provide a report to the General Assembly in December 2016 on the first 18 months of the companies' operations. One section of this report contained a recommendation for continued study of changes in the marketplace and other issues related to passenger transportation services.
Areas suggested for further study included:
Distinguishing between "prearranged ride" and "prearranged basis" for passenger transportation
Updating terms such as "wireless dispatch device" to reflect current market practices
Considering whether DMV should offer special decals for license plates for Virginia passenger carriers
Examining potential changes to insurance requirements to meet current market practice
Consolidating passenger carrier operating authorities and a review of the requirements of each
Considering if statutory provisions regarding leased vehicles need to be changed
Studying whether to require proof of insurance in each passenger carrier vehicle
Considering the elimination of passenger transportation brokers
Determining if requirements on the established places of business for passenger carriers should be updated to reflect mobile offices, shared spaces, etc.
These items reflect not only findings of the 2016 report, but also issues brought to the attention of DMV by several of the study stakeholders. Based on these items, DMV determined that the study should focus on three categories:
Updating and simplifying the passenger carrier regulatory structure
Limitation of regulations to public safety and consumer protection
Fair and equitable regulatory structure
Several items listed above reference practices of the taxi industry. Since local governments have primary responsibility in regulating taxi services, DMV held an initial meeting with representatives from Arlington, Fairfax, Alexandria, Newport News, Loudoun, Chesterfield, Norfolk, Charlottesville, VML, and VACO to gather information on how they have been addressing changes in the industry. Several of the localities told DMV of recent updates to taxi ordinances done at the request of the taxi industry.
Two meeting have been held by DMV with testimony given by all interested stakeholders. In mid-September DMV released a "concept proposal" for stakeholder and public review.
VML has followed these guiding principles in support of local government regulatory authority at these meetings:
Urgency for a final report from DMV with legislative recommendations that can be vetted by all stakeholders
Allowance for an adequate amount of time for localities to review the report and consider the potential implications that would occur if the laws and regulation were changed
Opposition to proposed regulations or legislation that would upend our members' local regulatory authority and require local governments to go through a long and cumbersome process of changing local ordinances to match the regulation
VML has been an active participant in all the ongoing discussions on this subject and will keep you informed as the study moves forward to a final report. We thank our members who have supplied their time and expertise in providing DMV with requested background material for this study.
VML contact: Mike Polychrones
Feedback sought on substance abuse at colleges and trauma-informed care
The Virginia Commission on Youth is accepting public comment on two issues: substance use prevention and intervention at Virginia's colleges and universities and trauma-informed care. Find the recommendations presented to the VCOY by Executive Director Amy Atkinson in September here: College and University Substance Use Prevention and Intervention Programs and Trauma Informed Care.
At the September meeting, commission members added a fourth recommendation to the trauma-informed care findings to specifically address staffing standards for school-based mental health service providers.
Comments may be submitted via email to aatkinson@vcoy.virginia.gov, faxed to 804-371-0574 or submitted by hand-delivery or mail to the Commission on Youth, 900 E. Main St, Floor 11, Richmond, VA 23219.
Public comment must be received by 5:00 p.m. Wednesday, November 1, 2017.
Public comments received by the deadline will be provided to the Commission for consideration at the Nov. 8 Commission meeting at 1:00 p.m. in House Committee Room, Ground Floor, Pocahontas Building.
VML contact: Sandy Harrington
Oct. 15-17       VBCOA school and conference, Virginia Beach
Nov. 15-18       NLC City Summit, Charlotte, N.C.
Jan. 3, 2018     Finance Forum, Richmond
Jan. 31, 2018    VML Legislative Day, Richmond