eNews Oct. 5, 2018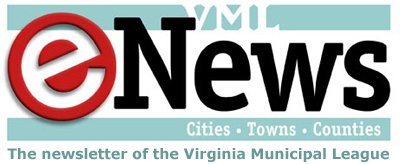 Friday, October 05, 2018 - 03:45pm
In this issue:
2018 VML Conference a success
Introducing the 2018-2019 VML Executive committee
2019 Legislative Program
Conference and Mayors Institute speaker presentations available soon
Updates from the redistricting battle
Wireless infrastructure group makes progress
VDOT group discusses new guidelines and permits
Amazon wage increase to affect local governments?
Virginia shipyards benefit from bipartisan cooperation
Data sharing initiative may help fight opioid addiction
Public-private options discussed for school modernization
Study of private day special education service rates set to begin
Hampton hosts a fantastic conference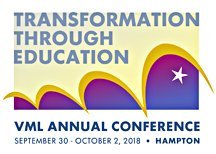 From the opening session to the closing banquet the 2018 VML Conference was a great success. Governor Ralph Northam, Senator Mark Warner, Senator Tim Kaine, and Prince William County Board Chair Corey Stewart all spoke at the conference. Thanks to Mayor Tuck and the City of Hampton for putting on a beautiful host night event at Fort Monroe. Thanks also to the more than 80 exhibitors who displayed their wares and services as well as this year's sponsors: VHDA, VML Insurance Programs, Dominion Energy, FirstNet built with AT&T and Verizon Wireless.
2018-2019 VML Executive Committee officers
It's official: Roanoke Council Member Anita James Price is VML's new President! Norfolk Council Member Tommy Smigiel is President-Elect and Staunton Vice-Mayor Ophie Kier is Vice President. Dr. Patricia P. Woodbury, Council Member, City of Newport News, is the Immediate Past President.
Executive Committee Members At-Large are Marion Town Manager Bill Rush (who will fill out Ophie Kier's terms which expires in 2020), City of Galax Council Member Willie Green who was elected to a 3-year term and Town of Vienna Mayor Laurie DiRocco who was re-elected to a 3-year term. Town of Farmville Vice-Mayor Chuckie Reid will fill the final year of retiring member Martinsville Mayor Gene Teague. Pennington Gap Council Member Jill Carson and Town of Middleburg Mayor Bridge Littleton continue to serve on the committee.
The section chairs are:
City – Council Member Jon Stehle (City of Fairfax)
Town – Council Member Sean Polster (Town of Warrenton)
Urban – Council Member Shannon Kane (City of Virginia Beach)
2019 Legislative Program adopted
VML members adopted the 2018 VML Legislative Program on Tuesday, Oct. 2, at the business meeting of the 2018 annual conference in Hampton. The program reflects VML's positions on potential legislative issues and will be shared with legislators in advance of the 2018 General Assembly session. Small revisions made at the meeting are being confirmed and incorporated into the final document which will be posted to VML's website next week.
VML contact: Janet Areson
2018 VML Conference, Mayors Institute presentations available soon
Did you miss a presentation you wanted to attend? Did you hear a speaker you thought knocked it out of the park and you want to review their presentation? Were you unable to make to the conference this year? Don't worry – we will be posting many of the presentations to our website. If you were speaker and would like us to add yours, send it and we'll get it posted.
Please note – some speakers requested that we not share their presentations.
VML Contact: Rob Bullington, rbullington@vml.org
Battle lines drawn as Oct. 30th redistricting deadline approaches
Governor Northam threatens veto
The third redistricting proposal reviewed by the House  Committee on Privileges and Elections, HB 7003 (the Jones Plan), faced stiff headwinds on Oct.  2nd after Governor Ralph Northam threatened in a press release to veto it for what he described as a "partisan process."
While it's true that HB 7003 passed along partisan lines, with a 12-10 vote on Sept. 27th, HB 7003 succeeded in incorporating input from delegates on both sides of the aisle, something that the two previous proposals failed to do.
As maps of the various plans indicate, HB 7003 would affect more districts (32) than the previous two plans. Governor Northam has previously expressed a preference for a nonpartisan, court-drawn map, while members of the General Assembly argue that a new map should be drawn by elected representatives.
No date for a full House vote has been set.
VML Contact: Jessica Ackerman, jackerman@vml.org
Wireless communications infrastructure work group makes progress
Report due to General Assembly by Dec. 15
The Wireless Communications Infrastructure work group is making progress on the development of a plan to expand access to wireless service in unserved and underserved areas of the state. The group, which held its most recent meeting on Sept. 24, was created by legislation (HB405) passed in the 2018 General Assembly session.
The legislation stipulates that the plan created by the work group will have the following components:
 A definition of unserved and underserved areas
 Identification of barriers to access to wireless services in such areas
 A proposed expedited review process for such areas
 Identification of ways to encourage industry to locate in such areas
 Consideration of a lower fee for such an expedited review process.
At its Sept. 24 meeting, the work group decided that there should be separate work groups for each of these five components and they agreed to discuss each area soon in conference calls. The work group also discussed how best to define "unserved" and "underserved" but did not reach a consensus on these definitions.
Two days after this group met, the FCC voted to approve a Declaratory Ruling and Third Report and Order that may have an impact on this charge and was not discussed at the meeting.
As this group progresses towards its December 15 deadline, hopefully there will be a draft for us all to review and comment on.
The work group includes state, industry, and local representation.
VML Contact: Michelle Gowdy, mgowdy@vml.org
VDOT wireless stakeholder group discusses new guidelines and permits
For more than a year, a stakeholder group convened by the Virginia Department of Transportation (VDOT) has held meetings to examine issues that wireless communication companies and VDOT have with new infrastructure, attachments to existing infrastructure and the new Virginia code sections governing zoning for wireless infrastructure passed during the 2017 and 2018 sessions of the General Assembly.
The most recent meeting was the first time that the whole group had the opportunity to discuss the new VDOT guidelines and permits for wireless facilities (listed below).
 It's important to note that none of these permits can be used for interstate highways until they receive approval from the Federal Government, which is expected sometime in November.
This group will continue to meet and work through issues related to wireless facility placement.  As with the Wireless Communications Infrastructure work group (discussed in the previous article), The FCC vote to approve a Declaratory Ruling and Third Report and Order may have an impact on the VDOT stakeholder group's work. We will let you know developments on that!
VML Contact: Michelle Gowdy, mgowdy@vml.org
Amazon raises minimum wage for employees
Fiscal impact of Amazon's decision could affect public sector employment
Amazon's founder and CEO, Jeff Bezos, announced earlier this week that the company plans to raise its minimum wage to $15 an hour beginning this November. That rate is more than twice the state and federal minimum wage of $7.25 per hour.
The Washington Post reports that Amazon has some 4,500 full-time hourly employees in the company's Virginia fulfillment centers located in Chesterfield County, Frederick County, City of Petersburg, and Fairfax County. Amazon also has a sorting center in the Town of Ashland.
The Virginia Chamber of Commerce was quoted in the Post article that it isn't surprised about the wage boost given the tightening labor market and low 3% unemployment rate in Virginia and elsewhere. "The Virginia Chamber supports a free-market approach to establishing wages. We will also continue to advocate for policies that will help Virginians gain access to job training and skills that will allow them to earn higher wages."
Amazon said in a press release that it encourages its competitors and other large employers to join in the effort to raise their employees' minimum wage. If the wage initiative catches fire, local governments will have to review their pay structure and policies to ensure they stay competitive in attracting workers.
VML Contact: Neal Menkes, nmenkes@vml.org
Virginia shipyards to benefit from new federal spending plan
Bipartisan cooperation peaks through political storm clouds
Despite what often seems like interminable partisan squabbling preceding the mid-term federal elections, Congress and President Donald Trump managed a rare feat last week — the passage and signing of an $854 billion spending bill to keep the government running through December 7.
In a statement released to the news media, the president noted that the spending legislation will "rebuild our military, protect our communities, and deliver a better future for all Americans."
The spending plan includes $675 billion for the Defense Department, with money for new fighter planes, helicopters, battleships, and an increase of 2.6 percent in military pay.  There are also increases in spending for health and human services, education, and workforce programs.
The spending targeted for naval construction is good news for Virginia's shipbuilders and workers.  It represents a commitment to meet the Navy's 355-ship goal, requiring an additional $5 billion to $5.5 billion in annual spending over the next 30 years, according to the Congressional Research Service.  The Navy's shipbuilding goal includes a new aircraft carrier to be built in Virginia which will provide a big boost to shipyards that have struggled because of past budget caps that restricted funding for new ships.
An April 2018 article by the National Council of State Legislatures, "Military's Impact on State Economies," ranked Virginia highest among the 50-states in terms of total defense spending as well as highest in defense spending as a percentage of the state's gross domestic product.
VML Contact: Neal Menkes, nmenkes@vml.org
Proposed data sharing initiative may help local governments combat opioid addiction
How do agencies within state government, much less among the state and local governments, share information so that better decisions are made but concerns related to confidentiality are addressed?  At the state level, the Data Sharing and Analytics Advisory Committee is examining this issue, including looking at a proposed pilot project on opioid addiction, abuse, and overdose. The goal is to have state agencies and local partners in the health, behavioral health, corrections, law enforcement and other domains collect data and share information regarding opioid addiction.
The committee was created to advise the new position of state's Chief Data Officer. The role of the committee was laid out in SB580, which passed during the 2018 General Assembly session.
The committee has been meeting weekly to work through the details of how information can be shared and used while complying with state and federal laws on privacy and confidentiality.
Thus far, the committee's recommended actions include:
Stakeholder Identification and Engagement Use Cases
Data Governance Research
Data Analysis
Governance Policy Development
Governance Policy Report to the General Assembly
Governance Policy Implementation and Pilot Projects and Initiatives
The project on opioid addiction is a priority pilot program, and hopefully will begin soon.
The committee's charge as set out in SB580 is:
"That a Data Sharing and Analytics Advisory Committee (the Advisory Committee) is hereby created to advise the Chief Data Officer of the Commonwealth in the establishment of the initial business rules, guidelines, and best practices required pursuant to § 2.2-203.2:4 of the Code of Virginia, as created by this act…"
VML and other local and state organizations and agencies have designated seats on the council.
VML Contact: Michelle Gowdy, mgowdy@vml.org
Public-private cost-saving options for school modernization presented and discussed
Presenters at the Sept. 27th meeting in Norfolk of the Senate Local Government Committee's Subcommittee on School Facilities Modernization suggested that school districts could save up to 80% by leasing newly constructed, energy efficient buildings in low-income areas that qualify for federal tax credits instead of building new schools on their own. The presentations were made by developers specializing in public-private partnerships.
A brief case study of the Norfolk public school system, which is Virginia's seventh-largest district and is home to the state's oldest operational high school, also was given. The division faces up to $600 million in estimated capital renewal expenses; the ages of the division's school buildings averages between 46 and 57 years.
Public-private options notwithstanding, the subcommittee plans to submit a bill to increase state support for local school construction ahead of the 2019 Session.
VML Contact: Jessica Ackerman, jackerman@vml.org
Study of private day special education use and rates set to begin
If you follow the Children's Services Act (CSA), you know that the main cost-drivers for this program are the increasing use and cost of rates paid by localities to providers of private day special education services
In keeping with Appropriations Act language approved by the 2018 General Assembly (Item 282.M), which called for an outside study of the costs and rates paid by localities for private day special education, the Office of Children's Services (OCS) has contracted with Public Consulting Group (PCG).
As a part of the study launch, PCG will have an orientation session on Oct. 29th from 12:30 – 2:30 p.m. at the Twin Hickory Public Library in Glen Allen (Henrico County). The session is for anyone in local government interested in learning about the study.
Additional opportunities for public engagement will take place as the study progresses.
PCG will submit an initial report in December 2018, and a final report by July 1, 2019.
VML Contact: Janet Areson, jareson@vml.org