eNews Oct. 4, 2019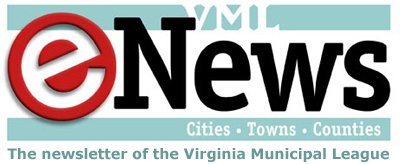 Friday, October 04, 2019 - 02:37pm
In this issue:
Announcements
VML business meeting will take up policy and legislative proposals
VML's annual business meeting will be held on Oct. 8 in Roanoke as part of VML's annual conference. The meeting will include the presentation and adoption of proposed policy statements and the proposed legislative program for 2020. You may use the below links to view the drafts:
Copies will also be available at the conference.
VML Contact: Janet Areson, jareson@vml.org
Government
Statute of limitations survey for stakeholders proves inconclusive
The Department of General Services (DGS) of Virginia on Tuesday hosted a statute of limitations stakeholder meeting.  This meeting was a result of HB1667 (Kilgore) and SB1369 (Norment) which were left in Appropriations during the 2019 General Assembly session so that the stakeholders could talk over the summer. This meeting began with a review of the results of a DGS survey regarding construction contracts and statutes of limitations. The survey revealed that there is not enough data on this issue to determine the appropriate solution.
The materials from the meeting should be available on the DGS website shortly.
VML Contact: Michelle Gowdy, mgowdy@vml.org
Transportation
Virginia Connected and Automated Vehicle (CAV) strategic plan presented at Transportation meeting
VDOT has released a draft strategic plan in anticipation of the increased use of Connected and Automated Vehicles (CAV) technologies (i.e. self-driving vehicles). The draft plan is a blueprint for developing a framework of agency/department/stakeholder interests related to the coming wave of vehicle automation technologies across all categories of vehicles. The strategic plan focuses on specific short-term steps necessary to clarify agency jurisdiction and responsibilities as agencies grapple with the novel challenges presented by CAVs.
As this strategic planning process unfolds there will be opportunities to learn more about the state's plan and efforts to maximize possible benefits of these new technologies. VML will continue to monitor these efforts and highlight any potential impacts to our members and their communities.
VML Contact: Mitchell Smiley, msmiley@vml.org
Alternative transportation funding options being explored
Due to increasing vehicle fuel efficiency, the adoption of electric vehicles, and changes in motor vehicle technologies Virginia's gas tax has become less effective in meeting the growing funding needs of Virginia's transportation network. This has resulted in Virginia's transportation funding becoming increasingly dependent upon significant infusions from the general fund. The ineffectiveness of the gas tax is expected to continue in years to come. As a result, the Secretary of Transportation has convened a working group that is examining alternative transportation funding options. Possible revenue sources could include pegging the gas tax to inflation, taxing "new economy" businesses that contribute to road use, vehicle fees for alternative fuel vehicles, and vehicle miles travelled tax systems. It is not clear if these novel revenue sources can meet the needs of Virginia's transportation network.
VML will continue to monitor and update our members on this issue.
VML Contact: Mitchell Smiley, msmiley@vml.org
Healthcare
Commission on Youth foster care recommendations up for comment
Public comment is open until Nov. 22, 2019, on the Virginia Commission on Youth's draft recommendations from its foster care study.
The Commission issued a number of findings and draft recommendations at its Sept. 18 meeting in Richmond. These recommendations covered workforce recruitment and retention, fostering futures, kinship care, and foster care family recruitment and retention. Some of the draft recommendations include:
Directing the Virginia Department of Social Services (VDSS) and the Children's Services Act (CSA) to establish a grant program to help encourage the recruitment and retention of foster care families within local departments of social services.
Increasing the minimum salary for family services series positions and provide a salary adjustment for current family services employees.
Amending the budget to implement a new technology to replace OASIS, which is sorely out-of-date and a source of frustration for local and state social services staff.
To see all the draft recommendations, go to the Commission on Youth website.
Information about submitting public comment is available here.
VML Contact: Janet Areson, jareson@vml.org
Joint Commission on Health Care looks at public access to naloxone
Recent legislation has increased public access to the opioid overdose reversal drug naloxone. This legislation expanded the list of professionals authorized to possess, administer and dispense the drug; eliminated controlled substance registration requirements for organizations providing it as part of substance abuse services, and eliminated prescription requirements for high-risk patients receiving opioids.
However, naloxone has an approximately 75 percent reversal rate even in out-of-hospital settings. As such, The Joint Commission on Health Care (JCHC) issued a report on Oct. 3 regarding possible means of overcoming the barriers to providing greater access to naloxone in public spaces, including the idea of co-locating it with automatic external defibrillators (AEDs).
In addition, the Virginia Department of Health has purchased (with federal/state funds) and distributed more than 23,000 naloxone kits to local health districts, community services boards, law enforcement and emergency medical services since 2017. The Virginia Department of Behavioral Health and Developmental Services (DBHDS) has given REVIVE! Opioid overdose training to more than 35,000 laypersons and has about 4,000 trainers for this program. Also, the Superintendent of Public Instruction recently issued a memo requiring development of local school division naloxone policies.
A limited number of states or regions put naloxone in public places, including Rhode Island and Boston, MA. Grand Forks, ND has placed naloxone with AED units in 15-20 location. Commission staff said that co-locating it with AED units might not be the most cost-effective approach to take.
JCHC conducted a study of local governments' views regarding increased access to naloxone within locally controlled public spaces. Fifty-eight localities responded; approximately 25 percent had discussed maintaining a stock of naloxone, and about 30 percent would consider providing access to naloxone if the Code of Virginia permitted it. Major local government concerns included liability, required training, securing the drug from theft, employee safety/risk, and the cost to keep it stocked.
Legislators on the commission also expressed concern with potential liability and cost.
Commission staff drafted a number of policy options on this issue, including 1) authorizing people acting on behalf of public places to possess and administer the drug if they have received training; 2) introducing legislation to broaden protections from criminal and civil liability for naloxone administration; 3) requesting further study of the issue by the Board of Pharmacy; and 4) requesting an executive branch study of the roles of public safety answering points and regional poison control centers in providing information and assistance to the public regarding acute and non-acute situations as well as recommendations to enhance their roles.
Public comment may be submitted on these policy options by Oct. 25 to the JCHC at jchcpubliccomments@jchc.virginia.gov
VML Contact: Janet Areson, jareson@vml.org
Deeds study looks at student mental health, alternative transportation
Members of a workgroup of the Joint Subcommittee to Study Mental Health Services in the Commonwealth (known as the Deeds Committee) heard presentations from K-12 school counselors, nurses, and psychologists on Sept. 23 in Richmond. Each speaker addressed the mental health needs of children in school, their role within the school and community to help children and families, and the limited resources available to meet those needs.
The meeting began with an overview by Nina Marino, director of the Office of Child and Family Services, and Sandy Chung, MD, medical director of the Virginia Mental Health Access Program (VMAP) at the Virginia Department of Behavioral Health and Developmental Services (DBHDS). They told the workgroup that Virginia ranks 23rd in the country for mental health care for children under 18 years of age. At the same time, 63.1 percent (48,000 children) of Virginia's children that have experienced a major depressive episode did not receive mental health service. In addition, Virginia ranks 41st out of 51 for mental health workforce shortage availability.
Ms. Marino and Dr. Chung also discussed VMAP's key objectives of educating primary care physicians (PCPs) on screening, diagnosis, management and treatment of mental health issues; creating telephonic connections/consults between PCPs and child/adolescent psychiatrists/psychologists or social workers on regional VMAP teams; arranging for telehealth visits; and creating care navigation to help identify regional mental health resources for families.
Virginia's VMAP pilot program began in August and has seen approximately 138 providers enrolled in approximately 36 pilot practices; 15 calls were received in the first month of operation. The Department's next steps are to develop the infrastructure of the remaining VMAP regional hubs, gather program performance data regarding outcomes, evaluate service impact, and provide continued collaboration and education with primary care and mental health providers, families, and other stakeholders.
The full Deeds subcommittee met following the workgroup meeting and received updates on the state's behavioral health redesign project, STEP-Virginia, and methods to address census issues in state hospitals. A special workgroup has been studying the census issue, with the goal of developing short- and long-term recommendations. This group is looking at a number of topics, including the role that Virginia's hospitals play in comparison with other states; emergency custody order timeframes, and the role of law enforcement.
Finally, members of the subcommittee got to see one of the new vehicles that will be used in the alternative transportation program that will begin in Southwest Virginia on Oct. 7. The goal is to reduce trauma for people with a mental health crisis who need to be transported for treatment; it should also reduce the impact on local law enforcement who currently provide the overwhelming majority of such transports, often long distances from their community. The state has allocated $4.5 million over the coming year for the program and has contracted with G4S Patient Secure Services to provide alternative transportation services. The program will be rolled out by region over the next year. The current program addresses adults; work is underway to develop a similar program for children and adolescents.
VML Contact: Janet Areson, jareson@vml.org
Events
Virginia Local Government Investment conference held in Richmond
VML/VACo Finance hosted the Virginia Local Government Investment Conference last Friday. The event was also sponsored by the Virginia Investment Pool and the Virginia Pooled OPEB Trust.  Both boards also hosted their annual meetings in conjunction with the event. Bob Schmidt from the Brandes Institute provided a noteworthy overview on the emotional side of investing. The informative Brandes Institute video Training the Investor Brain is well worth viewing.
VML Contact: Michelle Gowdy, mgowdy@vml.org