eNews Oct. 18, 2019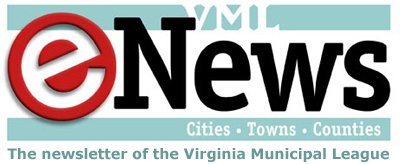 Friday, October 18, 2019 - 03:15pm
In this issue:
Announcements
VML 2019 annual conference presentations now available
All available presentations from the 2019 annual conference are now posted on VML's website for download.
Our thanks to all the fantastic presenters and moderators who contributed to the success of our conference!
VML Contact: Brendan Hogan, bhogan@vml.org
VML elects new president and executive committee members
On Oct. 8, City of Norfolk Councilman Thomas Smigiel was installed as the president of the Virginia Municipal League (VML). Mr. Smigiel joins a slate of new and returning officers recently elected to VML's executive committee. The new leadership took office at the League's annual conference and business meeting held in Roanoke, VA. The Executive Committee is elected by league membership each October.
VML Executive Director Michelle Gowdy shares, "VML is pleased to welcome Tommy as our new president. The staff and I look forward to working with him on behalf of our member localities during this year."
The full slate of the Executive Committee includes:
President
Thomas R. Smigiel Jr.
Council Member, City of Norfolk
President-Elect
Willie Greene
Council Member, City of Galax
Vice President
Jon Stehle
Council Member, City of Fairfax
At-Large Member
Jill Carson
Vice-Mayor, Town of Pennington Gap
At-Large Member
Laurie DiRocco
Mayor, Town of Vienna
At-Large Member
Bridge Littleton
Mayor, Town of Middleburg
At-Large Member
Sean Polster
Council Member, Town of Warrenton
At-Large Member
Chuckie Reid
Vice-Mayor, Town of Farmville
At-Large Member
Bill Rush
Town Manager, Town of Marion
City Section Chair
Charlie L. Frye Jr.
Council Member, City of Fredericksburg
Town Section Chair
Lisa Merkel
Mayor, Town of Herndon
Urban Section Chair
John Rowe
Mayor, City of Portsmouth
Immediate Past President
Anita James Price
Council Member, City of Roanoke
Each fall local government officials, speakers, and exhibitors from across the state attend the VML Annual Conference. The conference includes general sessions featuring political leaders and local government experts, the adoption of the annual VML legislative program, and the opportunity to network with colleagues from across the state.
VML Contact: Rob Bullington, rbullington@vml.org
National League of Cities (NLC) cyber security guide released
In recognition of National Cybersecurity Awareness Month, NLC has released its newest guide, "Protecting Our Data: What Cities Should Know About Cybersecurity." NLC wrote this report for local elected and appointed officials, especially for those who may not have a background in cybersecurity or network management. It was completed in collaboration with the Public Technology Institute.
The guide outlines ten recommended first steps for local officials hoping to improve cybersecurity, includes several interesting case studies of local security breaches (including the time NLC itself was hit by ransomware), and a checklist that local IT directors can use to get started.
Direct any questions about the guide to:
Lenna Wilson, lwilson@nlc.org
Associate, State League Services
National League of Cities
202-695-7109
Economy
Does the state disbelieve its own eyes?
In his monthly revenue report, Secretary of Finance Aubrey Layne informed Gov. Ralph Northam that first-quarter tax collections in FY20 rose a sizzling 8.2 percent, well ahead of the annual forecast of 1.2 percent growth. Revenues were "driven by broad-based growth in payroll withholding, sales, individual non-withholding, corporate and recordation tax collections."
 

 

Revenue Source

Year-to-Date over First Quarter 2019
Official Annual Estimate from 2019 Session
Individual Income Tax Withholding (63% of GF)
5.8%
4.2%
Non-withholding Income Tax (18% of GF)
16.5%
(3.5%)
Income Tax Refunds (9.8% reduction of GF taxes)
15.0%
21.7%
Sales Taxes (17% of GF)
7.8%
4.2%
Recordation Taxes (2% of GF)
25.4%
(4.6%)
Layne noted, however, that "the Commonwealth's general fund revenue picture will not become clear until final payments are collected from individuals and corporations next spring."
That's hardly a Laissez les Bons Temps Rouler ("Let the Good Times Roll")!
So, has the Finance Secretary been hobnobbing with the Oracle of Delphi? What cryptic predictions and guidance did he receive? Perhaps the Oracle whispered a caution about some of these troubling economic signs:
The U.S. economy grew at a modest 2 percent annual rate in the second calendar quarter, a pace sharply lower than the 3 percent-plus rates seen earlier in 2019.
Growth in payroll employment is slowing down even as the national unemployment rate fell to 3.5 percent. By comparison, In Virginia, payroll employment growth in August rose 0.9 percent compared with last year. Unemployment dropped to 2.8 percent.
Manufacturing contracted for the second consecutive month in September with the Institute of Supply Management index falling to 47.8. Bear in mind that a reading below 50 indicates that the manufacturing sector is shrinking.
The National Retail Federation warned that economic uncertainty, tariffs and fluctuations in the stock market could jeopardize holiday shopping.
Wage growth slowed in September from 3.2 percent to 2.9 percent.
The World Trade Organization slashed its forecast for trade growth for the remainder of 2019 and 2020 to 1.2 percent. This would make it the weakest year for international trade since 2009.
The impeachment inquiry threatens to unsettle trade legislation in Congress and budget talks between Congress and President Trump.
What happens next? The Joint Advisory Board of Economists will meet this week to assess recent economic developments and the economic outlook for the remainder of FY20 and the next biennium.  After the number crunchers finish their work the Governor's Advisory Council on Revenue Estimates will meet in late November to evaluate both the economists' recommendations and another month of tax collection.
This means the new revenue forecasts released on December 17 with the introduction of Governor Northam's budget proposals will be based on four months of data. Another revenue adjustment could be made in February during the legislative session by the General Assembly depending on holiday retail sales and the cooling down (or heating up) of the national economy.
Perhaps three of the maxims offered by the Oracle of Delphi are appropriate for local elected officials to keep in mind when budget development begins in earnest:
Be interested in public affairs.
Think first, act later.
Speak plainly [with state legislators].
VML Contact: Neal Menkes, nmenkes@vml.org
VRS Hybrid Retirement Plan members to see January 2020 automatic savings increase
The next Hybrid Retirement Plan auto-escalation will take place January 2020, effective with the first payroll that month.
Designed to help members maximize their retirement savings, auto-escalation automatically increases members' voluntary contribution amount to their Hybrid 457 Deferred Compensation Plan by 0.5 percent until it reaches the maximum of 4 percent.
The deadline for members to opt out of the automatic increase is December 15.
Visit varetire.org/hybrid to learn more.
Transportation
Details now available from transportation funding challenges workgroup
Virginians are driving more, but the state is collecting fewer fuel revenues. Huh?
Virginians in FY16-18 increased their vehicle miles travelled by 3.2% while fuels tax collections decreased 0.4 percent. This trend, which is expected to continue, is a result of how transportation is funded in Virginia. As fuel economy has increased and electric vehicles have become more popular, Virginia's fuels taxes, which are not tied to inflation, are less effective as funding sources. This situation led the Secretary of Transportation to convene a stakeholder work group to examine the sustainability of Virginia's transportation revenue sources and a consultant was been retained as part of this effort. VML has been participating in this group since the summer but at the Secretary's request we were asked not to share details…until now!
The numbers tell an alarming story
Virginia collects around $860 million annually in motor fuels taxes; this is about a quarter of the total annual transportation revenues collected in recent years. However, as a result of increasing fuel efficiency and electric vehicle adoption, fuels tax collections could be reduced by as much as a third by 2030 and half by 2040. Under this scenario, transportation funding would be severely constrained statewide which would reduce the amount of funding available for maintenance and construction.
Solutions are being sought
This work group is discussing alternative transportation funding methods and mechanisms and how other states are confronting similar challenges. Some of the options mentioned so far: indexing gas taxes to inflation, taxes on transportation network companies (Uber/Lyft), electric vehicle fees, vehicle miles travelled taxation, and various other methods of generating revenue for transportation. Future meetings will discuss how much revenue these methods might generate in Virginia and a final analysis will likely be issued before the start of the General Assembly.
Staff at VML will continue to keep you apprised of this discussion.
VML Contact: Mitchell Smiley, msmiley@vml.org
Healthcare
State hospital census workgroup reviews recommendations
What is the cause of continued high census counts at Virginia's public hospitals treating people with mental illness? A study committee created by the 2019 General Assembly has been examining several aspects of the emergency custody order (ECO) and temporary detention order (TDO) process, including:
Location of ECO evaluation and the ECO timeframe.
Treatment of individuals who are intoxicated or with complex medical needs.
Transfer of custody from law enforcement; and efficiency of the evaluation process.
The group met Oct. 7 in Richmond to review potential consensus recommendations and discuss non-consensus issues. A report is due by Nov. 1.
Items of consensus focused on support for the continued build out of community-based services and supports to prevent and divert inpatient admissions and reduce the overall need for inpatient care in state and private hospitals. This includes funding the components of the STEP-VA program and efforts towards Medicaid-Behavioral Health Redesign, which is seen as the roadmap for shifting the publicly-funded system towards evidence-based, trauma-informed prevention and early intervention services.  Community-based services supported by the group also include increased use of crisis stabilization units (CSUs), expanded mobile crisis services; and additional crisis intervention assessment centers and PACT services.
Individual members of the workgroup suggested that workforce development and moving away from local law enforcement involvement in transportation (unless it is a criminal matter) should be consensus items as well.
Items that are still under discussion include how to appropriately address the needs of individuals with complex medical conditions who are in psychiatric crisis. This could include funding for purchase of private hospital bed space for such situations; determining the necessity for more specialized beds for geriatric and medically compromised individuals; and a specialized rate for individuals with developmental disabilities or intellectual disabilities who meet a higher level of need and require inpatient treatment.
Potential recommendations about extending the emergency custody order period to up to 48 hours for individuals who are intoxicated or in withdrawal or those requiring additional observation, testing, and treatment was met with vigorous opposition from a number of members, including local law enforcement and emergency room physician representatives. The physicians noted that longer time in an ER does not necessarily mean a better outcome sooner and noted that hospitals could not provide security. Dana Schrad of the Virginia Association of Chiefs of Police said although local police have for years been given the responsibility of transporting and providing secure custody of individuals in crisis, it doesn't mean it is the right way to do it. She said that police departments and local governments bear the cost of this mandate, and that having police handle these situation compounds the trauma of people in crisis.
Other issues still under discussion include expanding crisis intervention team assessment centers, expanding the parties who can conduct a temporary detention evaluation (currently only a CSB employee or their designee can do this); enhancing data collection to include more types of data; and clarifying the role of Virginia's psychiatric hospitals.
VML Contact:  Janet Areson, jareson@vml.org
Weigh in on data governance, sharing and analysis issues
Learn about data and tools to address opioids, substance abuse
Carlos Rivero, the Commonwealth's Chief Data Officer, has scheduled a series of regional town halls to engage community leaders and stakeholders on a variety of issues dealing with data sharing, security and privacy as well as how data can be used to support decision-making. (Registration information for the town hall meetings follows below.)
Rivero also would like to discuss the FAACT Initiative (Framework for Addiction Analysis and Community Transformation) which started in Winchester and has now expanded to Roanoke. FAACT provides community leaders with the data and decision support tools they need to address the opioid substance abuse epidemic with a wider focus on substance use and addiction analysis. Rivero would like to learn more about the local issues that communities are facing and hear directly from community stakeholders on how the state can help them fight the epidemic.
Registration links for each town hall:
If you are not able to attend a regional town hall, you may participate in an online survey about data governance in the Commonwealth. If you represent an information technology resource in the Commonwealth at a city, county, or executive agency and have not yet participated – please use the email addresses below for log-in credentials to complete the survey.
The Chief Data Officer is developing a framework for a Commonwealth-wide data governance policy and your input will assist in this regard.
Contact the Chief Data Officer here: survey.support@governor.virginia.gov
Contact this email address to secure a log-in: customerservice@smartcitiesactivator.com
Education
VBOE adopts new Standards of Quality
The Virginia Board of Education voted to prescribe updated Standards of Quality ahead of the 2020 General Assembly session at its Thursday meeting. In its resolution, the Board emphasized the top three priorities from its 2018-2023 Comprehensive Plan:
Provide high-quality, effective learning environments for all students;
Advance policies that increase the number of candidates entering the teaching profession and encourage and support the recruitment, development, and retention of well-prepared and skilled teachers and school leaders; and
Ensure successful implementation of the Profile of a Virginia Graduate and the accountability system for school quality as embodied in the revisions to the Standards of Accreditation.
As prescribed, the new recommended SOQs comprise the most expensive list of recommendations from the Board in recent memory. Proposals include the combination of existing At-Risk Add-On funds with Prevention, Intervention, and Remediation funds to create a single Equity Fund; establishing a more comprehensive teacher leader and mentorship program; and creating a new category for "specialized student support personnel." Fiscal Analytics projects the cost of the full list of proposals to total $850 million. The Board's resolution also called for the removal of caps on school support staff, set in place in response to the Great Recession more than a decade ago.
A full breakdown of the proposed recommendations is available on the Department of Education website.
VML Contact: Jessica Ackerman, jackerman@vml.org
VRS releases lower assumed rate of return, increased employer contribution rate for teachers
The Board of the Virginia Retirement System (VRS) has had a busy two weeks! On October 10 it met to adopt a lower assumed rate of return. On October 17 is met to increase full employer contribution rates for teachers.
The new rate of return, reduced from 7 percent to 6.75 percent, reflects the Board's anticipation of a more challenging investment environment in the near term after the plan achieved a rate of return of 6.7 percent for FY19. VRS anticipates a statewide annual increase in costs to localities of $122.7 million, with individual rates for local governments to be distributed after January 1, 2020. These rates will become effective July 1, 2020 for fiscal years 2021 and 2022.
The employer contribution rate for teachers, meanwhile, increased from 15.24 percent to 16.62 percent. In adopting the new rate, the Board expressed confidence in its support from the General Assembly. As with the new discount rate, the new employer contribution rate will go into effect July 1. Rates for other local government employees will be approved in November.
VML Contact: Jessica Ackerman, jackerman@vml.org
Elections
ELECT releases guidance, deadline for local risk assessments
Following months of collaboration with local information technology professionals and general registrars, and with input from VML, VACo, and JLARC, the Department of Elections has released instructions surrounding the State Board of Elections' Risk Assessment Minimum Security Standard. Adopted by the Board at its September 17 meeting in Richmond, the new RA Standard establishes best practices for local IT systems connecting to VERIS, Virginia's central roster of voter information (a synopsis is also available). Each locality is required to complete a risk assessment in alignment with the scope of the standard no later than December 31.
ELECT has identified two self-assessment tools that are available at no cost, the Nationwide Cybersecurity Review 2019 and the Election Infrastructure Assessment Tool.
For more information or assistance, ELECT has set up a dedicated account at HB2178-Support@elections.virginia.gov.
VML Contact: Jessica Ackerman, jackerman@vml.org
Events & Contests
City of Danville wins 2019 VML President's Award for Innovation
At the VML annual conference awards lunch on Tuesday, October 8, outgoing VML president and City of Roanoke council member Anita James Price was pleased to announce that she had selected the City of Danville for the 2019 President's Award for Innovation. The City of Danville's "Project Imagine" was selected as the best of the six category winning entries announced prior to the conference.
"Project Imagine has served the City of Danville well in providing hope to its youth by helping them 'imagine' they can have a better life, that they can be connected to their community," Price said. "This project is building future productive citizens, which is what every community wants to achieve. Congratulations!"
In addition to a paid work experience that the youths receive and can place on their resume, Project Imagine provides them with mentoring while on the job, instruction on life skills, and available resources that will assist them upon completion of the program.
VML Contact: Rob Bullington, rbullington@vml.org
VCU Wilder School accepting nominations for Excellence in Virginia Government Awards
The Excellence in Virginia Government Awards (EVGA) honor individuals and organizations who have made noteworthy contributions to the practice of government and the betterment of the state. The nominations for 2020 recipients will be open until November 15.  Complete details, past winners and the nomination form can be found here.
For questions regarding EVGA, contact:
Paula Otto, piotto@vcu.edu
Senior Director of Special Projects
L. Douglas Wilder School of Government and Public Affairs
(804) 828-1146
Virginia Governor's Volunteerism and Community Service Awards nominations open
The Virginia Office on Volunteerism and Community Services has launched the nomination process for the 2020 Virginia Governor's Volunteerism and Community Service Awards. They are looking for organizations and individuals to nominate outstanding volunteers and volunteer groups in each of nine categories. Learn more here.