eNews Oct. 18, 2018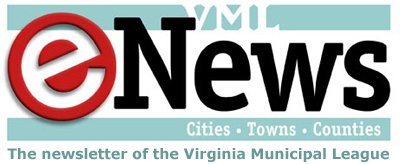 Thursday, October 18, 2018 - 04:10pm
In this issue:
New and updated resources on VML website
Interest rates on the rise
State revenues jump 4.0 percent in September
Small victory gained at FOIA Council
Procurement process study gets underway
DSS, DMAS continue health care expansion work
Code Commission takes up Title 15.2 issues
New and updated resources on VML website
Some of you (you know who you are) have been clamoring for these items, so we are pleased to let you know that they are now available on the VML website:
Interest rates on the rise
Interest rates are rising, and another hike, the fourth this year, is expected in December. President Trump has described the actions taken by the independent Federal Reserve Bank as out of control, threatening the nation's economic growth.
Rising interest rates do have a substantial impact on the economy, influencing the stock market, government spending and job creation. According to a New York Times article, over the past year, the average rate on new 30-year mortgages rose by a full percentage point, from just over 4.0 percent to just over 5.0 percent. The cost of a new mortgage is at the highest rate since early 2011.
The impact on the housing market is already pronounced with existing home sales falling 6.6 percent from November 2017 and the sales of new homes dropping even faster at 11.6 percent.
At the same time the federal government's budget debt is exploding, climbing to a debt load of more than $21.5 trillion. The U.S. Treasury reported earlier this month that the government paid $523 billion in total interest in federal fiscal year 2018, the highest on record. Interest expense is now projected to exceed spending for the Medicaid program in 2020 and by 2023, interest expense is projected to be higher than the entire cost of the U.S. military budget.
The Congressional Budget Office forecasts government spending will outweigh revenue by $973 billion in fiscal 2019 and more than $1 trillion the next year, meaning the situation is unlikely to self-correct.
In the international trade arena, the kerfuffle between the U.S. and its trading partners continues.  China's trade surplus with the United States in September hit a new record. China enjoyed a record high $34.1 billion trade surplus, taking the surplus for the year-to-date to $225.8 billion. That's significantly higher than the $196 billion recorded between January and September last year.
However, a quick end to the trade struggle is unlikely and as Mr. Trump's tariffs take effect the statistics will change. Also, with the Chinese economy weakening for a variety of reasons, that nation's ability to buy imported goods from the U.S. is also sapped.
The bottom line is that a short-term outlook for the U.S. (and by extension, the Virginia) economy remains positive. The long-term outlook in 2020 and beyond is less so.
VML Contact: Neal Menkes, nmenkens@vml.org
State revenues jump 4.0 percent in September
Total general fund revenues increased 4.0 percent last month with solid performance in payroll withholding and sales tax receipts. On a year-to-date basis, total tax dollars increased 2.7 percent, ahead of the official forecast calling for a 1.5 percent increase over FY 2018 collections.
Payroll collections account for over 60.0 percent of the state's general fund. September's individual income tax collections grew 3.6 percent which is a full percentage point above the projected 2.6 percent growth rate and reflects both job growth and wage gains. (The Federal Reserve Bank of Richmond reports that payroll employment increased by almost 1.4 percent in August although the state still lags the 1.6 percent increase in the U.S. labor market.)
The first FY19 installment of non-withholding tax revenues was due in September. The Tax Department reported collections of $530.3 million compared with $463.8 million in the first quarter of FY18. This increase of 14.4 percent soars above the official estimate calling for a 3.0 percent decline. Individual income tax non-withholding comprises roughly 17.0 percent of the state general fund.
Sales tax collections were 7.5 percent above last year's collections and 5.0 percent higher than the 2.5 percent forecast for fiscal year 2019. This is the third consecutive month that sales tax collections hit a 7.5 percent increase over the same month a year earlier.
This budding trend, if it holds, may indicate that the bump expected from the collection and remittance of sales taxes from on-line retailers is occurring now. In other words, Internet retailers are voluntarily implementing the U.S. Supreme Court's decision on Wayfair before the General Assembly even considers legislation in the 2019 Session.
As shown in the chart below, sales tax collections since the Great Recession have been sluggish and oftentimes have failed to meet even the most modest projections.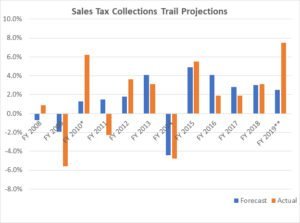 Recordation taxes account for some 2.0 percent of state general fund revenues. These taxes, however, are an indicator of the demand for real property. In September, these collections decreased 16.2 percent compared to a year earlier. Year-to-date collections have decreased 9.1 percent compared to FY 2018 and are seriously behind the official forecast calling for 3.1 percent growth in fiscal 2019. According to the Federal Reserve Bank of Richmond, both new residential permits and housing starts in August were down by double-digit percentages compared with August of 2017.
In his October 15 presentation to the House Appropriations Committee, Secretary of Finance Aubrey Layne expressed confidence that the FY 2019 official forecast will be met. Revenues must increase by 1.1 percent between October 2018 and June 2019 to make the estimate. For this same period last year, general fund revenues grew by 7.0 percent.
The Secretary also shared the concerns expressed to him by Wall Street bond raters.  Wall Street pointed out that their future calculations regarding a state's credit worthiness will take into consideration demographic variables like aging population and out-migration of prime-age workers (ages 25-54) as well as a state's resiliency to respond to major events like recurring floods, hurricanes and forest fires.
In addition, Secretary Layne gave the House committee an updated list of his known funding commitments and risks. The Secretary had added "Cash Reserves" as a new item while reducing the expected state funding commitment for Hurricane Florence expenses from over $60.0 million to $10.8 million. The reduction is based on the federal government picking up most of the tab.
On the budget front, state agencies submitted their budget requests last week to the Department of Planning and Budget (DPB).  Even as DPB scrubs the numbers, work on a new revenue forecast continues. The Joint Advisory Board of Economists met last week. Their analysis will be shared with the Governor's Advisory Council on Revenue Estimates on November 19. Gov. Northam's budget amendments are due to the General Assembly by December 18.
VML Contact: Neal Menkes, nmenkens@vml.org
Small victory gained at FOIA Council
The Freedom of Information and Advisory Council (FOIA) met Oct. 16 to take up 2018 legislation (HB1101 and SB336) relating to the right to speak at open meetings.  Both bills stated that all public bodies had to hold public comment periods (HB1101 only required it 4 times per year); VML and VACo argued that the definition of public body is extremely broad and includes the General Assembly! This concept has been a thorn in our side for a couple of years and VML is happy to say that the Council decided to develop guidance on the issue rather than endorse a bill.  That is not to say that the patrons won't reintroduce the bills, but the issue did not get an endorsement from the FOIA Council this year.
The FOIA Council also has been working on guidance relating to electronic communications and social media.  The issue of the use of text messages during a public meeting was referred to the Council and everyone agreed that this also should be guidance rather than legislation. The questions that the Council proposes to provide guidance on include:
When the use of electronic communications by members of a public body can constitute a prohibited meeting?
When the use of electronic communications by public officials or employees become public records?
The Council also will provide practical guidance and best practices for each type of electronic communication as well as identify model polices.
VML Contact: Michelle Gowdy, mgowdy@vml.org
Procurement process study gets underway
A Joint House and Senate General Laws seminar was held Tuesday, Oct. 16, to discuss procurement.  During the 2018 General Assembly Session, several bills were left in House General Laws Subcommittee #4 and in the Senate General Laws and Technology Committee.  The goal this summer was to educate the subcommittee and committee members further on procurement issues so that those bills could be dealt with in 2019 or not at all. Joe Damico, director of the Virginia Department of General Services (DGS), presented for several hours on the Virginia Public Procurement Act, PPEA, PPTA and the Restructured Higher Education Act.  He also discussed procurement authority and responsibility on the various government levels.  While his presentation was very informative, many of the questions related to the lack of a common standard among state, local and higher education procurement.
Jeff Gore with Hefty Wiley and Gore, PC presented on behalf of local government and asked that consideration be given to remove the requirement that Requests for Proposal have to be advertised in a newspaper.  VML and VACo have been working with Gore and DGS on this request and are hopeful that it will be considered.  It was pointed out that Invitations for Bid do not have the advertising requirement and why not make them consistent?
The materials for this seminar are voluminous; Delegate Chris Peace, the chair of the House General Laws Committee, stated that they would be placed on the agenda page, but they are not there yet.  Please let us know if you would like a copy and we will email them to you.
VML Contact: Michelle Gowdy, mgowdy@vml.org
DSS, DMAS continue health care expansion work
While local departments of social services are responsible for eligibility determination/redetermination for Medicaid, state officials are counting on a number of portals to help with the expected influx of applicants for Medicaid expansion, which will go into effect Jan. 1, 2019. This was part of the message delivered by the directors of the Virginia Department of Social Services (VDSS) and the Virginia Department of Medical Assistance Services (DMAS) to the House Appropriations Committee earlier this week.
VDSS Commissioner Duke Storen and DMAS Director Jennifer Lee, M.D. presented status reports on the preparations for health care expansion and answered legislators' questions about expansion. Also presenting with the two directors was Megan Healy, the Governor's chief workforce development advisor, who is heading up the effort for work/community engagement components of Medicaid expansion. The work/community engagement components must first be approved by the federal government before Virginia can implement it in its Medicaid program.
Storen addressed the various pathways to determine eligibility, including the Cover Virginia Call Center and website (1-855-242-8282), the health care "marketplace" (healthcare.gov), an on-line application portal (commonhelp.virginia.gov), the VDSS enterprise call center (1-855-635-4370), and local departments of social services. State officials expect that these various pathways will help potential enrollees to get information about eligibility and use screening tools to determine whether they should apply for health care coverage through Medicaid.
The state is also identifying people who they believe will be automatically eligible for expanded Medicaid coverage and will proceed with the processing of those prior to January so that coverage for those populations can begin on Jan. 1. This includes people in the Governor's Access Program (GAP) and other waiver programs. Storen also said that eligibility redetermination processes are being improved, primarily through expanded access to various state data systems.
Storen said that 300 positions were allocated to local departments of social services in anticipation of the added eligibility traffic, and that as of Sept. 30, 282 positions were identified within local departments. These additional positions were allocated to local agencies based on their current caseload levels and utilization; local agencies with larger numbers received more positions. The state is covering the cost of those additional eligibility workers for this biennium.
VML Contact: Janet Areson, jareson@vml.org
Code Commission takes up Title 15.2 issues
The Code Commission took up Code Sections not set out in Title 15.2 including their prior recommendations on which sections to place in the code and non-substantive changes to that need to be made to those sections.  A lot of these code sections deal with transportation or list a locality by population.  For most of the sections that list localities by population, the names of the localities will be used in the place of the numbers, which are outdated.  Further, Title 15.2 will become two separate volumes which should allow for these various code sections to be set out in the Code.
VML Contact: Michelle Gowdy, mgowdy@vml.org