eNews November 20, 2020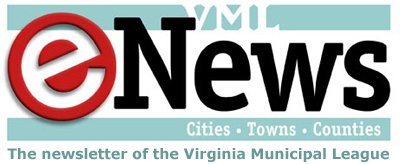 Friday, November 20, 2020 - 05:34pm
In this issue:
Note to our readers: There will not be an issue of eNews next week (Friday, Nov. 27). The next eNews will be published Friday, Dec. 4. Of course, VML will publish Special Editions and send communications to our members as needed. Happy Thanksgiving everyone!
New Resources
VML's 2020 Special Session Legislative Summary now available
VML staff have compiled a summary of bills of interest to local governments that passed during the General Assembly's 2020 Special Session. The summary also includes some of the bills that did not pass.
Of particular interest are two bills that are either under study or may otherwise return in the 2021 Session: HB5090 (Hurst) which deals with the Virginia Freedom of Information Act and HB5013 (Bourne) which deal with the duties and liabilities of certain employers in employing or contracting for the services of law-enforcement officers.
The 2020 Special Session Legislative Summary is available here >.
VML Contact: Janet Areson, jareson@vml.org
Proffer report from Commission on Local Government published
The "Report on Proffered Cash Payments and Expenditures by Virginia's Counties, Cities and Towns 2019-2020" published by the Commission on Local Government Commonwealth of Virginia is now available.
View/Download the report here >.
Background
In July of 2020, Commission staff sent by electronic mail a survey to the chief administrative officers of the 162 localities that were required to report their acceptance of cash proffers during FY 2019-20. Each locality was requested to complete the survey by September 30, 2020. In October, additional follow up was made to the jurisdictions that had not responded to the initial request. All localities responded to the survey; and, as a result, there is a 100% response rate for FY2020.
This report is also available on the Commission's website at www.dhcd.virginia.gov/clg.
VML Contact: Michelle Gowdy, mgowdy@vml.org
Amended EO63 and Sixth Amended EO67 Quick Facts translations created
The Office of the Governor has made the November 13 Amended EO63 and Sixth Amended EO67 Quick Facts available in several translations:
These and related documents are also available on VML's COVID-19 Resources page.
VML Contact: Rob Bullington, rbullington@vml.org
ZenCity: How data can be used to reopen businesses and how local governments are supporting businesses
VML Community Business Member ZenCity has just released two new pieces which VML members may find of interest.
How Spokane, WA, used data to work with the Governor's Office and reopen
How can data help a city change state regulations during COVID19? This case study explains how the City of Spokane, WA used resident feedback data to show the Governor's Office that its residents were ready to reopen their businesses and were willing to cooperate with safety guidelines and policies.
How local governments throughout the U.S. are working diligently to support their local economies this holiday season
COVID19 shifted consumer spending, resulting in a $49 billion decline in sales tax this year. As a result, localities who rely heavily on sales and income taxes to operate have been negatively impacted. With the holiday season just around the corner, learn how local governments throughout the U.S. are working diligently to support their local economies
ZenCity Contact: Assaf Frances, Director of Urban Policy & Partnerships, frances@zencity.io
Transportation
Transportation funding fares better than anticipated
The Senate Finance Committee received a presentation yesterday from staffer Jason Powell that reported that while transportation revenues have been significantly impacted by COVID-19 they have fared better than anticipated.
Forecasts this summer predicted a negative impact of about $870 million. Thursday's presentation, however, showed there are indications this may overstate the shortfall by $100 million or possibly even more. This is the result of the numerous revenue streams that flow into state transportation funds faring better than expected (retail sales tax +20% and license fees +12.7%) while other revenues (such as the gas tax -24.7%) have dropped precipitously.
How is this (relatively) good news possible?
Readers will recall that the 2020 General Assembly approved an increase in motor fuels taxes phased in over 2 years with the first increase July 1, 2020 and the final increase in 2021. This means new revenues are offsetting some decreases and the final increase will generate new revenues for transportation. Also, the Governor signed the revised budget for 2020-2021 (see page 281, item P 1-6) which increased flexibility for the Commonwealth Transportation Board (CTB) to manage transportation revenues as a result of the COVID 19 recession. This will be the basis for future changes to transportation project funding.
CTB will meet to consider changes
The Commonwealth Transportation Board (CTB) meets November 24 and will discuss the ongoing impacts of COVID 19 on Virginia's transportation programs. Specifically the CTB is considering changes to the Six Year Improvement Program and will be taking comments until November 24 on the proposed funding changes for projects in the 2021-2026 Six Year Improvement Program that the CTB will take action on in its December meeting. The CTB will reallocate out year funding to assist with projects currently under construction in the near term.
It is important for localities to be aware that the CTB is not reducing existing funding commitments and projects currently funded will not be delayed because of this action. Localities should familiarize themselves with the project list that the CTB will act on in their December meeting. Please be aware of the proposed changes and contact your regional VDOT office to notify them of any discrepancies.
Projects to be included in the FY2021-2026 Six Year Improvement Plan and how to comment on these proposals prior to the 11/24/2020 deadline can be found here >.
A continuing need for assistance
Finally, given the impact of COVID 19 on travel behaviors public transit ridership has been dramatically impacted and will likely remain in significant need of further assistance after additional federal funding expires. Continuing to push for further federal funding for transit and other transportation programs will continue to be important if federal stimulus efforts materialize.
VML Contact: Mitchell Smiley, msmiley@vml.org
FOIA/COIA
COIA Council adopts formal opinions that discuss gifts; contract lobbyists
The Virginia Conflict of Interest and Ethics Advisory (COIA) Council met on Wednesday to take up a request for a formal opinion from the City of Hampton. During a training conducted by the COIA Council there was discussion about the definition of lobbyist-principal and its applicability of the purchase of tickets by the city for city councilmembers to attend city-sponsored events. It is important to note that the city contracts with a private lobbying firm for lobbying services and therefore the city is considered a lobbyist-principal as defined in the Code of Virginia. This has the effect of prohibiting the city from giving its own city council members tickets or other items qualifying as gifts.
The Council affirmed this opinion during its meeting and voted to issue a formal advisory opinion. The local government representatives (Walter Erwin and Sharon Pandak) had expressed concern about the inability of citizens to see the proposed opinion prior to the meeting as well as their concern about the effect of this opinion (a big "thank you" to both of them).
View/download the Formal Advisory Opinion here >.
After the Council voted to affirm the opinion there was a second motion which passed to recommend to the General Assembly that they create an exception for this particular circumstance.
In another matter the Council reviewed SB383 (McPike) which requires an individual who is compensated to influence or attempt to influence a local government officer or employee regarding local government action to provide notice of such status to the clerk of the local governing body of the county, city, or town in which the officer or employee serves.
The COIA Council asked staff to redraft the bill for review so that it more closely mirrors the state lobbying provisions.
VML Contact: Michelle Gowdy, mgowdy@vml.org
Freedom of Information Subcommittees (FOIA) consider phishing, criminal records, and electronic meetings
Three FOIA subcommittees met this week to discuss phishing, criminal records, and electronic meetings.
The Phishing and Criminal records subcommittees are still revising proposed legislation and will continue to revise, or meet again, prior to the first week in December when the full FOIA Council will meet.
In the Electronic Records subcommittee meeting, there was discussion on two general topics: a draft of a bill which would allow a person to attend a meeting electronically if there is a physical quorum present, the public body has a policy allowing electronic meetings and (a) notifies the public body that they are providing care to a family member with a serious medical condition that prevents the members physical attendance without a limitation and then (b) agreed to propose a change in the code allowing an individual member to miss a meeting due to a personal matter 2 times meetings per calendar year to 2 times or up to 25 percent of times per year.
Also discussed was a proposed bill dealing with electronic meetings during a pandemic. It was proposed to ensure that the current budget language is "tweaked" and codified. VML, VACo, the Virginia Press Association and the Virginia Coalition for Open Government all agreed on this language. However the subcommittee did not like paragraph A(3) which includes language about a 30-day delay in the ability to conduct all business. The subcommittee directed staff to rewrite this paragraph to omit this language.
The full FOIA Council will take up all new drafts at their meeting during the first week of December (exact date to be determined).
VML Contact: Michelle Gowdy, mgowdy@vml.org
Health & Human Services
COVID and racial inequity items added to DHCD and Virginia Housing study
Per the HB854 (Murphy), the Department of Housing and Community Development and Virginia Housing (formerly Virginia Housing and Development Authority) are directed to convene an advisory stakeholder group to:
Determine quality and quantity of affordable housing in the Commonwealth.
Conduct a review of current programs and policies to determine the effectiveness of housing policy efforts.
Develop an informed projection of further housing needs in the Commonwealth and determine the order of priority of those needs.
Make recommendations for the improvement of housing policy in the Commonwealth.
Two items were added:
COVID-19

Vulnerabilities in housing programs and policies
How to be resistant to a pandemic
Stability for renters and homeowners during a pandemic
Advance partnerships between health and housing

Racial Inequity

Facts and Trends
Common understanding of the impact of systemic race on housing
Close the gaps
What new resources are needed
The advisory group shall consider the following proposals as well as other proposals it considers advisable during the course of its analysis and deliberations: (a) a Virginia rent subsidy program to work in conjunction with the federal Housing Choice Voucher Program, (b) utility rate reduction for qualified affordable housing, (c) real property tax reduction for qualified affordable housing for localities that desire to provide such an incentive, (d) bond financing options for qualified affordable housing, and (e) existing programs to increase the supply of qualified affordable housing.
This study is to be finished by November of 2021.  Please note that most localities will receive surveys and/or be asked for feedback as a part of this study – please respond!!
VML Contact: Michelle Gowdy, mgowdy@vml.org
JLARC reports on CSA and private day programs
Among the 18 recommendations presented by the Joint Legislative Audit and Review Commission (JLARC) staff at JLARC's Nov. 16 meeting were:
Greater transparency/standardized reporting of rates for services charged by private special education day schools.
Annual reporting of rates as a condition for public funding of placements.
Allowing use of Children's Services Act (CSA) funds to help children transition from a private day placement to public school setting or to pay for particular services in public school setting to avoid more restrictive placements in private day settings.
Considering transfer of the funding of private day placements to the Virginia Department of Education.
Giving the Office of Children's Services (OCS) greater authority and responsibility for oversight of local CSA operations to increase efficiency/timeliness/effectiveness of programs; and requiring all CSA programs to use their allotment of non-mandated (now called protected funds).
The full report may be seen on JLARC's website here >.
Background and detail
JLARC had conducted a study this past year to examine the reasons behind the rising use and costs of private day special education programs and the overall administration of the CSA program. VML staff were among the many stakeholders interviewed during the course of this study.
While the Commission report did not endorse rate regulation for private day programs, its recommendations addressed some of the fundamental reasons why local governments were interested in rate regulation – including the lack of transparency in costs charged within and between programs across the state. In addition, it recommended that the Office of Children's Services work with the Department of General Services to determine the benefits and feasibility of a statewide contract for children's services and the types of children's services and service providers that would be included as well as for the Office of the Attorney General to develop contracts to be made available to all local Children's Services Act programs where beneficial and feasible. This could be helpful particularly for smaller local government programs with fewer children and therefore less buying power than a locality with more volume and therefore more leverage with service contracts and costs.
The report also endorsed the idea of allowing school divisions to use CSA funds to transition children back to a public school setting and to look into allowing public schools to use CSA for particular services that would allow a child to remain in a public school setting. A number of school divisions/CSA programs had used these funds for one-on-one aides and other specific needs until 2011, when a State Superintendent's memo declared that the use of CSA funds in public school settings was not allowable under Virginia law. This restriction appears to have played some role in the growth in private day placements.
JLARC's report delved into the Office of Children's Services ability to effectively oversee the effectiveness of local government programs and the timeliness of service provisions. These recommendations would require additional resources for that small agency, with a total of 12 full time employees; it could also potentially have implications for how often local multi-disciplinary teams meet and the staffing provided by local governments to this program.
Unknown is how many of these JLARC recommendations will end up as legislation or budget amendments for the 2021 General Assembly session, particularly those with state budget implications.
VML Contact: Janet Areson, jareson@vml.org
Board of Corrections votes to move forward with mental health requirements for jails
On Nov. 18 the State Board of Corrections voted to move forward with the regulatory process to establish new mental health requirements for local and regional jails. The vote came after a meeting in the summer to review recommendations given to the Board by a legislatively-mandated stakeholder workgroup that looked at current physical and mental health requirements for jails and to develop recommendations for potential regulations that met the requirements outlined in legislation approved by the 2019 General Assembly (HB1942).
VML will continue to monitor and report on the progress of these draft regulations as they go through the regulatory process. The Board had previously discussed asking for emergency regulations; we do not know if this is still the plan for the process.
VML Contact: Janet Areson, jareson@vml.org
Have you downloaded the COVIDWISE app?
With Virginia's COVID-19 positivity rates rising, it is a good time to consider downloading the COVIDWISE app for your phone so that you can be notified if you have come into contact with someone who tests positive for the virus.
In the next few days the Virginia Department of Health (VDH) will be posting a new video and resources to its COVIDWISE information page that more fully explain the features and mechanics of the app, which is available free in the App Store and on Google Play.
The app does not take your personal information or share your whereabouts with VDH; it works by using random Bluetooth keys that change every 10-20 minutes. Phones with the COVIDWISE app will anonymously share these random keys if they are in proximity. Positive COVID-19 results submitted by other app users are checked against the list of random keys it has encountered in the last 14 days. If there is a match, COVIDWISE may notify the individual, taking into account the date and duration of exposure, and the Bluetooth signal strength which is used to estimate proximity. The app user decides whether to opt-in to receive Exposure Notifications, and if a person is diagnosed with COVID-19, it is up to them whether or not they share their result through COVIDWISE. The app can be turned off at any time by the user.
More than 800,000 have downloaded the app; the more who use it, the more effective it is in fighting the spread of Covid-19.
VML Contact: Janet Areson, jareson@vml.org
COVID-19 testing questions answered
To test or not to test? Where to get a test? What's the turnaround time?
If you or anyone in your community have questions about COVID-19 testing, the Virginia Department of Health's (VDH) COVIDCheck page may have the answers
Among the FAQs addressed on the page: whether particular symptoms warrant testing or medical care, the location of testing around the Commonwealth, and questions about exposure and testing.
This resource allows individuals to complete a short survey regarding symptoms being experienced; to input their location to find the testing sites in their region as well as information about average testing turnaround times in their area. It also provides facts about exposure and testing.
Finally, you can see information statewide and down to the locality level for COVID-19 cases through VDH's COVID data page.  This page is frequently updated so you can track the information in your region or in any region of the state of interest to you.
VML Contact: Janet Areson, jareson@vml.org
Virginia Department of Health publishes external dashboards descriptions
The Virginia Department of Health (VDH) has published a document that provides brief descriptions of COVID-19 data dashboards presenting data on COVID-19 testing, cases, hospitalizations, and deaths in Virginia as well as detailed information on key measures, modeling, and metrics for the COVID-19 pandemic in the Commonwealth.
View/download the document here >.
You can also find data dashboard descriptions and other information on the VDH's About the Data page. These will be updated routinely as new data and information on COVID-19 become available.
VML Contact: Rob Bullington, rbullingtono@vml.org