eNews November 13, 2020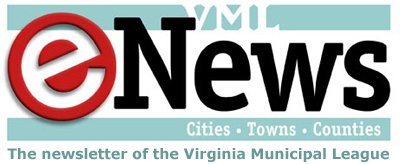 Friday, November 13, 2020 - 05:42pm
In this issue:
Office of the Governor
New statewide measures to contain COVID-19 take effect Sunday
With Virginia averaging 1,500 newly-reported COVID-19 cases per day, up from a statewide peak of approximately 1,200 in May and all five of the Commonwealth's health regions currently reporting a positivity rate over five percent, Governor Northam announced today the following new measures that will take affect midnight on Sunday, November 15:
Reduction in public and private gatherings: All public and private in-person gatherings must be limited to 25 individuals, down from the current cap of 250 people. This includes outdoor and indoor settings.
Expansion of mask mandate: All Virginians aged five and over are required to wear face coverings in indoor public spaces. This expands the current mask mandate, which has been in place in Virginia since May 29 and requires all individuals aged 10 and over to wear face coverings in indoor public settings.
Strengthened enforcement within essential retail businesses: All essential retail businesses, including grocery stores and pharmacies, must adhere to statewide guidelines for physical distancing, wearing face coverings, and enhanced cleaning. While certain essential retail businesses have been required to adhere to these regulations as a best practice, violations will now be enforceable through the Virginia Department of Health as a Class One misdemeanor.
On-site alcohol curfew: The on-site sale, consumption, and possession of alcohol is prohibited after 10:00 p.m. in any restaurant, dining establishment, food court, brewery, microbrewery, distillery, winery, or tasting room. All restaurants, dining establishments, food courts, breweries, microbreweries, distilleries, wineries, and tasting rooms must close by midnight. Virginia law does not distinguish between restaurants and bars, however, under current restrictions, individuals that choose to consume alcohol prior to 10:00 p.m. must be served as in a restaurant and remain seated at tables six feet apart.
Watch a video from Governor Northam about the new measures.
Read the full press release, which includes information about contracts to increase testing capacity in the Commonwealth.
VML Contact: Rob Bullington, rbullington@vml.org
Budget & Economy
General Assembly acts on Gov. Northam's budget amendments
Governor has until December 9 to sign HB5005 into law or veto the bill in its entirety or limit his vetoes to certain provisions.
Perhaps it's all a matter of perspective. Scoring five correct answers on a 10-question quiz impresses neither your teacher nor your parents. But, hitting 0.500 is an invitation to be enshrined in baseball's Hall of Fame in Cooperstown. No one has even come close since Ted Williams ended up with a 0.406 average on the last day of the 1941 season.
Unfortunately, state budgets aren't the same as batting averages, and losing half of his ten budget amendments to HB5005 on Monday was not a good day for Gov. Northam. It seems that the delegates' and senators' ire was directed at Mr. Northam's proposed policy actions. Local governments may also end up on the short end of the stick because of the legislature's actions.
Unfortunately, until the governor reveals his plans to sign or veto the state budget, localities will find themselves immersed in uncertainty.  Will there be access to federal CARES Act money to meet critical local needs including a program to keep municipal utilities financially stable by helping customers who have suffered economically from the Coronavirus Recession and have run up unpaid accounts?  (See related article here) Will the following items beneficial to local governments that were approved during the Special Session now survive a possible veto pen?
Invests $50 Million GF in FY 2021 in the Virginia Telecommunication Initiative to expand broadband infrastructure in response to COVID-19.
Provides $55 Million GF in FY 2021 in the Virginia Housing Trust Fund to expand access to affordable housing, provide rental assistance, and support homeless populations in response to COVID-19.
Establishes a universal moratorium on evictions for residential properties through the end of the year. Only allows for an eviction during the universal moratorium if a tenant refuses to apply and cooperate with the landlord's application to the Rent and Mortgage Relief Program. Outlines Virginia's policy towards evictions starting January 1, 2021, which relies on the creation of payment plans and application to the Rent and Mortgage Relief Program prior to any evictions related action taking place.
Expands the use of additional Housing Trust Fund dollars to extend Rent and Mortgage Relief program after the expiration of the CARES Act.
Directs the Broadband Advisory Council to provide feedback on whether to allow public broadband authorities to apply directly for VATI funds on or before the beginning of the 2021 Session.
Provides $95.2 million from "gray machine" revenues (state share; not the local share) to replace cuts in state sales tax revenue for K-12.
Provides $220.8 million from the CRF for per pupil payments.
Redirects $8.9 million in CARES Act GEER funding to support short-term technology needs.
Delays any reduction in state aid due to enrollment declines until the end of the 2020-2021 school year. (This will be an issue for localities in the 2021 Session.)
Permits textbook funds from the state to be used for COVID-19 related costs and removes requirement for local match in FY21.
Supplements with CARES Act funding childcare providers and other emergency childcare services.
Includes a supplement of $7.5 million to help recruit and retain local law enforcement officers.
Although Gov. Northam has until December 9 to make his final decisions, it is unlikely that he would wait that long. Why? Because his budget proposal for the 2021 Session is due to the General Assembly on the following Wednesday, December 16.  And then we start all over again.
Stay tuned!
VML Contact: Neal Menkes, nmenkes@vml.org
State revenue collections continue to exceed official projections
Although total general fund revenues fell 2.7 percent in October due to an anticipated decline in payroll withholding, the Tax Department reported that the decline was offset by solid growth in sales and recordation tax collections. On a fiscal year-to-date basis, total revenue collections rose 6.7 percent through October, well ahead of the annual forecast calling for a 1.8 percent decline.
Payroll employment fell 5.1 percent in September from September of last year. The seasonally adjusted unemployment rate increased 0.1 percentage point to 6.2 percent and stands 3.5 percentage points above a year ago. Year-to-date, withholding collections have risen 0.4 percent from the same period last year, trailing the annual estimate of 2.4 percent growth.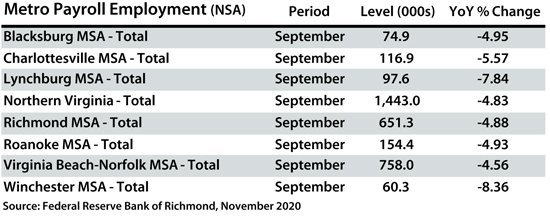 For individual non-withholding year-to-date collections were $1.1 billion compared with $800.5 million in the same period last year, growing by 41.3 percent and well ahead of the annual estimate of a 3.6 percent decline. However, most of the growth is attributable to payments due on June 1 being received in July.The Virginia Leading Index rose 2.2 percent in September after rising 1.6 percent in August. All four components, the U.S. Leading index, future employment, auto sales, and initial claims for unemployment improved in September. The index for all eleven metro areas increased for the month.
Perhaps the most surprising revenue performance is sales tax collections. Collections of sales and use taxes, reflecting September sales, rose 8.6 percent in October. On a year-to-date basis, collections of sales and use taxes have risen 7.8 percent, ahead of the annual estimate projecting a 9.7 percent decline.
So, is the economy improving, stuck or in trouble?  The answer may be all three.
There are statistics to show that the employment picture is improving but remains concerning. According to the VEC's most recent announcement on unemployment claims the November 7 filing week dipped below 100,000 to its lowest level since early May.
For the most recent filing week, continued weeks claimed totaled 91,960, which was a 7.8 percent decrease from the previous week, but 73,760 higher than the 18,200 continued claims from the comparable week last year. Over half of claims were in the accommodation/food service, health care, administrative support, and retail trade industries. The continued claims total is mainly comprised of those recent initial claimants who continued to file for unemployment insurance benefits during the COVID-19 pandemic.  The impact of the Coronavirus is still being felt.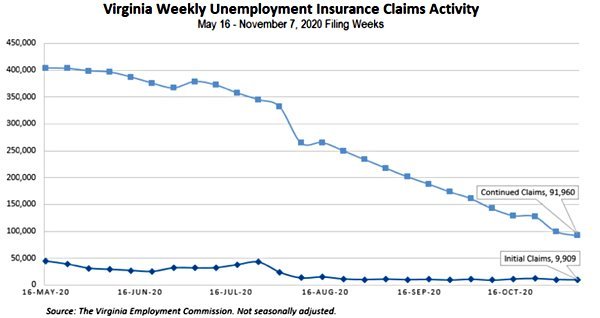 The VEC data masks to a degree the view of Virginia's employment picture from 30,000 feet. Although first-time unemployment claims are decreasing it is distressing to see that labor force participation is shrinking, meaning people who can work have dropped out of the workforce. The chart below is based on data from the federal Bureau of Labor Statistics. Some economists have attributed this to the closing or partial openings of public schools and the subsequent decisions made by parents, usually mothers, to stay home with their children.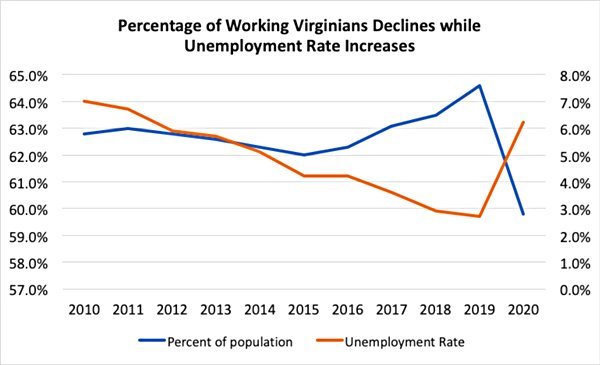 A rising number in labor force participation signifies a growing economy but much work needs to be done before the economic crisis subsides.
VML Contact: Neal Menkes, nmenkes@vml.org
Utilities
Utility disconnection moratorium update
The sand in the hourglass is flowing steadily to the bottom as localities await Gov. Northam's final actions on the Budget Bill presented to him earlier this week by the General Assembly.  The uncertainty as to whether CARES Act money will be able to be used to pay down unpaid utility bills affects all localities directly or indirectly. Without access to the federal CARES Act money, local governments and local water/wastewater authorities will continue to be squeezed due to the Commonwealth's adamant opposition to utility disconnections.
To review where we are now, the budget approved during the special session included language (item 4-14 #1c) mandating a moratorium on disconnections for all utilities (SCC regulated and municipal utilities). A separate budget amendment (item 479.10 #2c) would provide up to $60 million in federal CARES Act funds to assist municipal utility customers with past due balances. This CARES funding must be used prior to December 30. Every day that passes waiting for the Governor's action on the budget makes it less likely that these funds will be used for their intended purpose. Moreover, it would be a difficult task, even under favorable conditions, to launch a new initiative that would lose its funding in roughly seven weeks.
Option for municipal utilities to disconnect delinquent accounts
VML members should be aware that there is an option provided in the budget language to allow municipal utilities to disconnect delinquent accounts. This language provides a multi-step process for a utility to opt out of the disconnection moratorium.
In budget item 4-14 #1c of the Conference Report passed by the General Assembly and now before the Governor, the following process is laid out for municipal (non-SCC regulated) utilities to be exempted from the disconnection moratorium.
"[I]f a utility subject to this clause 7 but not subject to regulation of the Commission has accounts receivable arrearages that exceed 1% of the utility's annual operating revenues, then the utility may obtain relief from the moratorium established in clause 7.a. if
(i) the utility provides a written analysis stating such facts to demonstrate the exceedance to staff of the governing body,
(ii) the utility contemporaneously makes available for public inspection associated workpapers verifying such facts to staff of the governing body, and
(iii) the governing body verifies the exceedance, provides public notice, takes public comment on, and votes to approve that the exceedance is accurate in an open public meeting. In the event of an affirmative vote of the utility's governing body, the utility shall thereafter be exempt from the moratorium provisions"
The above language only applies to the disconnection moratorium and does not apply to the repayment plans. Customers who abide by the terms of their repayment plans would not be subject to disconnections. However, this language does provide utilities and localities concerned by increasing arrearages with a process that would allow municipal utilities to resume disconnections while developing a repayment plan with customers.
It is important for members to determine how the utility disconnection moratorium could impact your locality in terms of finances and efforts to combat COVID-19. You should discuss this issue with your staff and other stakeholders. VML will continue to work with legislators, the Governor's office, and state agencies to keep you apprised of developments.
Please reach out to the contacts listed below with any questions.
VML Contacts: Mitchell Smiley, msmiley@vml.org or Neal Menkes, nmenkes@vml.org
Health & Human Services
VDH posts updated COVID-19 projections and guidelines for students returning home for holidays
In the last week a total of 25 of Virginia's health districts were in growth status for COVID-19 weekly case rates, with eight of those in surge status, according to information from the Virginia Department of Health (VDH) and its partners at the University of Virginia Biocomplexity Institute and the Rand Corporation.
A model to measure COVID-19 in Virginia was developed last spring by the Institute and has evolved over the months as more information became available and measurable. This model looks at the status of the virus in Virginia and is the basis for projected growth in cases and need for hospital beds depending on behavioral and policy responses.
The most recent report on the model and projections for growth in cases across the Commonwealth can be found here and on the VDH Covid-19 website along with reports on antigen testing and related topics.
According to the latest report, while Virginia saw a 12 percent increase in the number of confirmed cases with 17.2 per 100,000 population, the states surrounding Virginia all experienced greater jumps, including Tennessee with 49.8 cases per 100,000 (a 57 percent increase over the previous week) and North Carolina with 25.6 cases per 100,000 (a 64 percent jump from the previous week).
The model also maps out when Virginia could reach its peak in daily confirmed cases, depending on the approach and response it takes in the coming days and weeks, and the potential impact on hospitals.  The presentation details those projections, and the numbers Virginia could see over the next three months.
VDH has also posted an update on antigen testing with the current status of cases and key trends in the state along with source of antigen tests and how the federal and state government are distributing tests to various entities, including nursing homes and assisted living facilities, home health care, institutions of higher education, local health departments and clinics.
Finally, VDH has posted guidance  and a handout for local health districts and for the students and staff at institutions of higher education who may be traveling back to their home communities before and during the Thanksgiving holidays and beyond.  The guidance goes into detail about factors for consideration, including limiting risk factors before leaving for home, during travel to home, and interactions with others upon returning home.
This information can be easily posted to locality and organization websites and shared with the public.
VML Contact: Janet Areson, jareson@vml.org
Housing
Affordable Housing and Neighborhood Transitions work group meets
The Virginia Housing Commission Affordable Housing and Neighborhood Transitions Work Group met today. The Department of Housing and Community Development gave a report on the rent and mortgage relief program. Over 13,900 applications have been received with over $24M in relief affecting over 10,000 children already deployed.
The materials for this meeting will be posted at the Housing Commission web page.
The Work Group heard discussion on the following pieces of legislation from the 2020 General Assembly Session.
SB638 (Surovell) is related to Affordable Dwelling Units near metro stations and would require that 10 percent of housing units within ½ mile of a planned or existing metro station be affordable. This bill was discussed in detail and will be heard again by a smaller group before a recommendation to the full housing commission is made.
SB839 (Ebbin) deals with wage theft. The Work Group heard from the DC-Metro Building Trades Group, Virginia Association for Commercial Real Estate, and the Homebuilders Association on this bill. Various stakeholders were asked to meet and discuss this bill further.
HB413 (Delaney) would authorize a locality to adopt a subdivision ordinance that would include minimum standards for energy efficiency and establish and maintain access to sources of renewable energy.  It was suggested that this bill be reviewed under the statewide building code; but Delegate Delaney indicated that she really wanted it as a tool at the local level. Various stakeholders agreed to continue to discuss the issue.
HB147 and HB149 (Samirah) require the Virginia Housing Development Authority to conduct housing studies and research on housing needs in Virginia and ask the Department of Housing and Community Development to study barriers to obtaining and using state and federal housing funds. This information was received by the work group.
The Full Housing Commission will meet on December 17 at 10:00 AM.
VML Contact: Michelle Gowdy, mgowdy@vml.org
Broadband
Broadband Advisory Council discusses deployment models
The Broadband Advisory Council met this afternoon and received updates on the Virginia Telecommunication Initiative (VATI) grant program as well as a brief overview of the program. Currently there are 45 applications being considered for 53 localities at a cost of $105M. To assist in the Council's review of budget language requiring a study, it also heard presentations about the various models to deploy broadband, including:
Albemarle County presented on the public/private partnership model of broadband deployment.
The Roanoke Valley Broadband Authority spoke about the municipal broadband authority.
The City of Danville on the municipal open access networks.
The proposed budget has the following Broadband Study Language:
"The Broadband Advisory Council shall assess updating the Virginia Telecommunication Initiative (VATI) to allow for public broadband authorities to apply directly for VATI funds without investment from the private sector. The Department of Housing and Community Development on behalf of the Council shall submit feedback on the potential impacts of this policy change to the Chairs of the House Appropriations and Senate Finance and Appropriations Committees on or before the start of the 2021 General Assembly Session."
In August of this year, Delegate Kory the Chairman of the Counties, Cities and Towns Committee wrote a letter asking the Department of Housing and Community Development (DHCD) to review existing legal barriers to municipalities offering broadband services especially to low income residents at a reduced cost or free.
On October 27 her received a response from Erik Johnston, DHCD's director. In closing, Director Johnston summarized his review by stating that "the majority of local government broadband availability and affordability efforts for residents and businesses are undertaken with the private sector. There are currently legal avenues for localities to provide broadband service yet, as this letter outlines, there are some major limitations in current law. These limitations have prevented localities from directly providing broadband service either through creating new broadband infrastructure or sharing access to locality owned infrastructure with broadband authorities to serve residents that cannot afford provide sector service."
Read the full letter from Director Johnston here >.
VML continues to assert that localities should have as many tools as possible to expand broadband including the ability to deploy broadband without a private provider partner.
The Broadband Advisory Council will meet again on December 4 to discuss a recommendation to the General Assembly related to the budget language listed above.
VML Contact: Michelle Gowdy, mgowdy@vml.org
Education
Legislators discuss pre-K to 12 trends, priorities during annual education summit
The House Education and Senate Education and Health Committees met virtually Monday and Tuesday for their annual review of the state's outlook ahead of the 2021 session. While much of the conversation followed familiar themes – funding challenges, stakeholder engagement, and career development – other components reflected concerns about the longer-term impacts of current events. Panels of experts, state agency representatives, and Virginia public school superintendents addressed issues including educator diversity and lessons learned in remote learning, with particular attention paid to broadband accessibility. Although panelist Kathryn de Wit of The Pew Charitable Trusts observed that Virginia has been among the more successful states in its efforts to make internet more accessible during the pandemic, educators and participants focused on ongoing challenges and the need to build networks that will meet future needs.
VML Contact: Jessica Ackerman, jackerman@vml.org
Opportunities
Incentive programs for electric vehicles announced
Two programs providing incentives for electric vehicles (EVs) have been announced recently. These two programs are described below.
Dominion Energy's "Smart Charging Infrastructure Pilot"
Dominion Energy's "Smart Charging Infrastructure Pilot" program The SCIP program provides incentives to Dominion's non-residential customers for smart electric vehicle (EV) charging infrastructure and data collection. Smart charging equipment enables charging stations to communicate with the charging network and provides charging utilization data to both site hosts and Dominion. Smart charging equipment also has the functionality to provide future grid services.
The SCIP Program offers rebates to help cover the costs of "make-ready" infrastructure along with the purchase and installation of approved EV charging equipment. Rebates will be available on a first come, first serve basis, while funding lasts. The Pilot Program will continue until it reaches capacity.
According to the SCIP FAQs, participating jurisdictions will own the EV charging stations; they'll also be responsible for operation and maintenance of the charging stations and the associated costs. More information is available at the Dominion website here >.
Department of Environmental Quality's "Clean Air Communities Program"
In a competitive application process, DEQ will award $20 million to government entities for all-electric projects that will eliminate harmful air pollutants and mitigate climate change as part of its "Clean Air Communities Program" (CACP).
The DEQ's CACP will use funding from the settlement with VW to replace publicly owned large and medium-duty trucks and shuttle buses with electric vehicles. Charger installation also would be covered. Vehicles to be replaced must meet a minimum annual mileage requirement of 5,000 miles. Transit and school bus programs are separate parts of the VW Mitigation Plan.
CACP applications are due January 11, 2021, with awards to be announced in March 2021. CACP eligibility is limited to state or local government agencies or a tribal government or native village. Government agencies include school districts, municipalities, cities, counties, special districts, transit districts, joint powers authorities, or port authorities.
Information about the CACP is available on the DEQ website here >.
Resources available at the website include including recordings of informational webinars, FAQs from the DEQ's October 21 webinar, and required forms.
VML Contact: Sandra Harrington, sharrington@vml.org
Opportunity for localities to provide input on the role of public libraries
The Center for Technology in Government (CTG UAlbany), which is part of the University at Albany, State University of New York is conducting a survey titled in "Local Government Survey: Smart City/Community Development and the Role of Public Libraries". The survey aims to better understand the factors that affect the success of local governments' smart city/community development efforts and how local government perceive the role that public libraries are playing/or should play.
VML encourages our member localities to participate. You can access the survey here >.
More information on the project is available here.
The survey will be open until December 18, 2020.
Contacts: Xiaoyi Zhao-Yerden, xzhao6@albany.edu or Brian Burke, gburke2@albany.edu
Virginia Farmland Preservation Fund certification available for 2021 funding
The Virginia Farmland Preservation Fund has $270,000 in available funding for the FY 2021 allocation round. The deadline for both the fiscal and program certification forms is Friday, December 18, 2020.
The certification forms for the FY 2021 round of state matching funds to local purchase of development rights (PDR) programs from the Virginia Farmland Preservation Fund are available below:
This information is also available on the Office of Farmland Preservation website.
Contact: Jen Perkins, Coordinator, Office of Farmland Preservation, Virginia Department of Agriculture and Consumer Services, jennifer.perkins@vdacs.virginia.gov