eNews November 12, 2021

Friday, November 12, 2021 - 04:20pm
A note to our readers: Due to the Thanksgiving holiday, the next regular edition of eNews will occur on Friday, December 3rd. Of course, we will publish Special Editions as needed. Happy Thanksgiving!
In this issue:
VML News
New episodes of VML podcast now available: "Conference Connections: Parts 1-4"
VML's Annual Conference is a great place for local government leaders in Virginia to share stories, trade experiences and build connections. The VML Voice is pleased to offer this four-part series of podcasts recorded during the 2021 Annual Conference held Oct. 3-5, 2021, at the Lansdowne Resort in Leesburg featuring guest host, VML President and City of Fairfax Councilmember Jon Stehle.
Episode 1 – Listen here >
Kaj Dentler – Town Manager, Town of Leesburg
Mercury Peyton – Town Manager, Town of Vienna
Michael Spurlock – Convention Services Manager, Richmond Region Tourism
Jennifer Lawson – Volunteer, Pennington Gap's Lee Theater
Episode 2 – Listen here >
Leslie Hager-Smith – Mayor, Town of Blacksburg
Susan Anderson – Councilmember, Town of Blacksburg
Lauren Colliver – Councilmember, Town of Blacksburg
Charles Davidson – Director, The Carter School's Political Leadership Academy at George Mason University
John Chapman – Councilmember, City of Alexandria
Episode 3 – Listen here >
Kathy Lawson – Mayor, City of Martinsville
Jennifer Bowles – Vice Mayor, City of Martinsville
Bob Roop – PE – Infrastructure Division Senior Vice President, Timmons Group
Paul Trapp – Director of Infrastructure Services, Timmons Group
Episode 4 – Listen here >
Ross Litkenhouse – Councilmember, City of Falls Church
Sanith Wijesinghe – Technical Fellow, MITRE Corporation
Deb Zides – Defense Acquisition & Policy, MITRE Corporation
Don't miss an episode! Subscribe to the VML Voice here >.
VML Contact: Rob Bullington, rbullington@vml.org
Economy & Finance
What does the Senate infrastructure bill mean for local governments?
Senior Executive and Director of Federal Advocacy Irma Esparza Diggs from the National League of Cities has published a helpful article for local governments about the infrastructure bill recently passed by the Senate.
From the article:
Cities have been calling on Congress to get to work on an infrastructure package since 2016, and on August 10th, the Senate delivered. They passed the bipartisan Infrastructure Investment and Jobs Act (IIJA), which includes $550 billion in new federal investments in America's infrastructure, adding an estimated two million jobs per year to the national economy. From here, the bill will move to House, where Speaker Nancy Pelosi will decide whether to proceed to a vote or to wait for a reconciliation bill to come from the Senate as well before proceeding.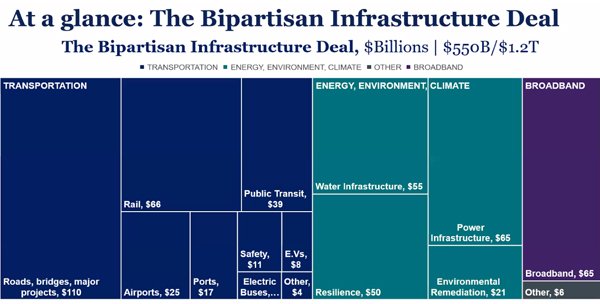 Related resources from NLC
These articles also deal with infrastructure legislation currently being considered:
VML Contact: Michelle Gowdy, mgowdy@vml.org
Commission on Local Government to finalize property tax exemptions report
The Commission on Local Government met on November 4, 2021, via Zoom and in-person. In the 2021 Special Session I, the General Assembly requested the Commission on Local Government (CLG) to study the fiscal effects of mandatory property tax exemptions on the Commonwealth's localities with the report due in November.
Specifically, CLG was asked to do the following:
Review the fiscal effects of mandatory property tax exemptions on the capacity of local governments to deliver essential services to the public;
Ascertain the impact of the exemptions on:

Property tax collections
The shift to and reliance on other local revenues to compensate for exempted properties, taxpayers, and
The ability of local governments to meet spending needs; and

Develop and include in its review potential recommendations to mitigate the fiscal impacts on local governments tied to these state exemption initiatives.
The CLG voted to accept the report with some minor changes. The preliminary version of the report is available here >.
When the changes are completed, the final version should be posted at the Commission on Local Government website.
Additionally, the CLG heard the FY2019 Fiscal Stress Report, the 2021 Cash Proffer Survey and Report and the Municipal Utility Data Reports which should also be posted on their website.
The Cash Proffer report showed that $103M monies were expended with $101M collected (both of which are significant increases). Interestingly, the biggest category of uses are parks, recreation, and open space – however it is noted that this is due to one locality's very large project.  The FY2019 fiscal stress report is worth reviewing to see where your locality ranks (keeping in mind that this data is pre-COVID). The consistent theme of the report is that city stress is greater than county stress. Lastly, the municipal utility data report shows that the number of accounts in arrears is declining and that there are still dollars available to help with accounts in arrears.
The presentation used for the November 4 meeting is available here >.
VML Contact: Michelle Gowdy, mgowdy@vml.org
Line of Duty Act contribution rate changes announced
Localities participating in the Virginia Line of Duty Act (VALODA) program through the Virginia Retirement System received notice this week that their contribution rates for paid full-time or part-time employees have been adjusted to take into account language in the Appropriations Act approved in April 2021 (Item 477 Q.2 of the Appropriation Act). This change increased the Virginia Line of Duty Act contribution rate to $722.55 for fiscal year 2022 to account for costs associated with passage of legislation related to benefit changes.
The invoice received by localities in July was based on the previously approved amount of $717.31, not the higher rate of $722.55; a $5.24 increase per full-time employee and $1.31 increase per volunteer.
Affected localities will receive another invoice to account for the difference between the new, higher rate and the previously invoiced amount, for their participant population as of the July invoice. A payment due date will appear on the invoice for the differential amount.
If you have any questions, please contact: LODA@varetire.org.
VML Contact: Janet Areson, jareson@vml.org
FOIA
The Virginia Freedom of Information Advisory Council endorses legislative concepts
The Virginia Freedom of Information Advisory Council (FOIA Council) met on November 10th  to take up three potential legislative concepts. All three concepts were endorsed by the FOIA Council.
HB2000 (Roem) would dramatically change the way that Freedom of Information Act (FOIA) is administered by our localities. The bill would require public bodies to provide at no cost the first two hours spent accessing or searching for requested records when such requester has made four or fewer individual records requests to such public body within 31 consecutive days. In addition, the highest rate that a locality could charge is $33/hour unless the locality petitions the court. Lastly, the bill requires public bodies to post on their website or otherwise publish a written policy (i) explaining how the public body assesses charges for accessing or searching for requested records and (ii) noting the current fee charged, if any, by the public body for accessing and searching for the requested records. VML and the Virginia Association of Counties (VACo) opposed this legislation in its current form.
HB2196 (Mulllin) discusses law-enforcement disciplinary records and allows for their release upon completed disciplinary investigations. The bill provides a definition of "law-enforcement disciplinary records" and allows for the redaction of certain personal contact information.
Lastly, the council took up the issue of electronic meetings outside of a state of emergency. While some amendments were made during the meeting the concept is in the draft available here >.  The proposal includes the option for a public body to add to their electronic meeting policy the ability for the whole public body to meet remotely two times or 25 percent of the times that the body meets. There are various requirements dealing with the posting of the agenda, the notice and minutes and the ability to view each member during the meeting. VML and VACo worked on this draft with the Coalition for Open Government and the Press Association.
VML Contact: Michelle Gowdy, mgowdy@vml.org
Housing
Accessory Dwelling Units: Report on the state of the market and local policy released
The "State of the Market and Local Policy: Accessory Dwelling Units in the Commonwealth of Virginia" report is now available*. View/download the full report here >.
*Please note that the report states that the study should be read in conjunction with the other housing studies that will be released later this year.
Background
During the 2021 Special Session I, HB2053 (Samirah) directed the Department of Housing and Community Development (DHCD) to convene a stakeholder advisory group to evaluate the construction of internal, attached, and detached accessory dwelling units as a strategy to address the Commonwealth's growing demand for affordable and market-rate housing. The report was to be completed by November 1, 2021.
Key findings
Most localities allow some Accessory Dwelling Units (ADUs) by-right with the exceptions of James City County and Chesterfield where a special use permit is required.
There is general acknowledgement that ADU ordinance enforcement is difficult and parking density is a major concern.
While looking at other states affordable housing units do not flow through ADUs to low-income and other groups because there are no guidelines or ordinances that really can enforce this concept. Therefore, it is typically family members and friends who get the affordable benefit, but it DOES increase the overall marketing supply of housing options.
The report also includes many examples of successful ideas from other states as well as things that Virginia localities are doing.
VML Contact: Michelle Gowdy, mgowdy@vml.org
Marijuana
What's happening with Marijuana in Virginia? An exercise in reading tea leaves.
Following recent meetings of the Cannabis Control Authority and a Subcommittee of the General Assembly's Cannabis Oversight Commission it is now clear that the outgoing Northam Administration and House Democrats, while hoping for the best, are acknowledging that it will be up to incoming Governor Youngkin and the next House majority to hammer out the final details on this issue.
Press comments from the current House Minority leader, and likely the next Speaker, Todd Gilbert (R-Shenandoah) as well as Delegate Glenn Davis (R-Virginia Beach) have made clear this week that the status quo of legal possession without legal avenues for purchasing recreational marijuana is untenable. In statements, they left the door open to the possibility of starting legal sales earlier than the current timeline of 2024.
Consumer advocates and industry representatives from Virginia's medical marijuana dispensaries testified at a Cannabis Oversight Subcommittee meeting that the existing medical dispensaries could be ready for recreational sales as soon July of 2022 with additional licensees up and running by 2023. Incoming Governor Youngkin has given little indication as to how his administration will act on this important issue. Although one could be excused for thinking of recreational sales as a dead issue given the unanimous opposition of House and Senate Republicans to the 2021 legalization bill passed by Democrats, it seems to have quite a bit of life left for the upcoming session. Indeed, Del. Gilbert believes it is now up to Republicans to fix what he has described as a "grenade rolling around" that without further fixes from the incoming House Republican Majority and Senate Democratic Majority will only empower the black market, something both parties seem to agree is best avoided.
How this issue is dealt with is still up in the air, but it is clear there will be efforts in both chambers to move the ball forward on legalizing recreational sales. What shape that might take and on what timeline – as well as the incoming Governor's preferences – are yet to be determined. We will continue to update members on developments as they occur. For now, our members should be aware that the timeline for legal recreational sales could be advanced significantly which could affect localities sooner than currently anticipated.
VML Contact: Mitchell Smiley, msmiley@vml.org
Transportation
JLARC review of transportation revenues proposes more local funding for bridges and transit
At its meeting earlier this week, JLARC received a report on transportation revenue funding indicating that transportation revenues are in a strong position to meet future challenges. The report also provided recommendations to improve existing transportation programs. These recommendations included increased funding to programs for localities, specifically by relaxing criteria for local road and bridge improvements. This study was conducted at the request of Delegate Terry Austin (R – Buchanan).
After the report was presented, Delegate Austin remarked that he was pleased to find that state transportation revenues are in a remarkably stronger position than prior to the passage of the 2020 transportation omnibus legislation.
A key question the report was tasked with answering was how well Virginia's transportation revenues are positioned to meet the Commonwealth's transportation needs as more new vehicles that do not use traditional fuels hit the road. The report found that because of the 2020 legislation, Virginia's transportation revenues are better positioned to meet the demands in the coming years. The report did recommend altering the State of Good Repair program to fund repairs and reconstruction of more bridges by allowing bridges in "fair" condition to participate in the program. This step would likely save money by addressing problems in these structures before they become deficient.
The report also recommended consideration of eliminating the cap on the proportion of State of Good Repair funding each district can receive. This would allow the program to have a larger impact on road and bridge conditions.
Among the concerns raised in the report is a concern that transit capital projects are not adequately funded. As such, the report recommends that the Commonwealth Transportation Board direct just under $40 million in transportation revenue surplus funds towards capital needs. The report also identifies challenges presented by the loss of ridership impacting transit agencies in Virginia. The report suggests that the Department of Rail and Public Transportation develop options for directing additional funding to transit agencies in the event that ridership does not return to pre-pandemic levels.
Ultimately, it is up to members of the General Assembly to take action and introduce legislation to follow through on these recommendations. VML will continue to update members of any legislation introduced as a result of this report.
VML Contact: Mitchell Smiley, msmiley@vml.org
Broadband
Commonwealth Connect Coalition meets to plan for 2022 General Assembly session
On November 5, the Commonwealth Connect Coalition met for a hybrid meeting at Longwood University in Farmville to discuss upcoming plans for the 2022 General Assembly Session. The Coalition was created four years ago with a focus on budget advocacy for broadband affordability and coverage in Virginia.
Governor Northam will release his final budget as he leaves office. Within this budget is hopefully a continued increase of funding for broadband. Virginia received $700 million in American Rescue Plan Act (ARPA) funds allowing the General Assembly to allocate federal funding for broadband determined by the budget. The Coalition drew attention to the federal infrastructure legislation that is currently being developed with particular emphasis on how this infrastructure is important to Virginia.
The Coalition drew attention to three upcoming pieces of legislation for the 2022 session:
Budget language on rail infrastructure
A new look at easements
Local Government Powers policy to be introduced by Chair of the Broadband Advisory Council Senator Boysko which will require new developments to require that broadband be included to continue working towards the goal of universal coverage.
VML will continue to report on any upcoming broadband legislation and related efforts by the Commonwealth Connect Coalition.
VML Contact: Josette Bulova, jbulova@vml.org
Events & Opportunities
Route Fifty's "Tech Summit" happening next week
Route Fifty's Tech Summit will take place November 15 through 19. During this inaugural event, leaders from across state and local government will come together to explore the relationship between innovative modern tech and state and local governments' responsibility to effectively serve their citizens. The five-day virtual event will include panel discussions and interactive workshops.
This virtual event is completely free to attend.
Date: November 15 – 19
Time: 12 PM – 3 PM ET each day
Hashtag: #RFTechSummit21
More information is available here >.
Registration is available here >.
What to expect
Attendees will benefit from a series of digital conversations focusing on key tech policy priorities, civic tech initiatives, tactics for migrating to the cloud, and more!  Preview the agenda here >.
A promotional flyer for the event is available here >.
Route Fifty Contact: Audience Marketing Manager Kayla McCloud, kmccloud@govexec.com
National Civic Review fall edition now available
The Fall Edition of the National Civic Review features five policy briefs created by Healing through Policy: Creating Pathways to Racial Justice. The new initiative—a collaboration between The National Collaborative for Health Equity, The American Public Health Association, and The de Beaumont Foundation—seeks to provide evidence-based policies and practices for communities seeking to advance health, racial equity, and justice.
To access this edition, go to the table of contents where you will be prompted to enter your unique access code: VML21.
VML Contact: Rob Bullington, rbullington@vml.org