eNews Nov. 27, 2019
Wednesday, November 27, 2019 - 09:43am
Happy Thanksgiving!
The VML staff wishes you and your family all the best for the holiday. We are thankful that you subscribe to our eNews bulletin and look forward to continuing to inform you about the issues and events that affect our members.
In order to spend time with our friends and families, we will not be publishing a regular eNews this week. The next eNews will arrive on Friday, December 6. However, we encourage you to check out these upcoming events:
Virginia Chamber 2019 Economic Summit
Join the Virginia Chamber Foundation in Richmond on Friday, December 6 as they celebrate the CNBC ranking of Virginia as the #1 State for Business. Hear business and legislative leaders discuss how they will work together to secure the economic future of the Commonwealth.
Visit the 2019 Virginia Economic Summit website for details and to register.
Free webinars on legal topics affecting local governments
The State & Local Legal Center wants all interested parties to be aware of three webinars scheduled for early December. All are free and open to anyone. Though they are all on legal topics, they are designed for a non-attorney audience.
​December 6, 1PM Eastern: Net Neutrality for State and Local Government Officials
The D.C. Circuit has recently ruled (mostly) in favor of the Federal Communication Commission's order retreating from net neutrality. This webinar will provide a non-technical explanation of the court's ruling. Speakers will also explain how this ruling will impact state and local governments and what authority states and localities have to enact net neutrality laws and policies in their own jurisdictions.
Speakers:
Negheen Sanjar, Director of Legal Research, International Municipal Lawyers Association
Chris Lewis, President and CEO, Public Knowledge
Register here >
​​
December 9, 1PM Eastern: ADA Compliant Websites
​Local governments and many other entities across the country have been sued for violating the Americans with Disabilities Act (ADA) because their websites are not accessible to persons with disabilities. Minh Vu, Seyfarth Shaw, will discuss the laws that require accessible websites, why government entities have been targeted for lawsuits, and what state and local government officials can do to avoid being sued.
Register here >
December 11, 1PM Eastern: WOTUS and Clean Water Act Update For State and Local Government Officials
​Keeping track which Waters of the United States (WOTUS) rule applies where and for how long is a fulltime job. Samuel Brown, a former EPA attorney and currently a partner at Hunton Andrews Kurth LLP, will provide an overview of how we got to the recent repeal of the 2015 WOTUS rule, what WOTUS rule applies throughout the United States right now, what final rules replacing the repeal of the 2015 WOTUS rule might look like, and how the upcoming presidential election may affect the definition of WOTUS and all the litigation surrounding it.
Register here >
VML events in early 2020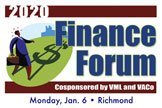 January 6 – Finance Forum
Cosponsored by VML and VACo, the finance forum provides an excellent opportunity for local elected officials and staff to receive important information about the budget and legislative issues for the 2020 session.
Details and registration available here >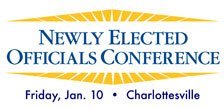 January 10 – Newly Elected Officials Conference
VML's Newly Elected Officials Conference provides a valuable opportunity for both new and seasoned public officials to learn from speakers with extensive experience working with local government officials. Furthermore, the conference offers an excellent opportunity to learn what it takes to succeed and how to avoid common pitfalls as an elected official.
Details and registration available here >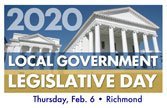 February 6 – Local Government Legislative Day
This year, VML is partnering with the Virginia Association of Counties and the Virginia Association of Planning District Commissions for Local Government Legislative Day in Richmond. This program will feature briefings on issues of greatest importance to localities during the 2020 General Assembly from state officials and staff. All attendees will then be encouraged to visit General Assembly members and committee meetings at the Pocahontas Building and the Capitol, before returning to the Omni Hotel for a brief reception and meet-up time with their delegation members.
Details and registration available here >