eNews Nov. 15, 2019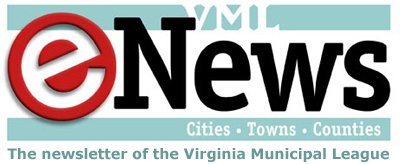 Friday, November 15, 2019 - 03:12pm
In this issue:
Announcements
VML now accepting entries for our 2020 "If I Were Mayor" essay contest
The Virginia Municipal League (VML) invites all eligible Virginia 7th Graders to join its "If I were Mayor" essay contest.
Regional winners selected from around the state will each receive a $150 cash prize and plaque. One statewide winner chosen from the regional winners will receive a $250 cash prize and plaque. The runner-up from the region that receives the statewide award will become that region's winner.
Visit the Essay Contest page on our website for a full description what students need to write about, eligibility requirements, rules and regulations, a sample essay and instructions for submitting essays online or by mail.
All entries must be received by end of day on Friday, January 31st.
VML Contact: Rob Bullington, rbullington@vml.org
Economy
General Assembly likely to tinker with local revenue
Can the Democrats use a six-burner stove to cook 20-pots and pans at the same time?
As a result of this month's elections, Virginia Democrats have achieved for the first time in 26-years a political trifecta, capturing both houses of the General Assembly while simultaneously occupying the Governor's Mansion. An intrepid time traveler would have to zip through the McAuliffe, McDonnell, Kaine, Warner, Gilmore, and Allen administrations before arriving at the Wilder administration in the year 1993 to experience the last (fleeting) period of Democratic legislative hegemony.
After wandering the political desert for almost three-decades, Democrats are more than excited about the prospects of the upcoming 2020 Session. The table below includes, but is not limited to, issues that the Democrats will likely want to (or must) address.


Or, to put it another way: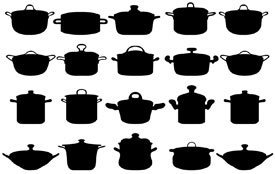 …and, the budget!
The above list does not include the 2020-2022 budget which will be debated next year. This is the one budget that Gov. Ralph Northam will propose and execute during his term in office. Funding decisions for elementary and secondary education, public safety, water quality, health and human resources, and transportation will have to be made within the parameters of available resources and campaign promises.
The question: Even with just this partial list of issues, how can the new majorities handle the legislative crush?
The answer: Several constraints will force the majorities to learn patience or to live with disappointment.
Constraint #1 – Time
The Virginia Constitution limits the even-year session to sixty days, although up to an additional 30-days can be tacked on if two-thirds of each chamber agrees. If the lessons of past sessions serve us well, it is highly unlikely that General Assembly members will end up extending their hotel and motel reservations for another month.
Constraint #2 – Process & Procedure
House Democrats have been powerless for so long their institutional memory is almost certainly hazy (if not completely faded) in terms of chairing committees and subcommittees, successfully managing legislative proposals on the House floor, and handling the daily and complicated logistics of a session. For Senate Democrats, the leadership learning curve is decidedly less steep having been out of the majority since only the 2011 session.
Constraint #3 – Money
Many winning Democrats ran on campaign promises to improve and expand education opportunities, fix transportation and other infrastructure needs, increase health and mental health services, and confront climate change. Inexpensive to say, decidedly more expensive to achieve.
Although local governments will be interested or even supportive of the "promises made" it is the "promises kept" that may prove problematic. If indeed there is a structural imbalance between revenues and spending in the state budget as Finance Secretary Aubrey Lane says, then no one should be surprised if some portion of the costs tied to "promises made" is bumped to localities. It's a General Assembly tradition to tinker with local revenue no matter which party calls the shots. So, in this respect, we should bear in mind the sage wisdom of Messrs. Daltrey, Townsend, Entwistle and Moon who proclaimed back in 1971's Won't Get Fooled Again, "Meet the new boss, Same as the old boss."
Learn more
For more on this subject, be sure to attend the VML-VACo Finance Forum in Richmond on January 6 (see Events section below). Our speakers will share with you what the change in political decision-making means for your local budget.
VML Contact: Neal Menkes, nmenkes@vml.org
Environment
Recycling programs face challenges
In recent years the market for recyclable materials has tightened. As a result, recyclable paper, aluminum and glass products are less valuable, which in turn has increased costs for recycling programs around the nation and here in Virginia. This has forced many localities to make difficult decisions about the viability of existing recycling programs. The Virginia Department of Environmental Quality (DEQ) has published a report outlining challenges and examining potential paths forward. Also recommended is Katharine Hafner's article in the Virginian-Pilot which examines the international market forces driving the changes to recycling programs.
Both publications make it clear that global forces mean Virginians will need to reassess how their recycling programs are structured, managed, and operated.
VML Contact: Mitchell Smiley, msmiley@vml.org
Transportation
VDOT updates training programs for localities
Training to be required starting in 2020
The VDOT Local Assistance Division has updated the training programs offered to assist localities that administer federally funded transportation projects. Starting in 2021 any local government administering a federally funded project will be required to have at least one full-time employee who has completed these trainings.
These trainings also will be more important starting in 2020 given the decision to federalize State of Good Repair Primary Extension.  These classes are free and currently only open to local government and Planning District Commissions.
Training schedule and more details can be found here >
VML Contact: Mitchell Smiley, msmiley@vml.org
Events
Finance Forum registration open
Cosponsored by VML and VACo, the Finance Forum will be held on Monday, Jan. 6 at the Delta Hotel in downtown Richmond from 10:00 a.m. – 3:30 p.m. The Finance Forum provides an excellent opportunity for local elected officials and staff to receive important information about the budget and legislative issues for the 2020 session.
For more information and to register visit VML's website here.
For those who need lodging, there is a room block at the Delta Hotels Richmond Downtown. You can make a reservation by calling 844-781-7397 or by using this reservation link.
Members of city and town councils and county boards of supervisors, managers and administrators, budget and finance officers, legislative liaisons and other interested local government staff are encouraged to attend.
VML Contact: Sandra Harrington, sharrington@vml.org
Newly Elected Officials Conference registration open
The VML Newly Elected Officials Summit will be held Friday, January 10, 2020 at the Thomas Jefferson Planning District Commission in Charlottesville. This will be a one-day summit covering essential topics including FOIA/COIA, budgeting, and council/manager relations.
Additional info and registration are available here >
VML's Newly Elected Officials summits provide a valuable opportunity for both new and seasoned public officials to learn from speakers with extensive experience working with local government officials. Furthermore, they offer an excellent opportunity to learn what it takes to succeed and how to avoid common pitfalls as an elected official.
Registration is $40, which includes conference materials and lunch.  More details will be provided later but be sure to go ahead and register now!
VML Contact: Mitchell Smiley, msmiley@vml.org
Local Government Legislative Day registration open
This year, VML is partnering with the Virginia Association of Counties and the Virginia Association of Planning District Commissions for Local Government Legislative Day in Richmond. The February 6 program will feature morning briefings on issues of greatest importance to localities during the 2020 General Assembly from state officials and staff. During the afternoon, attendees are encouraged to visit General Assembly members and attend committee meetings at the Pocahontas Building and the Capitol, before returning to the Omni Hotel for a brief reception and meet-up time with their delegation members.
For registration and additional information, including hotel reservation info, visit the VML website here.
VML Contact: Sandra Harrington, sharrington@vml.org