eNews Nov. 1, 2018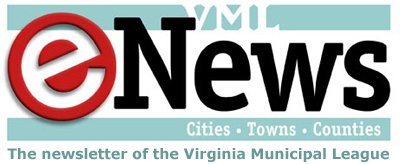 Thursday, November 01, 2018 - 02:14pm
In this issue:
October issue of Virginia Town & City now available online
Registration open for legislative update sessions
Deadline to submit comments on proposed cable rule changes
Funding for core services in the 2019 General Assembly session
Deployment plan for NextGen 9-1-1
NextGen 9-1-1 webinar
SIEC meeting in Roanoke
Small cell deployment update
Recent economic news
Unmanned Aircraft Systems group convenes
Private special education day rates study commences
2008 recession continues to affect Virginia student performance
Fall treat: October issue of Virginia Town & City now available online
Subscribers to VML's magazine may be wondering what happened to the October issue. Don't worry, it's in the mail, but was delayed by the work needed to put on our 2018 Conference. In the meantime, if you want to check it out – including all the great photos from the conference – we've posted it early to our website. Enjoy!
VML Contact: Rob Bullington, rbullington@vml.org
Register now for VML's fall regional legislative updates
Did you miss the 2019 Annual Conference? Join us at one of our upcoming regional legislative update sessions for a review of VML's 2019 Legislative Agenda.

Northern Virginia:
Tuesday, November 27th, 1:00-3:00 p.m.
The Barns at Rose Hill
95 Chalmers Court
Berryville, Virginia 22611
Southwest Virginia:
Wednesday, December 5th, 6:30-8:30 p.m.
Anna's Restaurant
100 Monroe Street
Narrows, Virginia 24124
$15 registration fee
Registration for the events is available via the VML website.
VML Contact: Jessica Ackerman, jackerman@vml.org
Local authority over cable companies preempted in proposed federal rule
Local governments have until Nov. 14th to submit comments
The Federal Communications Commission has published a Notice of Proposed Rulemaking that proposes to limit state and local cable franchising revenues and preempt local authority over non-cable services and infrastructure that cable companies provide.  VML will submit comments and asks that you consider doing the same.  Comments are due by November 14th; if you send a letter please copy VML as well.  This Senate Letter provides an overview of the issues, but the details are unique to each community.
VML Contact: Michelle Gowdy, mgowdy@vml.org
Funding decisions related to core services will figure prominently in 2019 General Assembly session
People of a certain age who grew up in the New York City metro area during the 1960s remember a radio jingle for a men's clothier that played relentlessly on late-night WABC AM radio. Dennison's Clothes located in the median of Route 22 in Union, N.J. was open from 10:00 in the morning to 5:00 the next morning and promoted itself as the place "where money talks and nobody walks." If you had $24.90, the friendly folks of Dennison's could find you a new sports coat.
The General Assembly will have more than a little bit of money in the upcoming session, and local governments wonder if the legislature will spend more to help pay for core services such as public education and transportation. Let's consider each in turn.
Education
In an editorial published last week in The Virginian-Pilot, Richmond Mayor Levar Stoney hammered home the point that the K-12 education system is woefully underfunded. "Old buildings, staffing cuts, stagnant salaries, outdated technology and dwindling school supplies are just a few of the issues plaguing the learning environments for students across the commonwealth."
Since fiscal year 2009, inflation and budget cuts have reduced the level of state-funds-per-pupil support. As the budget gap between the state's Standards of Quality and state appropriations increased to $600 million each year, Virginia localities have ponied up more local dollars to pay the true cost of education. In FY 2017, Virginia's local governments spent $4 billion above the required local share for Standard of Quality (SOQ) programs.
Is anyone in Richmond listening? Well, the Virginia Department of Education submitted over a quarter of a billion dollars in budget requests in FY20 dealing with increasing teacher pay, hiring more school counselors, supporting local pre-school initiatives, and other items.
Transportation
Concerning transportation funding, a presentation made at the 2018 VML Annual Conference by Jim Regimbal of Fiscal Analytics showed transportation revenue growth as flat as a pancake from fiscal years 2019 through 2024.
Future Transportation Revenue Growth Expected to be Flat

($s, millons)

Fiscal Year

State*

Federal

Regional

WMATA Pass-Thru

Bonds

 

Total

2019
$4,251
$1,143
$472
$135
$147
$6,147
2020
$4,191
$1,087
$467
$135
$302
$6,182
2021
$4,288
$1,104
$477
$136
$397
$6,403
2022
$4,124
$1,122
$486
$137
$76
$5,946
2023
$4,108
$1,141
$495
$137
$296
$6,177
2024
$4,172
$1,159
$505
$138
$125
$6,099
*Includes local participation and toll revenue

Source:  June 2018 VDOT budget presentations to the Commonwealth Transp Board
This unfortunate trend means fewer new construction dollars for roads and bridges and fewer dollars to meet the capital needs of Virginia's transit systems.
The table below illustrates the state's inability to meet construction needs based on Smart Scale applications. Smart Scale was approved by the General Assembly in 2014 as a process to evaluate road and transit projects and to remove politics from transportation decisions.
Smart Scale Process Indicates Transportation Needs Exceed Resources

 

FY 2018 Applications Round
Statewide
Total Project Costs Requested
$10.9 billion
Total Smart Scale Funding Requested for Projects Above
$8.6 billion
Project Costs Accepted
$2.4 billion
Smart Scale Funds Allocated
$1.0 billion
% of Smart Scale Requests Actually Funded
12.0 percent
Transportation projects to improve safety along the I-81 Corridor or to provide capital and operating assistance to transit systems other than Washington Metropolitan Area Transit Authority (WMATA) and Virginia Railway Express (VRE) will probably require revenue streams beyond those now in effect or significant state general fund resources or both.
The takeaway: Meeting the increasing demands and costs to fund and provide core services such as education and transportation should be a General Assembly priority in the 2019 session.
VML Contact: Neal Menkes, nmenkes@vml.org
Localities urged to review NextGen 911 deployment plan
It is imperative that local officials review and understand the NextGen 911 Draft Deployment Plan that has been released by the Virginia Information Technologies Agency.  The state is funding the initial upgrade, but the cost of running the system will be up to localities after a certain period of time.  Here is a link to the Funding Formula changes so that you can see what the impact would be on your locality.  There will be an impact and the timing of the financial impact is based upon when deployment occurs in your area.  The proposed timing is outlined in the deployment plan.
VML Contact: Michelle Gowdy, mgowdy@vml.org
Webinar regarding Next Generation 9-1-1 to be held on November 7
As many of you are aware, Public Safety Answering Points (PSAPs) across the country need to be upgraded to a digital or Internet Protocol (IP)-based 911 system, commonly referred to as Next Generation 9-1-1 (NG911).
According to 911.gov: "The transition to NG911 will involve much more than just new computer hardware and software. Implementing NG911 in states and counties nationwide will require the coordination of a variety of emergency communication, public safety, legislative and governing entities."
Here in Virginia we are ready to move forward; it is time for each PSAP and locality to consider their options and decide how they would like to proceed with NG 9-1-1.
On Wednesday, November 7 at 2:00 pm, the staff of the Integrated Services Program (ISP) of the Virginia Information Technologies Agency (VITA), the commonwealth's consolidated information technology organization, will host an informational webinar titled "NG9-1-1 the Next Steps, Options, and Your Decisions."
The webinar will provide a brief overview of the current situation in Virginia and offer helpful suggestions how a PSAP may want to proceed with making NG9-1-1 decisions. Additionally, the webinar will cover the most frequent questions VITA ISP staff have encountered regarding next steps. If local decision makers have not yet been brought into the discussion about NG9-1-1, this will be a good opportunity for them to understand the background and the process going forward.
To take part in the webinar, interested individuals should call in just before 2:00 pm to 1-866-842-5779 and use PIN 8248087601. Then, when it's time, use this link to join the meeting.
VML Contact: Michelle Gowdy, mgowdy@vml.org
Statewide Interoperability Executive Committee (SIEC) meets in Roanoke
NextGen 9-1-1, FirstNet, COMLINC and use of federal interoperability channels discussed
A presentation on the NextGen 9-1-1 plan was made at the Oct. 23 meeting in Roanoke of the Statewide Interoperability Executive Committee (SIEC).  The SIEC, which meets quarterly, also had an update on FirstNet–with a lot of questions regarding coverage and the use of FirstNet in Virginia.  FirstNet is a public safety communications platform that is designed to enable public safety agencies and first responders to receive information more quickly and enable better decision-making. Also discussed was the Commonwealth's link to interoperable communications (COMLINC) and its viability in Virginia. This is an old system for public safety agencies to better communicate with each other and is in desperate need of an update or change. The questions are how to fund it and what is the right solution?  This report is in draft form and will be rolled out in the near future.
Lastly, the SIEC voted to approve a memorandum of understanding between the US Department of the Interior and the Commonwealth regarding the use of federal interoperability channels by non-federal entities.  This agreement will allow state and local law enforcement to work with federal users of these channels at times when law enforcement of all levels need to be in communication.
VML Contact: Michelle Gowdy, mgowdy@vml.org
Update on small cell deployment
VML joins in petitioning for reconsideration of new rules
VML, the Town of Middleburg, the City of New Orleans, the Kentucky Municipal League and the Government Wireless Technology and Communications Association are participating in a petition for reconsideration of the small cell rules recently released by the Federal Communications Commission.  At last count, there are six lawsuits in addition to what is expected to be numerous petitions filed on this matter.  However, unless either the FCC or a court acts to stop the regulations, these changes will be effective January 14th. Localities should begin to prepare for the implementation of the FCC Order.
As background, in mid-October, the FCC issued a declaratory ruling, third report and order that sets the stage for a fight with local governments across the country. The ruling means that as 5G is deployed, many of our localities will be adversely affected in several ways.
First, the FCC proposes an extremely broad expansion of the definition of "effective prohibition" of cellular services that will almost certainly invite challenges to long-standing locally owned rights-of-way and usage requirements. The definition opens local governments to the likelihood of more conflict and litigation over matters such as aesthetics, spacing and undergrounding. VML feels strongly that localities should have the authority to prescribe the location and appearance of these small cells.
Second, the FCC's proposed new shot clock categories (i.e. the time limits for local actions on permit requests) do not give localities enough opportunity to review applications; the categories fail to account for a pre-existing structure's design or suitability for wireless equipment. Additionally, the lack of federal historical and environmental reviews places additional burdens on local governments to protect historic preservation sites and evaluate environmental and/or safety concerns.
Third, the proposal's definition of "fair and reasonable compensation" means a maximum of $270 in compensation for every small cell installation in every locality across America regardless of circumstances. This mandated fee for one industry has the potential to discriminate against other industries that may use the same asset. Furthermore, local governments will lose the ability to negotiate fair deals with wireless providers which in many cases have provided additional benefits to the community.
VML Contact: Michelle Gowdy, mgowdy@vml.org
Recent economic news comes in two varieties: good and troubling
First, we'll have a taste of some good news. In September, Virginia's seasonally adjusted unemployment rate fell by a fractional point to 2.9% — the lowest rate since June 2007. Statewide employment increased by over 5,000 jobs during the same month to a record level of 4,025,200, marking the ninth consecutive monthly rise.  Over the year, seasonally adjusted total nonfarm employment increased in all of Virginia's metropolitan areas.
Job Growth from September 2017 to September 2018

 

Metropolitan Area
Job Gains
Northern Virginia
27,100
Richmond
8,900
Charlottesville
5,300
Virginia Beach-Norfolk-Newport News
4,700
Roanoke
2,300
Winchester
2,200
Lynchburg
1,600
Staunton-Waynesboro
1,200
Harrisonburg
600
Blacksburg-Christiansburg-Radford
300
Source:  VEC News Release, October 19, 2018
But not all the economic news is sweet; in fact, some of it is troubling and leaves a decidedly bitter taste. The recent ups and downs (but mostly downs) this week and last for the Dow Jones Industrials, Standard & Poor's 500, and the tech-heavy Nasdaq composite index have investors shaking their heads. Are these simply benign market corrections or something more potent?
The Dow Jones dove more than 600 points last Wednesday. As of the close of business on Monday, it had dropped 8.9% from its peak in early October. The benchmark Standard & Poor's 500-stock index shed 3% last Wednesday, wiping out its gains for the year. It was down 9.9% from its peak as of Monday of this week.  The Nasdaq composite index was down 4.4% having fallen more than 12% since early September.
Many believe that the stock market is facing serious challenges due to interest rates slowly rising, doubts about the profitability of certain companies and growing fears that the U.S.-China trade squabble is worsening as the U.S. prepares to announce tariffs on all remaining Chinese imports if trade talks in December fail to break the impasse.
President Trump's assessment of Wall Street is different, claiming that the stock market was taking a "little pause" amid anticipation for next week's midterm elections. Political uncertainty can make investors twitchy.
Closer to home, the Governor's Advisory Council on Revenue Estimates (GACRE) may also be getting nervous. Their meeting scheduled for November 19 will help determine the amount of revenue flexibility Gov. Northam has in funding his budget amendments for the 2019 Session.
The next few weeks of economic and political news could bring greater certainty or may increase the fuzziness about the country's and Virginia's economies. Stay tuned.
VML Contact: Neal Menkes, nmenkes@vml.org
Unmanned aircraft systems study takes off
VML to have a voice in exploring issues related to use by federal, state and local governments
Do you know the difference between an Unmanned Aircraft System (UAS) and a "model aircraft?" The Federal Aviation Administration parses the difference by noting that a model aircraft is a type of UAS that "is flown within visual line-of-sight of the person operating it" and "is flown for hobby or recreational purposes." And, until relatively recently, "model aircraft" were the only types of UAS that the average person, business or local government would need to concern themselves with. However, the advances in technology for UAS platforms capable of being operated out of sight of the controller and for purposes other than recreation has made these sophisticated systems accessible to all. The possible benefits of these systems are numerous, as are the potential risks and complications.
To this end, the UAS work group, created to "explore issues related to unmanned aircraft system activities" (as stipulated by SB307), met on October 22 to discuss how to move this industry forward in Virginia. It was proposed that the effort be divided amongst 4 sub-groups with each handling a different aspect of the subject:
Business Development

State funding for UAS businesses, start-ups and consumers
Other funding sources for UAS businesses and start-ups
Central point of contact to develop, support, promote, reach out to UAS industry

FAA & State Regulation

Recommendations to the FAA, Congress
State Legislation
Effects of HB638 on commercial UAS operation in VA

Education

Public
Future UAS workers

Federal, State and Local Government use of UAS

Police, EMS, environmental, engineering, other
Higher education use and development of UAS
VML has been placed on sub group #4 with Shawn Talmadge, Assistant Secretary of Public Safety and Homeland Security as its chairman.  These sub-groups will meet in November with a report to the whole group in January of 2019.
Special Thanks for Mark Flynn, Director of the Department of Aviation and former VML General Counsel for including VML.
VML Contact: Michelle Gowdy, mgowdy@vml.org
Consultant study of private special education day rates gets underway
The growing use and cost of private special education day school placements paid for through the Children's Services Act (CSA) has caught the attention of local governments and state legislators in the last few years.
Language approved by the General Assembly since 2017 has initiated various efforts to increase understanding of the growing use and cost of these services as well as options for the state to pursue. These efforts include a study by the House and Senate budget staff and state agency staff to look at options to manage quality and costs of private day placements; an interagency workgroup to look at the barriers to serving children with disabilities in public schools; and a workgroup to look at outcome measures for student progress in private day education placements.  This latter workgroup is coordinated by the Office of Children's Services and the Department of Education and includes state agency staff, private education providers, parents, and local governments.  The General Assembly also capped the increase in payments for day program services at two percent for FY2020.
Another effort underway is a private consultant study of private day program costs and rates, including the adequacy of those rates.  The goal is to provide a better understanding of the costs of providing private special education day programs in Virginia and to develop rate recommendations.  PCG, a management consulting firm headquartered in Boston with 46 offices nationwide, is conducting the study.  The study team met this week with various stakeholder groups to introduce themselves, give an overview of the study, and answer questions.  More than 50 CSA and other local staff from across the state participated in such a meeting on Oct. 29 in the Richmond area.
The PCG study will focus exclusively on the costs and rates of the private programs.  Participation by providers will be voluntary.  Given the level of detail of costs that will be asked of providers – including staff salaries and benefits, service and operating costs, lobbying costs, supplies, as well as fund raising and development revenue and overall revenue – it remains to be seen how many will want to participate, and to what extent detailed information will be released to the consultants.
Some local government participants at the Oct. 29 meeting expressed concern that no local costs (such as transportation, which for some localities include trips of more than 40 miles one way to transport children to and from private day schools) would be considered in this study.  And, while the study is supposed to look at a possible rate setting structure, some expressed concern that the results would be used to set a ceiling on the amount that the state would consider for shared reimbursement through CSA. Localities would then be left to pay the balance since services provided would not necessarily come in under that ceiling and no public entity can deny services called for in a special education Individual Education Plan (IEP).
The consultants are currently conducting national research to understand how special education day rates are handled in other states, how those costs are shared between state and local governments and school districts, how rates are developed and what costs are included, and how other states' rates compare to Virginia.  A preliminary report will be issued this December; a final report is due in June 2019.
VML Contact: Janet Areson, jareson@vml.org
Report highlights lasting impact of 2008 recession on academic performance
The long tail of the 2008 recession is still being felt in Virginia's schools. The Virginia Early Childhood Foundation (VECF) reports that children who were 4 years and younger during the recession experience lower performance on standardized tests later in childhood due to the higher rates of exposure to prolonged poverty. Furthermore, VECF's Biennial School Readiness Report Card, released this week, suggests that Virginia will continue to see lower pass rates on third-grade Standards of Learning (SOL) tests over the next five to six years due to the higher-than-usual number of students who spent their first five years living in poverty.
VECF's report also addresses more moderate trends. While early childhood poverty rates have nearly stabilized to pre-recession levels, a comparison of test scores over the past five years shows a small but steady increase in failure rates on both the third-grade reading and math SOLs. At the same time, while poverty levels have fallen, the breakdown of poverty rates among racial groups shows lasting and extreme disparities over the same period.
Read VECF's full report here for a full outline of its conclusions.
VML Contact: Jessica Ackerman, jackerman@vml.org