eNews May 8, 2020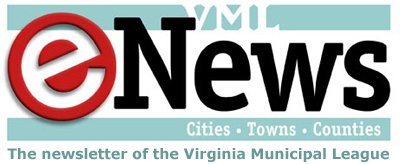 Friday, May 08, 2020 - 05:34pm
In this issue:
Announcements
VML hears from Northam administration regarding CARES Act money for localities
During a call with administration officials this afternoon, VML and VACo's boards learned from Secretary of Finance Aubrey Layne that letters will go out to localities next week stating that $650M of the CARES Act money will be distributed by population to localities. Money for towns will go to the counties which will need to certify that they will give an "equitable" allocation to towns. It remains to be seen exactly how this will play out.
Localities receiving money will need to certify that the money will be used in compliance with the treasury guidance and will be provided with those guidelines. Once certification is received the monies will be distributed. The state will include in the certification a right of offset to localities if the money is misappropriated.
Secretary Layne reiterated that the funds cannot be used for revenue replacement, however he stated that they can be used for volunteer fire & rescue services as long as the money is used to compensate for COVID-19 related work. An accounting of all money used by the locality will be necessary as the money needs to be spent by December 30 and will be reviewed by the Inspector General after that date.
It is important to note that no decision has been made yet when (or even if) the remaining funds designated for localities will be distributed to local governments. The state has the right to retain those monies for state spending.
The Administration also stated that they are talking with the federal delegation on the following items:
Also, there will be an expansion of farmers markets to include onsite shopping. Stay tuned for more to come!
VML Contact: Michelle Gowdy, mgowdy@vml.org
Details provided on Phase 1 of Forward Virginia
Governor announces plan to "turn the dimmer switch up a notch."
At his regular 2:00 pm press conference today, Governor Northam provided more details on what Phase 1 of Forward Virginia will look like.
The Governor indicated that Phase 1, which will likely be announced as beginning on May 15, will last at least 2 weeks, possibly longer. He emphasized that some localities may choose to go more slowly. He reiterated that Phase 1 is a "floor, not a ceiling." Furthermore, "no business is required by the state to be open."
Here are the highlights on what Phase 1 will look like:
All those who can telework should continue to do so
Continued 10-person limit on gatherings
Face coverings are recommended
People at risk should stay home
Social distancing remains in effect (6 feet apart)
Elective surgeries may resume
Nonessential retail businesses can allow up to 50% capacity
Restaurants and breweries are limited to curbside or takeout. Those with existing outdoor seating are allowed up to 50% capacity.
Entertainment and music venues remain closed.
Gym and fitness center may conduct classes/activities outdoors with limitations.
Beaches to remain closed except for exercise and fishing (same for state park beaches). The Governor answered a follow-up question on beaches by explaining that beaches need to meet stringent requirements so that visitors feel safe before they can fully reopen.
Places of worship can continue drive-in services and may open to 50% capacity for inside worship.
Personal grooming businesses may open with social distancing, face masks and appointments all required.
Private campgrounds may open with Phase 1 restrictions on distancing.
State parks will slowly open for tents, then RVs and eventually cabins so long as distancing requirements are met, and conditions continue to improve.
Childcare will continue as before.
In a message to Virginia's workers, Governor Northam stated that the restrictions in place during Phase 1 are meant to protect workers as much as customers.
The charts from the presentation will be posted at www.virginia.gov.
Health data being used to meet Phase 1 threshold
Confirmed positive cases by date reported to VDH. These are going up in part because more being tested.
Number of people tested per day: overall trend upward
Number of positive tests
How many hospitals reporting PPE shortages: This is trending down.
Hospital capacity: currently reporting capacity is available.
How many people who have COVID are hospitalized
Rate at which cases are doubling: This has slowed to 16 days
Graphs showing the above data will be available at www.vdh.gov.
VML Contact: Robert Bullington, rbullington@vml.org
VML "2020 Local Champion" award nominations open
The COVID-19 crises is creating a lot of local champions. Do you know one? VML will highlight the hard work that our localities and their officials and employees are doing to keep their citizens safe and healthy during the COVID-19 outbreak with a "2020 Local Champion" award.
Any interested local officials or staff may nominate local champions by submitting an entry in as many of the categories below as they like. However, please submit only one entry per category.
Communication
Community Health
Continuity of Operations
Economic & Business Stability
Public Safety
Risk Management
Education & Youth Initiatives
You can learn more about the awards, requirements and find a link to submit nominations on our 2020 Local Champions webpage.
VML Contact: Rob Bullington, rbullington@vml.org
Elections
Federal grants available through VDEM for election security
The Virginia Department of Emergency Management (VDEM) is accepting grant proposals funded by the U.S. Department of Homeland Security's State Homeland Security Program. In light of heightened security concerns, DHS has listed enhancing election security as a primary goal for Fiscal Year 2020. In particular, funds may be used to help localities meet security standards issued by the 2019 General Assembly under HB2178.
Applications are due by May 22, 2020.
VML Contact: Jessica Ackerman, jackerman@vml.org
Health and Human Services
Health equity and communication guidance now available
Translated documents available for COVID-19 information and resources
Information about health equity – what it is, how to address it during an emergency – is now posted on the Virginia Department of Emergency Management (VDEM) website.  Documents and presentations about communication accessibility are posted too. These guidance documents are geared toward state agencies but are applicable as well to local governments' public information efforts.
You can access them here >.
The Virginia Department of Health's COVID-19 website also includes documents addressing COVID-19 symptom monitoring, infection prevention, quarantine guidelines and other resources that are translated into several languages. This webpage could be useful as a link for community groups' webpages as well as local government websites.
The resource page is available here >.
VML Contact: Janet Areson, jareson@vml.org
CMS to require nursing homes to disclose confirmed and suspected cases of COVID-19
The federal Centers for Medicare and Medicaid Services (CMS) will require long term care facilities (i.e. nursing homes) licensed through CMS to report confirmed and suspected cases of COVID-19 to it for public posting and to report this information to family members
The final interim rule is posted on the CMS website here>.
State officials have said that the Code of Virginia privacy rules treat facilities as individuals and therefore prevent the state from publicly disclosing cases of illness unless the facility itself decides to publicly post or provide the information.
This information will not be immediately available as facilities will have to be added to the CMS website. Some will also need help with communication procedures and media relations prior to posting information that will likely generate additional inquiries.
VML Contact: Janet Areson, jareson@vml.org
Where can you get tested for COVID-19?
The Virginia Department of Health has added to its website information about testing sites around the state:  Virginia COVID-19 Testing Sites.
Each site has different policies and procedures for testing and billing. VDH recommends reaching out to the individual site for information about testing availability, hours of operation, etc.
Virginia stills ranks at the bottom of testing numbers among states; a workgroup led by Dr. Karen Remley, former state health commissioner, is working on issues regarding availability and access to testing.
VML Contact: Janet Areson, jareson@vml.org
May is Early Intervention Awareness Month
The month of May is Early Intervention Awareness month, and the Virginia Association of Community Services Boards (VACSB) reports that referrals of infants and toddlers to early intervention services have lagged since the COVID-19 pandemic took hold.
Early intervention services are intended for infants and toddlers who are not developing as expected or who have a medical condition that can delay normal development.
Services are available to all children and their families regardless of ability to pay. VACSB says that most early intervention systems across Virginia are now providing telehealth services.
Information about Early Intervention Awareness Month is available on the VACSB website, including a parent video and article on telehealth.  The Virginia Department of Behavioral Health and Developmental Services (DBHDS) has information about the program and resources for parents and caregivers that you can view here >.
VML Contact: Janet Areson, jareson@vml.org
Education
CARES Funding for Virginia Schools
This past week, Superintendent of Public Instruction James Lane announced that Virginia public schools would receive $238.6 million in federal funding under the CARES Act. A copy of the Superintendent's Memo and its respective attachments, including a spreadsheet outlining local allocations, are included below and are also posted to VML's COVID-19 Resources page.
Memo: CARES Act Elementary and Secondary School Emergency Relief Fund Division Allocations
Supporting documents:
VML Contact: Jessica Ackerman, jackerman@vml.org
Economy
National League of Cities launches campaign to secure federal support for localities
Earlier this week, the National League of Cities (NLC) rolled out its Cities Are Essential campaign, a grassroots advocacy campaign to ensure cities, towns, and villages are included in the next relief package. Working with its member leagues (including VML), officials and constituents across the United States, NLC intends to take bold and direct action to convey to federal lawmakers the urgent need for direct federal support and the consequences the American economy will suffer without it. NLC is requesting $500 billion in federal aid over the next two years to help municipalities and counties, regardless of size, respond to and recover from COVID-19.
VML urges our member localities to support NLC's campaign. You can:
VML will provide updates and additional details about Cities Are Essential as they become available.
VML Contact: Rob Bullington, rbullington@vml.org
Resources
HomeServe USA launches virtual, DIY home repair service
HomeServe USA, a VML corporate partner, has launched a free service called TELEFIX. It is a phone and video-based service that provides homeowners with access to a qualified technician across various trades, who can help troubleshoot, diagnose, and virtually assist them in a DIY repair of a plumbing, electrical or HVAC system. When a virtual solution can't solve the problem, homeowners have the option of having one of HomeServe's employees or network contractors visit their home and provide repairs on a fee-for-service basis. At a time when almost everyone is remaining at home more than ever before, the company hopes this will help everyone get the repairs they need, while staying safe and saving money.
TELEFIX is available to any homeowner at 1-833-TELEFIX or at www.telefix.com.
HomeServe USA Contact: Rob Meston, Strategic Partnerships Manager, robert.meston@homeserveusa.com
Recent additions to VML's COVID-19 Resources page
The following resources were among those added this week.
VML Contact: Rob Bullington, rbullington@vml.org