eNews May 29, 2020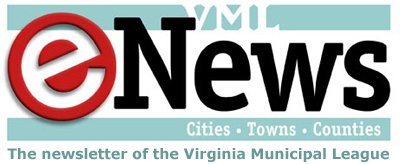 Friday, May 29, 2020 - 05:07pm
In this issue:
Economy
U.S. Treasury provides updated information on coronavirus relief fund
New Frequently Asked Questions on the coronavirus relief fund have been posted to the U.S. Treasury's website as of this morning.
You may view/download the updated FAQs here >
Please note the following additions:
New questions on page 7-9 regarding single audit, recordkeeping and CFDA
Significant illustration of payment transfers
Some clarification regarding utility fee assistance
For additional information, visit the U.S. Treasury's The CARES Act provides Assistance for State, Territorial, Local, and Tribal Governments page.
These items are also available in the Online Resources section of VML's COVID-19 Resources page.
Job loss freefall continues even as economy begins to re-open
The Washington Post reported this week that Americans have filed more than 40 million jobless claims in the past ten weeks, as another 2.1 million filed for benefits last week. The online employment company, ZipRecruiter, was quoted in the Post as saying that as many as ten unemployed Americans are competing for every job opening. Job competition could intensify even more when the Payroll Protection Program (PPP) and the $600-per-week in federal supplemental unemployment aid runs out early in the summer, requiring more of the unemployed to search for work.
In Virginia, the unemployment rate soared to 10.6 percent in April while total nonfarm payroll employment fell by 383,400. April's unemployment rate is 7.7 percentage points above the rate from a year earlier. Private sector employment dropped by 351,900 jobs to just under 3 million, while public sector payrolls shrank by 31,500 jobs to 703,000. Some 19,000 of those job losses were recorded at the local level. Virginia's labor force participation rate also fell in April to 64.1 percent compared with 65.8 percent a year ago and 66.3 percent in March of this year.
The VEC chart below shows that the unemployment losses are spreading throughout the state economy.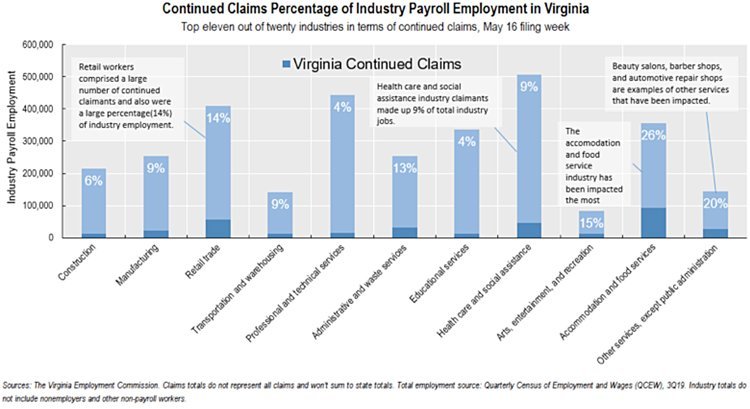 The total number of initial claims for unemployment insurance benefits filed during the pandemic is now greater than the number of initial claims filed during the 18-month recession that began in December 2007, according to the VEC.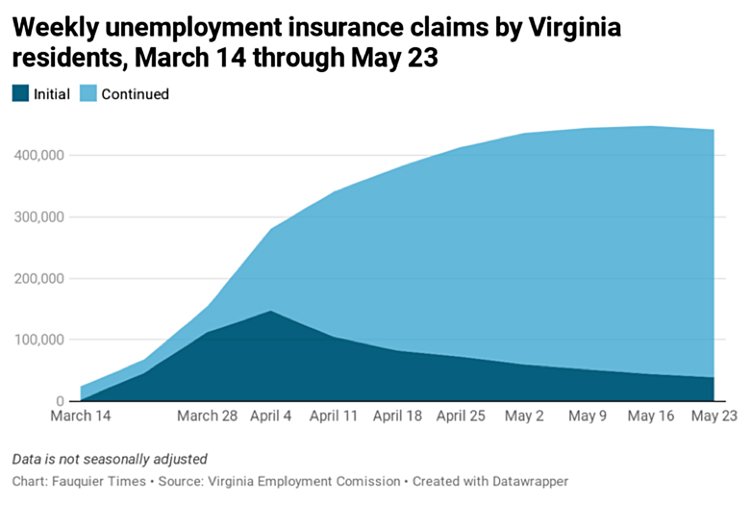 Impact of re-opening the economy
As of today, all localities have entered Gov. Northam's Phase 1 economic recovery program. The question is how much time will be needed for the economy to revive? The likelihood of a swift and robust return to economic activity is not shared by the Federal Reserve Bank.
In its most recent summary of current economic conditions, the Federal Reserve Bank noted that "a majority of districts reported sharp drops in manufacturing activity, and production was notably weak in auto, aerospace, and energy-related plants. Residential home sales plunged due in part to fewer new listings and to restrictions on home showings in many areas. Construction activity also fell as new projects failed to materialize in many districts. Commercial real estate contacts mentioned that "a large number of retail tenants had deferred or missed rent payments."
These conditions do not lend themselves to a swift rebound. In fact, according to some private sector economists, there was little in the Federal Reserve's report to suggest the economy was on the verge of a "V-shaped" recovery as of mid-May.
As part of the report, the Federal Reserve Bank of Richmond observed that the economy contracted further in recent weeks as the shutdown measures to slow the spread of the COVID-19 outbreak continued to have severe consequences. Retail, travel, and hospitality remained some of the hardest hit industries, but negative impacts were reported in every industrial sector.
Tellingly, the White House broke decades of precedent by not releasing updated economic projections on unemployment, inflation, and economic growth this summer. This may be a tacit admission that the pandemic's economic impacts will not be quickly reversed.
What happens next?
State and local government spending in 2019 comprised roughly 17 percent of the nation's gross domestic product (GDP). With this in mind, Congressional Democrats are pushing for another massive stimulus package targeting state and local governments. The theory is that if the states and localities are forced to cut spending and raise taxes the economic downturn will deepen and be prolonged.
In the publication Governing, Raymond Scheppach, the former Executive Director of the National Governors' Association, wrote that past efforts to revive the economy by shoring up state and local revenues worked successfully.
In the 2003, the states received $20 billion in flexible funding with $10 billion dedicated for Medicaid and the remaining $10 billion provided for flexible block grants. In 2009, the American Recovery and Reinvestment Act provided $154 billion in flexible funding with $100 billion increasing the federal share for Medicaid and $54 billion supporting a stabilization fund primarily for education.
With Senate Republicans in opposition and with only lukewarm support in the White House, it will be no easy task to persuade Congress and the President. VML urges members to contact the Virginia Congressional Delegation and explain to them the impacts of budget reductions and program cutbacks on your communities.
The time to act is now! Resources to do so are available via the National League of Cities' "Cities Are Essential" campaign website.
VML Contact: Neal Menkes, nmenkes@vml.org
Business/public space re-opening tool kits available
A tool kit for businesses and other entities reopening to the public is available on the Virginia Department of Health (VDH) website. The tool kit includes safety and preparation checklists for retail, restaurants, and all other business entities, as well as entrance and exit signs, directional arrows and floor dots, and break room and restroom signs in both English and Spanish
The toolkit items are available to download as PDFs in English or Spanish at the bottom of the VDH "Businesses" webpage.
The tool kit items are not copyrighted; businesses may print copies of the items freely for use in their establishments.
VML Contact: Janet Areson, jareson@vml.org
Court actions
Supreme Court of Virginia hands down three cases of importance to localities
Smyth County: Closed sessions and FOIA
The Virginia Supreme Court has handed down an opinion in a FOIA case that considered whether closed sessions conducted by a board of supervisors violated the Virginia Freedom of Information Act
Specifically, the court considered whether the Smyth County Board of Supervisors violated the Virginia Code  during a closed session in 2016 when it removed its seven appointees to the Smyth-Bland Regional Library board of trustees and then named its own seven members as new trustees.
It is very clear in the court's opinion that the Freedom of Information Act requires that any motion going into closed session must:
Identify the subject matter
State the purpose of the meeting as authorized by the code
Cite the applicable exemption from the code (See VA Code 2-3712)
The code section goes on to say, "A general reference to the provisions of this chapter, the authorized exemptions from open meeting requirements, or the subject matter of the closed meeting shall not be sufficient to satisfy the requirements for holding a closed meeting."
This opinion states: "By including a subject matter requirement for a motion for a closed meeting—in addition to the purpose and applicable exemption requirements—the plain language of the statutes indicates that the General Assembly intended that such motions contain more than a citation to an exemption and a reference to the language of that exemption.  A public body must identify the subject matter more specifically in a motion for a closed meeting.  In the instant case, the Board gave no indication in the Motions that it intended to discuss the Mowbray Case, the Library, or any other particular case, controversy, or issue in its closed sessions.  Thus, the Motions violated Code § 2.2-3712(A)'s subject matter requirement."
Please keep the above code section and this opinion in mind when entering closed sessions and consult your local attorney!
City of Chesapeake: Exercise of police power
The decision in Hooked Group, LLC. v. City of Chesapeake was a great win for local government! This case, in which the Virginia Municipal League filed an amicus brief, involved an access road that the City of Chesapeake closed as an exercise of police power; Hooked Group, LLC then filed suit alleging that the road closure was a taking despite there being a second access to the property. The trial court dismissed the case and it was appealed.
The court found: "Here, the Landowner's lost access to Callison Drive, although qualifying as a direct loss of access, is not, as a matter of law, 'a material impairment of direct access to property' within the intendment of Code § 25.1-100. The Landowner did not plead any facts that would indicate that the closure of access to and from Callison Drive was of real importance or great consequence or that it was significant or essential."
Congratulations to the City of Chesapeake!
Town of Warrenton: Rezoning
Roland v. Town Council of Warrenton is another win for local government! This case involved a local government's authority to accept a conditional proffer from a property owner as part of a rezoning application that alters a minimum mixed-use requirement of a zoning district below that specified in the local zoning ordinance.
The court ruled in favor of the local government stating the following:  "We agree with the circuit court that determining the sufficiency of the application, including that its master plan was adequate to the requirements of the zoning ordinance, is a legislative function of the town council subject to the fairly debatable standard and that the residents' allegations as to insufficiency of the master plan were not sufficient to overcome the presumption that the legislative action of the town council was correct."
Congrats to the Town of Warrenton!
VML Contact: Michelle Gowdy, mgowdy@vml.org
COVID-19
Contact tracers needed – particularly in Southwest Virginia
The Virginia Department of Health needs people to fill positions as contact tracers. While many applications have been received, fewer applications have been received in the more rural areas of the state, particularly Southwest Virginia.
Information about the contact tracer positions and how to apply for them can be found in the orange sidebar on the VDH coronavirus website.
VML Contact: Janet Areson, jareson@vml.org
Face coverings: VDH cites education and information as keys to promoting use
On a weekly phone call with stakeholders, Virginia Department of Health staff emphasized that with Governor Northam's Executive Order 63 regarding the use of face masks or face coverings now in effect, the focus should be on education and information.
Staff encouraged any businesses or individuals with questions about the use of face coverings/masks in a business establishment to call VDH's call center at 1-877-ASK-VDH3 or check the Center for Disease Control (CDC) website for more information about the importance of face masks in curbing the spread of disease, and how to make one.
Additional materials on face coverings for businesses, including printable posters and infographics, will be posted to the VDH website.
VML Contact: Janet Areson, jareson@vml.org
Health & Human Services
Rep. Scott introduces $50 billion legislation for childcare stabilization
Rep. Bobby Scott, along with Rep. Rosa DeLauro and Sen. Patty Murphy, introduced the Child Care is Essential Act Wednesday, intended to provide $50 billion to support childcare provisions as states begin to reopen more businesses. Creating a sub-fund within the Child Care and Development Block Grant (CCDBG), the Child Care Stabilization Fund would offer additional support for operating expenses, staff salaries, health and safety measures, oversight, and prioritizing programs for underserved populations. Funding would go to state agencies to redistribute as subgrants to childcare providers open before March 1, 2020 that were either forced to close due to the COVID-19 pandemic or have stayed open throughout.
A copy of the introduced bill is available here.
VML Contact: Jessica Ackerman, jackerman@vml.org
Opportunities
Community compost plan for food waste reduction pilot funding available
The U.S. Department of Agriculture (USDA) Community Compost and Food Waste Reduction (CCFWR) pilot program is offering up to $90,000 to assist local governments with projects that develop and test strategies for planning and implementing compost plans and food waste reduction plans.
Qualifying plans will:
Generate compost
Increase access to compost for agricultural producers
Reduce reliance on, and limit the use of, fertilizer
Improve soil quality
Encourage waste management and permaculture business development
Increase rainwater absorption
Reduce municipal food waste
Divert food waste from landfills
The CCFWR program will assist through a cooperative agreement with units of local government, including cities, towns, counties, public housing agencies, and school districts.  A 25 percent match is required.
Applications for the CCFWR program are due by June 26, 2020.
VML Contact: Janet Areson, jareson@vml.org
Information session next week for Virginia Tech's Graduate Certificate Program in Local Government Management
Virginia Tech's Graduate Certificate Program in Local Government Management will be holding a virtual information session on Thursday, June 4, 2020 at 10:00 am. The session (lasting approximately 30 minutes) will provide information on the courses, the instructors, and the benefits of the program. Please note the courses are offered through Zoom and there is financial assistance available for employees of Virginia local government.
More information is available on this brochure.
Contact: Dr. Stephanie Davis, Program Director, sddavis@vt.edu.