eNews May 26 2016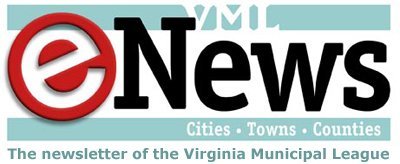 Thursday, May 26, 2016 - 10:15am
VML pushes three issues in education funding
Even with the infusion of additional state funding in the upcoming biennial budget, state per-pupil funding will still lag FY06 levels when adjusted for inflation, according to public comment made by VML staff member Mary Jo Fields at the May 24 meeting of the state Board of Education's Standards of Quality Committee.
Further, local governments pay for approximately 51 percent of operating costs for K-12 and virtually all capital costs.  In FY15, local governments spent $3.6 billion beyond their required local effort and required local maintenance.
VML supports a strong Standards of Quality, but as importantly, supports appropriate funding for the standards.  Fields urged the committee to support the concepts behind three budget amendments submitted by VML at the 2016 funding:
Funding for the employment of one assistant principal per 400 students. Department of Education staff presented information at the committee's April meeting showing that only 36 percent of the assistant principals employed in school divisions are funded by the state.  VML urged the board to reaffirm its support for this staffing ratio and for the state funding to pay for it.
Striking the language in the state Appropriation Act that directs the Department of Education to include zeroes in the linear weighted average calculation of support non-personal costs (using the zeroes lowers the state-required share.) This language was added during the recession in order to balance spending needs with declining revenues.  The action taken was not based on education policy or recommendations from a legislative study.
Revising the SOQ to establish a new prevailing cost standard for all teacher aides based on 15 aides per 1,000 students, with an average salary of $17,108. Currently, the SOQ recognizes only about 2,600 out of the 19,000 aides that were employed by school divisions, according to FY 14 data.
The BOE committee is working on revisions to the SOQ that would be considered at the 2017 session.
VML contact: Mary Jo Fields, mfields@vml.org
State revenue dip dampens spending expectations
April revenue collections fell 6.7 percent with receipts in all major sources except sales taxes declining from April a year ago.  On a fiscal year-to-date basis, total revenue collections are up 1.3 percent compared to this time last year but lag the annual forecast of 3.2 percent growth.
If Fiscal Year 2016 ends on a sour note, requiring a re-forecast of state revenues for the 2016-18 biennium, the $69.1 million in FY17 and the $121.1 million in FY18 that have been set aside by the General Assembly for salary raises for state employees, teachers, state constitutional officers, and state-supported local employees will be at risk.  The first call on these appropriations will be to offset any downward revisions of a new general fund revenue estimate for the biennium.  And depending on a new re-forecast, other programs of interest to localities could also be affected such as K-12, CSA and 599 spending.
So, what's happening with state revenue collections?  On a year-to-date basis:
Individual income tax withholding (63% of general fund revenues) is 2.6 percent ahead of the same period last year but trails the estimate of 4.1 percent growth.
Individual income tax non-withholding (17% of general fund revenues) is 0.4 percent greater than last year's collections but has fallen behind the 1.9 percent growth estimate.
Individual income tax refunds have risen 5.7 percent, ahead of the annual estimate of 1.2 percent growth.  The Virginia Department of Taxation has issued about 80,000 more refunds than the same period a year ago, and the average refund size is up 1.0 percent.
Sales tax (18% of general fund revenues) is up 1.9 percent on a year-to-date basis but trails the 4.1 percent annual estimate.  Even with the boost from the accelerated sales tax program, sales tax collections have grown just 2.8 percent through the FY16 fiscal year.
As for the state economy, the numbers are like a glass of water filled to the mid-point.  Is the glass half-empty or half-full?  The answer often times depends on perspective.
For example, the Virginia Employment Commission (VEC) announced last week that the unemployment rate was down 0.1 percentage point in April to 3.9 percent.  This is the lowest rate since June 2008.
But, the labor force also contracted, and March's job gain was revised downward by 2,100 jobs to a net gain of 2,800 jobs.  The largest job loss in April occurred in professional and business services.  This was the second consecutive monthly decline for this high-paying sector.
However, even with April's poor showing on the job front, job growth from April 2015 to April 2016 is up 83,400 jobs or 2.2 percent.  This compares favorably to the national growth rate of 1.9 percent.  In fact, for the seventh consecutive month, Virginia's over-the-year job growth exceeded 2.0 percent, surpassing the national growth.
Because of the hazy state revenue outlook, the final outcome of the FY 2016 story won't be played out until the May and June revenues are collected.  Both these months are significant collections months.  Individual estimated and final payments will continue to be processed in May and estimated payments for individuals, corporations and insurance companies are due in June.
As for local revenues, the all-important real estate tax should improve as assessments catch up with market conditions.  In April, the Virginia Homes Sales Report, which is published by the Virginia Association of REALTORS, reported that residential real estate sales indicate growing strength in the Virginia housing market.  The number of transactions rose by 8.5 percent compared to a year earlier.  The April 2016 transaction values rose above $3.2 billion, gaining nearly 10.0 percent on the same month last year.  The median price for April 2016 rose to $265,000, up more than 5.0 percent from the previous month and up 2.0 percent from April 2015.
April's numbers continued the strong showing from the first quarter of 2016, which was nearly 9.0 percent greater than the results reported in the first quarter of 2015.
A growing housing market will be crucial for local budgets if state revenues stumble into the new fiscal year that begins July 1.
Public comment on reform of juvenile justice facilities and system
Public comment will be taken until June 10 on the future infrastructure and operational requirements for Virginia's juvenile correctional facilities, including the building of a new facility in Chesapeake and whether or not to renovate current facilities or construct a second new facility.
The McAuliffe Administration and Department of Juvenile Justice (DJJ) proposed to the 2016 General Assembly an ambitious transformation plan for juvenile justice.  It would replace the current over-sized and outdated juvenile correctional centers (Beaumont and Bon Air) with two new, smaller facilities, one of which would be built near a new local juvenile detention facility in Chesapeake.  The new facilities would be built with a focus on evidence-based treatment and rehabilitation needs of youth.  The plan also would have used money saved from the closing of the older centers to invest in additional community-based services.
While the Assembly did not approve the overall transformation plan, it signaled support for DJJ's reform efforts to replace the current oversized and outdated juvenile correctional centers. Language was added to the Appropriations Act requiring the Secretary of Public Safety and Homeland Security to convene a Task Force on Juvenile Correctional Centers (Task Force). The Task Force will consider the future capital and operational requirements for Virginia's juvenile correctional centers including the construction of a new facility in Chesapeake and whether to renovate or construct a second facility. Information on the Task Force is available on the DJJ website.
The Task Force is required to solicit and consider input from local government. In particular, DJJ would like to hear what local governments would like to see the Task Force consider in this reform effort as it affects state facilities.  Local governments should also consider commenting on the effect and expected outcome of state-level changes to facilities and services at the community-level, and the desired overall relationship between the state and localities in serving youth.
The Task Force will have a public comment period at its May 31 meeting, beginning at 9:00 a.m. in the East Reading Room of the Patrick Henry Building (1111 East Broad Street). Individuals wishing to speak at this meeting are encouraged to register to speak by contacting Janet Van Cuyk at janet.vancuyk@djj.virginia.gov or 804/588-3879.
Additionally, the Task Force will accept written public comments submitted by June 10, 2016.  These comments will be presented to the Task Force at its June 14 meeting. Please email your comments to  janet.vancuyk@djj.virginia.gov , or mail them to Janet Van Cuyk at DJJ, 600 E Main Street, Richmond, Virginia, 23219.
VRS members invited to subscribe to monthly newsletter
Virginia Retirement System members may sign up at https://www.varetire.org/newsletter to receive VRS' monthly Member News.  The newsletter includes updates on activities at VRS as well as a variety of resources on preparing for retirement.
The May newsletter, for example, includes a final report on legislation adopted at the 2016 session of the General Assembly and information on upcoming seminars for employees at the beginning of their careers. The May newsletter is posted at https://www.varetire.org/mnews.
VML 2016 Annual Conference – Reserve your rooms TODAY
Conference registration opens July 1

Registration for the 2016 VML Annual Conference in Virginia Beach is forthcoming, but NOW is the time to reserve your hotel room on-line at https://resweb.passkey.com/go/VML2016
Conference Hotels
·         DoubleTree by Hilton Hotel
·         Hilton Virginia Beach Oceanfront
·         Sheraton Virginia Beach Oceanfront
We strongly recommend that you book your reservation online within our housing block as VML makes every effort to include a range of accommodations for its attendees, with consideration of comfort, quality and safety as well as other factors.  Complimentary continuous shuttle service will be provided to the official conference hotels only.
Please e-mail any housing inquiries to Eric Logan, Convention Housing Manager, at ellogan@visitvirginiabeach.com  or call direct line (757) 385-6656.