eNews May 22, 2020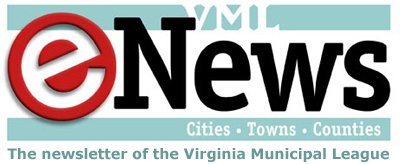 Friday, May 22, 2020 - 05:09pm
In this issue:
Economy
Op-ed: Localities need direct federal relief now
By Sean Polster, Council Member, Town of Warrenton; At-Large Member, VML Executive Committee
These last few months have been heartbreaking for our state, our nation, and the world. As a father and husband, I worry about my family. As a member of the Warrenton town council, I worry about my community. As a Virginia Municipal League board member, I hear from Alexandria and Bristol, Virginia Beach and Pennington Gap, Danville and Winchester…and all the communities in between. And I worry about them.
But as a firefighter by profession, I am trained to not let worry prevent me from acting.
Like all first responders, I am trained to fix the most urgent problem in front of me and then move on to the next problem. I have faith that the sum of such efforts across our communities will lift us out of this awful health crises.
But surviving the economic devastation from this pandemic will require more than individual actions; it will require the pooled resources of our nation. The economic threat to localities is real, unprecedented, and unbudgeted. Without a lifeline to give us time and resources to restore local economic activity, we will have to make cuts to essential services and lay off workers, including emergency personnel, sanitation workers, social service providers and others who keep our communities safe and functioning. Moreover, federal and state laws require local governments to have some of these employees, whether the funding is there or not, necessitating cuts in other areas.
So far, local governments have done extraordinary things to help their local businesses. Examples include the Town of Middleburg which issued monetary vouchers to be used at local restaurants, the City of Roanoke which established relief loans to support small business employees, the City of Virginia Beach which suspended  meals taxes for two months, and the Town of Warrenton which is waiving parking minimums and opening streets for outdoor seating.
But these efforts, while providing limited short-term relief, will not answer basic questions: How can a community continue to help its businesses while struggling to maintain essential services? How can residents feel confident returning to "business as usual" when funding for essential services is threatened?
And our communities are hurting. Our neighbors and friends are out of jobs. Many are scared that a business they've worked hard to build won't survive. Others worry that their place of employment will close and never return. Workers and their families don't know where the money will come from to pay for groceries, mortgages or rent, medical bills, and health insurance.
As the true scope of the pandemic began to unfold, communities took exceptional steps to protect the health and safety of their residents. Even as revenues spiraled downward, money was spent to preserve the continuity of essential services and the safety of their citizens. As days turned into weeks, and weeks into months, localities have been forced cut their budgets to continue these services. Next year's budgets must be adopted in the coming weeks and it is becoming increasingly apparent that local economies across the Commonwealth can neither fully recoup this year's lost revenue nor count on the local tax base to pay next year's bills.
The CARES Act funding did not allocate money directly to localities to assist with economic recovery and a continuation of essential services, yet the demand for these essential services will not diminish for the foreseeable future.
This is why I'm asking everyone who cares about a real recovery to support direct relief to localities in the next federal package. This package should include the points recently outlined in the National League of Cities' "Cities Are Essential" campaign:
$500 billion of federal aid over two years for local governments.
Fair and direct funding allocations to every local government with no population-based exclusions.
Equal funding overall for municipal governments and county governments.
Maximum flexibility for the eligible use of funds to address the budget consequences of the COVID-19 pandemic.
Local governments are not asking for a handout. Nor are we asking for funds to correct any pre-existing problems with local finances. Rather, we are asking that the federal government recognize that local governments are the key to reopening our nation's economy. Direct relief to localities has the power to restore the economic health of our nation by ensuring that every Main Street is safe and thriving.
Note: This article originally appeared in the Richmond Times Dispatch.
State services strain to keep up with COVID-19
National economy remains in freefall
Appearing on the CBS show 60 Minutes, Federal Reserve Chair Jerome Powell expressed hope that the economy would come out of recession in the second half of 2020 but cautioned a second outbreak of the Coronavirus would likely derail that path. He went on to say that the recovery could stretch through the end of 2021.
Powell also spoke this week to the U. S. Senate Banking Committee, supporting the idea that the precarious revenue health of state and local governments could slow the economic recovery if budget crunches lead to job layoffs. He informed the Senators that there is evidence showing that the Great Recession's impact on state and local government budgets impeded economic growth for the country.  Roughly 12 percent to 13 percent of the nation's workforce is in state and local government.
The federal government released this week more sobering news that U.S. unemployment claims had climbed to 38.6 million. Some economists are now questioning how many of these laid-off workers will find jobs waiting for them after the pandemic subsides. An economist at Stanford University estimates that as many as 42 percent of recent layoffs will result in permanent job loss. The theory is that the rigors of social distancing and workers continuing to work remotely will reduce the need for commercial workspaces and result in fewer customers for restaurants, theaters and stores, sporting arenas, etc.
The Congressional Budget Office has also warned that businesses able to use the Paycheck Protection Program might end up laying off workers anyway when the program expires at the end of June.
The likelihood that Congress and the White House will pass another stimulus package to address the needs of states and localities as well as workers and small businesses is in doubt. House Democrats, Senate Republicans and the President have dropped their oars in the water but are rowing in different directions, making it impossible to navigate and reach an agreed-upon destination.
In his presentation to the Virginia Senate Finance and Appropriations Committee on Tuesday, Secretary of Finance Aubrey Layne, Jr. echoed many of the same themes:
"According to the initial estimate, real GDP fell at an annualized rate of 4.8 percent in the first quarter of 2020, following 2.1 percent growth in the previous two quarters.
The Conference Board's index of leading indicators fell 6.7 percent in March, the steepest decline in its 60-year history.
The decline was broad-based, with stock prices and initial claims contributing the largest negative impacts.
The Conference Board's index of consumer confidence fell from 118.8 to 86.9 in April. The present conditions component declined from 166.7 to 76.4, offsetting an increase in the expectations component.
The Institute of Supply Management index fell from 49.1 to 41.5 in April. The COVID-19 outbreak has led to plant closings and supply chain disruptions." An index score of less than 50 signals contraction.
State challenges grow
More than two months after Virginia businesses began their employment shutdowns, the Virginia Employment Commission still cannot keep up with the unprecedented deluge of calls and emails from laid-off workers seeing help.
Even before the massive layoffs took hold in Virginia signs of economic tribulation were already being recorded. The Virginia Leading Index tumbled 6.8 percent in March after rising 0.1 percent in February.  All four components: auto registrations, the U.S. Leading index, initial claims, and future employment deteriorated.
Nearly 678,000 Virginia unemployment claims were filed between mid-March and May 8. VEC told the Senate Finance Committee this week that two-thirds have been paid with Virginians receiving over $2 billion in benefit payments. VEC could not provide a breakdown of the status of the remaining one-third of claims that remained unpaid. VEC is fielding over 20,000 emails a day.
Secretary Layne's predicted fiscal year revenue shortfall of $1 billion is made more difficult by the fact that there is no equivalent historical data to compare this fiscal year to past years for analysis. The accuracy of his prediction is likely to be unknown until the end of June. Total tax collections would have to drop in May and June by 12.2 percent. State revenue collections grew by 10.7 percent in May and June of 2019 powered by a 38.2 percent surge in non-withholding revenue. State tax experts now predict that non-withholding will drop 3 percent in May and June. That's a spread of over 40 percent.
Budget? What budget?
All this news makes this week's signing of the two-year budget bill a non-event event. With some $2 billion in new spending initiatives put on hold because of COVID-19's revenue impacts, the Special Session to be held this summer will dropkick a good portion of this spending in order to consider new, lower revenue projections and budget-cutting amendments.
VML Contact: Neal Menkes, nmenkes@vml.org
Local authority
FCC set to vote to limit local oversight of wireless facility modifications
Local comments needed by June 2
The Federal Communications Commission (FCC) announced this week that it intends to vote on a declaratory ruling and notice of proposed rulemaking to further limit local oversight of certain wireless facility modifications during its June Open Commission Meeting on Tuesday, June 9. This item is in response to petitions from Communications Technology Industry Association (CTIA) and the Wireless Infrastructure Association in late 2019, which the National League of Cities (NLC) and other local stakeholders opposed.
NLC intends to further oppose this draft declaratory ruling and the Notice of Proposed Rule Making (NPRM), both on the grounds of the argument previously made that the regulatory changes are unneeded, and additionally because of the current timing of the vote.  Local stakeholders have only until Tuesday, June 2 to meet with Commissioners' offices or provide written comment on the draft prior to the vote, and only 20 days to comment on the NPRM if it is approved, after publication in the Federal Register. Additionally, a final declaratory ruling will introduce new regulatory compliance burdens on local governments, all in the midst of ongoing pandemic response.
Localities and municipal leagues are strongly encouraged to communicate directly with Commissioners' offices as soon as possible. NLC will continue to push for an extension or postponement of these items and, barring that, work to see if any improvements can be made that commissioners would support.
Your comments can focus on these points (a further explanation of the draft ruling and NPRM follows later):
The change is not needed. The record clearly shows that most applications for wireless facilities are approved, and approved without reliance on Section 6409(a), which is the section under consideration.
The sorts of modifications sought are not needed for well-designs installations, including those designed to support 5G.
Indeed, changing the rules to make it easier to modify facilities is almost certain to cause significant additional delays in deployment. Currently communities and carriers work to obtain approvals in areas where wireless providers are installing facilities that are entirely inconsistent with those installed by other utilities – authorizing carefully designed and placed monopoles; installing structures that include street lighting etc. The changes may mean that these efforts will no longer be enforceable. The record shows that property values can be reduced when out-of-place facilities are installed and opposition to deployment will be heightened.
Section 6409(a) was not meant to short-circuit the ability of localities to protect the aesthetics of their communities, to entitle applicants to evade payment of fees, to start shot clocks without actually submitting applications, or to begin construction without actually receiving permits. Instead, Section 6409(a) was intended to cover only those minor modifications that were not deemed "substantial."
All these proposed changes are to take place at a time when local governments must focus their attention and resources on dealing with the on-going COVID-19 crisis.
Main points of the Declaratory Ruling
If enacted as currently written, the draft declaratory ruling and NPRM would have the following effects on site modification processes:
Establishes a 60-day shot clocks for so-called "6409(a)" structures – the 60-day clock for review of conditions for alteration of some existing structures would begin when applicants take the first step in a locality's review process and submits written documentation addressing how the proposed modification would not cause a "substantial change" to the existing structure.
This first step must be objectively verifiable, must be a single step and not a series, and within the applicant's control – i.e., not the date of a meeting with local government staff or a hearing, but the date that meeting was requested.
All subsequent processes and steps must be completed within the 60-day shot clock window.
Makes several definition changes regarding measuring the distance between existing towers and "equipment cabinets".
Weakens concealment oversight by local governments so that modifications may not be rejected on concealment grounds unless the modification would "cause a reasonable person to view the structure's intended stealth design as no longer effective after the modification" (several examples are provided in the text of the item).
Main points of the Notice of Proposed Rule Making
The FCC seeks comment on proposed changes to rules regarding excavation or deployment outside the boundaries of an existing tower site, including the definition of the boundaries of a tower site, which would affect whether certain modifications of existing structures qualify for streamlined section 6409(a) review.
Proposes that the existing site be defined to include the applicant's leased or owned area at the time of the application, even if that area was not included in the original site.
Proposes defining any excavation or deployment within 30 feet of the existing boundaries of a macro tower as not a signification change, thus making these changes eligible for streamlined review.
Comments on the NPRM would be due 20 days after publication in the Federal Register and reply comments 30 days after publication.
VML Contact: Michelle Gowdy, mgowdy@vml.org
COVID-19: Updates & Resources
Falls Church offers examples of COVID-19 expense tracking (and more)
Local governments have been helping one another during the COVID-19 response by sharing information, ideas, and models for local response.
The City of Falls Church recently shared with other local management and finance staff its framework for coordination/communication/decisions making that uses a multi-disciplinary/multi-department model. Further, the city shared financial spreadsheets that historically have been used for FEMA/VDEM emergency incident reimbursement tracking but are now being modified to incorporate CARES Act eligibility items.
As has been the case with many localities, Falls Church also set up an employee redeployment and repurposing program to address staffing resource constraints.
These items are posted on VML's COVID-19 Resources page for reference. You can also view/download a PDF with descriptions and links to the resources.
VML welcomes examples of how member localities are addressing response issues, including business assistance programs, in their community.
VML Contact: Send your examples/document links to Janet Areson, jareson@vml.org
Phase I requirements for outdoor swimming pools outlined
Several local governments have asked about the opening and operating of outdoor swimming pools (e.g., recreation associations, clubs, and public pools) now that most of the state has entered Phase I of Forward Virginia. Note – The following information does not apply to areas of the state remaining in Phase 0.
During Phase 1, outdoor pools only – no indoor pools – can open for lap swimming. Pools that do not have traditional pool lanes can configure their pool to comply if the configuration allows only for lap swimming. Each pool lane may be used by one person at a time.
No hot tubs, splash pads, spray pools, interactive play features, outdoor basketball courts, racquetball courts or outdoor seating areas around a pool can be open during Phase I.
Each person working at a swim facility must wear a face covering; the one exception would be a lifeguard who is responding to an emergency.
Lifeguards watching the pool must be focused only on that duty and cannot be responsible for enforcing social distancing, cleaning, or stocking supplies (i.e., no multi-tasking) while they are standing duty.
Olivia McCormick with the Virginia Department of Health (VDH) said that one of the most frequently asked questions is whether swimming pool water poses a risk for virus transmission. The Department and CDC have determined that a properly disinfected pool is not a risk.  Current rules for disinfectant levels in pools still apply, as do rules for pool water testing.
VDH staff are working with stakeholders, including the Virginia Parks & Recreation Association, on guidelines for Phase II of reopening.
If you have recommendations or issues to be addressed during Phase II, please email Olivia McCormick at VDH, olivia.mccormick@vdh.virginia.gov.
Information about Phase I, including rules for swimming pools, may be viewed/downloaded here.
VML Contact: Janet Areson, jareson@vml.org
Oracle offering webcasts on remote work solutions for building and planning and code departments
With so many localities looking for ways to provide services and information remotely, Oracle (a VML MBA member) will be hosting a 30-minute webcast that will dive into Oracle's solutions for Building, Planning and Code Enforcement departments. Upcoming offerings include:
June 3– Permitting and Inspections
July 1– Planning and Zoning
August 5– Code Enforcement
September 2– System Administration
Additional information and registration are available here.
Oracle Contact: Roger Keren, Public Sector Citizen Experience Manager, roger.keren@oracle.com
Announcements & Opportunities
At-large seat open on State Building Code Technical Review Board
VML was recently notified of a vacant at-large seat for a local governing body member on the State Building Code Technical Review Board (Review Board). This seat was previously held by a local governing body official, who served on the board for 24 years.
The Review Board is a 14 member board, appointed by the Governor, with the primary purpose of hearing appeals from enforcement actions under the Virginia Uniform Statewide Building Code (USBC), the Virginia Statewide Fire Prevention Code (SFPC), the Virginia Industrialized Building Safety Regulations, the Virginia Manufactured Home Safety Regulations, and the Virginia Certification Standards. A secondary function of the Review Board is to provide interpretations to the provisions of the USBC and SFPC and make recommendations to the Virginia Board of Housing and Community Development for future modifications, amendment, or repeal of such provisions.
Review Board meetings are scheduled for the third Friday of each month and are held in the Richmond area.
If you have knowledge of these areas (you do not have to be an expert) and are interested in applying to serve on the Board, you may apply here.
You will need to select "Commerce and Trade"; scroll down to find and click the "State Building Code Technical Review Board"; and scroll down again to find "Member Seat – Local Governing Body Member". From there you can upload your resume and answer the questions that follow.
Below are a few informational links including the Review Board webpage and Code of Virginia sections related to the Review Board and the Commonwealth at large position.
If you have any questions related to the Review Board or the Commonwealth at-large position please email Travis Luter, Secretary to the State Building Code Technical Review Board and a Code and Regulation Specialist with the Virginia Department of Housing and Community Development, at travis.luter@dhcd.virginia.gov
VML Contact: Janet Areson, jareson@vml.org
Food insecurity grant funding available through USDA
June 3 is application deadline
The U.S. Department of Agriculture (USDA) Community Food Projects Competitive Grant Program (CFPCGP) is offering up to $400,000 for community food projects that help to fight food insecurity and promote the self-sufficiency of low-income communities. The deadline for applications is June 3.
Community Food Projects are designed to increase food security in communities by bringing the whole food system together to assess strengths, establish linkages, and create systems that improve the self-reliance of community members over their food needs. The CFPCG is offering grants under two different funding areas:
Community Food Projects (CFP) support the development of projects with a one-time infusion of federal dollars that will spur self-sustaining project activities. Examples of CFP Projects include, but are not limited to, community gardens with market stands, value chain projects, food hubs, farmers' markets, farm-to-institutions projects, and marketing & consumer cooperatives. All projects must involve low-income participants (up to $400,000).
Planning Projects (PP) support the creation of plans that help improve community food security. Examples include, but are not limited to, community food assessments' coordination of collaboration development plan, GIS analysis, food sovereignty study, and farm-to-institution exploration. All projects must involve low-income participants (up to $35,000).
Preference under both CFP and PP will be given to projects that develop links between multiple sectors of the food system, support entrepreneurial projects, build long-term capacity of communities, and help to reduce food insecurity.
Eligible applicants include public food program service providers, tribal organizations, or private nonprofit entities, including gleaners. Applicants for CFP and PP awards are encouraged to seek and create partnerships with public or private, nonprofit or for-profit entities, including links with academic institutions (including minority-serving colleges and universities), or other appropriate professionals, community-based organizations, and local government entities. A 1:1 match is required.
VML Contact: Janet Areson, jareson@vml.org
Weldon Cooper Center and DMME hosting SolSmart Advisor program
The Virginia Solar Initiative of the Center for Economic and Policy Studies at UVA's Weldon Cooper Center for Public Service is partnering with the state's Department of Mines, Minerals and Energy (DMME) to host a SolSmart Advisor Program in Virginia.
SolSmart is a national program that has helped more than 350 local governments in 41 states "make it faster, easier, and more affordable for residents and businesses to go solar." The program is led by The Solar Foundation and the International City/County Management Association (ICMA) and is funded by the U.S. Department of Energy Solar Energy Technologies Office.
According to the press release, the no-cost solar technical assistance program empowers participating localities to expand their local solar markets and become "solar ready" by identifying and removing barriers to solar development at the residential, commercial, and utility scales. Localities that participate in the program and meet objective criteria can earn SolSmart Gold, Silver, or Bronze designation and national recognition.
"We are excited to work with UVA and the DMME to help more Virginia communities meet their clean energy goals through SolSmart," said Andrea Luecke, President and Executive Director at The Solar Foundation. "Even in the wake of new challenges created by COVID-19, local governments are looking to clean energy to renew their economies and create high-quality jobs in the years ahead. With Virginia now poised to be one of the leading markets for solar energy growth, these expert Advisors will be helping communities succeed."
As SolSmart Advisors, Virginia Solar Initiative's Senior Project Coordinator, Elizabeth Marshall, and DMME's Solar Program Manager, Carrie Hearne, will deliver research-based, industry leading best practices and technical support to help localities streamline their permitting, zoning, inspections, code needs, utility involvement and community involvement processes. Improving local processes saves time and money for local government staff and encourages more community members to adopt solar energy.
The Virginia Clean Economy Act requires that Virginia's electricity supply be carbon neutral by 2050.
William Shobe, Director of the Center for Economic and Policy Studies at the Cooper Center, commented, "With the passage of the Clean Economy Act, Virginia has moved into a leadership position in efforts to reduce and ultimately eliminate emissions that are contributing to global warming. Our work with DMME and the Solar Foundation will help chart a fair and cost-effective path to a clean energy future."
Contacts: Elizabeth Marshall, Virginia Solar Initiative's Senior Project Coordinator, emm2t@virginia.edu or Bill Shobe, Director of the Center for Economic and Policy Studies at the Cooper Center for Public Service, wms5f@virginia.edu.