eNews May 21, 2021

Friday, May 21, 2021 - 05:26pm
In this issue:
Legislative Councils & Commissions
Action Alert: FOIA
The Freedom of Information Advisory Council needs to hear from you!
The Freedom of Information Advisory Council (FOIA) records subcommittee met this week and took up two bills.
These bills are concerning to local government – VML strongly encourages you to read the comments!
HB2000: Charges for production of public records
HB2000 (Roem) Prohibits a public body from charging a requester for any costs incurred during the first two hours spent accessing or searching for requested records when such requester has made four or fewer individual records requests to such public body within 31 consecutive days. The bill provides that for any additional time spent accessing or searching for such records, or when such requester makes five or more individual records requests to such public body within any 31-consecutive-day period, the public body shall not charge an hourly rate for accessing or searching for the records exceeding the lesser of the hourly rate of pay of the lowest-paid individual capable of fulfilling the request or $33 per hour. The bill also requires public bodies to post on their website or otherwise publish a written policy (i) explaining how the public body assesses charges for accessing or searching for requested records and (ii) noting the current fee charged, if any, by the public body for accessing and searching for the requested records.
Concerns with HB2000
This bill will change the way localities complete FOIA requests and will cost localities money and time that can no longer be compensated for and shifts the cost burden to the taxpayers.  There is also concern on how to keep track of the number of requests and the time that it takes to produce and search for the records.  There is concern on how $33 became the hourly rate as well.    VML did offer to participate in a review of FOIA fees if that was the group's pleasure.  They will meet again on June 14th and look at concepts that FOIA staff will draft.  Please contact members of the FOIA Council with your concerns.
HB2196: Required release of law-enforcement disciplinary records
HB2196 (Mullin) Requires the release of law-enforcement disciplinary records related to completed disciplinary investigations. The bill defines "law-enforcement disciplinary records" as any record created in furtherance of a law-enforcement disciplinary proceeding or any other administrative or judicial proceeding, whether such proceeding takes place in the Commonwealth or in another jurisdiction. The bill allows for the redaction of certain personal contact information of the law-enforcement officer, complainant, and witness or their families; social security numbers; and certain medical information of the law-enforcement officer and complainant.
Concerns with HB2196
During the meeting it was suggested that this bill should not be limited to law enforcement but should apply to all local government employees. This bill, even if limited to law enforcement, sets a precedent which is dangerous for our other employees.
Action needed!
Read the written comments related to both bills. Then, please contact members of the FOIA Council with your concerns.
VML Contact: Michelle Gowdy, mgowdy@vml.org
ARPA
ARPA Interim Final Rule is open for public comment
This week, the U.S. Department of the Treasury published on the Federal Register its interim final rule to implement the Coronavirus State and Local Fiscal Recovery Funds. The provisions of the interim rule became effective on May 17. Comments on the rule are now being accepted.
You can read the interim final rule in its entirety and submit your comments here >.
Comments must be received on or before July 16, 2021. Submit comments electronically by using the link above. Alternatively, comments can be mailed to the Office of the Undersecretary for Domestic Finance, Department of the Treasury, 1500 Pennsylvania Avenue NW, Washington, DC 20220. However, because postal mail may be subject to processing delay, it is recommended that comments be submitted electronically.
All comments should be captioned with "Coronavirus State and Local Fiscal Recovery Funds Interim Final Rule Comments." Be sure to include your name, organization affiliation, address, email address and telephone number in your comment. Where appropriate, a comment should include a short executive summary.
Comments received will be posted on www.regulations.gov without change, including any business or personal information provided. Comments received, including attachments and other supporting materials, will be part of the public record and subject to public disclosure. Therefore, do not enclose any information in your comment or supporting materials that you consider confidential or inappropriate for public disclosure.
Source: Preston Bryant, McGuireWoods Consulting, pbryant@mwcllc.com
Using state and local Fiscal Recovery Funds for water and wastewater projects
As Virginia's localities continue to wait for the arrival of funding from ARPA's Local Fiscal Recovery Fund, many have expressed an interest in learning how Fiscal Recovery funds can be used for water and wastewater projects.
Earlier this month, the U.S. Department of Treasury (Treasury) detailed funding eligibility for water and wastewater projects in its Interim Final Rule on the Coronavirus State and Local Fiscal Recovery Funds. Treasury noted that the rule "provides state, local, and Tribal governments with wide latitude to identify investments in water and sewer infrastructure that are of the highest priority for their own communities, which may include projects on privately-owned infrastructure."
The Interim Final Rule explains that for water and wastewater projects to be eligible for ARPA Fiscal Recovery funds, they must also be eligible to receive financial assistance through the U.S. Environmental Protection Agency's (EPA) Clean Water State Revolving Fund (CWSRF) or Drinking Water State Revolving Fund (DWSRF).
When determining whether the project would be eligible for CWSRF or DWSRF funds, it is important to note that eligibility is based on federal CWSRF and DWSRF project categories, not categories established by the state in which the project will take place. Federal CWSRF eligible project categories can be found on the EPA's CWSRF website, and federal DWSRF eligible project categories can be found on the EPA's DWSRF website.
For ARPA funds to be used for water or wastewater projects – whether by State or Local federal relief funds – there must be an appropriation specifically for that purpose. If State Local Fiscal Recovery Funds are to be used for utility infrastructure, the General Assembly will have to appropriate some amount for that purpose. Likewise, if a locality wants to invest ARPA funds for water and wastewater infrastructure, the local governing body will have to appropriate the federal dollars it receives for such purpose.
In its Interim Final Rule, Treasury provided a non-exhaustive list of five types of projects that meet these eligibility criteria. Examples included projects that improve drinking water infrastructure; consolidate or establish drinking water systems; support cybersecurity needs to protect water or sewer infrastructure; support efforts to address climate change; and provide relief in cases of a natural disaster. To read more details about each of these examples, see pages 63 through 68 of the Interim Final Rule.
In a webinar held by the National League of Cities on May 20, 2021, Jacob Leibenluft, Counselor to the U.S. Secretary of Treasury, discussed the question of who must make the determination that the proposed water/wastewater project would qualify for Fiscal Recovery funds. In his answer, he stated that each Fiscal Recovery Fund recipient needs to make their own determination about whether the project would qualify. There is no approval process that recipients will need to undergo with the EPA or the state before allocating Fiscal Recovery funds to projects that would qualify for CWSRF or DWSRF funding. Leibenluft noted that Treasury's language on this topic in the Interim Final Rule serves as a way for recipients to categorize the water/wastewater project and does not indicate any sort of application process.
Source: Preston Bryant, McGuireWoods Consulting, pbryant@mwcllc.com
ARPA Hospitality and Tourism Relief Recommendations for Local Governments webinar hosted by VML on June 2
On Wednesday, June 2, officials, and staff from VML member localities are invited to join representatives from the Virginia Restaurant, Lodging & Travel Association (VRLTA) to hear how ARPA relief funds can be most effectively used to aid local hospitality and tourism entities. Topics to be covered include:
ARP Opportunities and COVID-19 Impacts
Lodging Relief Proposals
Tourism and Attraction Relief Proposals
Restaurant Relief Proposals
This event is hosted by the Virginia Municipal League.
Additional information and free registration are available here >.
VML Contact: Rob Bullington, rbullington@vml.org
Marijuana
Marijuana: Legal Considerations for Virginia's Local Governments webinar hosted by VML on June 9
With the legal status of marijuana in Virginia set to change on July 1, VML invites our members to attend this session with attorneys Faith Alejandro and Patrick Callahan from Sands Anderson.
Information and a link to register are available here >.
Issues and considerations to be covered include:
Disconnect between Federal and State laws
Impact of recent Virginia laws regarding marijuana:

Background checks/simple possession
Cannabis Oil statute
Legalization of marijuana

Recommended workplace policies/approaches:

Background checks
Drug-free workplace policies
Drug testing implications
ADA/Reasonable accommodations
HIPAA implications
Collective bargaining implications
Transportation issues
Please send questions
Time will be set aside for Q&A at the conclusion of the session. Please send any question you would like to have addressed during the event to Mitchell Smiley, msmiley@vml.org.
VML Contact: Mitchell Smiley, msmiley@vml.org
Budget & Economy
State revenue collections accelerate
Revenue surplus expected to exceed $500 million
It was a busy week for Virginia's Secretary of Finance Aubrey Layne with appearances before the House Appropriations Committee and the Senate Finance and Appropriations Committee.
The news he brought to the two money committees was warmly received. On a year-to-date basis, total revenues have increased 12.8 percent, ahead of the annual forecast of 2.7 percent growth. Payroll withholding taxes are 3.7 percent ahead of last year's year-to-date collections and a full percentage point above of the official 2.7 percent projection. The increase in collections is being driven NOT so much by employment growth as it is by pay increases for high-wage earners. The chart below shows the pandemic's economic impacts were not equally shared.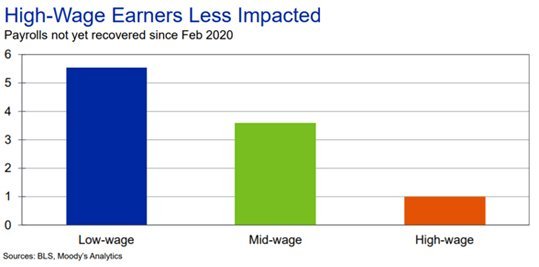 In fact, since March 2020, Virginia employment was down by 182,000 jobs (4.5 percent), on net. Jobs were lost over the year in all sectors. The most jobs were lost in leisure and hospitality (76,600 jobs), followed by government (36,800 jobs) with most of the public sector job losses falling on local governments.
The surge in stock values and similar assets helps to explain the strong collections in non-withholding individual income taxes.
Collections in non-withholding were $907.2 million compared with $470.1 million in April of last year, an increase of 93 percent. Year-to-date, collections grew by 40.1 percent, ahead of the annual estimate of a 4.4 percent increase.
Income tax refunds are running below projections. Through April, the Department of Taxation has issued $1,496.6 million in individual refunds compared with $1,513.8 million in the same period last year, a 1.1 percent decrease as compared to the annual estimate of 23.7 percent growth. The decrease in tax refunds can be attributed to last year's high unemployment of part-time and full-time workers. Fewer workers translate into fewer tax refunds.
Strength in sales tax collections were broad-based, except for grocery store sales as there was no hoarding of groceries like there was last March as the pandemic began.
On a year-to-date basis, sales tax collections increased 8.7 percent, ahead of the annual estimate of 4.7 percent growth.
As for recordation taxes, April collections increased 41.3 percent compared to last year. Year- to-date collections have increased 40.6 percent compared to last year, outstripping the forecast of 24.4 percent growth. But Secretary Layne expects the soaring costs for lumber and a likely increase in mortgage rates to moderate the housing market's growth.
The Secretary of Finance did cite some concerns with his otherwise blue skies revenue report. His biggest concern is inflation that could arise from too much federal economic stimulus. Layne shared a Wall Street Journal article from last week that pointed out that:
The most recent measure of the Consumer Price Index was a whopping 4.6 percent, which is the largest increase since 2008.
Population growth in the last decade was the lowest in generations, meaning a tightening of the labor supply.
The low-cost housing market is seeing the largest leap in prices. This could lock young families out of the market.
The federal deficit is hitting new highwater marks and will continue to do so.
Inflationary pressures on the price of goods can be a plus for sales tax collections. However, over time, the overall impact can spiral, leading to higher interest rates, lower levels of consumer confidence, a reduction in economic activity, and job losses.
As for a revenue surplus in FY 2021, Secretary Layne did say that he thought a revenue surplus of $500 million is likely. This was not included in his written presentation to the money committees or in his monthly revenue letter to Gov. Northam.
Others think the surplus could be twice as high. The table below explains that even if the last quarter of FY21 turned out to be a revenue disaster, the 2.7 percent revenue forecast could still be met.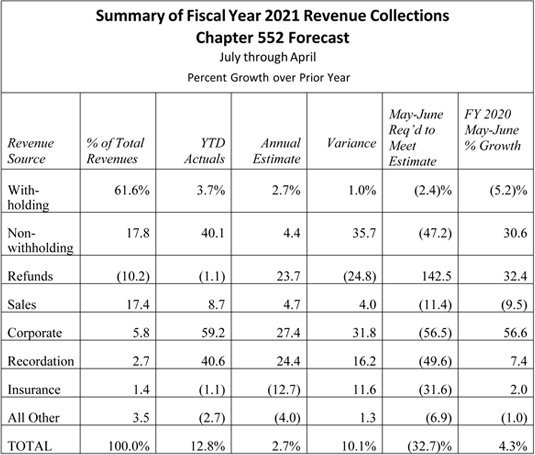 VML Contact: Neal Menkes, nmenkes@vml.org
Has inflation infected the economy?
The answer depends on who you ask
The Federal Reserve Bank, which Congress has put in charge of controlling inflation, thinks the jump in prices this year (4.6 percent) will fade as data quirks, supply bottlenecks and a reopening-induced pop in demand work their way through the system. For now, officials see no reason to tap the brakes by slowing down large-scale bond purchases or raising interest rates, policy changes that would slacken demand as an antidote to accelerating inflation.
Some 40-years have passed since the Fed raised interest rates to 20 percent to slam the brakes on double-digit inflation growth in 1979 and 1980. That braking job swerved the economy into the 1980 recession.
Fast forward to the present: Some measures suggest that inflation may be (or already is) returning. The attention comes amid stories of computer chip shortages, gas station lines, and surging lumber prices, as well as a speeding up of overall measures of real-world price gains.
To a large degree, the public's (and not economists') inflation expectations data are hard to determine.  Some consumer trackers tend to be heavily influenced by gas prices. The Fed has recently been using a quarterly measure that has moved up by less than the surge in gasoline prices. But the speed of recent adjustments has called into question how much acceleration would be a problem, signaling that people have come to accept inflation in a way that will keep actual prices rising.
The Federal Reserve Bank adopted a new policy approach last August in terms of how it views inflation.  The policy goal both aims for periods of higher inflation up to 2 percent and doubles down on the central bank's full employment goal. Practically, it means the central bank plans to leave rates low for this year and next. Those policies make money cheap to borrow, ultimately bolstering demand for goods and services and helping prices to rise.
But the Federal Reserve Bank's monetary policy must be assessed along with the fiscal policy set by the Congress and President Biden. Through the passage of the CARES Act and the American Rescue Plan Act, the federal government has drastically loosened its purse strings, spending trillions of dollars to pull the economy out of the pandemic recession. Both the fiscal and the monetary response are meant to keep households economically whole through a challenging period.
However, the short-term and long-term synergistic impact of these monetary and fiscal policies are not yet known. Is the economy at risk? A recent article in the New York Times suggests that the answer to the question depends on the answers to these five questions:
Is this a change in relative prices, or a change in overall prices?
Are the prices of items becoming more expensive likely to rise further, stay the same, or go down?
Are wages also rising?
Is inflation so high and erratic that it is hard to plan ahead?
Is this really inflation at all, or is it a shift in the price of investments like stocks and bonds?
How this will all affect local government services and the revenues that pay for them only time will tell.  Until then, stay tuned.
VML Contact: Neal Menkes, nmenkes@vml.org
Attorney General issues opinion on special school tax
In response to inquiries raised by Prince William County, the Office of the Attorney General has issued an opinion regarding the implementation of a proposed special school tax, which would be levied in addition to the county's current property tax. While § 22.1-102 of the Code of Virginia lays out guidelines for localities to levy a special tax to fund school construction, the latest opinion clarifies questions of details including the categorization of the special tax, expenses for which a tax can be levied, and the timeframe in which funds can be spent.
Click here for a link to the full opinion.
VML Contact: Jessica Ackerman, jackerman@vml.org
Code Commission approves work plan
The Code Commission met this week to discuss their work plan for the year. A review of the work plan shows that the commission postponed the recodification of Title 32.1 (Health) due to COVID so that work will continue into 2022. Next up will be Title 24.2 (Elections) which will be delayed until late 2022 or 2023.
The Commission also took up appointments to the Administrative Law Advisory Committee and lucky me (Michelle Gowdy) received one of those appointments!
VML Contact: Michelle Gowdy, mgowdy@vml.org
Broadband Advisory Council meets
At its meeting on May 14, the Broadband Advisory Council received updates on the Virginia Telecommunication Initiative (VATI) projects and proposed rules for the next round of grant funding.  They also heard a presentation on satellite internet broadband.  At the end of the meeting, Ray LaMura who is the President of the Broadband Association of Virginia and a member of the Broadband Advisory Council, invited the Advisory Council to participate in a fall broadband event which will include VML and VACo along with the Broadband Association of Virginia.  We are grateful that they agreed to participate.
Commonwealth Connect reviews federal funding
Virginia Commonwealth Connect met this week and reviewed several of the federal funding pots that include broadband as an eligible use. These include the Coronavirus State Fiscal Recovery Fund, the Local Fiscal Recovery Fund, the Coronavirus Capital Projects Fund, the Emergency Connectivity Fund and NTIA infrastructure program.
VML encourages our members to review the slides and contact the Broadband Governor's Broadband Team available at commonwealthconnect@governor.virginia.gov and/or the VATI Team available for technical assistance at vati@dhcd.virginia.gov before beginning any projects.
The slides from the meeting are available here >.
VML Contact: Michelle Gowdy, mgowdy@vml.org
Health & Human Services
Immunization record copies now available; DOLI updates COVID-19 related FAQs
Did you or someone you know misplace their COVID-19 vaccination card? Don't worry, the Virginia Department of Health website now offers a way for individuals to request a copy of their vaccine record. Here's how you do it:
Visit the VDH vaccination website.
Scroll down to the Resources links.
Click on the box that says "Do you want a copy of your immunization record?"
Complete and submit the on-line form and a representative from the Virginia Immunization Information System will call you to complete the process for your request.
DOLI updates
Are you confused about the Department of Labor and Industry (DOLI) workplace regulations now that the CDC issued new guidance on May 13?
Jay Withrow with DOLI answered questions on a VDH stakeholder phone call on May 21. He said that his agency developed a set of FAQs about sections of its regulations and that these have been updated as a result of the May 13 CDC guidance.
The DOLI regulations can be seen here >.
The FAQs for the DOLI regulations may be viewed here >.
If the FAQs do not address your question, you can email Jay Withrow at DOLI with your question, which will also be considered as an addition to the FAQs page.
VML Contact: Janet Areson, jareson@vml.org
Transportation
Transportation Incentive Program to begin in FY22 and budget announced
The Commonwealth Transportation Board met this week and discussed among other items the Transit Incentive Program which is intended to assist transit providers improve connectivity in urban areas with populations greater than 100,000 and support the creation of zero fare and low-income pilot programs for transit providers in the Commonwealth.
This program was set to begin in FY21 but was delayed to allow the Department of Rail and Public Transportation and other agencies to respond to the COVID-19 pandemic and related impacts.
As result of the delayed start of the TRIP program, FY21 and FY22 funds will be combined resulting in $20 million in total program funds which will be available for local transit providers to apply for during FY22. $12.5 million is anticipated to be available for zero far/low-income pilot programs and $7.5 is anticipated to be available for regional routes.
The Commonwealth Transportation Board is expected to approve these funds and the start of the TRIP program at their June Meeting. The TRIP program was created by the 2020 Omnibus transportation legislation and after unexpected delays will be up and running for local transit systems to take advantage of during FY22. Further program information and the application process should be available this summer from the Department of Rail and Public Transportation.
Click here for a chart showing Program Funding for FY22-27.
VML Contact: Mitchell Smiley, msmiley@vml.org
SMART Scale Round 4 staff recommendations released
The staff recommendations for round 4 of SMART Scale projects was approved by the Commonwealth Transportation Board (CTB) on May 19. Round 4 of SMART Scale includes more than $1 billion for 156 projects, the bulk of these funds is directed towards district grant program projects for a total of more than $880 million.
Round 4 funding incorporates new funds from the 2020 omnibus transportation and increased the total amount of funding by more than $300 million for this round. However, as a result of declines in revenues collected in the past year, the total available funding was less than anticipated resulting in a decrease of nearly $40 million, this funding decrease was offset by funds from deallocated projects in the district grant program and the high priority program.
Several projects from across the VDOT districts were ultimately added to this round of SMART Scale with deallocated funding from other district projects, a list of these projects can be found here on pages 4-13.
The Round 4 projects included in SMART scale are the result of staff, public, and locality input throughout the SMART scale process as well as publicly held digital meetings in the last several months. Now that round 4 of SMART scale projects have been approved by the CTB these projects will be included in the final FY2022-FY2027 Six Year Improvement Plan at the June meeting of the CTB.
VML Contact: Mitchell Smiley, msmiley@vml.org
Opportunities & Resources
2021 Mayors Institute and Newly Elected Officials Conference – details coming soon!
VML is pleased to announce a return of (some) in-person events for summer 2021! Mark your calendars for the upcoming Newly Elected Officials Conference and the 2021 Mayors Institute:
Newly Elected Officials: Thursday, July 15, 2021
Mayors Institute: Thursday – Friday, July 15-16, 2021
Both events will be held in Charlottesville, with registration details to follow soon. Please note, unlike previous years, the annual VML Mayors Institute will not be held consecutively with the larger VML Annual Conference. The July event will be the only Mayors Institute held this year.
Contacts: For more information about the Newly Elected Officials Conference, please contact Mitchell Smiley, msmiley@vml.org; For more information about the Mayors Institute, please contact Jessica Ackerman, jackerman@vml.org.
VRSA offering FOIA training to members in May and June
The Virginia Risk Sharing Association (VRSA) is pleased to announce training on the Freedom of Information Act (FOIA) in May and June.
These initial courses are conducted by Andrea Erard, an attorney who represents local governments and school boards. The courses are free and targeted to governing officials and appropriate staff.
The training is designed to meet the legal requirement for local elected official under §2.2-3704.3. These small classes, each run in two parts, are limited to two individuals per member.
May 25 & 27 – 10:00 AM
June 8 & 10 – 10:00 AM
July 20 & 22 – 10:00 AM
To learn more: Visit www.vrsa.us or call (800) 963-6800
VATI "How to Apply" webinar to be held June 17
This year's "How to Apply" webinar from VATI will be on June 17 from 2:00 PM -4:00 PM. If you are planning on applying this round – or would just like to learn more about the program – please register here. The VATI team be discussing the application process, offering some tips and best practices, and answering questions.
VATI Contact: If you have any questions regarding the webinar or VATI in general, please feel free to contact the VATI team.
Registration open for NOVA elected leaders peer-to-peer program
The Schar School of Public Policy's Regional Elected Leaders Initiative (RELI) launched a new Peer-to-Peer Brown Bag Lunch Cohort Program.
From the Shar School: "The pressure on local elected officials is great. This is a unique opportunity for local elected leaders to talk with your peers from other jurisdictions about a range of governance issues, and some current local policy issues."
Issues to be discussed include (but are not limited to):
How can I be more effective as a local elected official?
How do others manage their communication with constituents?
What is the most effective way to engage staff?
How can I best engage my colleagues on the council or the school board?
How might I contribute to better a recovery from COVID?
How can I effectively address equity in public policy?
The program consists of four one-hour virtual sessions facilitated by senior, former local elected officials. Space is limited for this new offering. Participation is limited to 10 NOVA local elected officials in each group, and no more than two members of any council/board.
June 2021 – School Board Member Cohort: 12-1PM
Friday, June 4
Friday, June 11
Thursday, June 17
Friday, June 25
July 2021 – County Board/City Council Cohort: 12-1PM
Friday, July 9
Friday, July 16
Friday, July 23
Friday, July 30
Free registration is available here >.
Contact: For more information, please contact SchaRELI@gmu.edu
DOLI launches new Prevailing Wage Law resource
The Virginia Department of Labor and Industry has posted a new web page with information related to the Prevailing Law. The page has areas for the following related topics:
What You Need to Know
Contractor Responsibilities
Forms and Related Information
Contracting Agency Information
Employee Rights
Virginia Prevailing Wage Rates
The new resource is available at: www.doli.virginia.gov/prevailing-wage-law/
DOLI Contact: Rob Field, robert.feild@doli.virginia.gov
VEEC hosting benchmarking webinar on June 10
The Virginia Energy Efficiency Council is hosting a webinar on June 10 specifically for local government and state agency staff.
Benchmarking Best Practices will focus on how to set up and run a successful benchmarking program for commercial and public buildings. There will be time in the end for questions. Registration is free but required to attend.
Speakers include Patti Boyd (DC Sustainable Energy Utility), Brandi Frazier Bestpitch (VA. Dept. of Mines, Minerals & Energy), John Morrill (Fairfax County Government), Nam Nguyen (VA. Dept. of Mines, Minerals & Energy), and JoAnna Saunders (Dept. of Energy & Environment, District of Columbia).
For details and to register, visit the VEEC event page here >.
VEEC Contact: Outreach Director Jessica Greene, jessica@vaeec.org
IMLA invites participation in its On/Off Premise Case survey
The International Municipal Lawyers Association (IMLA) is currently working to help the City of Austin with an on/off-premise sign case it is requesting Supreme Court certiorari on. To gather data for their reply brief on how common distinctions are in on/off-premise signs, the IMLA is asking localities across the United States to complete this short, five-question survey:
IMLA Contact: Amanda Karras, Deputy General Counsel / Director of Legal Advocacy, karras@imla.org.
Resilient Virginia's "Spring Resiliency Academy" offerings still available for 2021
Resilient Virginia invites interested parties to register today for workshops 2 and 3 of its three-part Spring Resiliency Academy series, which presents new options for communities to help finance resiliency initiatives. The first workshop focused on funding for flood-prone communities, the second will highlight funding for resilient buildings and energy, and the final workshop will outline funding for economic recovery, jobs, and justice.
Additional information and registration are available here >.
Workshop 2: Funding for Resilient Buildings and Renewables + Storage
Date: May 27th, 2021
Time: 1:00-2:30 PM EST
The second workshop in the 2021 series will feature information and resources on making our buildings and energy systems more resilient to climate change and other disruptions. Session will feature speaker presentations, followed by Q&A. Speakers include Dan Farrell, Associate Director of Energy Efficiency, DHCD Housing Innovations in Energy Efficiency (HIEE) Program; Abby Johnson, LEED AP O&M, Executive Director, Virginia PACE Authority; and, Cliona Robb. Esq, Director, Thompson McMullan, P.C., Board Chairperson, VA-Renewable Energy Alliance and chairperson of the Virginia Solar and Energy Storage Authority.
Workshop 3: Funding for Economic Recovery, Jobs, and Justice
Date: June 17th, 2021
Time: 1:00-2:30 pm EST
The third workshop in the 2021 series will provide an overview of funding opportunities for advancing job creation, economic recovery, and social and environmental justice in the state and nationwide. Session will feature speaker presentations, followed by Q&A. Speakers to be announced.
VML Contact: Mitchell Smiley, msmiley@vml.org
3rd Annual Summit on Rural Education being held June 10
The Coalition of Small and Rural Schools of Virginia's Board of Directors and the National Rural Education Association is pleased to announce its 3rd Annual Summit on Rural Education presented by Energy Systems Group. The Summit will be held virtually on June 10 and will focus on school infrastructure needs in rural communities. Presentations and panel discussions will cover the impact of school facilities on student learning, the inequity between school facilities in affluent and high poverty localities, and how to best leverage Federal dollars and flexible financing models.
Who should attend? The Summit is geared towards School Board Members, Boards of Supervisors, Superintendents, Facility Managers/Directors, Finance Directors, and Principals. Members of the media may join the Summit free of charge by using the coupon code – WAIVER.
The Summit brochure is available here >.
"Crumbling Schools Tour" to follow
In the weeks following the Summit, COSARS will partner with other State Educational Groups to host a "Crumbling Schools Tour" where Legislators, Community Leaders, and the media will be invited to tour a school, that is need of improvement, in each Region of the Commonwealth. After the tour, information will be provided to demonstrate how renovations or new construction could impact the local community.
Coalition of Small and Rural Schools of Virginia Contact: President Keith Perrigan, Superintendent Bristol Virginia Public Schools, kperrigan@bvps.org