eNews May 17, 2018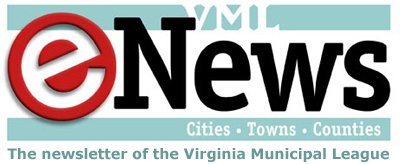 Thursday, May 17, 2018 - 11:46am
In this issue
There will be a state budget in place before July 1
Revenue surplus shaping up for June. Could exceed $400.0 million
Jails, housing, and funding on agenda for Deeds Subcommittee
VML policy committees to meet July 19; Institute for Local Officials will meet July 19-20
Don't forget: Sign-up for webinar on summer food program
News from VRS: New employer website set to be launched
More VRS news: Learn about return-to-work
Innovation awards, Stairway to Success, Go Green awards open
Interested in serving on teacher advisory board?
There will be a state budget in place before July 1
But don't ask about the details. No one knows.
The kickoff for this past Monday's Senate Finance Committee meeting featured a statement by the committee's co-chair, Tommy Norment, declaring that the General Assembly will pass a budget.
The roadblock to Senate passage seems to have been cleared weeks earlier by Republican Senators Emmett Hanger and Frank Wagner who have said they will not vote for a budget that does not include Medicaid expansion. The 2018 General Assembly debate on Virginia's participation in the Affordable Care Act ("Obamacare") pitted Gov. Ralph Northam, a majority of the House of Delegates, and nineteen Senate Democrats against 21 Senate Republicans.
If Senators Hanger and Wagner (and possibly one or two more Senate Republicans) support Medicaid expansion, their votes coupled with solid block voting by the Democrats will improve the odds that a budget for the upcoming biennium will indeed happen.
The timetable to enact the budget remains hazy. The Senate will convene next Tuesday at 3:30 p.m., but the Finance Committee has not yet scheduled a meeting to consider HB 5001 and HB 5002. Earlier this week, the committee considered 36 "suggestions" offered by Senators for the budget. A number of the suggestions affect Medicaid and K-12 education.
Assuming the Senate passes a budget with Medicaid expansion provisions next Tuesday, there still will be issues between the House and Senate that need to be ironed out, meaning a budget conference will be required. It's possible but doubtful that the Senate will simply adopt the House budget.
The outstanding issues of interest to local governments include:
Title
Dollars
Dispute
K-12 Public Education
$170.5 million
House spending exceeds Senate's February action
Public Employee Compensation
$233.7 million
House spending for state and state-supported employees exceeds Senate's February action
Financial Assistance for
Local Police Departments (HB 599)
$7.2 million
Senate cut FY20 amount recommended by Gov.
Stormwater Local Assistance Fund
$20.0 million
Senate spending exceeds House's action on HB 5002
Communications Sales and Use Tax
$4.0 million
Senate transferred revenue to state general fund in February. House budget does not include the transfer.
Localities should also insist that any expansion of Medicaid must include sufficient state resources for local departments of social services to properly manage eligibility determinations and, if enacted, work requirement provisions. Skimping on essential administrative costs would put any expansion effort at risk for delay and fraud.
And, local governments should be wary about any budget language that mandates, without increasing state funding, the hiring of additional Commonwealth's Attorneys based on the number of body cameras worn by local police officers. No credible study has been done in the Commonwealth to assess the workload on the courts and Commonwealth's Attorneys as well as the financial impact on local budgets.
VML members should take the opportunity before budget conference begins to remind their delegates and senators about the importance of these local-oriented issues.
Revenue Surplus Shaping Up For June. Could exceed $400.0 million
Governor says surplus needs to be used as a cash reserve to preserve Virginia's bond rating
The April Revenue Report prepared by Secretary of Finance Aubrey Layne for Gov. Ralph Northam lauded the 17.8 percent increase in general fund revenue collections in April over the same period a year ago.
On a fiscal year-to-date basis, total revenue collections rose 6.7 percent through April, ahead of the annual forecast of 3.4 percent growth. Collections in individual withholding, individual non-withholding, sales, and corporate income taxes are all exceeding the annual estimates.
In fact, state tax collections could decrease by 8.8 percent in May and June and the state would still meet the official forecast. (Last year revenues increased by 3.7 percent in May and June.)
However, Secretary Layne in Monday's Senate Finance Committee meeting pointed out several areas of concern. The first concern is individual income tax non-withholding. Collections in this area were $876.9 million compared with $628.2 million in April of last year, an increase of 39.6 percent. To date, non-withholding collections are 23.6 percent above the same period last year, well ahead of the annual estimate of a 4.3 percent increase. This good news is tempered by the volatility of non-withholding collections, meaning it is subject to large swings both up and down. And, in FY 2018, a significant number of high-income tax payers who paid the tax have not yet filed their state tax returns. Layne thinks a large portion of these individuals will be owed refunds, driving down the collections amount.
The second concern is centered on Virginia's coveted triple-A bond rating. The Commonwealth's overall cash reserve balances and reserve balances measured as a percent of general fund expenditures rank last among the twelve states holding AAA rating from all three major rating agencies.
Rainy Day Fund Balances
($s in millions)
Rainy Day Fund Balances
(% of Expenditures)
FY 2016
FY 2017
FY 2018
FY 2016
FY 2017
FY 2018
Delaware
$215
$221
$232
5.5%
5.4%
5.6%
Georgia
2,033
N/A
N/A
9.3%
N/A
N/A
Indiana
1,468
1,474
1,434
9.8%
9.5%
9.2%
Iowa
729
605
624
10.1
8.3
8.6
Maryland
832
832
859
5.0
4.8
5.0
Missouri
291
294
304
3.2
3.2
3.3
North Carolina
1,575
1,838
1,838
7.4
8.3
8.0
South Dakota
143
157
165
9.8
10.2
10.4
Tennessee
568
668
800
4.5
4.9
5.5
Texas
9,715
10,297
10,457
18.0
19.2
19.1
Utah
493
493
493
7.8
7.7
7.4
Virginia
236
549
283
1.2
2.7
1.4
Source: "The Fiscal Survey of States, Fall 2017", National Assoc of State Budget Officials
Virginia's cash reserves are at historic lows because governors and the General Assembly have relied on the Rainy Day Fund to pay for ongoing expenses in both bad and good economic times.
Under Virginia's Constitution, the estimated maximum dollar amount authorized for the state's Rainy Day Fund would be almost $2.6 billion, a far cry from the $283 million projected for FY 2018.
If actual collections in FY18 exceed the revenue forecast, then roughly one of every two dollars collected after the first $100.0 million will be required to be deposited to the Rainy Day Fund. This will not be enough to convince Wall Street that Virginia deserves to hold on to its bond rating.
Secretary Layne told the Finance Committee members that to remove the negative outlook from Standard and Poor's and to maintain the triple-triple-A ratings, the state needs to rebuild reserves and demonstrate sustainable structural balance as a matter of policy. In fact, the state's financial advisor recommends that the Commonwealth adopt a plan to phase-in the rebuilding of cash reserves relative to revenues or expenditures to a level of at least eight percent.
This sobering assessment is coupled with significant uncertainty on future federal spending in Virginia. The state is the number one recipient of federal defense dollars. The Commonwealth's dependency on individual income and sales taxes (approximately 88.0 percent of all general fund dollars) is another issue. And, the state's reaction to federal tax reform will also affect efforts to rebuild cash reserves. In past years, "tax reform" in Virginia has meant tax cuts.
Why is this important to local governments? If the state itself is facing major financial challenges, then will the state take the necessary actions to assure the financial sustainability of local governments to deliver essential public education, public safety, and infrastructure services?
Jails, housing, and funding on agenda for Deeds Subcommittee
Examining the financial and administrative alignment and responsibilities of the publicly-funded mental health system, including community-based responsibilities and local funding is among the priority issues to be studied by the Joint Subcommittee to Study Mental Health Services in the Commonwealth in the 21st Century. Other priority issues include finding alternatives for people with mental illness who wind up in local and regional jails; expanding supportive housing to keep people with mental illnesses in a stable setting and out of jails, hospitals, or homeless on the streets; and tackling the issue of "rightsizing" the state hospital system to alleviate increasing admissions as the result of "last resort" legislation passed a few years ago. The Deeds study, as it is generally referred to, is named for Senator Creigh Deeds of Bath County. Deeds championed a study of Virginia's system following the death of his son, Gus, in 2013. The study began in 2014 and was recently approved for another two years of work.
Two major new players at the table this year are Behavioral Health and Developmental Services Commissioner Hughes Melton, M.D., a family practitioner who previously served as a deputy commissioner at the Virginia Department of Health, and Secretary of Health and Human Resources Daniel Carey, a cardiologist and former hospital administrator from Lynchburg. Neither has a background in the behavioral health system.
The Deeds Joint Subcommittee held its first meeting of the year at Eastern State Hospital in Williamsburg, which included a tour of the facility for study members, a meeting of the full subcommittee with remarks from both Dr. Carey and Dr. Melton, and a meeting of the workgroup on system structure and financing.
This workgroup approved its workplan for the year, which will again hold importance to local governments. The group will look at 1) existing models of service delivery and operation, including the legal relationships and roles of CSBs, the state department and its board, private providers, and the Department of Medical Assistance Services; 2) other models of mental health service delivery (e.g., other states' public service systems and other potential models of state and local cooperation for service delivery); and 3) building a new system (i.e., options, reforms, and stakeholders to be involved). These include big issues potentially affecting local governments, including administrative and funding responsibilities.
The joint subcommittee's next meeting is scheduled for June 5 at Central State Hospital in Petersburg. Information about the study and joint subcommittee/workgroup meetings may be found on the Division of Legislative Services website.
Contact: Janet Areson jareson@vml.org
VML policy committees to meet July 19; Institute for Local Officials will meet July 19-20
VML's six policy committees will meet on Thursday, July 19, at the Greater Richmond Convention Center. We are moving back to a one-day format, with three committees meeting in the morning; lunch for all participants mid-day; and three committees meeting in the afternoon. Moving to a one-day format will allow more members to carpool together to the meetings and see more colleagues at the mid-day lunch.
The following committees will meet from 9:30 a.m. to 12 noon:
General Laws
Human Development & Education
Transportation
These committees will meet from 1:00 – 3:30 p.m.:
Community & Economic Development
Environmental Quality
Finance
Many local governments have returned their policy committee nomination forms; if you have not, there is still time to sign up for committees! Please email Janet Areson at VML (jareson@vml.org) to get policy committee information and a locality nominations form.
Finally, VML will hold its Institute for Local Officials starting the evening of July 19 and all-day July 20. We hope this cuts down on travel time for people who may be attending the policy committees and the conference! Register on-line at https://vml.org/education/conferences/institute-for-local-officials-2/. A draft agenda is posted there as well. This conference will be an excellent overview for newly-elected officials and incumbents as well.
Don't forget: Sign-up for webinar on summer food program
Before you kick off your Memorial Day weekend, join First Lady Pamela Northam and Richmond Mayor Levar Stoney on May 24th from 2:15 – 2:45 pm for a webinar on how you can support the Summer Meals Program in your community.
During the summer months, children from low-income families lose access to school breakfast and school lunch. For many Virginia children, summer is the hungriest time of the year.
The Summer Meals Program provides free summer meals to kids. Unfortunately, because of a lack of awareness and availability, only 15% of Virginia children who rely on free or reduced-price school lunches are also getting free meals during the summer.
Find out how your locality can get involved. RSVP to Sarah Steely at sarah.steely@doe.virginia.gov or (570) 854-5023 for call-in information.
News from VRS: New employer website set to be launched
VRS will soon introduce a redesigned website for employers that will include several new sections, including:
Quick Topics: Links to some of the most helpful pages on the site.
Employer Hub: Fast access to resources such as the employer manual, employer update, publication orders, return-to-work guidelines and VRS' hybrid and defined contribution administrative sites.
News and Insights: Highlights to help you stay up to date on news and action items.
Once the site is live, you can click the Employers tab on varetire.org.
More VRS news: Learn about return-to-work
Employees who retire under VRS may work for any non-VRS employer and continue to receive their retirement benefits. However, if a VRS retiree returns to covered employment — usually meaning a full-time, salaried position with an employer that participates in VRS — the employer will begin to report the employee to VRS, retirement benefits will stop, and the retiree will become an active member once again. Some part-time permanent, salaried state positions also are covered.
VRS has guidelines to help ensure compliance with all applicable Internal Revenue Service and VRS rules regarding the hiring of retirees. The May 2018 VRS Employer Update has more details posted at https://bit.ly/2KNrRjs, including information on rehiring retirees on an interim basis and rehiring retirees for consulting or independent contractor services. Be aware that under some circumstances, the employer, not the retiree, may be required to repay to VRS any retirement benefits a retiree who is rehired receives. Additional information is available on the VRS website.
Innovation awards, Stairway to Success, Go Green awards open
Three types of awards will be made at the 2018 VML Annual Conference, to be held September 30-October 2 in Hampton. Recipients also will be recognized in Virginia Town & City.
The Innovation Awards recognize outstanding achievements in local governments across Virginia. This program-and its successor Achievement Awards- is 40 years old and is recognized as Virginia's highest honor in local government creativity. Don't miss this opportunity to spotlight programs that have made a big difference to your residents – to celebrate innovative solutions that address emerging needs. The call for entries: https://vml.org/education/innovation-awards
The third year of the Stairway to Success program is also underway! The program has been revamped but remains true to its original purpose of encouraging local government participation in early childhood education. The application process and a checklist of actions that count toward recognition are posted on VML's website. Additional information is here: https://vml.org/education/stairway-to-success/
Go Green Virginia is celebrating its 10th year! The Go Green Challenge opened May 15; check out the details at https://www.gogreenva.org/. Participating in this friendly competition will help local governments implement specific environmental policies and practical actions that reduce carbon emissions – and save money! Local governments can garner points by taking specific actions and be recognized as certified, silver, gold or platinum green governments.
Interested in serving on teacher advisory board?
The Virginia Board of Education is seeking nominees to serve as the classroom teacher (Middle) representative on the Advisory Board on Teacher Education and Licensure for the unexpired term of July 1, 2016 to June 30, 2019.
Nominations may be made by completing the nomination form attached to Superintendent's Memo #124-18. Please send the completed form to Emily Webb, Director of Board Relations, P. O. Box 2120, Richmond, VA 23218-2120.  Nominations may also be submitted by e-mail to Emily.Webb@doe.virginia.gov.
Nominations must be received by Friday, May 25, 2018.