eNews May 15, 2020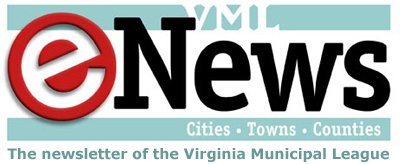 Friday, May 15, 2020 - 04:56pm
In this issue:
Economy
Revenue Report: The bad news is worse than we think
Pandemic, economic shutdown, partial re-openings, and state revenue nosedives dominate the news cycle
The two-month tally of unemployment claims hovers at 36.5 million. Federal Reserve Chair Jerome H. Powell delivered a stark warning this week that the country is facing an economic hit "without modern precedent," one that could permanently damage the economy if Congress does not provide sufficient policy support to prevent a wave of bankruptcies and prolonged joblessness. Surpassing the "Great Recession", during which the U.S. lost 800,000 jobs, the depth and swiftness of the COVID-19 job losses are the worst since the Great Depression, obliterating the number of jobs created over the last decade.

The job losses, originally confined mostly to the leisure and hospitality industries, have expanded to include other service industries like business and financial, education, and administrative jobs.  Manufacturing jobs are also in danger as car dealers report selling nearly 800,000 fewer vehicles than forecasted beginning in March. To drive home this point, April's Motor Vehicle Sales and Use Tax collections in Virginia fell by 40.7 percent.
Other jobs tied to world trade are also at risk. According to a news release from the European Commission this week, the European Union's economy is set to shrink by 7.4 percent this year as investment is expected to collapse and unemployment rates, debts and deficits will balloon.
Meanwhile in the United State, the Federal Reserve Bank reports that among people who were working in February, almost 40 percent of those in households making less than $40,000 a year had lost a job in March.
In his speech to the Peterson Institute for International Economics, Chairman Powell blamed the Coronavirus for the economic meltdown, asking: "How quickly and sustainably will it be brought under control? Can new outbreaks be avoided as social-distancing measures lapse? How long will it take for confidence to return and normal spending to resume? And what will be the scope and timing of new therapies, testing, or a vaccine?" He had no answers.
The President of the Federal Reserve Bank in Richmond, Tom Barkin, questioned whether an economic resurgence will be hampered by child care issues if schools remain closed, or if baby boomers retreat from the workforce to protect their health, or if new immigration controls reduce the entry of new workers into the labor force.
The continued lockdown has also led to the second-straight month decline of U.S. consumer prices, according to the federal Bureau of Labor Statistics. Prices dropped 0.8 percent on a seasonally adjusted basis in April, marking the largest decrease since December 2008. Falling gasoline and energy prices account for half of the drop. Grocery prices showed their biggest monthly increase in nearly 50 years in April, led by rising prices for meat and eggs. U.S. consumers paid 4.3 percent more in April for meats, poultry, fish and eggs, 1.5 percent more for fruits and vegetables, and 2.9 percent more for cereals and bakery products, the Labor Department said.
Overall, consumers paid 2.6 percent more in April for groceries, the largest one-month jump since February 1974.
Falling prices not related to productivity gains is a warning sign that consumer demand is also falling, meaning the unemployment rate is more difficult to reverse because employers are unlikely to hire if there is little demand for their goods and services.
Meanwhile in Virginia
Unemployment claims continue to climb.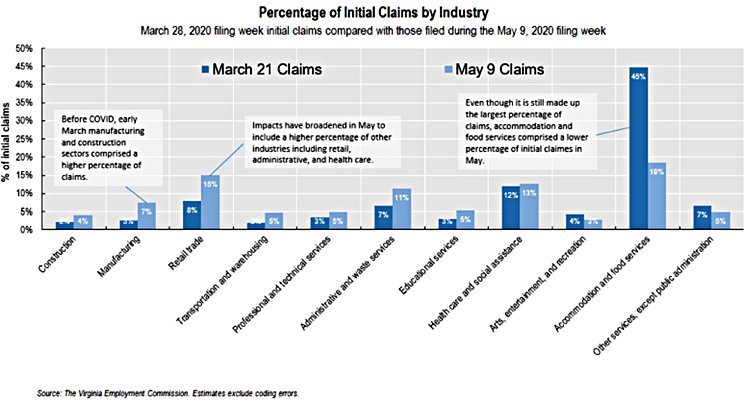 For the most recent filing week, continued claims totaled 392,673, up over 4 percent from the previous week and 374,869 higher than the 17,804 continued claims from the comparable week last year. The continued claims total is mainly comprised of those recent initial claimants who continued to file for unemployment insurance benefits during the COVID-19 pandemic. Thus far, about two thirds of workers who filed for initial claims during the pandemic continued to file during the May 9 filing week.
Economic woes are also showing up in state revenue collections. In his monthly memorandum to Gov. Northam, Finance Secretary Aubrey Layne, Jr., reported:
"Total general fund revenue collections fell 26.2 percent in April. This decrease is consistent with our anticipated revenue loss of approximately $1 billion for the last quarter of fiscal year 2020 related to the impacts from COVID-19. On a fiscal year-to-date basis, total revenue collections have increased 1.4 percent through April, trailing the annual forecast of 3.1 percent growth."
The decline may be slightly exaggerated in that April revenues do not reflect tax payments deferred until June 1. However, the April collections were boosted by two extra deposit days compared to a year earlier. But in the final analysis, this report is the first one to contain the significant tax impacts due to COVID-19. April is typically a significant month for revenue collections, including regular income tax withholding and sales taxes, final payment for the previous tax year 2019, and the first estimated payment for the current tax year 2020. A portion of estimated and final payments from individuals, due May 1, are also typically received in April.
April's $700 million plummet indicates that the General Assembly's Special Session to be held in August will almost certainly bring bad news to local governments as the final FY 2019 revenue number is used to lower the revenue base projection for both FY21 and FY22.
VML Contact: Neal Menkes, nmenkes@vml.org
Health and Human Services
Update from VDH
More PPE has arrived; more testing to come
This week the state received a large shipment of personal protection equipment (gloves, masks, gowns) from contracts it pursued with manufacturers. This PPE is in the state warehouse and will be distributed to the network of providers (regional emergency entities, health departments, etc.) that then distribute to a wide variety of entities like EMS agencies, local DSS, urgent care clinics, free clinics, local and regional jails, etc.
The Virginia Department of Health (VDH) also announced that skilled nursing facilities recently received a seven-day supply of PPE from the federal government.
Expanded testing will soon be available as well. VDH announced that it has contracted with some private, commercial labs for an additional 30,000 kits and has contracted with turn-key lab services that will provide kits, collect samples, and test those samples.
VDH staff noted that as the demand for testing remains high, the agency is working to schedule tests for as many people as possible.
VML Contact: Janet Areson, jareson@vml.org
VDSS provides Phase 1 childcare guidelines
Earlier this week the Virginia Department of Social Services (VDSS) released Virginia Forward Phase 1 childcare guidance with the goal of "helping childcare programs transition back to operation without negative impact to children and families or to the educators that serve them."
The guidelines include increased sanitation and cleaning, thorough health checks upon entry, limited access, and smaller class sizes that will be necessary for the near future.
View/download the full memo and guidance document here >.
VML Contact: Janet Areson, jareson@vml.org
Announcements
VHDA launches COVID-19 housing issues website
The Virginia Housing Development Authority (VHDA) has partnered with Governor Northam to create a StayHomeVirginia.com website for information about housing programs, services and resources to help Virginians who have experienced job or income loss and other impacts due to the COVID-19 crisis.
The new website includes guidance on how to work with landlords, financial institutions, and others to sustainably use temporary eviction and foreclosure protections during this crisis.
VHDA Contact:  Sandy Edwards, Assistant to the Chief Executive Officer, Sandy.Edwards@VHDA.com
VRLTA urges consideration of local businesses when allocating CARES Act funds
The Virginia Restaurant, Lodging & Travel Association (VRLTA) is asking local governments to consider using a portion of their CARES Act relief funds to assist small businesses.
Although VRLTA commends many Virginia communities for "already taking steps to provide assistance to these impacted businesses through new loan or grant programs or policy actions related to deferrals of tax payments and the waiver of interest and penalties," these and federal loans and other programs "have also fallen short of addressing the full need" as the crises has lengthened.
VRLTA recognizes that "the first priority for these funds should be to cover health care and public safety related costs incurred by local governments to address COVID-19 related issues." However, the organization urges localities to note that "the guidance from the U.S. Treasury specifically allows funds to be used to assist small businesses impacted by the pandemic induced closures."
The full letter from VRLTA is available here >.
Examples of states and localities using the Treasury funds to help small businesses include:
VML Contact: Michelle Gowdy, mgowdy@vml.org
CGI offers core principles for public sector recovery
IT and business consulting service firm CGI (a VML Municipal Business Associate member) has published a leadership piece on public sector crisis management and recovery.
View/download the resource here >.
This is the first of several initiatives being developed by CGI to assist local governments as they work to rebound from the financial and logistical strain resulting from the COVID-19 pandemic.
CGI Contact: Andrew Jennison, Government Relations Director, andrew.jennison@cgi.com
COVID-19 Resources
New resources added to VML website this week
Virginia Alcoholic Beverage Control Authority: Procedural and regulatory matters for Virginia ABC licensed businesses affected by the Novel Coronavirus (COVID-19) outbreak (May 13).
Note: Topic 16 in the document above covers Temporary Approval of Outside Dining Areas.
Secretary of Finance Aubrey Layne: Local Allocations for Federal CARES Coronavirus Relief Funds (May 12). Outlines manner and methodology for localities to receive their portion of the CARES Act relief funds.
Office of the Governor: AMENDED Executive Order Number Sixty-Two (2020) and Order of Public Health Emergency – Jurisdictions Temporarily Delayed from Entering Phase One in Executive Order 61 and Permitted to Remain in Phase Zero: Northern Virginia Region (May 12).
Amended to include City of Richmond and the County of Accomack (May 14)