eNews May 1, 2020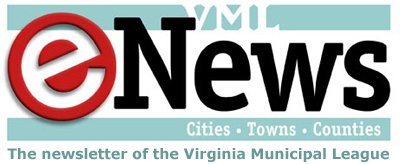 Friday, May 01, 2020 - 05:27pm
In this issue:
VML Announcements
LGA COVID-19 Committee letter now available
The Local Government Attorneys of Virginia have issued a letter regarding the 2020 Budget Amendment, Operating Policies, and Remote Meetings: Further support for electronic meetings during COVID-19 emergency.
You can view/download the letter here >.
Localities should consult their attorneys for further guidance.
VML Contact: Michelle Gowdy, mgowdy@vml.org
Policy Committee nomination information sent this week
Earlier this week VML sent information to key officials (managers or clerks) of full-member local governments regarding VML policy committee nominations for 2020.
To simplify this year's process, VML sent localities the list of their committee members from 2019 and told key officials that these members would remain on the committees unless VML was otherwise notified. If you were not on a committee last year, your manager or clerk can forward your name to VML to be added to a committee. Likewise, any members who want to be removed from a committee can ask their manager or clerk to relay that information to VML.
We hope to have information soon about the dates and times for virtual policy committee meetings to be held during the week of July 20.
VML Contact: Janet Areson, jareson@vml.org
Nominations open for VML's "2020 Local Champion" awards
VML's Innovation Awards are on hold for 2020 (but don't worry, they'll be back in 2021). This year VML will be giving "2020 Local Champion" awards to highlight the hard work that our localities and their officials and employees are doing to keep their citizens safe and healthy during the COVID-19 outbreak. VML staff and judges will work to select a winning entry from each locality to highlight as a "2020 Local Champion."
Any interested local officials or staff may nominate local champions by submitting an entry in as many of the categories below as they like. However, please submit only one entry per category.
Communication
Community Health
Continuity of Operations
Economic & Business Stability
Public Safety
Risk Management
Education & Youth Initiatives
You can learn more about the awards, requirements and find a link to submit nominations on our 2020 Local Champions webpage.
VML Contact: Rob Bullington, rbullington@vml.org
MEPAV member utilities recognized
In April, two Municipal Electric Power Association of Virginia (MEPAV) members were recognized for their achievements by the American Public Power Association (APPA).
Harrisonburg Electric Commission (HEC) has earned the Reliable Public Power Provider (RP3) Gold Designation, for providing reliable and safe electric service. The RP3 designation, which lasts for three years, recognizes public power utilities that demonstrate proficiency in four key disciplines: reliability, safety, workforce development, and system improvement. Criteria include sound business practices and a utility-wide commitment to safe and reliable delivery of electricity.  HEC joins more than 275 public power utilities nationwide that hold the RP3 designation.
Bristol Virginia Utilities Authority (BVUA) earned the APPA Safety Award for Excellence for safe operating practices. More than 335 utilities entered the annual Safety Awards, which is the highest number of entrants in the history of the program. Entrants were placed in categories according to their number of worker-hours and ranked based on the most incident-free records during 2019. BVUA earned first place in Group D.  BVUA also received RP3 Platinum recognition!
MEPAV consists of sixteen Virginia localities that operate electric utilities. APPA is the voice of not-for-profit, community-owned utilities that power 49 million people in 2,000 towns and cities nationwide. The Association advocates and advises on electricity policy, technology, trends, training, and operations.
To learn more about MEPAV or APPA please visit their websites:
VML Contact: Sandra Harrington, sharrington@vml.org
Missing "r" located
Although it was only reported by members of VML staff, many of our more astute readers (by which we mean all of you) may have noticed that there was an "r" missing from the headline of the Special Edition of eNews that went out Wednesday evening.
The missing letter has been found and we are including it here for reference:
-r
In the future, we will endeavor to make sure that all consonants and vowls are accounted for.
VML Contact: Rob Bullington, rbullington@vml.org
Elections
Reminder: Contact VML if your locality will petition the May 19th election date
Following the General Assembly's veto session, Governor Northam last week amended Executive Order 56 to postpone May 5th elections by two weeks, to May 19th. To accomplish this, the Department of Elections is in the process of organizing the distribution of resources, include PPE and volunteers from the Virginia Medical Reserve Corps.
In the meantime, some localities have chosen to petition the Supreme Court of Virginia to delay elections by an additional 16 days, the maximum amount of time allowable under Virginia's Constitution. If your locality plans to file a petition and has not already been in touch with VML, please contact Jessica Ackerman at jackerman@vml.org.
Economy
You know that sinking feeling you have in the pit of your stomach?  You're not alone
The nation's economic expansion, which ran from June 2009 through March 2020, did not end with a whimper but with an ear-splitting bang. The U.S. economy, according to the Commerce Department, shrank at a 4.8 percent annual rate last quarter as the Coronavirus pandemic flattened the economy.  This was the sharpest economic downfall in almost twelve years.
Consumer spending, which powered the long economic expansion, fell at a 7.6 percent rate. Business investment, which had already been struggling because of the global trade war, sank for the fourth straight quarter. Spending on services plunged at a 10.2 percent rate in the first quarter, and spending at restaurants and hotels was down a stomach-churning 30 percent on an annual basis. Spending on cars collapsed at a 33.2 percent rate.
Many forecasters say the dismal first quarter data will be eclipsed by even grimmer news when the second quarter (April – June) data is released. The Congressional Budget Office has estimated that the nation's gross domestic product will plunge at a 40 percent annual rate.
The employment picture is decidedly not rosy
With unpaid bills piling up and sales at the bottom-of-the-barrel, more retailers, large and small, will either go bankrupt or decide not to re-open, meaning more workers will move from the column of "temporarily laid off" to "permanently unemployed."
Over the past six-weeks the number of Americans filing unemployment claims topped 30 million, according to the U.S. Department of Labor. This count does not include the previously self-employed or those workers who have yet to file. Some economists project an April unemployment rate as high as 20 percent. (For context, the unemployment rate during the Great Depression peaked at 25 percent.)
In Virginia over 500,000 workers have filed unemployment claims, shattering 20-months of record job expansions and shrinking unemployment rates.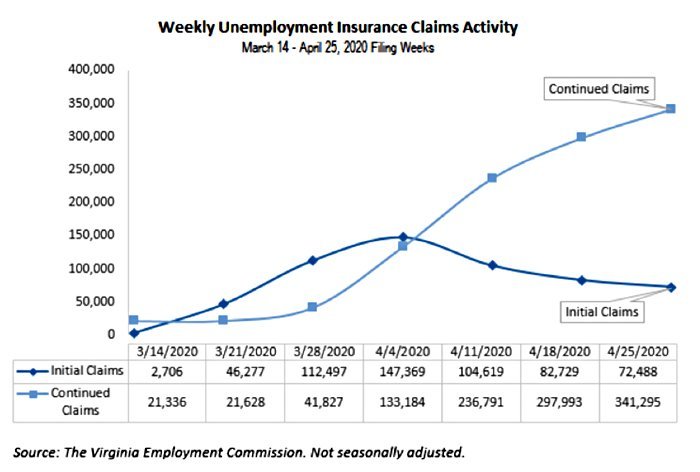 When will economic recovery begin?
Economists often describe recovery as shapes using different letters of the alphabet. A "V" means a sharp economic decline is followed by a sharp economic incline. The letter "U" signifies an economic decline followed by a prolonged period of limited economic activity before recovery. The letter "W" describes a yo-yo effect wherein the sharp decline is followed by a sharp recovery and then soon after another decline and recovery cycle.
President Trump and his Administration told reporters this week that they expect a "big rise" in the gross national product in the third quarter (July – September), followed by an "incredible fourth quarter, and you're going to have an incredible next year!"
This is not a universally accepted view.
This week, Federal Reserve Chairman Jerome Powell pledged to keep interest rates near zero until the economy weathers the pandemic and warned that it will take time for the country's economic wounds to heal. Several economists and epidemiologists are concerned that re-opening state and local economies before COVID-19 is brought under control could threaten both public health and economic growth. Testing to detect and contain a possible resurgence of the Coronavirus later in the year is essential to this line of thinking.
What does this mean to state and local governments?
Despite Senate Majority Leader Mitch McConnell's comments about states "declaring bankruptcy," the Capitol Hill buzz is that a fourth economic stimulus package to address the extreme financial challenges facing states and localities could be in the works. However, the amounts, the policy "strings", and the timing for passage have yet to gel.
For the Commonwealth and local governments, federal financial assistance will be critical to preserve first responder services to fight COVID-19, protect citizens vulnerable to the virus, preserve essential services such as public education, and successfully re-open Virginia's economy without another public health relapse and economic shutdown.
Virginia's localities are critical to the state's economic recovery. VML will be relying on and working with our members to tell our story to decisionmakers in Richmond and Washington, D.C. Stay tuned!
VML Contact: Neal Menkes, nmenkes@vml.org
Transportation
Virginia transit agencies receive over $400 million in Federal emergency funding
Commonwealth Transportation Board approves discretionary funding for rural transit
The Commonwealth Transportation Board (CTB) met April 21 for an abbreviated meeting to approve the addition of transit projects to the FY20-25 Six Year Improvement Plan using allocations from the Federal Coronavirus Aid, Relief, and Economic Security Act (CARES). Both large and small transit agencies across the Commonwealth received just over $400 million in total funding from the Federal Transit Administration with funding for small and rural systems requiring action from the CTB.
This federal funding is in addition to the funding already authorized by the CTB at a March meeting to provide transit agencies across the commonwealth with $11 million in emergency operating funding to assist transit agencies as they adjust to impacts as a result of the ongoing pandemic.
Who gets what?
Large transit systems (Northern Virginia, Hampton Roads, Richmond, and Roanoke) received over $350 million in funding which was distributed automatically; over half of this funding was distributed to Northern Virginia transit systems. The CTB approved discretionary funds of almost $100 million for distribution to primarily small urban and rural transit systems. The remaining funds were directed to intercity passenger bus service and rural transit reserve funds.
For context, keep in mind that these distributions require no state or local match and are more than three times the amount of federal funding appropriated to transit agencies for FY20. This funding can be used for operating expenses, capital expenses, personal protective equipment, cleaning equipment, and payment of administrative leave for employees. The funding is retroactive to January 20, 2020.
CARES Act funding by the numbers
According to the Virginia Department of Rail and Public Transportation (DRPT), CARES Act funding is to be distributed in the following amounts:
$356.6 million distributed directly to urban public transit agencies.
$47.2 million to the Commonwealth of Virginia for discretionary allocation to small urban transit agencies.
$52.5 million to the Commonwealth of Virginia for discretionary allocation to rural transit agencies, the Virginia Breeze intercity bus service, and the Appalachian Development Public Transportation Program.
Six Year Improvement Plan amended
The CTB amended DRPT's FY 2020-2025 Six Year Improvement Program (SYIP) to reflect the nearly $100 million in discretionary funding as follows:
100 percent of small urban transit agency funding according to the existing formula used by the Federal Transit Administration (FTA). Small urban agencies can apply directly to the FTA for their share of funding (CARES Act Section 5307 Apportionment Split Letter).
50 percent of rural transit agency funding according to the FY2020 allocation formula for FTA rural operating funding. (CARES Act Section 5311 Initial Distribution)
15 percent of rural transit agency funding to the Virginia Breeze intercity bus program.
35 percent of remaining rural transit agency and Appalachian Development Public Transportation Program funding to be held in reserve to address critical transit agency needs and administrative support for management of the CARES Act program.
VML Contact: Mitchell Smiley, msmiley@vml.org
Public Safety
Police chiefs start to map out new state data collection mandate
Beginning July 1, local and state police will be required to collect demographic information as well as other information resulting from every traffic stop and report this information to Virginia State Police. This new mandate is the result of HB1250 (Torian) passed by the 2020 General Assembly and signed into law last week by Governor Ralph Northam.  Funds were provided in the Appropriations Act for the state to create the database, but no funds were provided for localities to comply with new data collection and reporting requirements.
On April 24 the Commonwealth of Virginia Department of State Police sent a letter to all police chiefs and sheriffs outlining the new requirements and the work being done to adhere to them. Read the letter here >.
The Virginia Association of Chiefs of Police (VACP) and the Virginia Sheriffs' Association (VSA) are working with Virginia State Police to map out the data collection and reporting effort that will begin July 1. To ensure some uniformity, VACP asks that local agencies wait until this state-local workgroup completes work on this process before trying to create their own data collection solution.
VML Contact: Janet Areson, jareson@vml.org
Census
Funding still available for local government outreach
Voices for Virginia's Children reported this week that the self-response phase of the 2020 Census process has been extended from August 14 to October 31. However, mobile questionnaire assistance has been delayed pending further review.
Follow up for those who did not complete a Census form is now scheduled to begin August 11 and continue until October 31. During this time Census takers will interview households in person if feasible.
Given the uncertainty of COVID-19 impacts, these dates may change.
As of April 27, Virginia ranked 10th in the nation in Census self-response with more than 58 percent of households completing their Census forms. The national self-response rate is 54.6 percent.
To see more information on state response rates, click here >.
For more detailed response rates by communities nationwide, click here >.
Finally, funding is still available from the Virginia Complete Count Commission to help local governments with Census outreach projects. You can find out more at the Commission's website.
On a related note, VML was recently contacted by MagnetStreet which creates small census reminder magnets for localities at low cost. The magnets can be included in correspondence to residents (i.e. utility bills) without increasing the required postage. While VML does not endorse any specific product related to raising census responses, interested individuals can learn more about the magnets here >.
VML Contact: Janet Areson, jareson@vml.org
COVID-19 Updates & Resources
Administration officials outline plans for restarting Virginia businesses
VML member feedback provided to Virginia Business Task Force
Thanks again to everyone who joined our call this week with Deputy Secretaries of Commerce and Trade Angela L. Navarro and Cassidy Rasnick. During the call, the administration officials provided a high-level overview of the process being used to develop the "Virginia Forward" blueprint that will begin a phased approach to lifting restrictions to reopen businesses in the Commonwealth.
Deputy Secretary Navarro mentioned that among the outstanding questions before Phase 1 could be implemented were those related to the data needed to ensure meeting public health requirements. She also discussed the two elements that would need to be met prior to entering Phase 1: 14 days of declining positive cases and 14 days of declining hospital cases. Taken together, these will indicate a downward curve in cases.
Furthermore, Deputy Secretary Navarro indicated that the team working ahead of Phase 1 includes VDH, members of workforce development, DHCD, and Virginia Tourism (to assist with communications during Phase 1).
The administration is also working through a number of task forces to be ready for the things that will be needed during Phase 1 such as increased testing, access to PPE, adding health workers for contact tracing and to contact exposed individuals.
Guidance for businesses
For businesses, the administration is working with guidelines from the CDC, OSHA FDA and VDH to prepare two sets of guidance for when Phase 1 occurs. These are:
Broad statewide guidance for the business community writ large. To include a baseline level of enhancements such as adequate social distancing, enhanced sanitation and additional workplace safety layers.
Five sets of sector-specific items for businesses with higher levels of interpersonal interactions. These are restaurant/beverages, brick and mortar retail, personal care and grooming, fitness and exercise and entertainment. These specific guidelines will be in addition to the broad guidelines from item #1.
Input from localities is crucial
Deputy Secretary Rasnick then discussed the stakeholder outreach process being used to gather a large amount of feedback to make sure recommendations are practical. She emphasized the administration's understanding that any Instructions need to be clear and workable. To this end, they are working with the Virginia Business Task force Governor Northam announced on Friday, April 24. According to the feedback thus far received, they understand that business interests and public health interests are aligned. "The only folks who are going to reopen the economy are the consumers," observed Rasnick. Moreover, any type of rebound or spike in the virus would have a sustained impact on consumer confidence.
As such, input from local governments is crucial. Even during normal times, businesses ask every day for regulatory certainty. Nowadays, this is even more important. Deputy Secretary Rasnick recognized that local officials are the first people to get questions from businesses so it is important that their recommendations are received so that plans can be clearly communicated (potentially as early as next week).
VML solicited input from our members following the call and have sent that to Deputy Secretary. Any local officials who have not yet provided feedback are encouraged to do so using the administration's email set up for the purpose: business@virginia.gov.
You can listen to a recording of the call here >.
VML Contact: Rob Bullington, rbullington@vml.org
VDH COVID-19 dashboard updated
…and what about those recovered cases?
The growing number of COVID-19 cases in Virginia, as well as the growing number of requests for information about the cases, has resulted in several changes to the Virginia Department of Health (VDH) dashboard.
More health district demographic information
Starting today (Friday, May 1), the dashboard includes more demographic information at the health district level. Outbreak information is also displayed differently and should allow for better insights at the health district level. While the information is more comprehensive, VDH must continue to abide by Code of Virginia patient confidentiality requirements, which means that in areas with smaller numbers of cases not as much detailed information will be available to report.
Case counts on the dashboard reflect what has been reported to VDH by healthcare providers and laboratories.
"Data Insights" will provide in-depth analysis
Another change is that the weekly COVID-19 "Activity Report" is being re-branded as COVID-19 "Data Insights" but will continue to complement the daily report with more in-depth analyses. Updates will happen as new analyses become available.
If you want to keep up with the information but do not want to have to check the website, you can get the Data Insights report by subscription. Go to the Data Insights page to subscribe.
About those recovered cases…
A common question asked of VDH is why it does not report "recovered" cases as is done in some other states (or by localities in some states). VDH staff responded today that they know people want this information and are working in cooperation with the Centers for Disease Control on a standard definition of "recovered." Other states vary in their definitions; VDH wants a standard definition so that the reported information can be compared to other states.
VML Contact: Janet Areson, jareson@vml.org
DHCD responds to COVID-19 pandemic
Actions DHCD is undertaking and resources available to Virginia localities
Editor's Note: The below information was provided by DHCD. We are including it here for your reference.
The Virginia Department of Housing and Community Development (DHCD) is closely monitoring the economic and social impacts of the COVID-19 pandemic across the Commonwealth and is tailoring its assistance and trainings to localities and other partners through an expanded online presence. DHCD has a web page dedicated to the agency's response and resources available, as well as cancelled and rescheduled events. Additionally, DHCD is working to address several other more immediate and longer term needs as it relates to COVID-19 response in the areas of homelessness, housing, CDBG funding, the CARES Act, local building departments, broadband, small business/Main Street needs, and economic development efforts supported through GO Virginia.
DHCD encourages communities needing technical assistance to contact agency staff and also reach out to your regional planning district commission, GO Virginia Councils, and economic development organizations for coordination of assistance.
Homelessness
DHCD is continuing to work with local partners to address housing needs for the Commonwealth's most vulnerable populations. This includes staff participation on task forces to address the needs of our homeless shelters and providers. Earlier this month, Governor Northam announced $2.5 million in emergency funding to shelter Virginia's homeless population. DHCD has worked with the Governor's office to provide emergency funding from FEMA and through the CARES Act to house unsheltered individuals and provide case management services. The General Assembly recently approved Governor Northam's budget amendment to make the state Housing Trust Fund allotments more flexible. This flexibility will enable the agency to allocate more funding for rapid rehousing and homelessness efforts through the Housing Trust Fund for the 2020-21 fiscal year.
DHCD and VDH partnered to create a quick reference guide for Virginia homeless shelters. In addition, DHCD and VDH created a guidance document for hotels/motels being used as temporary shelter for the homeless population.
As the immediate need to shelter the unsheltered and to isolate individuals at risk of contracting COVID-19 subsides, DHCD, in collaboration with communities, will focus its efforts to identify resources to provide permanent housing to individuals in temporary shelter.
CDBG and the CARES Act
DHCD has made current CDBG funding available to non-entitlement communities for supporting planning grants, open submission, and urgent need recovery activities. Entitlement communities will continue to receive CDBG funds directly from HUD for the COVID-19 response. The agency is currently using existing program resources but closely monitoring availability of funding for all non-entitlement localities through the recently passed CARES Act (federal stimulus) and will post additional details when this funding becomes available. Eligible activities include construction or rehab of structures to be used for shelters, testing or equipment manufacturing, training programs for healthcare workers or service industry jobs transitioning to food/ pharmaceutical delivery systems, acquisition costs for telework/telemedicine services, and job creation or business development for manufacturing of COVID-related materials, supplies, or equipment (PPE). Click here for more information.
Building Inspections
DHCD has created a dedicated page for FAQs for our local Building Departments in regards to keeping the building community involved in procedures and best practices to address building inspection and construction needs.
Broadband
The COVID-19 pandemic has impacted Virginians' ability to work and to access healthcare and education, and has magnified the digital divide more than ever before. The Commonwealth Connect team has launched a webpage to provide information about what both the federal government and Virginia's ISPs are doing in response to the crisis. Click here to access COVID-19 broadband resources.
Small Businesses and Main Street Communities
DHCD is working with our communities and small businesses to address the needs of those affected by COVID19. DHCD has created a resource page to assist with resources currently in place to assist small businesses and downtown communities and will be looking at new ways to provide funding to assist with recovery.
GO Virginia and Economic Development
The Virginia Growth and Opportunity (GO Virginia) board  recently created the $14.66 million Economic Resilience and Recovery Program to assist regions with the short- and long-term effects of COVID-19 on regional economies. This program will assist regions in building capacity to support and serve existing businesses, with a focus on priority sectors and essential businesses, including the healthcare system and its supply chain during this crisis. In order to alleviate local fiscal pressures, the local match requirement has been removed for this program and the one-to-one grant match requirement has been cut in half. Each GO Virginia regional council may apply for up to $1 million to support strategic initiatives in response to the economic crisis caused by the COVID-19 pandemic. Additional measures have been taken to streamline the process including the addition of a fast-access process, whereby DHCD can use its administrative approval authority for grant applications of $100,000 on a rolling basis after staff review. Applications in excess of $100,000 would be received under the regular grant application deadlines and review process by the GO Virginia board.
Additionally, the CARES Act made approximately $1.5 billion in funding available to the Economic Development Administration (EDA) through the Economic Adjustment Assistance Program. This program is designed for economic development activities that address ongoing economic distress or a sudden and severe dislocation, including disasters or emergencies. DHCD encourages localities to work with their PDCs that are Economic Development Districts regarding this program.
DHCD Contact: J. David Conmy, Local Government Policy Administrator, david.conmy@dhcd.virginia.gov
Comcast extends commitments to help ensure internet connectivity
On April 27, Comcast announced that it will extend its commitments for Xfinity customers through June 30 to help ensure students can finish out the school year from home and remain connected to the internet during the COVID-19 crisis.
The extended commitments include:
No disconnects
Waived late fees
Free Xfinity WiFi in business hotspots and outdoor locations across the country (view a map of Xfinity WiFi hotspots here)
Unlimited data for all customers, regardless of plan
60-day extension of complimentary Internet Essentials (the nation's "largest and most comprehensive broadband adoption program"). For more information, visit internetessentials.com.
According to Dave Watson, Comcast Cable Chief Executive Officer, "Our services have never been more important, and we're doing everything we can to keep people connected to the internet."
More information and updates from Comcast related to Coronavirus are available here >.
Comcast Contact: Terry Ellis, VP Government and Regulatory Affairs, Terry_ellis@comcast.com