eNews March 8, 2022

Tuesday, March 08, 2022 - 05:27pm
---
This edition of eNews is sponsored by: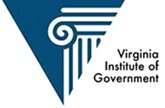 The Virginia Institute of Government (VIG), a unit of the Weldon Cooper Center for Public Service, was established in 1994, by the Virginia General Assembly, to provide training, technical assistance, and information resources to its member local governments. Read more >
---
In this issue:
Local Government Legislation
Eminent Domain bill would lead to expensive public works issues for localities
As previously reported, SB694 (Obenshain) was substantially changed in the House to create expensive, difficult issues for local governments when eminent domain is required to complete a public works project.
The House substitute was rejected on the Senate floor this afternoon which will send the bill to conference.
Concerns
The bill upsets a decades-long balance between the needs of the public and the interests of landowners. If SB694 were to be signed into law with the House substitute, it would make public projects much more expensive to carry out due to the increase in suits that will be filed by landowners for the following reasons:
Allows a landowner to be paid for damages where no land is taken – such as a street festival, parade, or temporary water line project that closes a street for a few days.

Concern: The fiscal impact of this same provision in the introduced SB666 predicted more than $700,000 in annual increased costs. However, SB666 was amended to reduce this concern.

Allows a suit for any "change of vehicular access" where there is ANY decrease in value.

Concern: Since at least the 1970s, the Virginia Supreme Court has ruled that a landowner is not entitled to payment for a change in access to his property unless there is a "material impairment of direct access" and so long as the landowner retains reasonable access.
This applies whether the locality files a condemnation suit, or the landowner files an inverse condemnation suit when the locality closes a street for a parade, to fix a water main or installs a median which changes access to the property.

Expands scope to include property that does not adjoin a road.

Concern: The current law protects only property with direct access to a road. The bill does away with that limit so that property not adjoining a road can sue for damages.

Requires a landowner to be paid for loss of access or profits even if the benefits to the landowner are greater than the losses.

Concern: The substitute does not require any offset for benefits from the amount owed the landowner. For example: A small shop is situated on a rural road that is improved into a major thoroughfare that increases business for the shop tenfold. However, the bill would require the locality to pay the shop damages for the time the work was being done, despite the increased value the landowner will enjoy.

Requires payment to a landowner even if all other landowners in the project area were equally affected.

Concern: Under current law, if the landowner is impacted in the same way as all other property owners in the project area, there is no compensation. The substitute does away with that restriction.

The bill allows double recovery for profits/access in addition to the underlying takings claim.
It's important to note that although the above provisions were in the introduced SB666, the patron, Senator Petersen, agreed to remove all through negotiations with local governments and others.
VML Contact: Mark Flynn, markkflynn@gmail.com
Bills that passed out of Counties, Cities and Towns last Friday
The below bills passed out of the House Counties, Cities and Towns Committee on Friday, March 4.
SB537 (Marsden) Replacement of trees during development process in certain localities. If you are a locality with a population density of at least 75 persons per square mile or in the Chesapeake Bay watershed you may adopt an ordinance regarding the planting and replacement of trees. This bill adds several requirements to the content of this ordinance.  It also creates a Collaborative Decision-Making Group to study trees further and report to the Chairmen of House Counties, Cities and Towns and the Senate Committee on Agriculture, Conservation and Natural Resources by December 1, 2022.
SB286 (Ebbin) Required disclosures for buyer to beware; buyer to exercise necessary due diligence.   This bill now requires that if you have an historic district ordinance you are required to include in the residential property disclosure statement the mention of a survey of the property or lack thereof.
SB35 (Favola) Legal status of plan. Government bodies may agree with an applicant in a Virginia Code Section 15.2-2232 review to extend the review time.
SB152 (Locke) FOIA and FOIA Advisory Council; definition of official public government website. An official public government website is any internet site controlled by a public body and uses to post required notices and other content.
SB258 (Bell) Bid bonds; construction contracts. This bill cleans up confusing language in the current statute and makes clear that a bid bond is only required for non-transportation related construction contracts in excess of $500,000 or transportation related contracts in excess of $350,000. A bid bond is optional for contracts below those amounts.
SB259 (Bell) Performance and payment bonds. This bill clarifies similar confusing language in the current statute for performance and payment bonds and makes clear that such bonds are only required for non-transportation related construction contracts over $500,000 and transportation related contracts over $350,000. Bonds below those amounts are optional.
VML Contact: Michelle Gowdy, mgowdy@vml.org
Finance
In Grocery Tax cut, avoid repeat of the Car Tax cut debacle
"They say lawmakers should pass 'hold harmless' measures so that cities and counties aren't shortchanged if the state fails to come up with enough money to keep [the Governor's] promise of replacing the tax money 'dollar for dollar'… Many smaller but growing cities will lose if lawmakers adopt a reimbursement formula that doesn't reflect the growth in money collected on the car tax, or if the formula is based on statewide growth, not local growth rates."
–The Daily Press, Jan. 11, 1997
"Even then, the cost of the refunds continued to rise, so in 2004 the legislature again amended the Personal Property Tax Relief Act by setting the reimbursement amount at $950 million in perpetuity beginning in the 2006 tax year".
"'When addressing the potential elimination of the grocery tax, Youngkin said he wants to avoid damaging education budgets which is a concern among some lawmakers. 'Part of this is just making sure that we've got a good formula in order to make sure that education budgets aren't damaged, and I think this has been the big concern,' Youngkin said."
–WRIC (ABC Richmond), Feb. 17, 2022
As we discussed in last week's eNews, a tricky piece of creating a revenue replacement method is forecasting the amount of revenue that will need replacing.
But the component of successfully replacing the lost revenue is more than tricky, it's impossible! That is, getting future General Assemblies to follow a directive from a past General Assembly. Just ask Governor Jim Gilmore.
In the battle over the Car Tax in the late nineties and early 2000s, the G.A. and Gov. Gilmore enacted a local tax relief law that directed the state to hold local budgets harmless. Within a few years, however, the G.A. announced that Virginia could not afford to honor its commitment to full revenue replacement as it had pledged under the law. Then, in 2004, the G.A. and Governor Warner were forced to increase taxes to protect the state budget, and they de-coupled the local lost revenue repayments from inflation, freezing those payments to localities at the 2006 level.
The local sales tax is a growing revenue source today (see chart below), just as the personal property tax was in 1998 when the G.A. began its years of wrangling over the Car Tax.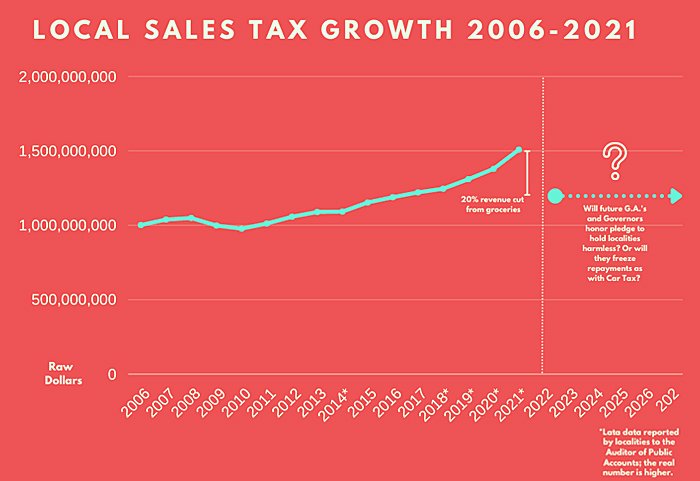 Can the state government afford to repay local governments for roughly 20 percent of this lost revenue, in perpetuity? Or as is more likely, will history repeat itself and what seemed like a reasonable revenue replacement method be revealed to be a fiscally reckless idea that must be halted to protect the state's credit rating?
These are the questions budget conferees – particularly those Delegates and Senators who lived through the Car Tax battle – should be asking themselves this week
Let your legislators know!
VML asks our members to reach out to your legislators, particularly if they are the conferees listed below, and encourage them honor the lessons of not-so-recent history; anything worth doing is worth doing right!
Budget Conferees:
HB90 (McNamara) / SB451 (Boysko) Conferees:
VML Contact: Carter Hutchinson, chutchinson@vml.org
Environment
How an air and water pollution bill may make anticipated "suitability" regulations moot by giving localities authority
SB657 (Stuart) has received media attention because it would remove air and water pollution permitting authority from the appointees that serve on the Air Pollution Control Board and State Water Control Board and vest this authority in the Department of Environmental Quality. However, a little noticed change to SB657 would also expand local authority to approve and site economic development projects.
Specifically, SB657 would amend Code of Virginia §10.1-1307 (E) 3 to provide localities with the authority to deem a site as suitable for an activity requiring an air pollution permit "if the governing body of a locality in which a facility or activity is proposed has resolved that the location and operation of the proposed activity or facility is suitable to the area in which it is located".
This provides clarification that local governments have a role in determining if activities requiring air pollution control permits under §10.1-1307 are appropriate for their community.
VML has consistently advocated that localities should have a role in the siting of air pollution permits given that local governments are better positioned to asses local conditions and determine if particular uses or activities are suited to a specific site.
Status: SB657 was approved by the Senate 32-8 and the House 51-47 and is now headed to the Governor for his signature or amendment.
VML Contact: Mitchell Smiley, msmiley@vml.org
Education
School construction legislation updates!
HB563 (O'Quinn) and SB473 (McClellan) are headed to conference. These bills establish the School Construction Grant Fund as well as create a data reserve tool. The Fund will use money from the Gaming Proceeds Fund and will be used only for school construction projects. The data reserve tool will be used to determine the relative age of infrastructure and maintenance needs of school divisions.
Another bill, SB471 (McClellan) would change the Literary Fund to increase the maximum loan amount available. However, the Senate rejected a House amendment to reenact SB471 in 2023. Since the amendment was rejected, SB471 now must go back to the House where it will most likely be sent to conference.
VML Contact: Josette Bulova, jbulova@vml.org
VML News
Last call for submissions: Friday is the deadline for Virginia's 7th graders to enter the 2022 "If I Were Mayor" essay contest
The Virginia Municipal League (VML) invites all eligible Virginia 7th Graders to join its "If I were Mayor" essay contest.
Regional winners selected from around the state will each receive a $150 gift card and a plaque. One statewide winner chosen from the regional winners will receive a $250 gift card and a plaque. The runner-up from the region that receives the statewide award will become that region's winner.
Winning essays will be featured in the May issue of VML's magazine Virginia Town & City.
VML Contact: Rob Bullington, rbullington@vml.org
Get published in VML's magazine! Tell us about your favorite outdoor recreation location in Virginia
For our 2022 "Virginia You Love" magazine issue this summer we want our readers to tell us their perfect place to have fun outside. It could be a favorite hiking trail or the stadium bleachers of the hometown ball team. Perhaps you can be found in a mountain lake with family or at the dog park with your furry friend. Maybe you like the challenges of long fairways and fast greens or the peace and quiet of a bench under a shady tree. Vita courses, ropes courses, pump tracks, brewery decks…Wherever, whatever, we want to hear about it!
Have your place featured in our magazine!
If you tell us about your favorite place for outdoor fun, we will put it on the list of possible places to feature in the July/August issue of Virginia Town & City. You can nominate any place you like…just so long as it's outdoors and in Virginia.
It's super easy to participate
Learn more and complete the short online survey here >.
VML Contact: Manuel Timbreza, mtimbreza@vml.org