eNews March 6, 2020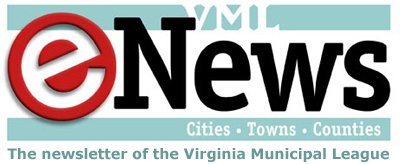 Friday, March 06, 2020 - 05:53pm
In this issue:
Health and Human Services
Coronavirus information for localities page now available
Every day, sometimes every hour, new information emerges about the coronavirus. However, until more complete information is known, it is a challenge for our communities to know what to anticipate and to formulate an effective plan of response.
The best, most reliable resources for information on the virus and what steps Virginia is taking are:
To ensure that localities are have the information they need to function, VML has added a Coronavirus Information page to our website. The page currently outlines what needs to be done to allow electronic participation in council meetings as well as links to reliable resources on the virus. We will update the page with new information and resources as they become available.
VML Contact: Rob Bullington, rbullington@vml.org
Coronavirus stakeholders update provided by VHD and VDEM
First and foremost, wash your hands!
It sounds like trite advice, but regular and thorough hand washing is a proven best practice to help curb the spread of any virus, including COVID-19.
Earlier this week Virginia health and emergency management officials convened a meeting with a wide array of state government and statewide association stakeholders to discuss the rapidly evolving COVID-19 response at the state level.
The Virginia Department of Health (VDH) and Virginia Department of Emergency Management (VDEM) have begun conducting conference calls with various public and private stakeholders (the call with local government chief administrative officials and local emergency management officials was scheduled for today) to discuss issues regarding the virus and to answer questions about the potential impact and plans for employers/service providers.
Some of the issues raised at the stakeholder meeting earlier this week included teleworking plans if people cannot or should not come into the workplace. Teleworking figures into potential scenarios such as:
Employees who have returned from foreign or domestic travel to areas where COVID-19 is more prevalent, and the employer would prefer that the employee stay out of the workplace for a period of time. The Centers for Disease Control website offers travel guidance.  A related question is whether such time would be considered administrative leave by the employer if teleworking was not an option.
Employees who are parents/guardians of children whose schools or childcare centers are closed for an extended period of time. This also applies to employees who care for a disabled or elderly relative whose day programs are closed for an extended period of time
Another issue for employers is handling sick-leave situations where an employee has little or no leave time available and for whom leave without pay is not feasible.
Finally, the need was discussed for regular communication with employees about workplace policies and procedures if the virus evolves into a pandemic and basic practices for disease prevention/spread such as regular hand washing and staying out of the workplace if they feel ill.
State officials also discussed Executive Order 41, which covers emergency management procedures for state agencies. Local officials need to ensure that their own emergency management policies and procedures are up-to-date and ready to implement.  These procedures should include timely communication and access to information and assistance for all segments of the population, including residents with special needs or limited English skills.
The Virginia Department of Health's website remains the best place for up-to-date on information from the Department and the Federal Centers for Disease Control (CDC).  This website is regularly updated – on a daily or even hourly basis – as information becomes available.
VML Contact: Janet Areson, jareson@vml.org
Elections
Redistricting squeaks by after lengthy debate in the House
After a heated, session-long debate, SJR18 (Barker) finally passed the House Friday afternoon on a vote of 54-46.
SJR18 narrowly avoided defeat following the introduction of multiple floor amendments that were defeated in 47-53 and 46-54 votes, respectively. The failure of the original amendment to pass on its second introduction would have meant that no constitutional amendment could be passed on to voters in time to impact redistricting efforts in 2021.
The original constitutional amendment provides for a 16-member Virginia Redistricting Commission whose membership would consist of equal numbers of legislators and independent citizens, with an emphasis on equal involvement by Democrats and Republicans. In response to concerns presented by some legislators last year, SJR18 relies on separate enabling and criteria legislation to ensure some of its major components, including ensuring protection of communities of interest and of minority populations. This raised new arguments within the House, focusing heavily on the lack of enshrined protections for racial and language minority populations and a potential for partisanship to enter the process.
VML strongly supports an independent, nonpartisan redistricting process. A referendum on the establishment of the Virginia Redistricting Commission will take place during the November 2020 general election.
VML Contact: Jessica Ackerman, jackerman@vml.org
Legislation
Bills affecting local governments signed by the Governor (so far)
Construction management contracts; use by local public bodies. SB341 (Locke)/ HB890 (Sickles) changes the project threshold for construction management contracts from $10M to the threshold established in the procedures adopted by the Secretary of Administration.
Comprehensive plan. HB726 (Reid) / SB746 (Bell) deals with a comprehensive plan amendment initiated by the locality for more than 25 parcels and gives the locality 150 days to act after the planning commission's recommending resolution rather than the current 90 days.
Local human rights ordinances; sexual orientation and gender identity. HB696 (Roem) allows a locality to adopt an ordinance that prohibits discrimination in housing, employment, public accommodations, credit and education on the basis of sexual orientation and gender identity.
Subdivision plats. HB929 (Coyner) provides that if a recorded plat dedicating real property to the local jurisdiction or public body has been accepted by the grantee the plan shall remain valid for an indefinite period of time unless it is subject to a vacation action.
Adoption of flood plain ordinances. HB998 (Hayes) allows a locality to adopt a flood plain ordinance that is consistent with state or federal flood plain management requirements.
Authority of local government employees to issue summonses for misdemeanor violations of local ordinances. HB1213 (Heretick) is the City of Norfolk bill that allows localities to appoint and train local government employees to enforce local ordinances by issuing summonses for misdemeanor violations of ordinances that are within the scope of their employment.
Affordable housing dwelling unit ordinances. HB1101 (Carr) / SB834 (McClellan) allows localities to adopt affordable housing ordinances under this code section which allows flexibility in density, waivers of parking requirements and fees, a local housing fund and other items to incentivize affordable housing.
VML Contact: Michelle Gowdy, mgowdy@vml.org
The "how much longer?" session
Theoretically the General Assembly will end tomorrow – however with sooooooooo many bills in conference there is rampant speculation as to how long they will stay in overtime. These bills include the budget, collective bargaining and minimum wage (to name but a few).
Here is a sampling of the bills of interest to localities that, as of 5:00 p.m. this afternoon, remained in conference:
Finance
U.S. economy yo-yos between bad and good news
The bad news: Stock Market sinks as coronavirus spreads worldwide
The Federal Reserve Bank this week cut the benchmark U.S. interest rate of 1.75 percent by half a percentage point to just below 1.25 percent. It's been twelve-years since the U.S. central bank slashed interest rates in such an emergency setting.
It is uncertain, at best, if the interest rate reduction can move the needle towards restoring the disruption in global production markets in Asia and Europe. U.S. and global monetary policies can't fix broken supply chains, reopen shuttered factories, or calm workers fears over their health and safety.
And, the rate drop has failed thus far to reverse the stock market's frenzied roller coaster ride. The market has swung by 1,000 points or higher twice this week.
In addition, the U.S. Treasury's ten-year yield plopped to 0.7 percent for the first time ever. Treasury bond prices and yields move in opposite directions, meaning falling bond prices will boost yields while rising prices lower yields. The Treasury yields fluctuations are a sign of investor sentiment about the economy. The tumbling yield rate reflects a crisis of investor confidence in the stock market and doubts about the economy's future growth.
The good news: U.S. added 273,000 jobs in February with average hourly earnings rising year-over-year to 3.0 percent
February's employment numbers were outstanding. Although the data pre-dates the widening of the coronavirus outbreak, the 273,000 added jobs outpaced the expected gain of 165,000 according to MarketWatch. In addition, revisions to data from prior months added another 85,000 jobs, raising the monthly average gain in the last three-months to 243,000. The national jobless rate ticked down and the labor force participation rate held steady.
The impact of the coronavirus virus will likely affect employment in transportation, hospitality, entertainment, and travel sectors, and may not be felt for a few more months.
How this news affects the Virginia economy remains to be seen. A sinking stock market could hurt state collections from non-withholding revenue tied to stock sales. The spread of the virus could also harm the availability of labor as well as public health. Additional resources could be required to pay for state and local responses to protect the public. The federal governments' $8 billion emergency spending bill should help but may fall short.
Stay tuned.
VML Contact: Neal Menkes, nmenkes@vml.org
Events & Opportunities
The census is almost here. Is your community ready?
A message from Lauren Snellings, Research Director for Voices for Virginia's Children
The 2020 Census is just around the corner. The self-response website goes live on March 12th, and invitations to participate will start arriving at households across the country. It is important that each person in your community is counted in the Census. Results inform billions in funding allocated to states to support services that our communities need to thrive such as WIC & SNAP. Results also affect voting districts, and even where we plan to build schools, roads, health clinics and so much more!
This is our one chance for the next 10 years to get it right and count each person living in our community. 2020 is unique because not every household will get a paper survey. The Census Bureau is pushing to have people fill out their form online or over the phone, but remember, it only takes 10 minutes! Make sure to encourage your residents to fill it out as soon as they can, so the Census Bureau doesn't have to show up in person in May!
Our ask is small. Please share this timeline and the importance of the 2020 Census with your community & make sure to fill out your form this spring. With so much at stake, we can't afford to miss a single person.
To learn more about the importance of the Census, what populations are missed, and what you can do about it, make sure to check out Voices for Virginia's Children website vakids.org/2020-census or contact Research Director, Lauren Snellings lauren@vakids.org with any questions.
Commonwealth Connect Broadband Forum date announced
The 2020 Commonwealth Connect Broadband Forum is set for Thursday, June 4. The forum will feature speakers from localities, broadband providers, and the Commonwealth Connect team about a range of topics to help achieve universal broadband coverage in Virginia. General sessions, breakout discussions, and ample networking opportunities will allow localities and broadband providers to connect and share best practices.
Time: 9:00 am – 5:00 pm
Place: Albemarle County Office Building (401 McIntire Rd, Charlottesville, VA 22902)
The forum is free, open to the public, and lunch will be provided. Local leaders and broadband providers are encouraged to attend.
Full agenda and registration information will be provided when available.
Virginia Flood Awareness Week is next week
The Virginia Department of Conservation and Recreation has developed a list of ways that local governments can promote Flood Awareness Week and encourage residents and businesses to understand their flood risk and purchase flood insurance:
Spread the Message – Use the Virginia Flood Awareness Week Outreach Toolkit to help communicate the importance of flood insurance. Materials are available online.
The 2020 Flood Awareness Exhibit will be held March 10. DCR partnered with Art Works in Richmond, VA to host the exhibit, which showcases flooding and high-water conditions locally, regionally, and nationally.
Join the Conversation on March 11 – DCR is hosting a Twitter chat on March 11 at 1:00 pm on understanding flood risk in Virginia and protecting the life you've built with flood insurance.
More information, including topics to be covered in the Twitter chat, is available here.