eNews March 6, 2018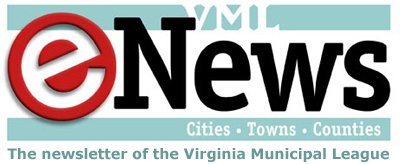 Tuesday, March 06, 2018 - 01:52pm
In this issue
Update on party ID not!
Write Governor on wireless bills: Support VML's request for amendments
Emergency response seminar postponed
Last marijuana penalty bill fails
Provisional ballots in split precincts deferred for study
Bills remain in conference
Update on party ID not!
Yes, that is true! Last Friday March 2, the House Privileges & Elections Committee killed SB144 (Spruill) on a vote of 10 yes, 12 no. All committees had until 5:00 pm yesterday to act on any legislation this session. So, no further action forcing party identification of local candidates should occur this year. VML thanks the local officials who corresponded with their legislators on this legislation.
VML contact: Mike Polychrones, mpolychrones@vml.org
Write Governor on wireless bills!
Support VML's request for amendments
Despite all our efforts, the wireless infrastructure bills (HB1258 and SB405) and the bills setting statewide fees for the use of state and local rights-of-way (HB1427 and SB823) are making their way to Governor Northam.
But we are not giving up! VML will be asking for the Governor to send down amendments to the bills for consideration at the veto session. Please write Governor Northam and ask him to accept VML's amendments!
VML staff cannot overemphasize the difference local governments have made on these bills, which would have sailed on through the General Assembly had you not called the members of your delegation, written letters and emails and adopted resolutions. Your input made a difference, and the final votes were close (except on SB823). See the final vote on HB1258 here, on HB1427 here, SB405 here and SB823 here. But we can't stop now!
VML contact: Michelle Gowdy, mgowdy@vml.org
Emergency response seminar postponed
The seminar on emergency responses at the local level to natural or man-made disasters, which was to be held March 15, has been postponed. The new date has not yet been set, but will be announced as soon as plans are finalized.
VML contact: Mike Polychrones, mpolychrones@vml.org
Last marijuana penalty bill fails
SB954 (Norment) which would reduce the penalties for possession of marijuana to a fine and make a first offense violation that has been deferred and dismissed eligible for expungement, was "left" in a House Courts of Justice Subcommittee on March 5.  The measure had previously passed the Senate.
VML contact: Janet Areson, jareson@vml.org
Provisional ballots in split precincts deferred for study
HB1325 (Cole) has been carried over to 2019 and has been referred to the Joint Privileges & Elections Joint Subcommittee as one of the issues that will be discussed in the summer and fall. The bill would have allowed for provisional ballots in split precincts. Depending on the Joint Subcommittee's final recommendation the bill must be voted on early in the 2019 General Assembly session.
VML contact: Mike Polychrones, mpolychrones@vml.org
Bills remain in conference
Several bills, in addition to the budget bills (HB29 and HB30) are in conference, meaning that the House and the Senate adopted different versions and conference committees are trying to hammer out compromises. More bills are likely to be added to this list over the next couple of days. The General Assembly is scheduled to adjourn this Saturday, March 10.
Bills of interest to local governments that are now in conference include:
---
VML legislative staff and assignments
Michelle Gowdy – Local government authority, planning and zoning, legal matters, housing, Freedom of Information, telecommunications and technology. mgowdy@vml.org; 804-523-8525
Janet Areson – Health and human services, and the state budget. jareson@vml.org; 804-523-8522
Mike Polychrones – Environment, land use, natural resources, elections and transportation policy. mpolychrones@vml.org; 804-523-8530
Neal Menkes (under contract) – Taxation and finance, the state budget, transportation funding, retirement, education funding and community and economic development. nmenkes@vml.org; 804-523-8523
Roger Wiley (under contract) – Courts, criminal law, civil law, and procurement. roger@heftywiley.com; 804-780-3143
Chris LaGow (under contract) –Insurance and workers' compensation. chris@lagowlobby.com; 804-225-8570