eNews March 3, 2020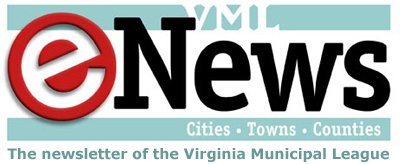 Tuesday, March 03, 2020 - 05:17pm
In this issue:
Action Alerts:
Elections
Redistricting is finally moving forward…
But your help is still needed
On the last day for committee action in the 2020 session, following weeks of debate both in and out of the General Assembly, the House Committee on Privileges and Elections reported the much-anticipated redistricting amendment (SJ18 – Barker) and accompanying bill (SB236 – Barker) Monday night. The amendment, now on its second reading after having passed the House and Senate in 2019, passed on a 13-8 vote.
Background
Redistricting has become a contentious issue in 2020, with House Democrats split over whether SJ18 represents the most racially equitable path forward. Members of the Senate, along with anti-gerrymandering advocates, have argued that sending the current amendment to voters in November – paired with enacting the criteria legislation (HB758 – VanValkenburg; HB1256 – Price; SB203 – Lucas; and SB717 – McClellan) – will protect voters and ensure fair redistricting processes in the future.
VML urges support
VML has consistently supported redistricting reform, including the use of a non-partisan independent commission (such as that outlined in the current legislative package), to draw state and Congressional district lines based on clear and consistent criteria. We urge members to continue reaching out to their representatives as SJ18 and the accompanying legislation moves forward in each body and into conference committee.
Contact information for legislators is available here:
VML Contact: Jessica Ackerman, jackerman@vml.org
Preclearance bill moves forward in Senate
Time to oppose HB761 is running out
In its last meeting of the 2020 session, the Senate Committee on Finance and Appropriations reported HB761 (VanValkenburg), a bill that would reinstate pre-2013 election-related preclearance requirements for many Virginia localities. In its current form, the bill will require localities with at least two different racial or ethnic groups that each constitute at least 20 percent of its voting age population to submit any changes to district boundaries, polling places, or other covered practices for pre-approval. Either the Office of the Attorney General of Virginia or the Circuit Court of the City of Richmond would review any submitted changes, with a waiting period of up to 60 days before any judgment would be made.
HB761 currently has a delayed enactment date of January 1, 2022.
Background
Preclearance requirements add to the time and cost of effectively administering elections, as demonstrated when Virginia and most of its localities were subject to Sections 4 and 5 of the Voting Rights Act of 1965. These sections directed areas where the voting rights of minorities had been nefariously restricted in the past, largely across the South, to submit covered practices to the U.S. Department of Justice for preclearance. However, these requirements were lifted after the Supreme Court's 2013 Shelby County v. Holder case, in which they were deemed unconstitutional.
Local government impact
Based on data collected via the American Community Survey, VML estimates that 50 counties and cities would be required to submit electoral changes for preclearance, while another 17 localities could fall under the preclearance requirement in the future. HB761 does not, however, hold the state to the same standards.
Oppose HB761
VML encourages members to reach out to their senators and oppose HB761 as it heads to the Senate floor.
VML Contact: Jessica Ackerman, jackerman@vml.org
Budget
Download VML's budget issues summary
VML's policy team has created spreadsheets outlining the budget issues of greatest interest to local governments. You can download these using the below links:
VML Contacts: Janet Areson, jareson@vml.org; Jessica Ackerman, jackerman@vml.org; Mitchell Smiley, msmiley@vml.org; Neal Menkes, nmenkes@vml.org
Budget amendments affecting local governments
With the budget conference in full swing, we urge you to review our eNews Special Edition: Budget amendments affecting local governments (published earlier today) about the amendments that will have significant impact on local governments.
Transportation
Overview of revenue impact of transportation packages
To continue the comparison of the major transportation packages coming out of the House and the Senate published yesterday, it will be helpful today to explore the revenue impact of these bills.
The Senate proposal raises substantially more statewide revenue than the House proposal within the biennium. The Senate proposal accomplishes this by maintaining the registration fee at the current rate and increasing fuels taxes over a two-year period before indexing them to inflation. The House increases gas taxes 12 cents over three years and indexes fuels taxes to inflation in year three.
The chart below lays out the statewide revenue implications of each proposal heading into conference committee. While both proposals raise significant new funding in the first year of the biennium the Senate version is expected to generate more revenue through FY 2024.
| | | | | |
| --- | --- | --- | --- | --- |
| Version of Legislation | FY21 | FY22 | FY23 | FY24 |
| House proposal | $123 | $135 | $317 | $369 |
| Senate proposal | $129 | $305 | $356 | $393 |
The chart below provide a more detailed look at the how this revenue will be distributed: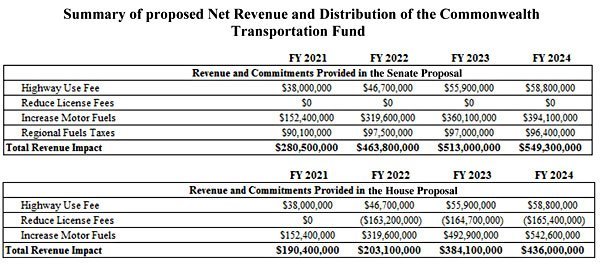 VML Contact: Mitchell Smiley, msmiley@vml.org
Photo-speed monitoring legislation passed
Last week the House and Senate both passed HB1442 (Jones) authorizing local and state police officers to use photo-speed monitoring devices in school crossing zones and highway work zones to enforce speeding violations.
This legislation, which narrowly passed out of the Senate Transportation Committee before passing the full Senate, will provide localities and the state police with a new tool for enforcing vehicle speeds in areas where vulnerable road users are present.
VML Contact: Mitchell Smiley, msmiley@vml.org
Conferees to decide: Driver privilege cards or driver licenses?
HB1211 (Tran) and SB34 (Surovell) propose allowing DMV to issue credentials for driving to people who lack legal presence in the Commonwealth. The House proposal allows DMV to issue a driver's license while the Senate proposal allows DMV to issue a driver's privilege card.
The conference committee will work through whether a driver's privilege card or a driver's license will be issued to these individuals and, in either case, what documentation will be required prior to issuance.
The conferees are Senators Surrovell, Boysko, and Hanger and Delegates Tran, Guzman, and Davis.
VML Contact: Mitchell Smiley, msmiley@vml.org
Events & Opportunities
Land bank webinar to be held in April
The final date and time have not been set, but Housing Virginia will hold a webinar on land banks in early April. The purpose will be to give an overview of how land banking can be used in a locality.
Legislation adopted in 2017 (HB1936) allows localities to petition the circuit to create a land bank entity to repair real property containing residential units that, among other stated conditions, are derelict.
Housing Virginia is a partnership of private and public sector organizations and individuals that work toward improving access to affordable housing.
Additional information about the organization is posted on their website.